Anatomy of an Era: Tony Veland, Part 2
Excerpted from Chapter 31, No Place Like Nebraska: Anatomy of an Era, Vol. 1 by Paul Koch
Tony Veland, Part 2
Q: So before the switch from QB to defense, any impressions of Coach Turner Gill?
TV: Old T.G. (laughs) Coach Gill was just a great individual. There were lots of people on that coaching staff who really left an impression. Just the fact that they were all really good men. I think Coach Osborne, Gill and Coach Brown really stand out in that category. They showed that they cared more about you than just your performance on the field. They wanted you to become a better man, be respectable, to succeed outside of football. And you could see that with the way they coached you and the way they spoke to you. They showed you a certain respect that some coaches don't necessarily show. And not that they held your hand or anything like that, but they just put you in situations so you could be successful.
For Coach Osborne and Coach Gill, they were actually friends. I felt I could talk to those guys about anything. Especially Turner Gill, since he was a little bit closer to my age, but just knowing what he'd accomplished and know what he'd encountered as a player. Because, if I can remember correctly, he was kind of a quiet guy, too, a quiet leader. Did pretty well in school, too, didn't get into trouble, so I related to him well. We had a great relationship.
Q: Any defining moments with those guys stand out to you?
TV: More than anything it meant a lot to me the day Coach Osborne came to the hospital when I tore my knee up. He told me, "Hang in there. I know you're a good kid. You'll battle back from this." He was pretty much telling me to stay on the path and things will work out. That meant a lot to me. He'd seen a lot of football and a lot of football players, so for him, with his insight, to say that to me was pretty special.
And about Coach Gill, I remember I was having a problem with a certain class at a time when I was just coming back from my knee and it was during one of those rehabs when I was in a valley, and he & his wife had me out and we just talked. We just talked and he told me about some of the things he had gone through in his life. And he stated that whenever I needed him I could always call him and he would be a resource to lean on, too.
Q: So then you're on the defensive side of things now, with Coach Darlington?
TV: (Laughs) Coach D. I just love him. He's funny. He's one of those guys who, you look at him and you think, "He can't know anything about football." (laughs) He's kind of clumsy sometimes and his whole demeanor is so matter-of-fact. You just figure, "He can't know anything about football." (laughs)  But he's a very, very smart man and well-respected in the NFL defensive community and he was easy to get along with. And one thing that was great about him was he liked me. (laughs) I was one of his guys and I knew he was looking for a certain kind of player, and I felt like I had a decent intelligence and he liked me as a thinker out there.
He was just really a funny guy, but very thorough in the way he had us prepare for games with the film-watching, the scouting material he would give us. I think if there was one thing that would drive us crazy and would be frustrating: we would practice about 15 different kinds of defense each week, and then we'd only use three. (laughs) But he put us in good situations where we could make plays on the ball and be a supporting cast for the defensive line at that time, which was awesome.
Q: A few guys said they'd butted heads with Coach D.
TV: Trust me, I know. I'm trying to be good here. (laughs) I never had any problems with Coach D., but trust me, I saw it. There were definitely a few players who thought a little less of Coach D than I did, but that's just football. (laughs)
Q: And let me ask you, there seems to me a certain progression happened within the team from your freshman year in '91 to your senior year in '95. Can you recall any steps taken or changes that came about?
TV: It's funny that you say that, because I really believe the formation of the Unity Council propelled us to that next level. When you talked the other day about that book, Good to Great, to  run a company the right way one of the ways to make the employees perform a little bit better or take a little more pride in what they're doing is making it their own, and I think that's what the Unity Council did for us. Coach was saying, "Listen, I don't want to be the guy with the iron gavel putting judgment on people all the time. You need to police your team and run this team the way it's supposed to be run." I think we took more ownership of what we were trying to accomplish, not just doing good in school and staying out of trouble, so we tried to do whatever we could to get that monkey off Tom Osborne's shoulders, as far as winning the big game. I think it definitely helped that.
The freshman classes that arrived in '91 and '92 took it upon themselves to do whatever they could to compete with some of those Florida teams, but I really the think the Unity Council was the start of that. And we really realized that, "If this is ours, we need to make sure we have a product out there that we can be proud of. We need to be sure we're representing the University the way we're supposed to." That was really the start of us trying to change the face of our team.
Q: Were you a member of the Unity Council?
TV: I was on Unity Council the last couple of years.
Q: What was that like for you?
TV: It was interesting. (laughs) It was interesting. I don't know if you remember, but '94 and '95 we definitely had some things going on.
Q: It was no walk in the park being on Unity Council…
TV: No, it was not easy. Not easy by any means. But that was part of the challenge. You needed to do what it took to make sure the team stays successful, and if that meant not letting a player do this or that or disciplining some guys that got into trouble, that's what you had to do. I don't remember any specific instances where a certain individual did something and we let it slide. That never happened, but at the same time it was not an easy job.
Q: It wasn't easy judging your peers and teammates, was it?
TV: Not easy. Sometimes it was pretty difficult to make sure we weren't gonna let the inner turmoil stop us from accomplishing our goal. Because it's one thing if you're a unified group of people and others from the outside are shooting arrows at you: you'll still be fine. But if you have people trying to break you down from the interior? That's gonna be the easiest way for stopping a team or organization from succeeding. So I think we did a very good job of managing it and making sure we were a tight-fitting unit.
Q: Any thoughts about other coaches who stand out to you?
TV: Coach McBride. Man, I'll tell you what, that guy there? A great guy, funny guy, but he was intense. He was intense, and I think to deal with the Peter brothers you had to be somewhat intense. (laughs) But when you first got there you knew he was about football and he wasn't going to take any crap from anybody. He had a certain standard of play, and if you didn't meet those standards you weren't going to be on the field, you weren't going to be playing.
There was one particular practice, I remember, where he hurt my feelings a little bit. (laughs) There was a practice, my senior year, and it was wet outside, and there was a particular play and they ran a draw, and James Simms was the running back and he gave me a little move and I missed the tackle. And I think we even made a mistake left to right, and Coach McBride just let me have it, "What the heck are you doing? I don't know why the heck we brought you here. We're just wasting a scholarship." He's going off like this, just killing my pride, (laughing) and then they ran the same play again, and the same thing happened! (laughs) And you talk about somebody feeling lower than low. I mean he gave me a look like, "What the hell did we do bringing you here?", and just walked away.
I tell you, I felt bad for two days because of that, but at the same time I respected him for what he said. Because honestly, this is a performance sport and you've got to perform. He was just letting you know it wasn't about your feelings. I learned from that, I tell you that much. After the tears, I learned from it.
Q: Now, afterward you went on to play with the Broncos, didn't you?
TV: I spent three years in the NFL: two years in Denver and one in Carolina.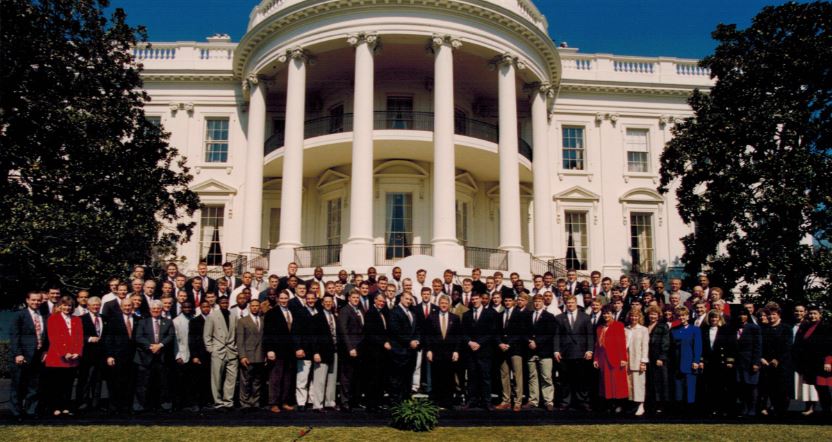 '94 Huskers visit the White House (Unknown/Uncredited)
Q: What do you think set Nebraska apart from other teams of that time?
TV: I think one thing we kind of hit on, the Unity Council definitely set us apart, but number two, and I could be wrong, but I think we just had a serious work ethic. With our weightlifting program and with our offseason program, that really put us in the position to be the juggernaut we became. Football is an "in your face, hard hitting, just grind for 4 quarters"-type of a game, and I don't think there were too many teams in the nation who could compete with us because we were so well-conditioned. The reason we were able to beat that Miami team was because we were so well conditioned. They had Warren Sapp and Ray Lewis, defensive MVP's, so it wasn't like we had greater talent than them. But we were more physically fit, we were a stronger team, I think we had a 'do or die' mentality, a real blue-collar mentality, that was about, "We're not out here to be pretty, we're here to win games." I think that translated well and was something that couldn't be stopped for a while.
Q: Did the walk-on program do anything for you as far as a motivation?
TV: I don't think motivation, but the walk-on program was very fundamental to the success that we had, because other than a McDonalds All-American type, just about everybody generally knew that first year that they weren't gonna play. Either you were gonna be redshirting or walking-on, whatever the case may be, and you were gonna use that year to learn about the system and develop your body. And there were some of us thinking there was a chance we weren't going to play our second year, either. And that mentality helped us out a little bit, because it actually held true: those first couple years we really grew with the system, really saw what the collegiate football system was about. By the time we got on the field we wouldn't be making the same rookie mistakes that you'd typically make coming in as a freshman, be a little more developed, so we were able to compete with some of those guys by then. Plus, we'd had two or three years with the coaches in the program knowing what to expect and make sure we're performing, so I think the walk-on and redshirt program really made us successful.
Q: Let me ask you, was there anyone behind the scenes who played a big part in those teams?
TV: There were actually two people: Bryan Bailey -when you talk about our weightlifting program, the first person you think about is Boyd Epley, and Boyd was genius to put that team together, there's no doubt about that- but I think Bailey was the guy who really took it to the next level from a relationship standpoint. He really got to know a lot of the players and did what he could to make us better, not just the players who were out there every day, but the players who were rehabbing injuries and had to spend a lot of time in the weight room. He was one of those guys who, when you saw coming (like earlier when I said that about Darlington), you'd think, 'Why the heck is he here? What does this skinny little redhead know about football? What is he doing here?' (laughs) He would come up with the most unorthodox things for you to do. Everybody usually had you benching or squatting or sprinting, and he's got you doing some crazy thing you've never done in your life. But once you're done you're stronger and you just go, 'Where in the hell did he get that from?' But he definitely had a big impact on a lot of us.
And then another guy who really got along well with most of the players was Doak Ostergard, trainer. He was just a really good guy: he understood us, he'd talk to us, and he made being in the training room fun sometimes, but at the same time he was also a guy who was really for the program, and he wanted to make sure we were doing everything we could to represent it well. Between those two guys, they played a big part in our success.
Q: What are you most proud of?
TV: Graduating? (laughs) That's a big thing. I'm most proud of beating all the adversity that came my way. Because here's a guy who had a lot of talent and probably could have been a starting quarterback, but he probably spent more time in the training room than anybody there, always rehabbing or getting something done. And just getting past that and not actually caving in to all the crap that was happening? Because if that would have happened I never would have experienced the national championships. I think we still would have won those, but just being a part of that on the field and then going on to the pros. And then the coaches were such a great support system in going through that.
Q: Anything you wish you could do over or done better?
TV: Oh man, everything! Everything! I wish I would have been a little better student of the game back then. I felt like I put in a good amount at the time, but I probably could have done a little more. I wish I could have spent some more time with some of our guys who were more successful, just kind of pick their brain and how they played. I played with three very, very good players: Barron Miles, he was the best corner I ever played with. Just to pick his mind for what had made him successful, what he looked for. Tyrone Williams, he was one of those guys that just got out there and played. He was never intimidated by anybody, I wish I would have learned a little bit more from him. And one other guy was Mike Minter, and at that time I really stepped in because he got hurt, but I wish I would have talked to him a little more. I wished I'd had his confidence and swagger that would have made me a better player.
But that's all 'what if' and that kind of stuff. I wanted to be the next Turner Gill when I came in, but I had to change my goals. But as long as I was playing football I was happy. I probably would have changed the way I finished school because I had to come back a year after I was done playing to finish my studies. I spent a little too much time on PlayStation. (laughs)
Q: Madden '94?
TV: Yeah, exactly. Exactly! Madden '94 was my downfall! (laughs)
Q: It made you a better coach in the long run!
Tony: Right! But at the same time, some really, really good things happened to all of us, and I'm just very proud to be a part of it.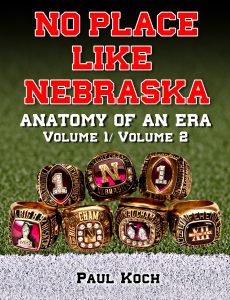 Both volumes available on Amazon.com
Q: Do you remember your first game, Tony?
TV: Honestly, I really don't. Oh, I'll tell you the game that stood out for me. The first game playing defense was West Virginia the year we went undefeated. The first or second series they put me in and I made like three tackles and two big hits. That was it for me. I felt like, 'Okay, maybe this safety thing is going to work out for me.' That was kind of it. I made a big hit and I looked up at the Jumbotron at the Meadowlands thinking, 'Yes, I've arrived!' (laughs) That was really kind of it for me, because I hadn't realized what I wanted after not playing quarterback. But when that happened, when we were in New York, that really stands out to me.
To be continued….
Copyright @ 2013 Thermopylae Press. All Rights Reserved.
Photo Credits : Unknown Original Sources/Updates Welcomed
Paul Koch
---
---
---