Anatomy of an Era: Tom Sieler, Part 1
Excerpted from Chapter 80, No Place Like Nebraska: Anatomy of an Era, Vol. 2 by Paul Koch
It was just a given (on wanting 4th down offensive play-calls). We wanted every chance we could to keep that ball out there. And to take a field goal or punt? We just did not want to have that happen.
-Fred Pollack, Omaha, NU Offensive Tackle '94-'97, Legends Radio Show
Tough crowd, huh? The offensive line's mindset stated above notwithstanding, being a punter or kicker in that 60 & 3 era meant you got your fair share of game action, albeit primarily on kickoffs and point after attempts. Though it's commonplace for a team to want to maneuver the ball downfield for a touchdown's six point tally, the offensive line of that day felt that a drive resulting in a field goal attempt was an admission of failure in many respects.
And I can't much blame them due to the memory of that '94 Orange Bowl's last second attempt. It led to their Miami beachside vow to each other only hours later to "never again leave the outcome of a game solely to a lone kicker's foot." Nonetheless, every now and again Tom Sieler was called upon to deliver the goods through the uprights.
Letting it ride, this walk-on from Las Vegas gambled on a chance to come up a walk-on winner at Nebraska, and was the yin to Byron Bennett's and Darin Erstad's yang in '93 and '94. Let's hear from our second special teams leg-man in a row…
Notable quote #1:
"I remember being a freshman there and just absolutely feeling that maybe I didn't belong. I felt like I could compete, but as far as what was going on with the program, I was focused more on with what it would take for me to get on the field."
Tom Sieler
Walk-on, Place Kicker, Las Vegas, Nevada (Chaparral)
Where are they now? Las Vegas, Nevada, Teacher
Question: Hey Tom, I hear you're teaching in Las Vegas. Is that right?
Tom Sieler: Yeah, that's right. I've been a teacher, going on my ninth year.
Q: Holy cow! What grade? What subject?
TS: I'm doing math. Anything from Math 6 to pre-algebra.
Q: Do you enjoy it?
TS: At times. At times it's tough, it's just like anything else. (laughs) At times it's just where you're like, "Geez, enough." I teach at a really tough school, an at-risk school. I'm probably in the worst area of Las Vegas. We get an extra week where we come back and teach in summer school so I make a little more money, but sometimes it's no fun.
Q: I'm sure there's a personal aspect where you feel like you're making more of a difference for these kids though, eh?
TS: Yeah. There's tougher kids.
Q: Well, hanging around some of the guys at NU: I'm sure it may have prepared you for this. (laughs)
TS: They have a different approach to teaching, I'm sure. More hands on, I can tell you that.
Q: And family?
TS: My wife's from California, originally, Orange County in Beuna Park. We have three kids. I've got a 16-year-old boy, a five-year-old girl and a 4-month-old boy now.
Q: Congrats, Tom.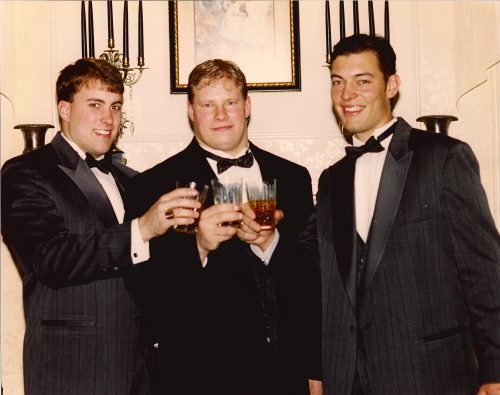 Matt Shaw, Joel Wilks & Tom Sieler at the White House
TS: Thanks. How about you, any kids?
Q: I've got a 3-year-old daughter. I wouldn't trade her for the world, man.
TS: Yeah, girls are so easy.
Q: I thought it was the other way around. (laughs)
TS: Until they get to be 15 or 16, maybe. (laughing)
Q: So, do any of these kids have kicking skills?
TS: Not yet. The fifteen year old, I think he's gonna start giving it a try. He was playing offensive tackle at 165 lbs. He's on his freshman team and on JV it got kind of tough on him, getting pushed around a little bit.
Q: Is he as tall as you are?
TS: He's about 5'11".
Q: Okay. You were a good, what, 6'3"?
TS: About 6'5".
Q: As short as I am, Tom, everyone's taller. It's harder to gauge correctly from down here. (laughs)
TS: Yeah, I remember going home in the summer and then coming back on campus and going, 'Geez, I'm really not that tall.' You're used to being around average-sized people and then get back to campus there and like, 'Wow, I'm a normal dude. I'm abnormally skinny, too. And abnormally less muscular.' (laughing)
Q: (hysterical laughter) But, hey, nobody could kick like you.
TS: I don't know about that.
Q: Oh, come on, man!
TS: I was there at the right time, I guess.
Q: You used to do some kickoffs, didn't you?
TS: Yeah, my junior year I kicked off and then my senior year I did short field goals -forty on in- and extra points.
Q: Well, I appreciate your spending a little time with me here. So how did you end up in Lincoln, Nebraska?
TS: They were the only major school recruiting me, to be honest with you. I had offers from UNLV, Long Beach State, and I don't know who else. Utah was asking about me. I committed to UNLV and then decided to walk on at Nebraska.
Q: Who did the recruiting?
TS: It was Coach (Dan) Young.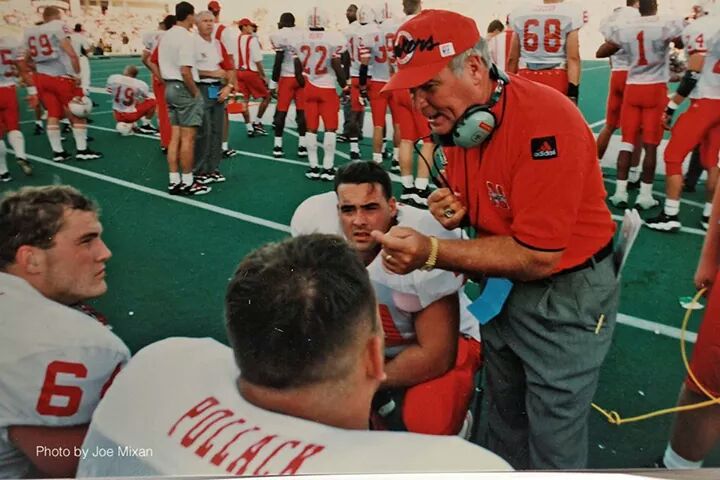 Q: What about Coach Young stands out to you?
TS: You know, I think he was mainly an offensive line coach. He knew a little bit about kicking, but he didn't push a whole lot on me about kicking. He could tell you a few things, but for the most part he kind of charted you and that's about it.
Q: He charted to keep track of your accuracy and stuff?
TS: Right. I don't think he ever kicked, and he did the best that he could. It's really tough to find a college coach -any program where you're at- a guy who's a so-called kicking coach. I don't think Nebraska has a guy who's showing the guys how to do it. For the most part, I think they usually tell you not to overdo it and don't kick too much.
Q: Interesting. Well, Tom, I have to tell you, I have a picture on my computer's screensaver at my work -and it speaks to the brotherhood and unity of those teams- it's a shot of you with a consoling arm around Byron Bennett's shoulder after that last-second field goal attempt versus Florida State in '94, as both of you are walking off the field.
TS: And then, you know the other guy, Steve's in that picture. Steve Foster. I ran into him in San Antonio once. He was like a student assistant. He was in law school at the time and he was working with the football department doing something, and now he's an attorney in San Antonio. I think he played with Dean Cain, Superman, at Princeton, maybe. I think he's on the Alamo Bowl Committee.
Q: What did he do back in the day?
TS: You know, I'm not sure what his job title was, but he would work with the film guys, maybe, (Brian) Moose (Mohnsen) and (Bryan) Carp (Carpenter). Moose was with Turner Gill at Buffalo, I know. A great guy. So is Carp, a really good guy
Q: So what was it that inspired a kid from Las Vegas to walk on at Nebraska? What pushed your buttons?
TS: You know what, the thing is that it was the one major school in contact with me. Growing up I always thought I'd go to UNLV, never giving it any thought of playing big-time college football, thinking it would be the same wherever. I went on a recruiting trip at the end, right before signing day, and they told me that they didn't have a scholarship but they wanted me to walk on. I was a little starstruck with and by Coach Osborne, and I'd watched college football and remember thinking how cool Nebraska was.

Hall of Fame coaches
And my family is from South Dakota. My dad played at the University of South Dakota with my uncle and they would always talk about playing Nebraska's freshman team, I think. My family, they were Nebraska fans and I always thought it was really cool watching that triple option. I couldn't believe that Nebraska would want me. I was one of those kids who was kind of 'big leagueing.' I remember going there and wondering, 'Oh, my God. What are these guys thinking? Do they really want me? I wonder if they made a mistake?' You didn't have to sell me.
Q: (laughs) So you thought they may have been valuing you more than you valued yourself?
TS: Yeah. I mean, I knew I was good, but when I came to Nebraska, especially when I got there, they were such a juggernaut, a perennial top 20 team.
Q: What year was your first season there in Lincoln?
TS: My first fall there was 1990. I redshirted the '90-91 season.
Q: The Citrus Bowl season?
TS: Yep.
Q: That's the exact period I focusing on, Tom. It seems to me there was a sea-change in the team unity, the mindset during that time. Do you recall noticing any changes from your freshman to your senior year? Was there a large change in the program, from your perspective?
TS: Honestly, I probably don't know. I remember being a freshman there and just absolutely feeling that maybe I didn't belong. I felt like I could compete, but as far as what was going on with the program, I was focused more on with what it would take for me to get on the field. As far as the mindset of the program, as a redshirt and freshman and sophomore I really wasn't that involved. I really wouldn't have any insight, to be honest with you.
Q: You were focused on merely surviving instead of thriving?
TS: Without a doubt. I remember I was like the fourth-string kicker and I was, 'Christ! Fourth kicker?!', you know? You need a fourth kicker like you need hemorrhoids. But as far as anything that I thought changed, I have no insight on that.
Q: That's okay. And let me ask you, do you recall your first day on campus as a student that fall?
TS: As a student, I totally remember. I remember my brother telling me, "Go the day before and find your classes," which I didn't do. I was kind of a shy guy and my brother was, "Look, don't go and just sit by some football players. Go and sit with somebody: some girl or some guy. Preferably a girl. It's good to have girls for friends. Just meet people, broaden your spectrum rather than just hanging out with a bunch of retards, people you can study with." It's absolutely the smartest thing that I was ever told, because it's so easy to sit next to a guy you've been hanging out with for the summer instead of just meeting with other students.
Q: The 'university experience,' huh?
TS: Without a doubt.
Q: Do you recall the first friend you made?
TS: The first friend I made was probably Eric Hohl, who was my roommate and a tight end. He eventually left, but a non–football player was a little track guy, David Iteffa. He was next door to me in the dorm.
Q: Wasn't he from another country?
TS: Yeah, Ethiopia.
Q: What was a he? A miler?
TS: No, he was even longer distance than that. I remember, he'd go run like 20 miles on a Saturday. At first I had no clue he was even in track, I thought he was just teasing me. I'd see him come in and would be like, 'How far'd you go?' And he'd say, "Twenty miles." And I'd go, 'Right. And I just benched 400 pounds.' Then Eric goes, "No, no. He's on a track scholarship." And I was like, 'Oh, okay.' I was like, 'This guy's so full of shit. You ran twenty miles? Okay.'
Q: Especially on a winter day, huh?
TS: Yeah, right. (laughs)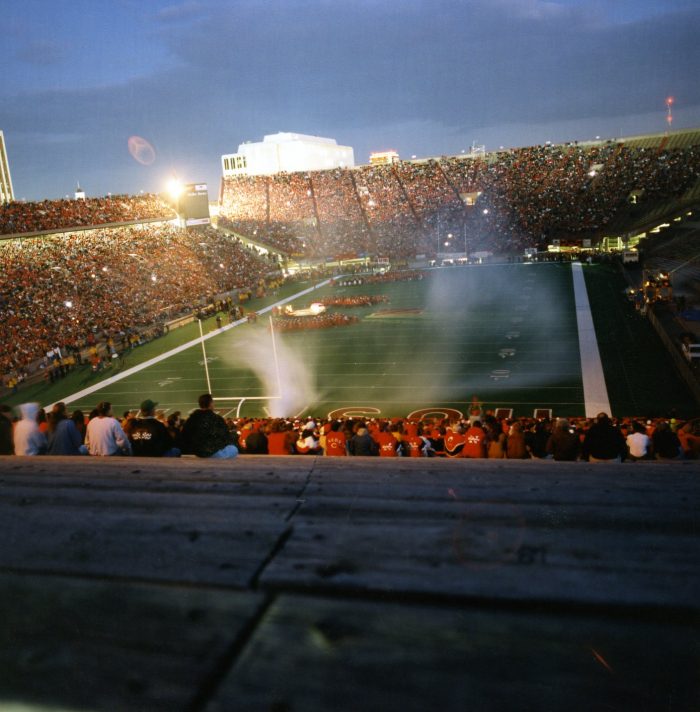 '94 National Championship Celebration
Q: So let me ask about the Nebraska people. Obviously you came from Midwestern roots, but what was it about the people, the fans in general?
TS: You know, right now I'm out in Las Vegas and our basketball team is pretty good, but they just don't get a big draw. And then in football, first off you have to drive twenty miles out of town, damn near, to get to the football game. There's really no university field, it's more like a rented team, you know? Just the community support was what was different. It's how big football is.
Q: Did you have any experiences at Nebraska with people knowing you? Any special interactions with the local citizenry?
TS: Yeah, you know what, after my senior year there were certain people kind of recognize you and come up to you. I would hang out with Trev Alberts and that was kind of freaky; you'd go to a mall and see people staring. But then you'd think about it and go, 'Well, he did win the Butkus. That is pretty big.' And then after my senior year doing these basketball games and making some appearances. You think about that: somebody's going to pay me three hundred bucks to go speak at some dinner? Like, 'What insight do I have?' That's where you realized it's pretty different, you know?
Q: Do you recall your first game suited up and running out onto the field?
TS: You know what, I don't really remember. I just remember being out there at first and thinking it's almost a fake. Almost like you feel you're out-of-body. It doesn't seem real. Everything seems distorted.
Q: Surreal, huh?
TS: Oh yeah. It's a lot to take in at first.
Q: Do you recall the first PAT you attempted?
TS: Yeah, I do. I missed an extra point against Utah State. We were up by like 49 and I go out there, and I remember I just kind of froze up and just went brain-dead for a minute. I pushed the ball right. I totally remember it. I remember running off and thinking, "A little kid can make an extra point. And I pushed it right!" I did. I swear to God I froze up. I let the moment… I just went brain dead. I was like a robot, "What am I doing?"
After a while you get used to it. And I was pretty lucky. My freshman year, I had thirteen extra points my freshman and sophomore season just in mop-up duties. So when I began kicking off I'd already been on the field quite a bit. So like, my junior year kicking off and going into my senior year, just being out there and being a part of a game made it a lot easier.
Q: Which was your final game?
TS: My last game was the Orange Bowl against Miami.
Q: So you were a senior in '94? I thought you were around one more year.
TS: No, I was done. Erstad had went in the draft and then they brought in Chris Brown, and he started from the get-go.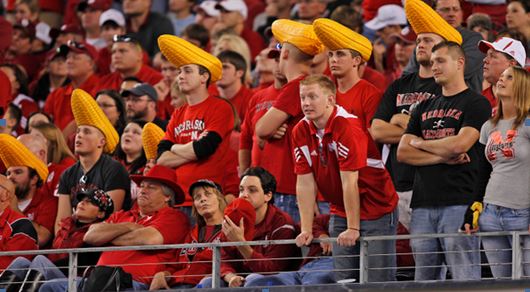 Q: Do you happen to have a favorite game?
TS: Probably the Colorado game. That game, and also the Oklahoma game. I remember Colorado was ranked # 2 and we were #3 or something like that, and I remember Schlesinger scored and we went up 7-0 and I made like a 24 yard field goal. And then Oklahoma, we were tied in the fourth quarter and think I kicked a field goal to go up 10-7. That was a pretty big field goal for me.
Q: Do you ever run into any Husker fans there in Vegas who remember you from those days?
TS: You know, once in a while I'll go to this Nebraska bar to watch the game if the game's not on TV at home. Honestly, it's kind of embarrassing. Again, I really feel like I was such a small part of anything, you know? I feel like I was really lucky to just be able to be there. Once in a while I'll go with some friends and they'll go, "Tom played there!" And I'm like, 'Stop it!' Now, if I was like a lineman or somebody, like an All-American, like Brenden Stai or somebody like that -I still keep pretty good contact with Brenden Stai, and he's a pretty cool guy. He played in the NFL, he was an All-American. He was pretty cool. Me? I'm a guy who's a math teacher and I kicked for two years. I was just a kicker, you know?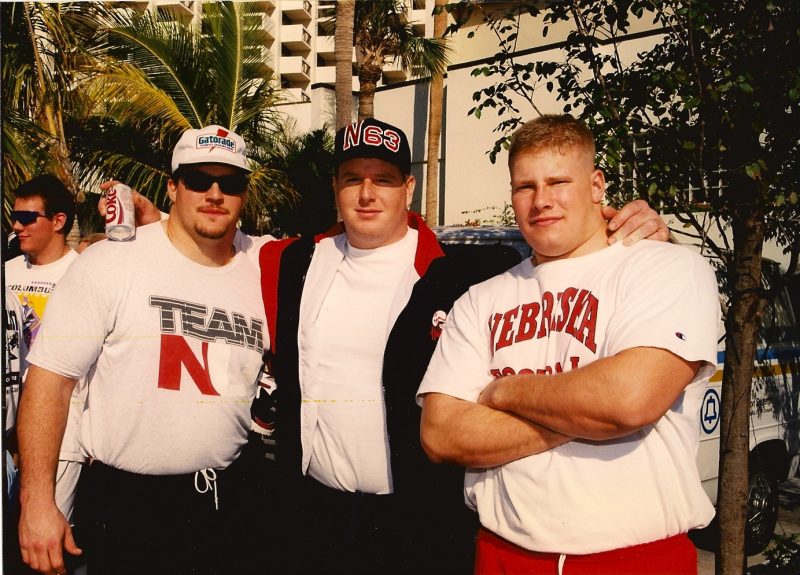 Brenden Stai, Arron Graham & Joel Wilks
Q: You're selling yourself short, Tom. I always respected you guys, because those guys out there like Brenden and those guys, they had at least three tries to get the job done when they got the ball every series, whereas you only got one shot. You had one shot!
TS: You know, I tell you what, when those guys are out there busting their ass, you better come through. It's measurable what they do. They're out there grinding.
It's just like golf. I love golf. I'll go out 4 times a week in the summer and people will go, "Oh, I've got to warm up." And I'll go, 'Bullshit. Just get loose, and there it is. Just do it.'
Q: "Just do it?"
TS: There it is. You can make any excuse you want, but go ahead. It's the same swing. I don't care what club you're hitting, for the most part.
Q: What got you into kicking in the first place?
TS: You know, I could pitch and I could kick. I was wired, I used to kick over my basketball hoop. I'd get tired of shooting baskets and start kicking over my basketball hoop. My dad and I went out to UNLV and met this kicker named Darren Libonati. He was kicker there at UNLV and he started coaching me, and I realized I could be pretty good at it. I just thought, 'This is something I could do in the future. I knew the odds were that I wasn't going to be a defensive end. I was like 6'3" and 180 lbs. I couldn't move anybody around. And I really liked football and I could see where maybe I could be a quarterback, but we were a running team in high school. Or maybe I could pitch a baseball if I wanted to go beyond high school, but kicking was something I excelled at and I wanted to be good at something. Early on, from my eighth grade year on I worked at kicking.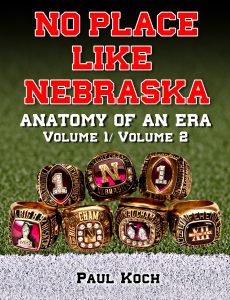 Available on Amazon.com
Q: You know, that's very insightful. You say you, "wanted to be really good at something."
TS: Right. I'd much rather have been an All-American linebacker or just a linebacker who played, but God dealt me this hand and so I just did the best I could at it.
Q: You found your niche, your role, and whatever that was, you wanted to excel at it?
TS: That's right…
Copyright @ 2013 Thermopylae Press. All Rights Reserved.
Photo Credits : Unknown Original Sources/Updates Welcomed
Author assumes no responsibility for interviewee errors or misstatements of fact.