Anatomy of an Era: Randy Gobel, Strength Coach, Part 1
Excerpted from Chapter 36, No Place Like Nebraska: Anatomy of an Era, Vol. 1 by Paul Koch
It was better, he thought, to fail in attempting exquisite things than to succeed in the department of the utterly contemptible.
-Arthur Machen, The Hill of Dreams
I'm not sure who first coined the phrase 'speed kills,' but if it's true, then the '90's Huskers had serial killers galore. One man behind the development of the 60 & 3 Era's team speed was Strength & Conditioning Coach and Crofton, Nebraska native Randy Gobel. A multi-talented individual, Randy was an integral cog in the machine as he delved into the depths of running biomechanics in the early nineties for pointers worth passing on to the student/athletes. The payoff was a faster, more efficient athlete who got from point A to B with the swiftest of ease for dramatic impact. From the smaller, shiftier backs to the big tractors in the trenches, road gear was only a millisecond away after partaking of this man's tutelage.
Let's hear from Randy, a coach who embraced the process from start to finish line as the boys in red set the green fields ablaze.
Notable quote #1:
"That was another thing that made Nebraska pretty special, the amount of peer pressure and leadership we had was huge. And that comes from having fifth-year seniors who'd been through all that stuff."
Randy Gobel
Question: Hey Randy, good to talk to you once more. So what is your position nowadays at the university?
Randy Gobel: I'm Assistant Director of Athletic Facilities, Director of the Devaney Sports Center. It keeps me busy.
Q: Things coming full circle from all the time you spent with some of the Olympic Sports back in the day?
RG: Yeah, we get to talking and I tell them I remember when I was the basketball strength coach when Danny Nee first got there. I was there when Moe Iba was there, too, but Moe didn't have any of his guys work out. (laughs)
Q: So tell me about the road you took to joining the Husker staff. You were from Crofton, right?
RG: Yeah, from Crofton. Summertimes I worked up at Lewis & Clark Lake up by Yankton, South Dakota, and I met a guy from Falls City, Nebraska up there and we got to be friends. And there were two other guys from Falls City who were working for Boyd at the time, one who was Tom Wilson. I met those guys and got to know them when I came to Lincoln to do my student teaching during college and I got to be pretty good friends with them. One day I was tired of teaching and I talked to Tim and Tom Wilson and said, 'What you do sounds interesting.' And they said, "If you want to try, go talk to Boyd." So I went in one day and talked to Boyd and said, 'I think I want to be a strength coach.' That's how I got started.
Q: Any idea what year that would have been?
RG: Would have been somewhere in the spring of 1980. I finished college in Lincoln and then started in the fall of '81… actually started working there before that, but worked with the athletes the fall of 1981.
Q: So you got your degree at Nebraska and decided to get into coaching then?
RG: Actually, I got my degree in Kearney and came to Lincoln to do my student teaching. I finished up some classes at the University to transfer over, and that's how I got my degree.
Q: Do you recall the first meeting with Boyd?
RG: Yeah, I went in and introduced myself and he said two things, "You're too old and you're too small to be a strength coach." I said, 'What!? I'm not even out of college yet.'  He said, "We're looking for people who are freshmen, sophomores. You're gonna need to have money right away," and all these things. And he goes, "Tell you what, you go back and think about it and you write me a letter explaining to me what you can do for this program." And I went and sat down and got kind of miffed about his attitude and said, 'I can do anything, et cetera…'  My degree was Industrial Education and he happened to be looking for somebody who could evaluate equipment, because he had a contract with AMF American designing lifting equipment, and my mechanical background was exactly what he was looking for.
Q: So despite being 'too old and too small' you got the job. Maybe being 'too smart' made up for it?
RG: (laughs) I don't know about that! Some days I'm not so sure I'm so smart.
Q: Or too good-looking then, maybe? (laughs)
RG: Well, yeah. That goes without saying. (laughs) I remember the first testing day in the fall for the varsity like it was yesterday. It was out on the outdoor track and they ran 40's, a vertical jump, agility, and they ran something like the timed mile separated by two minutes' rest.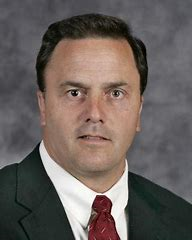 Randy Gobel
Q: Was that the day a certain Offensive Lineman puked into his cupped hands and then swallowed it up before the coaches noticed how out of shape he was?
RG: Actually, no. That was way before Harry. Gosh, what was that kid's name? Big old middle guard, I can see his face but I can't remember his name. Boyd actually ran behind him and pushed him so he'd make his time…
Q: Sort of 'wind-aided', eh?
RG: Yeah, Boyd-aided. (laughs) It was on the outdoor track.
Q: Boy, ol' Boyd must not have been such a hard ass back in those early years. I can't imagine him doing that in the '90's.'
RG: Well, I think if the kid wouldn't have made his time, Osborne would have brought the hammer down on Boyd for not getting him in shape. (laughs)
Q: I'd love to have a picture of that.
RG: Wish I could remember the guy's name. But to start out I was working in the north fieldhouse weight room supervising the bench press. At that time we had a weight room in the south stadium, also, where they did the circuit. So the linemen would come to the north stadium and do the heavy lifting there, and the quarterbacks and running backs and receivers would go to the south stadium and do the circuit after practice.
Q: Things changed considerably over the course of the next 10 years, huh?
RG: Yes. Actually, they were in the process of putting together the West Stadium Strength Complex at the time. During the day we worked in there building lifting platforms and painting and whatever else, so when I first started the original one was not done, but they had the money to get the remodeling done.
Q: So you played a part in building the first West Stadium Strength Complex?
RG: Yeah, and then '92 was when we did the renovation and the addition.
Q: So you're doing the bench press station in north stadium with the linemen, any names or guys stick out for you from those years?
RG: Mike Mandelko, Henry Waechter, some of those guys were still around. It's been a long, long time ago.
Q: So you started climbing the rungs as various guys left the program to become strength coaches elsewhere?
RG: Yeah, the Wilson boys both left. One went to Iowa State and one went to Las Vegas. Then we got moved into west stadium and I was in charge of the circuit training at that point.
Q: Mr. Circuit, huh? I'm sure the players loved you. (sarcasm)
RG: No, as a matter of fact, Turner Gill tried to kick my ass one time. (laughs) He'd had some back spasms or something and he came in to lift and didn't want to do his lifting. And he did the hip sled and complained to coach that he got hurt in the weight room. And I got death threats that he wasn't going to be able to play that weekend, which he did anyway. Speaking of some players, Jimmy and Toby Williams were both playing back then.
Q: Man, you jumped right into some really great football years.
RG: Yes, my first bowl game was the lost national championship game against Miami in '84.
Q: And when you first joined the football program, what stood out to you as to how the organization was set up, how it functioned?
RG: Just the number of players. So many players on the team. I remember watching a lot of Coach Osborne's practices and how he ran practice: nobody ever stood around, everybody was always getting reps. He had 4 stations going and people were always constantly doing things.
Boyd's organization in the strength department and the number of people he had working with those players was something that changed a lot over the years, though. A lot of the tweaks happened by Mike Arthur. Mike was really the guy behind the program. Boyd was the motivator and pushed strength coaches to come up with new things. Not that he didn't do a lot of strength coaching, but Mike was that go-to person when you start talking about the programs.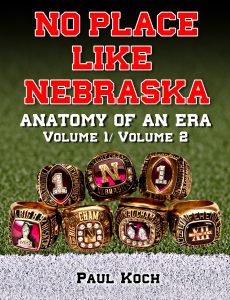 Both volumes available on Amazon.com
Q: He's the nondescript guy in the lab coat behind the curtain doing his thing, right? What else?
RG: I have a lot of recollections of Coach Devaney of those days. The weight room had an electronic door lock and we were trying to keep people out of the weight room because we didn't want people to see what we were doing. It was the largest weight room in the world at that time and Coach Devaney had a couple buddies who wanted to get in and see the weight room, and they were denied because we didn't know who they were. So he called Boyd, and said, "Boyd, I want these two guys to get in. And they are gonna be there at 1 o'clock." Well, Boyd waited around for them for about a half hour the next day and they never showed up, so he went out for stretching or whatever. And sure enough, they show up late and they didn't get in again. (laughs) And we wouldn't let them in. They were mad and went back to Coach Devaney. So Coach Devaney calls the office and I end up picking up the phone (and I don't know if you want to put this down), but he said, "Who is this?" and I said my name. And he said, "You tell that sonuvabitch you work for I want to talk to him." (laughs) So Boyd shows up a little while later and says, "Did anybody call?"  And I said, 'Yeah, Coach Devaney called. You might want to call him back.'
Q: Did they ever get in?
RG: Actually, I don't know. Coach called them up and chewed them out for not being on time! (laughs)
Q: Any impressions of the finish of that '90 season and Boyd pounding his fist on the meeting room's table? Do you recall that?
RG: Yeah, I do. I think it was a turning point in which Nebraska could have gone backwards. We had a group of athletes who weren't very dedicated. There was tons of attitude on the team and I think a lot of things happened, and it wasn't all in the strength area. But in the strength area we made a lot of changes at that point, with the research that Mike was doing.
And I think the coaches looked at their recruiting, too. They decided they weren't recruiting the right kind of kids. They'd gotten into this national media-foray type of player and I think they went back to looking for kids that were Nebraska-type kids: hard-working kids who maybe weren't the most talented in the world, but they had potential. That's what I remember from that whole thing.
That and the strength program, we put together radical things where we didn't need to run so much and we looked at the energy systems football players used and became more sport-specific. And to Coach Osborne's credit -it was a big change to him and his coaches- and they were open to it and they listened and they gave it a chance. And it really made a big difference. You could tell within a couple of years that our team was just a different team in the way they trained and the way they finished games. Part of that was the kids and how hard they worked, and the kind of training we did was much better.
A thing that happened, also, with the strength program, was that we had enough full-time people that we were able to handle just about every position. One guy for the fullbacks and the I-backs, a full-time person for the offensive line, one for the defensive line, and each of the full-time people had a student assistant to help. We gave the kids what they needed during the offseason, not just some generic running to make you feel like you were in shape, but we did stuff that actually helped you as a football player. All those things where defensive linemen need to react on sight to the ball as opposed to an offensive lineman who was listening to a snap count. A defensive back does a lot of backpedaling and turning around, whereas an offensive back is running forward and changing directions laterally, so we became really specific with our workout routines. I think that made a big difference. The whole country went to that after the success that we had.
And we used scientific principles, we looked at physiology and what happened in the different energy systems based on the amount of work-to-rest ratios that an athlete did, and we made it real specific to what we were doing. It was stuff published in textbooks and scientific journals and we brought it into real-life training and made it come together with what we were doing.
Q: What segment of the team was your responsibility, Randy?
RG: Typically, I worked with the quarterbacks, running backs, and then some with the defensive backs quite a bit there, too. Usually it was the smaller, fast guys.
Q: Any recollections of specific players from that time stand out to you?
RG: Oh man, there's so many of them. Clinton Childs, to me, was one of the best athletes we ever had at Nebraska. He just had a tremendous amount of physical ability. And another good thing about Clinton was that he kept other guys in line because he was such a tough kid. From Omaha, him and his brothers were tough guys, he was one to keep Lawrence Phillips in check during his playing days. He'd want to do something and Clinton would say, "Hey, quit screwing around! Get in there and do it!"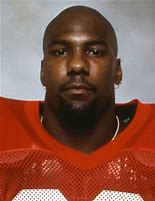 Clinton Childs
And that was another thing that made Nebraska pretty special, the amount of peer pressure and leadership we had was huge. And that comes from having fifth-year seniors who'd been through all that stuff. It was probably one of the major things that was the big difference for Nebraska. And you can tell these last years before Pelini, we didn't have those redshirt guys. Coaches can't do it all, so you need those kind of guys. We had attitudes where it was, "Nebraska's not the end for me. I'm going to the NFL." And now? I think now we're coming back to where some say, "Nebraska is the end for me." It's what you strive for. And that makes a difference there, too.
Q: Your name keeps popping up when it comes to the 1:16 on the stadium clock during that summer of '94.
RG: Yeah, in January of 1994 we got pretty close to winning the national championship and there was the 1:16 left on the clock and we were leading and we were beating Florida State, and we got beat in a minute sixteen seconds.
And Boyd pointed that out. Boyd, being his motivational self, every day, he decided, we were going to put 1:16 on the clock, so at the end of the workouts we would do an extra 1:16 of work. So I crawled up the steps to the press box twice a day, (laughs) every day, turned on the clock, put a minute-sixteen on it, and then went back up the to shut the clock off afterwards, all summer long.
Q: You probably had 'buns of steel' after all the stairs you climbed that summer. (laughs)
RG: It paid off. (laughs)
To be continued….
Copyright @ 2013 Thermopylae Press. All Rights Reserved.
Photo Credits : Unknown Original Sources/Updates Welcomed
Paul Koch
---
---
---