Anatomy of an Era: Milt Tenopir, Part 1
Excerpted from Chapter 49, No Place Like Nebraska: Anatomy of an Era, Vol. 1 by Paul Koch
Our entry song started playing, our fans erupted and the stage was set. Miami's players looked around in a daze. After all, this was their home stadium."You aren't supposed to upstage our entrance." The 60 minutes of football that followed was a thing of beauty. My linemen performed at their best. They were relentless. They pounded away on every single play.
-Milt Tenopir, The Assembly Line
Have you ever heard the exploits of the Knights of the Order of St. John? No? This small, unrelenting cadre of Middle Ages warrior/princes saved all of Europe from Moslem conquest and, by many accounts, the world. Scorned as 'archaic relics of the past' by the divided European nations of the time, this small band on the island of Rhodes, the gateway to the European continent, took on the powerful Persian armies of Mehmet, Sultan of the Ottomans, and prevailed despite gargantuan odds against.
Rick Joyner in Leadership,Management writes, "(brilliant)Mehmet was also a conqueror at heart who fashioned himself after Alexander the Great. He marched on the great city of Constantinople, and conquered it. He then set his sights on the rest of Europe." But first he had to do something about this irritating little brotherhood, a band of "annoying knights who continued to plunder his shipping and supply lines. In 1480 Mehmet sent his most able generals with an army of 70,000 men to subdue the 600 knights and 1,500 to 2,000 militia at Rhodes. The Grand Master of the Order was a Frenchman named D' Aubusson…a remarkable leader of men who had with great foresight prepared his knights for the siege" that would one day come.
After the first wave of the Sultan's troops were repulsed (with great casualties, I might add) they "began another general bombardment that would hurl over a thousand cannonballs a day at the city continuously for several weeks." Another assault was made, where "the knights contested every acre of ground, for which the Turks paid dearly…In hand to hand combat, over burning rubble, through choking smoke and fire, in possibly the worst hell that men could create for themselves on earth, the Turks continued to throw themselves against the knights." Humiliated as their advances were met with greater cost than they could bear, the finest fighters of the Ottoman Empire fled, while "Rhodean sharpshooters on the walls poured deadly fire into them," mustering enough strength to chase the attackers all the way back to their base of operations. "To the astonishment of the entire world, the Order of St. John had not only survived- they had prevailed. All of Europe celebrated. All of Islam was enraged." (Excerpted from: Leadership, The Power of a Creative Life (formerly titled Leadership, Management and the Five Essentials copyright 1990) by Rick Joyner. Copyright 2001 by MorningStar Publications and Ministries. Used by permission.)
Which brings us to Milt Tenopir (3/6/1940 – 9/26/2016), a lion of a man 500 years removed, yet of like-spirit with the Grand Master D' Aubusson. With a penchant for churning out All-American linemen like combines do corn-filled grain wagons, this great leader/teacher experienced perhaps his grandest achievement in the way 1995's pupils not only replaced four of the great 'Pipeline 5' of '94, but succeeded in obliterating any morsel of doubt as to their fitness for the task. Defenses gave them everything they had and more, but come the end of the day it was still "Business As Usual" for the relentless Husker Offensive Lines. Listen in on this short, but succinct, repartee with a man treasured by many, Milt Tenopir…
Notable quotes #1:
"They were aggressive football players and our whole offense was built around them. We were a physical football team and that all started with the kids up front. They took challenge to that and it was important to them to let the other guys get out there in the fourth quarter, and that was what we'd do."
Milt Tenopir
Q: Thanks so much for your time, Milt. I know you've got a softball game coming up in a few minutes so I'll try to be quick. So what year did you first join the staff?
MT: It was 1974. I actually worked with the freshmen the first year. I worked with the linebackers under Monte Kiffin and the following spring of '75 I worked with the offensive line on the freshman team.
And the next fall I worked freshman offensive line and I think I went to the varsity in''76 or some place in there, and I got to work with the offensive line.
Q: As a player, were you an O-lineman?
MT: No, I was a quarterback.
Q: Really? At what school?
MT: A little school in Kansas. Sterling College, down in Kansas.
Q: How did you gravitate toward offensive line play?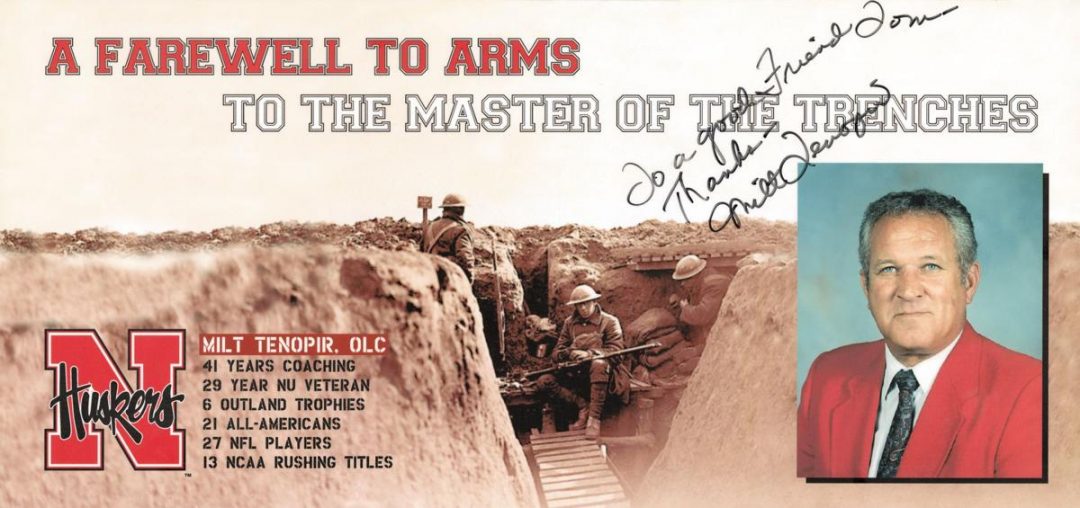 (Omaha World-Herald)
MT: Well, I coached high school ball for 12 years as a head coach, and that was the most critical area, so I took that upon myself. You didn't often have an opportunity to pick the coaches on your staff: you had the English teacher and some other teacher that wanted to help coach football, but I took the line because of the criticalness of that particular area, and coached the line ever since I got out of college. I had a fairly good understanding of it playing quarterback, but I coached that offensive line in high school and it just worked out that I continued to do that.
Q: You always had a special group of guys, and a person never had to worry about Milt's boys. What made them unique? Was there a special mindset you preached?
MT: Well, there's always a special mindset to those kids up front. I think I earned those kids' respect and at the same time I could -after the fact, after practice and all of that- I could still be their bud and have good friendships with them off the field, as well. But the kids just played hard for us.
I never tried to coach out of fear. If a kid earned the number one spot, he was number one. He was there for a reason, through fall camp and spring ball. They just played hard for me and never had to worry about getting demoted and all that. We just had a good relationship with them, we shared things inside and outside of football.
My biggest concern all the way through  -whether they were first or third or fourth team- I just tried to make sure they understood their role on the football team. You're only gonna have five starters, but everybody else had to play an integral part in preparing for the next game. So they understood their role and that was the big thing that helped them accomplish what they did.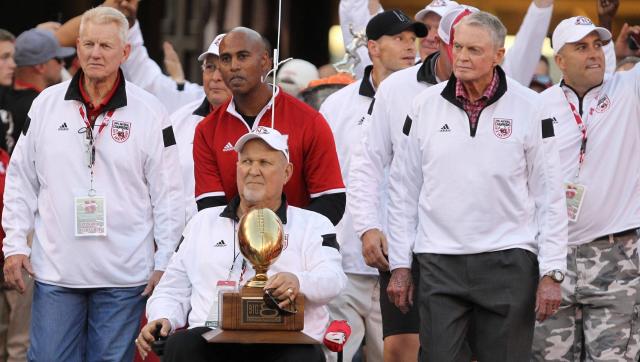 (Nebr. Sports Info)
Q: As far as guys knowing their roles, how did you get that message across?  Were some of them kicking against the goads? How did you get them to play their role and accept it?
MT: Well, you get 29 practices in the fall and you get 15 or 20 at that time in the spring. And if a kid makes it through all that and grades out the best, you're gonna have those five starters.
But your big deal was to make that third- and fourth-teamer feel like he was a part of it in helping prep the defense when they were on scout team and what have you, treating them all the same. It didn't make a difference if you were scholarship or walk-on, they just knew that if they worked their butt off hard enough and long enough that they'd eventually get some playing time. And, of course, it's changed -that time has changed- their whole scope of things has changed and the walk-on program was diminished, and part of that was because of no more freshman programs and that type of thing.
And you were working with a lot of numbers: we'd have 32 or 33 linemen because we were in 4 different team work stations every night at practice. We needed bodies, you know? So our job was to impress the importance of those kids that had to run the scout team against the defense, and they bought into it. And, of course, every opportunity we got, if they had a chance to get in -an opportunity to clean up a game and play a few downs- that was gravy for them. And they lived and died Nebraska football their whole lives, whether they were scholarship or not. They were just tickled to death.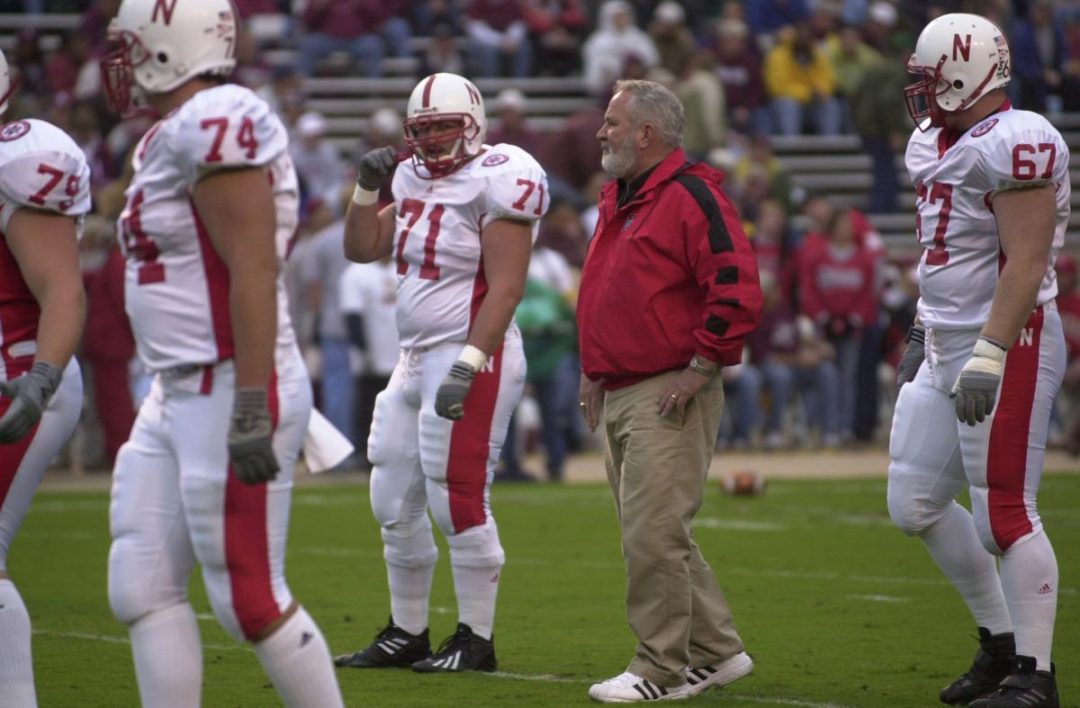 The hay's in the barn… (Lincoln Journal Star)
And we took care of them, we didn't put them down or make the starters ride the bus and the other kids walk. They were treated the same and they all knew that we loved them as well as we did the scholarship guys, whether they were starters or non-starters.
Q: So would you say some of the guys just naturally had a nasty bent to them?  Brenden Stai, Zac Wiegert, those guys?
MT: Those kids had a little moxie about them, you know. Of course, that was needed for our offense: we played a very physical game and it was a challenge for those kids, all of them.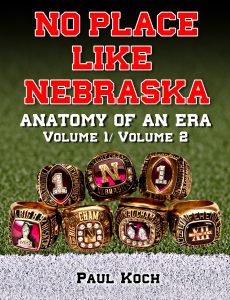 Both volumes available on Amazon.com
Those two that you mentioned there are two great examples. They got a thrill just knocking somebody on their can and watching them roll, you know? It was just part of the nature of what we were trying to do offensively, and that was to try to physically out-handle you. It didn't make any difference to us whether they were 6'5" or 6'1", but what we did played into the hands of the kids we had.
To be continued….
Copyright @ 2013 Thermopylae Press. All Rights Reserved.
Photo Credits : Unknown Original Sources/Updates Welcomed
---
---
---