Anatomy of an Era: Michael Booker, Part 3
Excerpted from Chapter 65, No Place Like Nebraska: Anatomy of an Era, Vol. 2 by Paul Koch
Anatomy of an Era: Michael Booker, Part 3
Q: The Blackshirts were mean and nasty?
Michael Booker: Grant Wistrom, Jared Tomich, the Peter brothers, they were ruthless. But these guys off the field were just a bunch of teddy bears. We all know Jason Peter and everybody has their problems, but when you see these guys on the field and you look in their eyes, they're ruthless. On the field to off the field, they were two different people.
Q: Would you describe yourself in that way at all?
MB: When I'm on the field or in business I like to keep the same demeanor. I'm not a trash talker. I was never a trash talker or anything, except for when we were playing against Florida. They were actually talking trash in the paper before the game, talking about how our secondary wasn't going to do nothing. I was like, 'Man, that's bold. Your just gonna say it right in the paper?!' What happened, I was stretching and they came out and they ran over us. It was a fight before the game even started. It was, "All right, you're all trying to embarrass somebody, so you're going to get it."
All I remember was them talking trash. It was more trash-talking that game than I'd ever heard. They pretty much thought they were gonna run us over. For the most part it was them bragging on how good they were. It wasn't an argument of how good we were, but it was just that they were greater. It was that we were great, but they had the '–er'. They were greater.
Q: How far into the game did they lose that swagger?
MB: Early in the game they had their momentum for a while. They lost their courage easily in the second quarter. They knew they were in the game in the first quarter, but they knew they were in a fight by the end of the second quarter.
Q: Do you recall a certain point where their will was broken?
MB: After they couldn't get their offense together after that first or second series, that Fun 'n Gun or whatever they called it, after they couldn't get their momentum together, I don't think they gave up, but they went to the drawing board and realized that we came here to play and were hitting them in the mouth every time. Hitting them in the mouth every single play.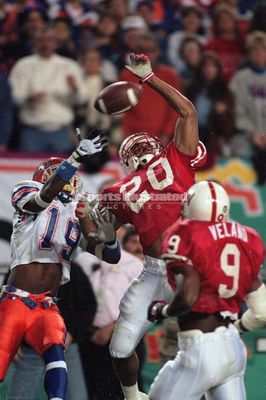 The only reason Nebraska didn't blow all those teams out 80 to 20 every game was because Coach Darlington, Coach McBride, T.O. and all the other coaches collectively got together and took us off the field. You didn't see us playing well into the fourth quarter, so they didn't really know who good we were, because we never played four quarters of ball.
If you happen to watch the films on us, by the end of the third quarter we were gone. That's when we could have been padding our stats. I had three interceptions to where I probably should have had eight. But because of the trickle-down effect Coach Osborne respected the other teams, so we didn't get to pour it on.
Q: So the practices were the best competition you'd encounter all week? So, in essence, even you guys didn't know how good you were because you were never truly used to your maximum potential or pushed to an ultimate full-game effort?
MB: That sounds right. Those practices during the week were the best test we'd ever see.
Q: So what about lining up on defense in those practices against Tommie?
MB: T-Fraz? T-Fraz? I don't know who Tommie is. All I know about is T-Fraz. (laughs) I would sum him up like I would sum up me: He was a great athlete and a good quarterback. Just like I was a great athlete and a good cornerback. I don't think he was the greatest quarterback to ever play at Nebraska, but he was the best athlete in that position.
Q: So who was the best quarterback ever to play at Nebraska?
MB: Turner Gill! Turner Gill! And Brook Berringer! Now, hold on, I don't want this whole thing to be made about it, but I thought -me, personally- that Brook Berringer reminded me of Bernie Kosar. He was somebody who was in there and stood in the pocket and could get the ball out. Brook was a great quarterback and a good athlete, whereas Tommie was a great athlete and a good quarterback.
I really believe if Brook Berringer would have lived that he would be playing pro football today. I thought he had a good spiral, good everything. When Tommie had his blood clots and all that, it was Brook Berringer.
Q: Was Tommie's fighting spirit unique?  Was it his personality?
MB: Well, we all felt comfortable, and not just me -being a defensive player- I wanted Tommie to be on the field. I couldn't wait for Tommie to make something happen. You always figured he was going to make something happen because he was a great athlete. And you had other great athletes on the team, too: Lawrence Phillips, Clinton Childs, Damon Benning, Jamel Williams. It was just a corps of track stars on our team. How do you have a defense where nine of us go to The League?
But let's get back to Tommie: I believe he also could have played pro ball and he should have won the Heisman. I know that for sure, because I played with Eddie George. Probably the only reason Tommie would lose the Heisman to Eddie George was because Eddie is the nicest guy in the world. On the field Eddie George might run you over, but he was never going to be talking trash. I would have voted for Tommie. What I'd seen Tommie do, I would vote for the Heisman Trophy for him today.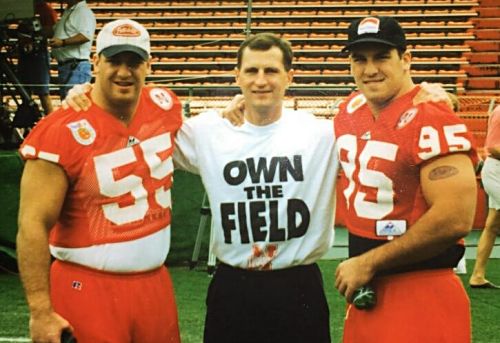 From left, Christian Peter, Trainer Doak Ostergard and Jason Peter
Q: Would there be anyone behind the scenes who meant a lot to you?
MB: I would say the guy that probably encouraged and kept it real more than anybody in the world is Doak Ostergard. Doak was the only person who, I would come in the next day and if I didn't play well, Doak would tell me. He would not sugarcoat nothing. I talked to Doak the other day about something, and I said, 'Doak, you could at least lie. (laughs) Whatever happened to that old saying where, "If you don't have nothing nice to say, don't say anything at all?"'
Then there was guys like (Bryan) Bailey. We really cared about Bailey. Even though Boyd was the man -I have no problem or anything with Boyd- but it just seemed Boyd ran the weight division like tyrant. I'm not saying he was a tyrant, that's not what I' m saying, but hearing what other people were saying. Bailey would spend incredible time with us, time he didn't have to.
So, guys like that. A lot of those guys who had big influences on me were people who deserved them rings, too, that went to war with me. They were always a 12th man with us out on the field. We spent more time with the trainers and the strength and conditioning people than we'd spend with the coaches.
Q: What are you the most proud of, Michael?
MB: Well, the most proud I am right now is probably the national championships and everything, but if I ever make the Husker Hall of Fame? That, I'm excited about. And when my son gets older I want him to have the opportunity to go to Nebraska. I believe Nebraska is a great program. They have good guys. And usually I'm not good at remembering things, but when I can say names like Doak, Dennis Leblanc, Jerry Weber, Bailey and other guys that helped contribute to my success was because they made an impact on me. I've seen, done, spent a lot of money, seen a lot of women, did a whole lot of things in a lot of places and I forget them, but the only thing I really remember are the people who touched my life, and that's the best thing I have about Nebraska is the memories. And the good memories definitely outweigh the bad memories.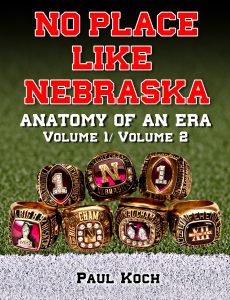 Available on Amazon.com
Now, I can't speak on who they have there today on staff, but one thing I'll always remember about Nebraska is that they actually care about their athletes. T.O.? One thing I'll always respect about T.O. was that he did not have to stand by Lawrence Phillips. He didn't have to stick by him. And even though Lawrence and I didn't get along, I always admired the way T.O. never turned his back on Lawrence, never turned his back on any of his guys.
And every time I see him and he says my name, "Hey, Michael," I'm like, 'Hey, Coach, remember me?' And last week I saw Coach Brown in the airport and we were talking and he remembered my name. It's true, the program cares about their players.
When I went here I was a boy, and… do you know who Chris Bubak is? I loved the guy, he was in charge of the Fellowship of Christian Athletes. He brought me to the Lord in 1995. I met so many good people at Nebraska. I've tried to move back there, but there was the weather and nothing really to do. If you want to see a play you have to go to Omaha, not much for nightlife. And I have to tell you, one thing I want to do someday is to bring my son back for my Nebraska Hall of Fame ceremony. That's one thing I want to do, for him to see me inducted.
He's six now, Michael Alan Booker the Third. They better have a jersey ready for him. We'll hold out until the last day for him to sign on the bottom line. I talked to Tyrone Williams when he got inducted, with Sheldon Jackson about the Hall of Fame. I'm not that old yet, and I don't know how they pick that Hall of Fame, and I wasn't the best athlete or the most involved in the community, but I hope they consider me.
Q: What did you gain from the experience?
MB: I think the biggest thing that I took away from Nebraska is the tradition, how big tradition is. Sometimes when you lose, you lose with character. We had a lot of tradition. And with that tradition we wanted to go out there and give them four quarters of smash-mouth football. Win or lose, we wanted our head to be bloodied but unbowed. When we'd recite that prayer, that was it.
Sometimes if they'd lose they'd have their heads down. You should never hold your head down at Nebraska. In that pregame prayer there's the line, "..if we shall lose, let us stand by the road and watch the winners as they go by." If you lose, you lose with your head up. Because if you've lost, you should know that you've given it everything you could and they beat you. Don't beat yourself.
And when we lost against Arizona State, that was the worst I've ever felt. We beat ourselves before we even stepped on the field. We thought we'd won the game before we stepped on the field and they blew the snot out of us. Jake Plummer, Keith Poole, I could start naming names. T. Battle, all them guys.
I don't remember them because they were great players, but because I could not sleep that night. I could not sleep for the rest of that night when I turned around and looked and it was the end of the game and we lost. When you lose you want to throw up. That should hold true for any Nebraska team.
End conversation.
"When you lose you want to throw up. That should hold true for any Nebraska team." Years before the refrain was, "Remember Iowa State," soon becoming "Remember Arizona State" for these younger guys on the roster. Coming on board in '93, Michael didn't have the benefit(?) of playing a part in that '92 Iowa State loss in Ames, which makes me wonder if every student-athlete needs a good, hard dose of reality on a periodic basis by way of an unexpected loss, if for nothing more than to keep their heads on straight. Perhaps that's the reason why I, personally, don't bemoan a Nebraska loss now and then, because I'm always thinking there's a silver lining in there somewhere for the youngsters, resulting in character-building for later on in football and adult life. But then again, maybe my head's in the clouds.
Michael gave me the biggest chuckle with his freshman comment, "Where are all the black people?" Later on we'll hear from Sonya Varnell, another key ingredient of the academic and social atmosphere of those days, but I'll note that it must have been a bit of a culture shock for many of the youngsters first arriving on campus. Though racial diversity was and isn't as evenly distributed in Lincoln as many other cities and campuses nationwide, who's to say it's such a bad thing? It sure contributed to a diversity of experience for many of the players, at the expense of a diversity of population. Echoing Dr. Martin Luther King, Jr., for the Nebraska Athletic Department each person held individual worth and was noted not for the color of his skin, but for "the content of his character" and his performance both on and off the field. In knowing this, the unified Scarlet Brotherhood could look forward with faith upon their goals, "With this faith we will be able to transform the jangling discords of our nation into a beautiful symphony of brotherhood. With this faith we will be able to work together, to pray together, to struggle together…" And win together. No one said it had to be pretty, though, as evidenced by his and Lawrence's rifts.
Notable quote #2:
Michael Booker's keys to winning: "I think the desire to win brought us together… Nebraska is the tradition. Sometimes when you lose, you lose with character. We had a lot of tradition."
Copyright @ 2013 Thermopylae Press. All Rights Reserved.
Photo Credits : Unknown Original Sources/Updates Welcomed