Anatomy of an Era: Mark "Zeke" Cisco Part 2
Excerpted from Chapter 7, No Place Like Nebraska: Anatomy of an Era, Vol. 1
Mark "Zeke" Cisco Part 2
Walk-on, Strong Safety, Monroe, Michigan (Jefferson)
Q: Any memorable off-field occurrences?
MC: Boy, I tell you, I was part of the TeamMates program. That was special now that I look back on it. At the time I did it because Coach Osborne was just asking, "Who wants to do this?" And being in a home where my dad was kind of a mentor -players kind of lived with us- so I thought that was kind of cool and I got involved with it.
And I got paired up with a kid named Sean Applegate, who ended up playing there at Nebraska and played very well. He went to Peru State and they tested him out when he visited because you could do that at Division 2 schools, and he told me his vertical jump and 40 time and I said, 'You know what, we're going to call Coach Osborne. We're gonna go in there and sit and talk to him about this.' And I remember looking at him and he was like, "Are you nuts?!" and I said, 'You are a receiver and you can play here. And if you knew who Coach Brown was you'd know that he'll find a place for you if you want to play.'  At the time I think we were doing a commercial for the TeamMates program and we were sitting in Coach Osborne's office and I said, 'What do you think about this kid coming here?' and he said, "Well, it's up to him." That really struck me, and Sean took the ball and came and played and scored touchdowns and the whole deal.
He was my mentee. We'd take him up to East Campus and shoot pool or go bowling with Troy Branch, be over at the house and just hang out and talk with him, call him once in a while, play Frisbee with him in the summer time -not a whole lot, not as much as I could or should have done- but it was a door for him. His mom was a great lady, fantastic, but she was single lady with a son and a daughter, his younger sister, and I'm sure it was a struggle for her. That was, now that I look back on it, was really something special. I was glad to be a part of it. It probably made me grow up a little bit out there, what little I did. To me that was really cool.
And obviously, the academic awards we got there, I remember Coach Osborne saying, "The team GPA is 2.77" and some guys would roll their eyes. But the average GPA of the university is 2.6, and some of the guys were like, 'That's right. That's us.' (laughs) And then meeting Gale Sayers, shaking his hand and having him hand me a medal, that was pretty huge.
You know, they always had somebody who administered the medals at those academic banquets. I think Dick Enberg did one time and Gale Sayers one time. To me that was gold. Growing up knowing about 'Brian's Song,' you know? And I have it framed in my house right now, the program from that banquet with his signature on it. I didn't have a major until they told me I had to finally pick one. I became an education major. And I swore I'd never do it since my parents were teachers.
Q: Did you pick up anything useful from your time at Nebraska to make you a better coach?
MC: There are a few days I can hear Coach Ron Brown's voice, Coach Milt Tenopir's voice, and I didn't even play on offense. (laughs) But I heard all these things and I think, 'How would they handle that? How would they handle this, how would they do that? If I had a Lawrence Phillips how would I handle that?'
And even at my last interview, I got asked about Lawrence Phillips, you know, "Why would they keep him? Why did they do that?" And I said, 'I'm going to tell you. Honestly, because Coach Osborne really thought that if he was given another chance that he would figure it out. He thought if he were given another chance he would help the kid.'  Coach Osborne knew our family, our parents, he really knew everything about us. And I really think he thought he could make a difference for this kid. And when it was time, it was time. He said, "This is enough, you need to go."
Coach Ron Brown really had an impact on me, and I never even played for the guy. And Marvin Sanders, when I was a freshman he was a senior, and you always knew if you didn't know anything you could go see this guy. And one time in the weight room I went up to ask him a question, and said, 'Hey, you don't even know me, but I'm a freshman and I have a couple questions for you. Can you help me out?' And he sat me down there and gave me clinic.
Q: So he was 'Coach' Sanders before he was Coach Sanders?
MC: Yeah, so there was a lot of treatment like that. Probably undeserved.
Q: Any good practice stories?
MC: All kinds. (laughs) I know the steps out there at South Stadium pretty well. (laughs) I guess I got a little chippy out there, just to be survivor. That was part of my role, I guess. I just wasn't fast, wasn't big, wasn't this or that like some people were, so that was my survival instinct. And Coach Osborne would be like, "Dadgummit! What's wrong with you?  What's going on out there?" So I knew when I heard that I'd be running some stairs, you know? So off I went.
I remember yelling at the referees at the scrimmage one time, 'cause Corey Dixon was cutting me. And I remember just cursing and kicking him in the head and cursing the ref out. And I come to find they were the guys who blew the Colorado State/Air Force game that year. And I don't know how I found out -maybe Greg Fletcher let me in on that- but I found out during the scrimmage. I remember some call they made that game essentially cost the game for one of those teams, it was on the news. And of course, I had to tell them I knew about that.
And I remember a hand on the back of my jersey, and here was Coach Osborne. And I shrink and I'm like, 'Oh no, I'm done. He's sending me home. Here I go.' And maybe being a coach's son, being around that stuff, I just couldn't resist, because I thought I was getting short-changed.
Q: So you'd be banging heads with the receivers every day in practice. Any guys stand out there?
MC: I was banging heads with anybody who was willing! You know, receiver-wise, I remember Richard Bell and Morgan Gregory beating the crap out of me and giggling. They'd laugh at each other. But then as I got older it got better. Nobody knew how good those receivers were because we ran the ball.
Cory Schlesinger and I became pretty close friends because I knew he'd never make a cut and I was just gonna have to bite my mouthpiece a little harder when the hit came. (laughs) I think I have a picture, I remember from a scrimmage, of him running through me, me hanging onto this leg, my chinstrap hooked to my nose. Sports Information sends a triplicate copy to both of us. I walked in the locker room and Cory reaches into a manila folder and grabs one out and says, "Swwwwwweeeeeeeet!" And of course, Cory, being a joker, stands there and spins in a circle for everyone to see. And of course, Trev Alberts standing there announces it and says, "Oh, that's great picture of you, Cisco! That's really awesome!" 'Thanks, man. Thanks.' (laughs)
Q: So your last game was the Florida State 18-16 game?
MC: Yeah, 18-16 game.
Q: Can you bring me back there?
MC: I broke my hand before the game. I shattered it on a helmet in practice the day before we left. A day before we left. And I remember having George Sullivan near me and I said, 'Hey, I can't get my glove off. Will you cut it off?' and he said, "Well, you broke your hand", and I said, 'Oh, come on! I did not! You're crazy.'  I can't hang on to the ball while we're playing catch.
And you know Sully, he was ready to beat me. I said, 'I did not break my hand. You're crazy.' And he said, "I'll see you at 7 in the morning." So 7 o'clock the next morning I went there and he took an x-ray and he put it up in the old, crude x-ray room down there in south east corner of the stadium. And he stuck that x-ray up there and showed me what happened and I go, 'Oooh, that's bad.' And he said, "That is bad. Well, do you want to get it operated on?" I said, 'No, no, no, no. I'm going now.' So I practiced all week with a broken hand with a splint on it. Which was dumb. It hurt, and Mike Heins and I were road roommates. And I remember telling him, "Don't set the alarm clock, 'cause after I take this pain pill I'll be up at six, guaranteed." And we didn't set it the whole week. And we were never late.
And I remember talking to a reporter from Monroe, Michigan and he kept asking, "Do you think you have a chance?", and I kept going, "Yeah, of course we have a chance! What are you talking about?!" And I remember how good Florida State quarterback Charlie Ward was, watching film of him, all of them games. And it was a game we should have won. A missed kick? Yeah, but there were some other things that happened that we should have done a little better. It was a little disappointing, but now you look back and you think, 'We could have been the only team to win 3 in a row.'
I remember the smell that night. Everything about it. I remember the first year in ' 91, when we were down there, I was stretching on the field the night before the game. The top 70 went out there and stretched. And I remember sitting on the field thinking, 'Man, I wish my friends could be here,' you know? I just wanted them to be part of that. It was pretty cool.
I remember at 6 in the morning we woke up to a roaring noise and I'm like, "What in the hell is that?" Look out the window and we're staying at the Hotel Sophie, and it was right across the street from the stupid airport. That was our 'move off the beach' as a way to protect us, so we could be next to the airport and wake up at 6 a.m. for a 9 p.m. game. (laughs)
Q: So obviously you're on the sideline. Were you suited up or in street clothes because of the broken hand?
MC: Oh no, I practiced all week and suited up. I was a backup on all the special teams that I had played on. So I could play. I didn't, but I could have. And the guy I would have had to block on punt returns was Ken Alexander, who's about 260. And I'm thinking, 'There's no way in hell I'm gonna be able to do this. With a broken hand I've got no chance, because I can't hold him.' And it was a great college football game. It's forgotten in lore down there, but there were some great players on the field for that game. There were some great plays that were just unreal.
The funniest thing was, we played those guys so much that we were so much alike, the coaching staffs were such good friends. It was like playing against ourselves, to be quite honest. A little bit different offensively. Coach Osborne and Coach Bowden, such good friends. Coach Bowden spoke at Coach Osborne's 200th victory deal that year. It was really like we were playing ourselves.
Q: And obviously, we fashioned some of what we did after them so we could play with them?
MC: Oh, definitely. I remember the spring practice conversations between both schools. I remember the '91 Miami game, thinking, 'Oh crap, these guys are incredible.' You know, in '91 it was the only time ever in my life I thought we would lose a game. When their defense took the field I remember thinking, 'Whoa!' I remember those three guys came out: Armstead, Barrow and Smith and they did their whole thing. I remember looking over at Troy Branch and thinking, 'Oh boy, we're in trouble.' It was a 22-0 game. And they split with Washington. We had lost to Washington, too. But Miami was pretty good.
Q: Anything else as far as the turnaround? Creating a new mindset?
MC: The 'Unity, Belief, Respect' thing. Remember John Calipari at UMass stole that from us?  'Play Like Champions' & 'We Refuse to Lose.' That was '93 when we had those black shirts during winter conditioning, and that was the year we got red tanktops. And then that summer we got black t-shirts that said, 'Unity, Belief, Respect' on it. I still have that around somewhere. It was 'enough is enough.' It really was, and we had the right people to do that.
And I remember Cory Schlesinger and I sitting on the beach that morning waiting for the sun to come up on Miami Beach after the Florida State loss. And it was cloudy that morning and the stupid sun didn't come up. It was behind all those clouds, and I'm thinking like, 'Are you kidding me!? How fitting!' And I remember saying to Cory, 'You better freaking win next year.' And he said, "We will." Sure enough, they did.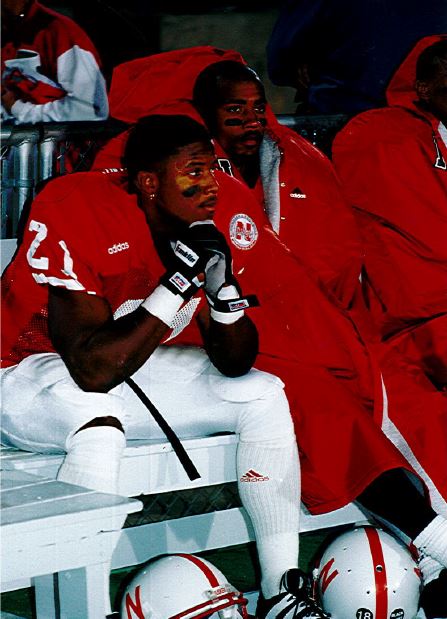 Damon Benning & Mike Minter taking a rest (Unknown/Uncredited)
Q: Anyone behind the scenes play a big part for you? Unsung people?
MC: There were a lot of people. And I think that makes the difference. You talk about good to great, building momentum, all the little nudges that don't necessarily move the wheel but they make it spin a little faster? All that academic stuff, we were light years ahead of it. People that took a special interest in you like Keith Zimmer. The whole strength staff there was just unreal. Bryan Bailey saying, "You can do this, you're gonna play. Try this, do this." It was just all the time, little nudges. They were a community of people like that. Like I said, the Nebraska families that took me into their house, took me out on my birthday, had dinners with, celebrated Easter? It just made it different than any other place in the country. I don't care where you're at, something they have that no one else has. No one else.
And that was the main difference, the people just took such an interest. The gosh darn news media was at the Dental College when we got fitted for mouthpieces as freshmen! They were! And we were freshmen, but it didn't matter. People were treated the same, for the most part, more than any other place in the country. Just the fact -with Trev and the Butkus Award, Will Shields- there was no separation. There was separation on the field talent-wise, but there wasn't anywhere else. We were all treated the same. And I remember people saying, "You know Trev?!" and I'm like, 'Sure I do, he's just a regular guy.' And I remember trying to cry my way out of study table, saying, 'Hey, I'm getting good grades.' And they were like, "No, you have to come to this." Things like that, and that's why I go back and visit those guys and we just talk.
It wasn't easy, but it's so much different than people you talk to from other places. There were some haves and have-nots. I know a lot of people who played at Michigan: there was the Demo Squad, which was the scout team, and then there were the other people. And the Demo Squad hardly ever got to dress, didn't ever. You just didn't have that expectation there: you just went to get the goody bag from the Rose Bowl and stand on the sidelines in front of 100,000 quiet people.
In Nebraska? If that would have happened we wouldn't have been very good and the scout teamer wouldn't have played. Other players would have run you out of the locker room if you had that kind of attitude. I know a guy it happened to. They just ran you off, they just beat the crap out of you until you relented and said, "Okay, I just quit," you know? On the field they didn't go out of their way to do it, but they just made it known that they weren't going to tolerate laziness. And off the field, in the locker room, they weren't afraid to say, "Hey, you can't just stand around all day. You're not helping." There were a lot of those talks that went on, and that doesn't happen in a lot of places.
Without question, there was a legacy you had to uphold. And at Nebraska it didn't matter who you were, guys would come back. Guys would say something to you. Neil Smith would say something if he came back, it didn't matter who you were or where you were from, what color you were. He'd say something if he didn't think you were holding up your end.
And quite honestly, Strength Coach Bryan Bailey was a guy who was real instrumental to me. Here was a guy who would go out and run 33 miles on his 33rd birthday and then he did a squat workout. And I'm like, 'Why the hell would you do that?' And he would say, "I just wanted to see if I could do it. I rode to Nebraska City and back on my bike," and I'm like, 'Are you stupid? What's wrong with you?' (laughs) Here was a guy who was down the line in the hierarchy of the strength staff, but was still given a part and had to, was expected to hold up the guys. Even you. You guys were given responsibilities and I know you were held to them. We all were.
Psychologist Jack Stark, there was no place to hide there. Even academically, there was no place to hide. You were given chances, but if you fooled them that was it, it didn't matter who you were. And Doak Ostergard, there's another guy. And George Sullivan, he gave us the most beautiful wedding present ever. He just blew me away. All the times I got busted for wearing a cap in the training room and got slapped on the neck. And all those times I get back to Nebraska and Doak gives me a hard time about not stopping in the training room when I visit my wife's family, he said, "Hey man, why didn't you stop by?" And I'm like, 'Why would you want to see me stop by,' you know?
Q: Any last insights to share before we go?
MC: Oh, I just… I owe that area a lot. I've changed a lot. Immaturity? There's a lot of people that gave me second chances there. And it's funny, like you said, there's not a day goes by that I don't think of something that happened there. Geez, it's amazing. I'm all so thankful, I could never spend enough time with all the people, enough for all the opportunities they gave me.
And Troy Branch, you've got to talk to him. He's got a great story. I remember going back to Camden, New Jersey for his mother's funeral a couple of years ago and spent about a week there, and I said, 'I know we've had this conversation before, but how the hell did you ever get out of here?!' I got back home to the wife and I felt like I'd been in a bad dream. That place is unbelievable.
And I've been in bad places in Detroit and Chicago and Dallas, and nothing compares to the things I saw in Camden. He stayed in Lincoln, didn't go back. Troy never went home and I never went home, so we ended up living together. We played a lot of pool together, were over at Noonan's house. We actually worked at a bicycle shop together. That was our thing, we rode a lot. I think we rode every stretch of Lincoln.
Q: I used to live over by the Children's Zoo and used to love biking that stretch down Normal Boulevard to my office at Memorial Stadium.
MC: Oh yeah, I remember biking that stretch. We used to live not too far from where you were over on 26th and J for a while, but then we were at 36th and U. Plus we couldn't afford to pay parking tickets. (laughs)
Q: Anything else?
MC: Oh, I get a lot of questions about Lawrence Phillips. He was the best, man. I remember Coach Tony Samuel saying that. "He's the best, Chief." The best one we've had. He was awesome. I remember when he was a freshman and they wanted to redshirt him and he was, "I'm not gonna redshirt." And I'm like, 'What the hell's wrong with you? Why don't you want to redshirt?' And we had a scrimmage the following day and were going to teach him a lesson. And we didn't!  (laughs)
He was good, he was unreal. And he was a nice guy, but he was also a guy you said "hi" to every day, 'Hey L.P. how's it going? How you doing?' Just because he was a mean SOB, there's no question about it. I supposed if your parents dropped you off at the steps of a boys' home when you were 10, that's a whole different story. Not having one parent, rather than even two, that's a little different. He was something else. He was good, I know you know that, but people don't know how good he really was. And he never shied away from anybody in practice, that's for sure. He was tough.
And just the whole staff at Nebraska: a lot of different personalities, very different personalities. It goes back to the staff there at Nebraska like Coach Frank Solich, Coach Charlie McBride, laid back Coach Tony Samuel, Coach Dan Young. I mean, there was fire & ice in that crew. If you can't get along with one of 'em you've got a problem. (laughs)
End conversation.
In his book Finding a Way to Win, Hall of Fame coach Bill Parcells wrote, "If they don't bite when they're puppies, they usually don't bite." Now a big dog in the Michigan high school coaching ranks, Zeke still radiates the same brand of gumption and verve as always. Can you sense from both his and the previous conversations why it's so enjoyable for me to reconnect with these guys after all these years? I know this is good for a man's soul, because I find myself shaking my head and laughing long after hanging up the telephone.
You might imagine how entertaining it was spending a good two or three minutes in the strength complex chatting with the players between each set of lifts two to four days per week. As a strength coach one always encouraged them while they performed their lifts, always seeking the best, safest display of proper lifting form in order to avoid injury. Most conversations were much like you just read here, and very tight bonds were developed. What a job. Can you believe that I actually got paid for it?
Zeke also mentioned a great legacy to uphold. To some that may sound a bit hokey and overdramatic, but every single day these boys were constantly reminded that they were merely the most recent version of a long line of Cornhusker squads. Framed & mounted photos, old team records, awards, and paintings of past Husker heroes on the walls served as a link to the past and a subtle hint of a tradition of excellence to maintain. He spoke of 'quiet expectations.' It was as if the Ghosts of Football Past were constantly watching, constantly vigilant –possibly even judgmental to a point- silently cajoling these boys onward and upward in their quest to fulfill their friends' & teammates', their coaches', their University's and the entire state's quest for a perfect season and that elusive national championship. Most every player of the day had not yet been born the last time the Cornhuskers could truly pronounce at season's end, "We're Number 1!" That last happened in early January of 1972, but a plan to change all of that was afoot.
Notable quote #2:
Mark "Zeke" Cisco on the culture: "My first impression was that I'd landed in church, to be honest with you."
Copyright @ 2013 Thermopylae Press. All Rights Reserved.
Photo Credits : Unknown Original Sources/Updates Welcomed
Paul Koch