Anatomy of an Era: Lorenzo Brinkley & Kenny Wilhite, Part 2
Excerpted from Chapter 11, No Place Like Nebraska: Anatomy of an Era, Vol. 1 by Paul Koch
Lorenzo Brinkley & Kenny Wilhite, Part 2
Scholarship recruit, Cornerback, St. Louis, Missouri (Hazelwood Central)
& Scholarship recruit, Cornerback, St. Louis, Missouri (Oakville)
Q: Tell me, was there a change from the first day you were on campus to the last, as far as a team mindset? Anything come to mind?
KW: Well, the thing that comes to mind was the first day I got there: I think a lot of guys -I don't want to say this the wrong way- but a lot of guys were worried about the next level instead of playing as a team. They were more about their own selves and stats.
Then my last days you had guys like Toby Wright, Troy Dumas, Ernie Beler, Lorenzo & Trev Alberts on the defensive side of the ball, along with Tommie (Frazier), Abdul (Muhammad), Corey Dixon. And those offensive linemen? You can't say enough about them. That last year after the bowl game, that team knew what they had and I think that started the first day of the offseason program. They knew what they had and they worked a lot harder than previous years and they became a team.
I don't think anybody was looking forward to the next level. They had 'the team' in mind now. You had the skill guys that would challenge Florida State and Miami: you had Calvin (Jones) at running back, Lawrence Phillips as a freshman, Damon Benning and Clinton Childs, Tommie, Corey Dixon, and I think the coaching staff and the strength coaches putting it all together. I think it was just the guys knowing what they had and deciding it was time.
Q: If I recall, your last game was the 18-16 Florida State game. You broke your arm in that game, right Lorenzo?
LB: Broke my humerus. There was like 7 minutes left in the 4th quarter.
Q: Man, that was crunch time! That had to hurt. In my mind, you should have a National Champ ring on your finger from that game.
LB: I agree.
Q: Nonetheless, can you take me back to that game and what stands out to you, other than the broken arm?
LB: As a defense, that's all I can speak for: we were as geared up and prepared for that team than any other game I've been prepared for. I knew everybody around me was ready for anything that could happen. We were so prepared for that game.
I guess you'd have to give credit to Coach McBride because he was the Defensive Coordinator, but also I think it plays into the fact that we were more of a team at that time. If you remember, we played KU and we won at the end of the game when they missed the two point conversion. I think we knew we were the underdogs for that Orange Bowl, so that also played into it, too, like we had something to prove. The whole year was crazy, and we had to prove that we could finally get to the championship game and be competitive. So it was kind of like, "Are we gonna be the same team or are we gonna try to make a difference?"
Another thing that I think Coach Osborne did back then that helped us was when we started taking the bowl trips a lot more serious. 'Cause my freshman year we played Florida State in the Fiesta Bowl and that was kinda out of control…
Q: Partying & staying up late?
LB: It was a fun time instead of taking care of the business at hand. From then on it started being a whole lot more structured, I would say. I just remember guys like Mike Anderson and Trev Alberts, who else? Raemakers and Cory Dixon (who I thought was a good leader), Donta Jones, (a hard working guy…)
Q: He was Lifter of the Year…
LB: Yeah, and we had Barron Miles, too.
Q: That's quite a lineup, with Barron Miles, John Reece, Toby Wright, guys like that…
KW: Actually, my junior year I tore my ACL, when Barron was a younger guy. I knew how good he was gonna be, so that summer I worked out three times a day just to get back and ready for my senior year, because if I wasn't ready to play Barron was going to take my job.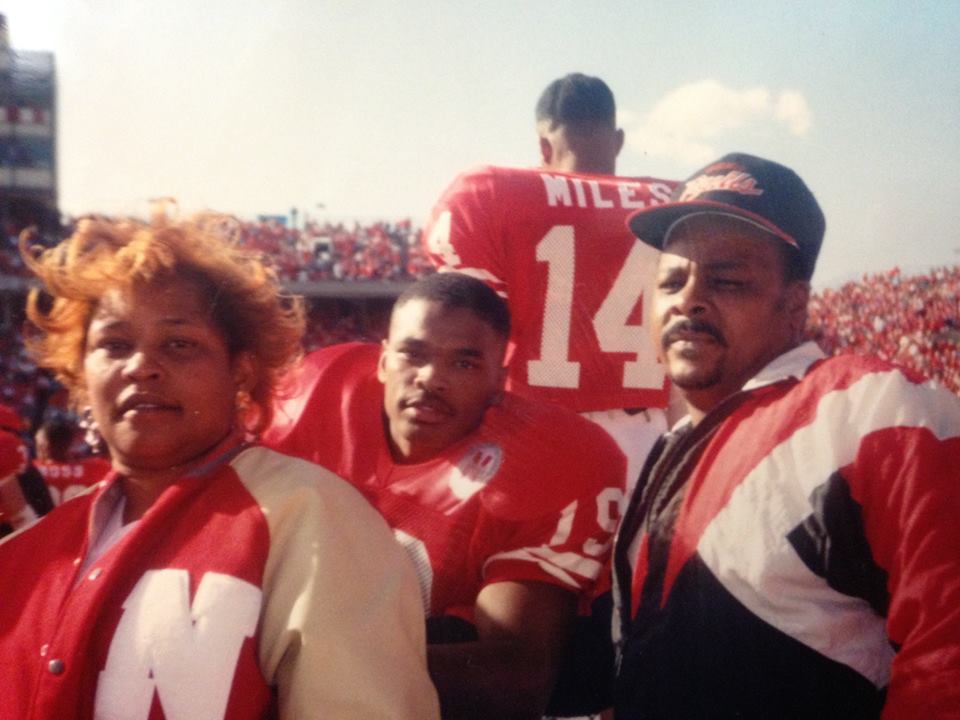 Kenny Wilhite and his biggest supporters (Unknown Source)
Q: What's your favorite moment as a player?
LB: I guess it would be in the Orange Bowl game playing Florida State when we ran that punt, when Corey ran that punt back. After that, I think we were proving ourselves right that we could beat them, you know?  That stuff with the refs didn't even matter, it didn't matter at that point in the game. We'd played like that the entire year, like we knew we had what it took.
Q: Weren't you on the punt return team for that game?
LB: Yeah, I was actually on Corey's punt return. I've seen it on film a couple of times. I remember a lot of plays, you know, the plays that I made, and how it was to play against Charlie Ward and his ability. To see one of his passes go whiz by your head before you could even react to it was really special.
Q: He could put the mustard on it, eh?
LB: Yeah, oh my God. Just looking at his demeanor and all, you just didn't think the kid had it, but he was the real deal. All he would do was just look to the sideline, he never got rattled. I tried to get in his head a little bit and talk shit to him, but he never paid any attention to me. (laughs)
Q: And if you wanted to talk smack to him, what would you say?
LB: Stuff like, 'We're coming to get you', 'I'm gonna knock your block off,' things like that, called him 'soft' and things like that, nothing vicious or anything. Trying to get him to respond, but he'd never respond.
Q: Any recollections of taking other guys out of their game by getting in their head?
LB: Colorado's Kordell Stewart, we used to get him rattled. And we used to rattle Chad May from Kansas State.
Q: I remember Trev Alberts one year, first play of the game, sacked Kordell Stewart in the backfield right at the first snap. And then I noticed Trev had a little something to say to him. So on Monday he's in the weight room and I say, 'Hey Trev, I noticed you said something to Kordell after that first sack. What did you tell him?' And Trev said, "You better get used to this, because I'm gonna be back here all… day… long."
LB: (laughs) You know where we got that from?  From watching old tapes of Broderick Thomas playing UCLA -and it might have been Troy Aikman in the backfield- and you could hear him say like, "I'm gonna be on your ass like this all night!" So we'd always say that kind of thing. All game. How much did we blitz back then? Every down.
KW: About those bowl practices… they were like going to training camp all over again. It was very, very structured. You had your free time, but when the coaches had you it was very structured, you knew where you had to be. Like growing up, my ultimate goal was to play in one of those games. And the preparation before that game was… it was crazy intense. Because you knew what you were going up against.
And for the most part, you wanted to win it for the coaches, for the hard work they put in. Especially Coach Osborne, you wanted to win for him. You wanted to win for yourself, but you wanted to win it for him.
Q: That always seemed to be a major goal, didn't it? Being the first ones to win the big one for T.O?  Now Lorenzo, with Florida State being your last game, were you able to get over the loss quickly or did it take a while to recover?
LB: Truthfully, I wasn't out there for the last 4 minutes of the game, so it's kind of like a void there for me. You know, after the fact, it just didn't feel like it ended for me. It was depressing, because here it was my senior year and I was off to a good start, I bought into the system and everything, I did everything I was supposed to, and ultimately it affected my draft status. It was a long process for me, actually.
Q: Did you ever deal with Jack Stark?
LB: A little bit. He was around a lot. For some reason I recall him being on the Unity Council sometimes, and being around for a lot of those talks.
Q: So the next year vs. Miami for the championship, do you recall that game?  Where were you watching the game?
LB: I want to say I was in St. Louis at that time, and just recognizing and calling out a lot of the defenses that we ran, just being involved in it. But the thing that stuck out the most from that game was the run by Cory Schlesinger, the last back-breaking run.
Q: Anything you wish you could have done over?
LB: Boy, that's a tough one. I guess just the fact that I was so headstrong. I probably should have listened a whole lot more. There was people around there that would talk to me about certain things, like Bryan Bailey, he would say a lot of things to me the later years there that made sense to me. He would always tell me that, athletically, I was just as good as anybody else, as far as being in the weight room and getting better, how he would help me.
Q: Anyone else play a major role as somebody special?
LB: Two people that stuck out to me were probably Doak Ostergard and Coach Osborne.
Q: Can you expound on that?
LB: Coach Osborne, I knew where he stood. I knew that if we had rules, he didn't expect you to go beyond that point. And he'd stick by you as long as he could. The prime example of that would be Lawrence Phillips. If he said it, he stood by his word. And I respected that, because you'd always get into situations where you could take it one way or another. He also stood by what he said and was a great man, in my opinion.
KW: You ever hear that saying, "You don't know what you got 'til it's gone"? Well, my three years under Coach Osborne I knew what I had and what kind of person he was. Matter of fact, I went to the convention this past year; he spoke at the convention and he gave me goosebumps listening to him.
And to gain some knowledge from him I try to call him at least once or twice a year. I actually called him about 3 weeks ago and left a message. He called me right back. That guy, there's not enough words to explain the respect, the love, the gratitude that I have for him. He gave me a chance and he believed in me; he was there in good times and bad. He always told me if I ever need anything not to hesitate to call him and he'd do whatever he could do. And he's a man of his word, I tell you.
LB: And Doak was a laid back guy, but also a straight shooter. He was in a different capacity because he was in the training room, so because of injuries I got to know him a little better, and he would also tell me some of the stuff that I needed to hear and some of the stuff I didn't want to hear. But I trusted him. He was a good guy. A good guy to trust.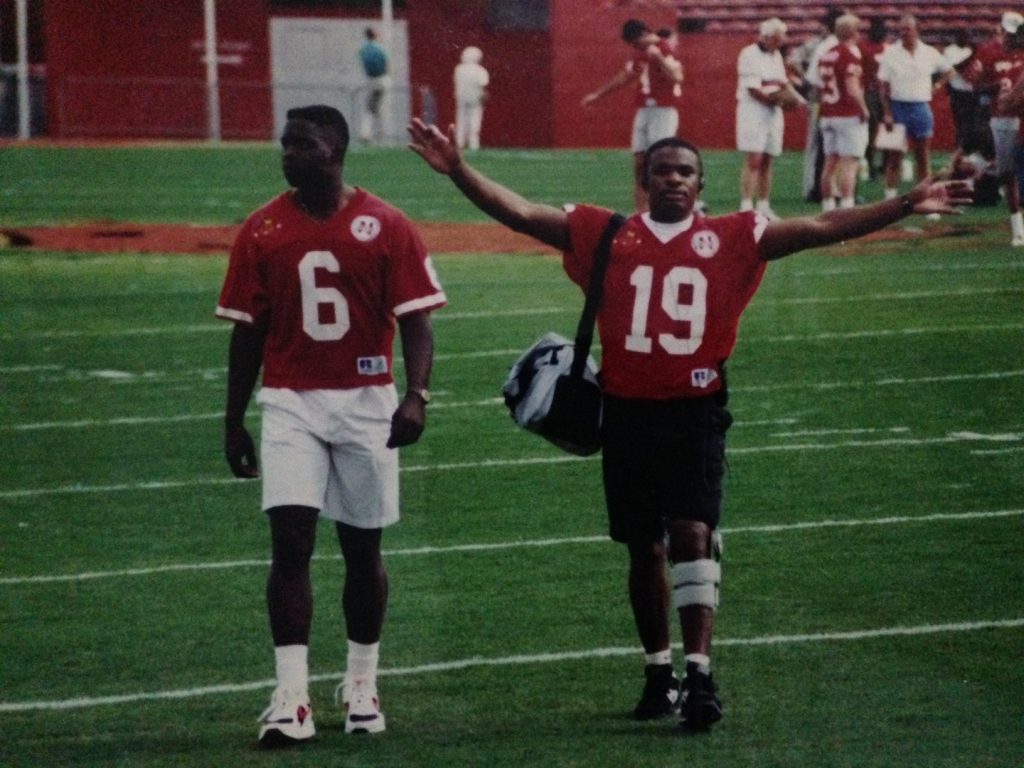 John Reece & Kenny Wilhite: Bowl Prep (Unknown Source)
KW: I tell you what -when I hurt my knee- if it wasn't for Bryan Bailey and Doak I probably would've had to give up football.
Q: Really?
KW: You've gotta know, from the age of 5 years old I wanted to make it to pro football; it just looms where you try to make it to the NFL, the ultimate goal. When I tore my knee I thought it was all over and actually walked away one day and said, 'I'm done.' And I called my grandmother -and my grandmother was my rock at the time- and my grandmother said, "Tell you what, you make sure and get that degree, because they can't take that away from you."
And I just looked in the mirror and said, 'Do I want to be known as a quitter?' There were a lot of guys in the neighborhood said I wasn't gonna make it, said I was too small, so that was my ultimate driving point. And like I said, Barron Miles was behind me and I didn't want to lose my job as a senior to the guy. But if it wasn't for Bryan Bailey and Doak I would have given up. I keep in touch with Doak. I talk to him at least once a month. He was a good one, now. He was very, very good at his craft.
Q: How so?
KW: There aren't words to explain that guy. He was young at that time, one of the youngest staff members on that training staff. So him and Bailey. If Doak knew you could play and he knew you were tough, he'd take care of you. And he knew what I had ahead of me, he pushed me. He knew which buttons to push. It was like him and Bryan took turns.
Q: Bad cop, bad cop?
KW: (laughs) No, it wasn't bad cop. Although I can remember one time Doak was cranking on my knee and he was telling me, "If you don't do this you won't be playing next year….." And I finally told Doak, 'If you don't get your hands off of me, I'm done!' That's it, I walked off. I left, went home, called my grandmother. I came back the next day and apologized to Doak, and he said, "Hey, I'm doing this for you. I'm not doing this for myself. Don't think I'm taking a liking to it. I'm doing this to get you back on the field." After that it all was good. I tell you, that guy's one of the best. The way they gave the staff the leeway, it was good.
Q: Knowing where you guys stood after practices and games, plus the setting of goals, what was a big thing for you?
LB: I watched film a whole heck of a lot, and Coach Tony Samuel really knew how to relate to me, too.
Q: Was he the one who recruited you, Lorenzo?
LB: Coach McBride and Coach Brown did. But Coach Samuel, personality-wise, we were a whole lot alike, very competitive but laid back in a sense. He showed me that you can get a message across to a person in more than one way. And Coach Darlington, as far as being a technician, demanding proper footwork? Coach D for sure. Coach Samuel fashions himself after Coach Osborne. He played for him and worked for him for 12 years. He's a man of integrity, a family man, and Coach Osborne is the same.
To be continued…
Copyright @ 2013 Thermopylae Press. All Rights Reserved.
Photo Credits : Unknown Original Sources/Updates Welcomed
Paul Koch
---
---
---