Anatomy of an Era: Lance Gray, Part 1
Excerpted from Chapter 67, No Place Like Nebraska: Anatomy of an Era, Vol. 2 by Paul Koch
…he came West a young boy…and took a job as a driver for a freighting company that carried supplies across the plains from Nebraska City to Cherry Creek, as Denver was then called. The freighters, after embarking in that sea of grass six hundred miles in width, lost all count of the days of the week and the month. One day was like another, and all were glorious; good hunting, plenty of antelope and buffalo, boundless sunny sky, boundless plains of waving grass, long fresh-water lagoons yellow with lagoon flowers, where the bison in periodic migrations stopped to drink and bathe and wallow. "An ideal life for a young man," the Captain pronounced.
-Willa Cather, A Lost Lady, Courtesy of the Willa Cather Trust
Bullethead. Now, there's a nickname for you. As a native rural Nebraskan, when I hear the term 'bullet' my mind's eye doesn't directly swerve to death-tainted urban street scenes dark and devoid, seeping with crime, illicit drugs and other senseless, violence-tarnished exits from a fleeting, fatalistic world. Instead, it brings to memory a calm Nebraska winter's twilight as the far-stretching horizon blooms massive pinkish, purple and orange hues, of sitting quietly, patiently betwixt man's coddled modern world and that of cruel, unforgiving wilderness, soaking in the sounds and smells and sights of a vast snowy blanket of sandhill prairie below this canvas of a pastel sky, posted on the edge of a calico mix of cottonwood, white oak and American elm shelterbelt eight feet up in a solitary tree stand, the wind gently whistling Creation's harmonic tune in my ears while biting them glowing red, stinging and numbed all the same. One lonely, cold, shiny lead-tipped .22-250 bullet rests in my hand-me-down Remington rifle: safety on, scope dialed in, scratches covering the stock from years of lugging here and there over scrapes with barbed wire fences and absent-minded run-ins with corner posts.
I am moved, yet unmoving. Eyes and ears and every conceivable tactile faculty at full-alert, the tension of the moment juxtaposes the serenity of the scene as I await a shadowy figure's emergence unannounced from a golden cornfield's end row. There he is: a 12 point buck! A moment of truth is now placed squarely in my sights; in an instant adrenaline gorges my veins, heart pumping like bongo drums, my breath turning to only brief inhalations for fear of a revealing, steam-filled plume of spent air. Now is my moment, my one – and only one- opportunity to score my direct hit, taking down the beast I've sought out and chosen as my opposition in nature's tenuous, deadly game of 'Gotcha!'
This is the image imprinted on my long-gone farm boy/football fan's memory, so the moniker 'Bullethead' conjures up a cruising, catapulting projectile hitting his target: in this case an opposing and unsuspecting prey meeting his ill-timed annihilation at the game's outset. We're talking about the opening kickoff here, an authoritative and destructive announcement that the poor fellows without the red N's on their helmets very well may be in for a very rough day. Such was the grand and grotesque work of Lance 'Bullethead' Gray, New York's finest who surprised many while seeking out his spot on the Nebraska roster. Were his playing time put to a comic book-style formatting there would be many, "Pows!, Bams!, Kar-aaaacks!, Whammms!!" and the like. Lance's is a story that confounds, amazes, and inspires. You've likely never heard it before. It's about time that you did.
Notable quote #1:
" 'During the spring game, the number one offense in the world is playing the number one defense in the world. You guys have to understand that; It's number one against number one. The best offense and the best defense are banging heads in that spring game.' We took that into the fall season knowing we had already played the best, and now we're just going to go beat up on people."
Lance Gray
Walk-on, Fullback, Owego, New York (Free Academy)
Where are they now? Phoenix, Arizona, Administrator
Question: Tony Samuel specifically brought your name up as someone who really made a difference to the program, Lance. He said that you would run down the field on the first kickoff of the game and set the tone for the day, essentially telling the opponents, "Get ready. You are in for a butt-whooping." (laughs)
Lance Gray: Well, I found my place on the team, that's for sure.
Q: How did you get that nickname, anyway?
LG: Tony. Tony's the one who did it. I don't know what game it was; something happened where it was a huge factor in the game and he said, "I can't explain it. He just goes down there like a bullethead and does what he does." (laughs) After that it was always 'Bullethead, Bullethead, Bullethead.' It could have been worse, right?
Q: Definitely could have been worse. Right. (laughing) It's a very evocative name. Great imagery. So when was your first fall on campus?
LG: It was '89.
Q: So you were from Owego, New York?
LG: Just south of Syracuse, New York, about an hour.
Q: So how does a kid from New York state end up at Nebraska?
LG: I was probably a junior in high school and was watching a bowl game, and it was Nebraska versus Miami. And the next year I said, 'You know what, I want to go to Nebraska.' And everybody was, "You're not going to Nebraska. You're from Owego. There's no way you're going to Nebraska." And I said, 'Just send my film out. Help me out here.'
And every summer since I was a freshman I went to Penn State for football camp, and my father lived in Philadelphia and it was always "Penn State." But whatever I saw that night at the Orange Bowl, I just decided that I was going to Nebraska, the football factory. And one thing led to another and my tapes got out there, and Shane Thorell and Jeff Jamrog were coaching the freshman team and they said I'd be a linebacker and to "come on out." They really liked me at fullback and then they moved me to linebacker. And shortly thereafter I was a linebacker in the 5-2, and then they switched to the 4-3, so they put me back on offense as a fullback again.
And the whole time I was there, as a freshman they said you should want to have an impact and do everything properly, and I found my niche on special teams. I just dived in when I was 18 years old and they were letting me play with the varsity after my freshman year, covering kickoffs, and said I was going to give it my all. I had a hell of a lot of hits, caused a lot of fumbles and made a lot of tackles, and one thing led to another and I was 'Bullethead', and made the travel team.
It was an amazing experience, and that's how I found my niche. My freshman year I started all those games on the freshman team, but thereafter I was pretty much an impact player on special teams. I was on all four of them: punts, punt returns, kickoff, kickoff returns. I was on the field every time down and that's where I found my niche. I was pushing the players ahead of me because I had the desire, but my niche was special teams.
Q: What was your favorite position in high school?
LG: Linebacker. I grew up on those NFL tapes with Butkus and Deacon Jones and the whole nine yards. Crunch Course was the name of it. We grew up watching those every morning before a game, all those crazy linebackers on defense. My father was a football coach and he was a crazy football player for Philadelphia and Westchester State, so it was in my blood.
Q: A chip off the old block, eh?
LG: Yeah, that's kind of how it happened.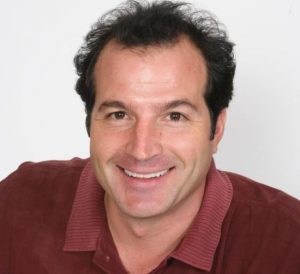 Q: Now, digging deep into the recesses, what was it about that bowl game on TV that made you want to go to Nebraska? I'm thinking Nebraska was probably getting beat at that time.
LG: There was something about the way the announcers talked about Nebraska football. It sounded like the way the guy used to do those old NFL tapes that I watched in high school: "Nebraska. Football Factory. Strength Coach Boyd Epley…" and I was, 'That's where I've got to go. That's where I need to be.'
Q: Were you a scholarship or walk-on?
LG: I walked on.
Q: What did all the folks back home think?
LG: That I'd lost my mind. Yeah. (laughs)
Q: Surely there had to have been some provincialism. I'm figuring people would have thought Penn State, Syracuse or some other local college team, right?
LG: That was a Penn State thing, and Syracuse. A lot of the guys that were classes ahead of me had gone to Syracuse. My sister went to Syracuse and graduated a year ahead of me and that was the plan, but I just went another route. I did my own thing and stepped out on my own and there I was.
Q: Did you take an official visit?
LG: I went out for the spring game and met Coach Osborne. I didn't really have the official visit-visit. And one thing led to another and I got on the airplane and went out there for fall camp and Jeff Jamrog and Danny Noonan picked me up at the airport, and the rest is history.
Q: So "Hog" Jamrog and Noonan picked you up at the airport. And your first few days on campus getting immersed in the program, do you recall any peculiar memories of that?
LG: I don't want to say that I was intimidated; I was young and full of piss and vinegar. I wasn't really intimidated by the atmosphere, but I was just in awe of the enormity of the program. The other guys that were there, the people in the dorms, they dumped us all in Harper-Schramm-Smith there, players from across the country, the best athletes in the world. I was, 'Wow, this is the real deal.'
I guess the funniest thing I would say is, everybody's out there and we're doing practice and it's hard and everybody's nervous and we're busting our ass, but you cheat when you can. And then after the practice we go upstairs, and it's with the varsity coaches -even though we're freshman- and they flip on the damn film! I was, 'Oh, no! They film practice!? Are you shitting me?!' And we're on film, we're all out there loping and screwing around… and that was the wake-up call. 'They film practices?!'
That was the 'Coming to Jesus' moment for us all. Penland, myself, Greg Fletcher, that told everybody this is the real deal. You go 100 miles per hour all the time, no B.S. Pads or no pads, the cameras were rolling. And that was probably the most profound moment was when they sat us down and turned those practice tapes on. It was the first day.
Previous to that the only time you saw film was when somebody's dad was in the stands by the band taping your game and you'd get to watch yourself later, then all of a sudden you're out there and they're filming warmups, they're filming stretching, they're filming practice, and nobody knew. So we go up there and we figure, "Oh, maybe we're gonna watch some of last year's game film or something." And then they turn the film on and there we were. I was like, 'Holy shit!' And we're elbowing each other, "You're loping. You're loping. You're loping." (laughs)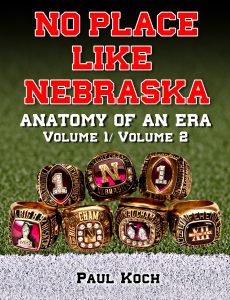 Available on Amazon.com
Q: Do you recall some of the first friends you made?
LG: Yeah, one of them is still out here with me, he lives right down the street, works down the street. Tim Fridrichsen. He was the man behind the scenes, for real. He was from Norfolk Catholic and he was a famous fullback up there, and he also came down our freshman year. And they just put us together, alphabetically, for roommates, you know: E, F, G. So they put us together as roommates. So there we are and they moved him to strong safety. Our freshman year, instead of keeping him on the freshman team they moved him up to varsity for big run support and all that. And somewhere in the season they sent him on a stunt or something in the practice and he went up against one of those big guys like Doug Glaser or someone like him, and I guess he broke his neck a little bit. That was one of those weird things. He was in traction for a while and he rehabbed it and did the whole nine yards and stayed around for another couple years, but he was always my roommate until I graduated. And then years later he moved out here. His family brought me in up there to Norfolk. We spent every weekend up there, holidays. Dean Schneider was from Inman… Jeff Hughes, Kevin Ramaekers, Parrella, Penland, Fletcher, I knew 'em all. Schlesinger? We hung out at the time when I moved back to fullback.
Q: What was Cory's nickname?
LG: Let me think, let me think…  I remember his big debut was when we went over to Japan and we played Kansas State over there, and Lance Lewis got hurt. And that was Cory's first starting role, and he just floored every person he hit. He just knocked them on their ass. That was his coming out moment over in Japan. He always wanted to be a shop teacher. That was his goal. An awesome guy. A great guy to hang out with.
Q: So who was your coach on the freshman team?
LG: It was Shane Thorell, Jeff Jamrog, Steve Stanard. Jamrog was my coach that year. It was weird, because here I have Jamrog as my coach when I'm a freshman and wasn't a real impact player, but I did enough on special teams that I ended up as a free agent on special teams with the Minnesota Vikings, and there Jamrog was down at Mankato State. I went through the camps and then I got cut, but it was a marvelous experience being up there. I was out in California and I just got a call from out of the blue. They called up and said, "We'd like you to come into training camp. We've heard a lot about you." I thought that was going to be the rest of my life. They brought me in as a fullback and special teams, and I just didn't make the cut at the end of the fday, but it was a phenomenal experience.
Q: I'm thinking that you were first in the north locker room and then you finally get moved to the south locker room?
LG: Oh yeah, once they kind of eliminated the freshman team there they moved us, and I was somehow number 91, so I was right next to John Parrella. Him and I were friends for quite a while. And not until my senior year did I get number 29 and I was officially a fullback. But I kept the same locker. Then there was the weightrom and Boyd Epley and everybody, they were just phenomenal.
Q: So you began on defense when you moved to south stadium?
LG: Yeah, I started working with Coach Steele as a linebacker, then they moved me to outside linebacker and I worked with Tony. I did that for three solid years and then in the '92 Orange Bowl we switched from a 5-2 defense to a 4-3, so they moved me to inside linebacker. They brought up the strong safeties and I was sitting there on the depth chart and like 3rd string behind Darren Williams and David White, and Coach Solich called me into his office and he's like, "Tony and I have a plan." And I was, 'What's your plan?' He said, "The way you knock people down on kickoffs, punts and punt returns, we think you would be a good fullback." And I said, 'Alright. If that's the best thing to do, I'll do it.' So I went over to fullback and it was pretty much Schlesinger and myself. My senior year there I played a little bit injured, but I had a few downs and all the special teams stuff and made enough of an impact that I got myself to the NFL for a little bit. It didn't work out, but I have no regrets. None. It was the greatest experience of my life.
Q: So let me ask you about the coaches. Let's start with Coach Steele…
LG: He was an amazing individual. How do I say it? It's his style. It was one of those things where if you were able to be motivated, he motivated you. If you were intimidated, he would intimidate you. Some people are motivated by a cattle prod and some people need massaging a little bit. He and I got along fantastic. We were great friends, and we'd talk a lot in the locker room. He was a great guy. I have nothing but respect for him. He treated me awesome. He made sure that when I was a sophomore through senior he was also quasi-in charge of special teams, and he would circle everything and tell us what had to be done and then he'd say, "If you have questions, talk to this guy right here: Lance Gray." If you responded to the way he coached, he took care of you. An awesome guy.
Q: So you went to Tony Samuel next…
LG: Tony saw potential. He could see size potential, strength potential, speed potential. He would talk to me in a different light because there were certain things, angles that I didn't have, because I was 6'1", 230 trying to play outside linebacker. He knew I had enough to push the people in front of me and he liked that.
He liked the stuff I'd do on special teams. He was the one who sat me down one day and said, "You're really good at that. But you can be better." And he gave me these special teams tapes. He was like, "Watch the ball. Punt returns, kickoffs, kickoff returns…" he said, "You're probably not going to start, but you're an impact player. Watch these tapes." So three days before every game he would give me all the special teams tapes, and I could find the weaknesses and find the guy who was not looking, and that was the gift they gave me. I managed to be on the travel squad for four years and make an impact. He was a great guy off the field, too. Somebody you could talk to and he'd have you over to his house for dinner. Just a great guy.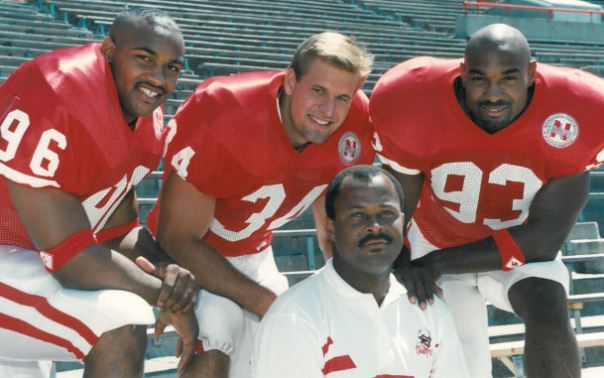 Coach Tony Samuel with David White, Trev Alberts and Travis Hill
Q: I spoke with him already and recall him saying that: "You guys are the difference makers." What else would he preach to the rush ends?
LG: Well, the thing about rush end is that on every single play there's four reads, and if you screw up one of them you get beat. You're either going to chase the play and make a tackle on the backside, but if you chase the play and aren't looking up they're going to run a reverse on you. If you don't go full speed at the quarterback he's going to get the pass off. But if you do go full speed to the quarterback and he's running a bootleg you're gonna lose.
His thing was 'discipline'. Discipline, discipline, discipline. You had to go with 'controlled fury', was his catchphrase. And mistakes at full speed were okay because they could be made up, but that was the toughest position because it could make or break you. Whatever they do, you could never commit until you knew what the play was. It was the toughest position to play. You had to make four reads every time at full speed, and that was very, very difficult.
Q: Controlled fury, huh?
LG: Yeah, controlled fury.
To be continued….
Copyright @ 2013 Thermopylae Press. All Rights Reserved.
Photo Credits : Unknown Original Sources/Updates Welcomed
Author assumes no responsibility for interviewee errors or misstatements of fact.