Anatomy of an Era: Jon Pedersen, Part 1
Excerpted from Chapter 90, No Place Like Nebraska: Anatomy of an Era, Vol. 2 by Paul Koch
Football is a rough sport. You encounter 11 people on the other side of the ball trying to make you fail. They're trying to block you, strip the ball from you, slam you into the turf. (Players) expect to experience a certain amount of adversity…not only expect adversity, they welcome it. They're motivated by the toughness of the task, by the difficulty of what they're trying to accomplish.(emphasis mine)
-Richard Ott with Martin Snead, Unleashing Productivity!
In just about every great action/drama movie where one encounters a team of individuals as the protagonists, they're often taking on a bad guy, an opposing gang or a corrupt system of evil-minded individuals as their foe. In the course of events one of the key, valued characters of the cast is often lost to great injury and, in many a plot-line, even death. First causing unit-wide grieving and a subsequent re-evaluation of the worthiness of the fight, the memory of the fallen comrade eventually becomes a rallying cry for those still in pursuit of the prize, the victory, the final destination.
Such is the story of Jon Pedersen, a member of the Pipeline who found himself physically unable to complete his Nebraska Football mission, his childhood Husker destiny, yet continued the pursuit in the best way he knew how, still contributing in crucial and critical respects despite his personal, bodily calamity.
The affliction of sporting injury leaves an indelible mark on a person's psyche, oftentimes symbolized in the form of a scar. But the mental anguish, the pain of a dream's early dying, of walking away from the game of football on terms other than one's own, it's a woe and a misery I'd wish upon no one. Surprisingly though, Jon weathered it well, and to this day he's still on the offensive, little worse for the wear. Let's hear from him now, still in the trenches and now holding the line on America's outer reaches for the U.S. Border Patrol…
Notable quote #1:
"There wasn't one person who said we should take two weeks off. Everybody voted and we all showed up on Monday in the weight room. So on top of that you have the hard work, you have the dedication, and then you just have some 'blood and guts' tough people."
Jon Pedersen
Scholarship recruit, Center, Grand Island, Nebraska
Where are they now? Southern California, Border Patrol Agent
Question: Hey Jon! So is it an okay time to talk?
JP: Oh yeah. I'm here listening to everyone tell me how good of shape they're in. (sarcasm)
Q: Who, your kids?
JP: No, the guys that I work with. (laughs) They're talking about how their knees are getting busted up and their backs are hurting.
Q: And what, you're still feeling like a spry twenty-one year-old, right?
JP: Sure. Physically fit. A specimen. (jesting)
Q: (laughs) I would expect nothing less. So where are you at now?
JP: Well, at the moment I'm out here in Campo. Campo, California.
Q: So you're out in extreme eastern San Diego County on the U.S.-Mexican border watching the sun go down and watching for the coyotes, both animal and human form?
JP: Actually, it's pretty quiet today. I don't know what's going on. Yesterday was busy and today is slow.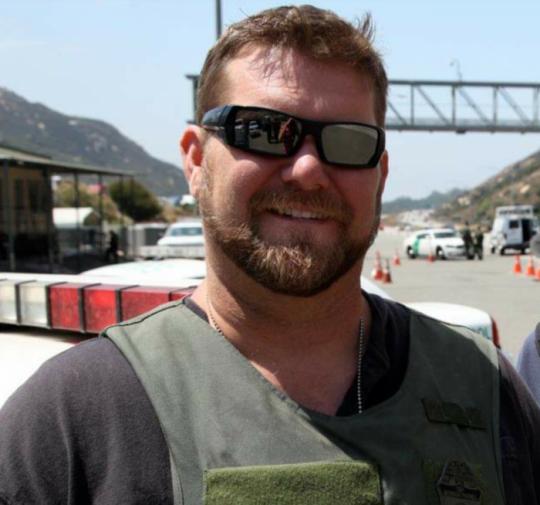 Q: Well, I'll throw a few questions at you about the old playing days, then.
JP: I'll see if I can remember. (laughs)
Q: What town are you from?
JP: Grand Island. Grand Island Senior High. I was a Ken Fischer product.
Q: So when was your first year on campus?
JP: It was the fall of 1990.
Q: Do you recall your first few days on campus? What stands out from that time?
JP: When I got there, we all worked out together as freshman, and you could tell who the starters were going to be from day one. So they'd say, "Okay, you guys go to the freshman team, and you guys are going to redshirt the first year." So there's a little bit of a development period that year. I was on the freshman team that first year, which was awesome. They should bring that thing back. It was great.
Q: What was so great about the freshman team?
JP: One, you're learning the plays on the offense, and then we competed against other teams' junior varsities and stuff. So it wasn't like we were sidelined and just riding the pine there, we were actually playing games. We were out there making a lot of mistakes and all that stuff. We played the Air Force Academy; that was a great game and a lot of fun.
But the thing about playing on the freshman team, Paul, we'd go through football practice and then the coaches would walk off and turn us over to the graduate assistants, and it was like track practice. They ran us. We'd do a lot of conditioning drills: the four corner drill… and honestly, I think they did that just to weed out the people who really didn't want to be there. But it was tough, probably got us in the best shape, though. You go through a full-blown football practice and then after that you'd have, literally, 'track practice', is what I called it. It was fun.
Q: And then you'd follow it up with lifting…
JP: Yeah, but by then everybody was so wrecked. It was just maintenance. There were no gains being made at that time. They would check our weight and all the offensive linemen were 220 lbs. It was pretty tough, you really had to want to be there.
Q: Any good friends from the start?
JP: Yeah, my roommate was Cory Schlesinger. So we lived over there in the dorms together. We went to Australia that summer so we'd known each other prior to that. And then we met Zach Wiegert at the Shrine Bowl there. And Connealy, Pesterfield, Scott Saltsman…and Brian Havens and Todd Gragnano until they got the boot.
Ran around with Kevin Ramaekers a lot. He was friends with my older brother, so he kind of took us under his wing. Kevin was our fearless leader and we were all kind of his little minions. (laughs) And Zach's older brother, Erik, we were just basically punching bags for that crew, which was a lot of fun to get to hang out with those guys. There was a lot of torment and hazing going on there, but it was never hurtful or anything, just good-spirited stuff.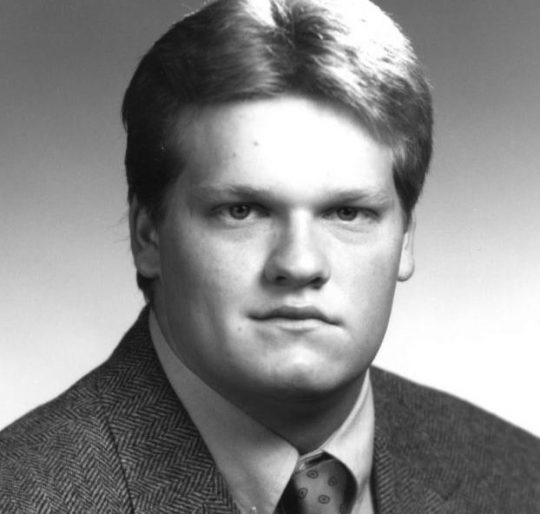 Erik Wiegert
Q: Just kind of running you through the mix and testing you, seeing what you were made of?
JP: Oh, absolutely.
Q: Seeing if you could take a joke? Be the butt of a joke?
JP: Yeah, Erik Wiegert was the king of jokes and nicknames. If he liked you, you got a nickname from that guy.
Q: Was he the one who nicknamed his own brother "The Slug"?
JP: Yeah. He named Zach "Slug." I got "Stinky."
Q: "Stinky Pete!" (laughing) That's right!
JP: Yeah, that's Erik Wiegert. And the reason he called me Stinky wasn't because I smelled; it was because he couldn't remember the name of the character from the Little Rascals: Spanky. So he called me Stinky. He wanted to call me Spanky, but Stinky stuck.
Q: (laughing) Yeah, that's the kind of name that sticks with a guy…
JP: It was a lot of fun, a lot of off-the-field shenanigans with those guys. None that you'd probably be able to put in the book. The poor people of the state of Nebraska would be shocked. (laughs)
Q: If I asked Coach Osborne to write the foreword for the book he might think twice about it, huh? (laughs)
JP: It was never anything hurtful, just really low key, I guess. Well, you know, nobody could really ever do anything anyway, because we'd stand out. You could never take Zach Wiegert anywhere where people wouldn't recognize who he is. Basically we'd just hang out at the dorms and play video games or we'd go out to Erik's house and hang out there with the older guys; a lot of late night pizzas and crap like that. And now that I look back on it we weren't as wild and crazy as I once thought we were. It was fun.
Q: You were an offensive lineman from the start?
JP: Yeah, I showed up there able to longsnap, really, and I think that's what got me in the door. My freshman year I actually got to suit up for the home games. I didn't travel, but I got my first tunnel walk as a freshman.
Q: Really? What memories do you have of that?
JP: That is probably one thing I'll never forget. Because you go from high school and all of a sudden you're playing for the Nebraska Cornhuskers. And if you're a Nebraska kid, that's a childhood dream. And then the standard chills, tears welled up. It was just really exciting. And, of course, I'd have to wait for the score to get to be 49-0 before they'd let me go in there to longsnap the ball. But it was well worth the wait.
Q: Do you remember the first time you got in?
JP: No, I don't. But I do remember a few times. Mike Stigge was the punter and Byron Bennett was the PAT guy. I don't remember the specific games, but I remember Bill Ziegelbein was the snapper and then he'd say, "Okay, I've had enough," so then I would get in. It was cool. It was quite the experience being a true freshman and just being able to get in whatever small part I could play. Because you showed up and did whatever you could to do to help the team. And I even remember being able to get on the kickoff or return teams. They gave me a couple shots at it, but I guess you needed to have a little more speed than what I was carrying out there.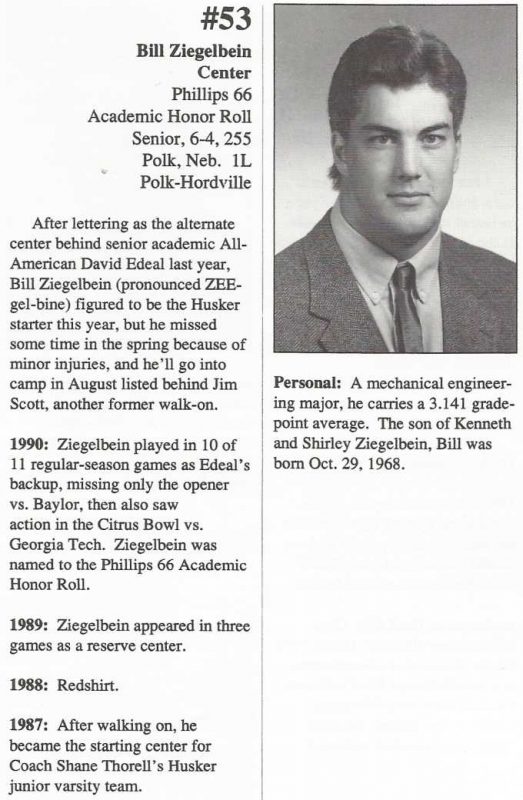 Q: I was going to say, that almost had to be a statistical anomaly: to be playing as a freshman offensive lineman at Nebraska.
JP: Yeah, and the level of competition: they had Jason Baker and other guys who were long snappers, and they redshirted them that year. So everything kind of lined up for me that year. Then I redshirted my sophomore year.
Q: Now let me ask you, Jon, this book centers around the '90 season and the program's second guessing, soul searching after that year…
JP: Yeah, the Citrus Bowl. I didn't go to that game that year.
Q: And what was your last game?
JP: My very last game for the Huskers? That would have been the Missouri game where I broke my ankle. It was my junior year, October. I tried to come back for spring ball and it just didn't work out. So when decision time came around, I remember sitting with Doctor (Pat) Clare and he was like, "Hey, you know you can do this, but here's the deal: do you really think you're going to go to the NFL? Be honest. "No." Okay? Well, when you're forty do you want to be able to walk and play with your kids and actually maybe do some sports with them, then? Otherwise, if you do play, about the third or fourth game you'll be seeing me every day."
It was a hard decision. So that's when Coach Osborne offered me a medical scholarship. And then I just stayed on as the Undergrad Assistant. I would have rather been in pads and played, and it wasn't an easy decision. Actually, it was a very painful one, to do all that work for nothing. I was like, 'This is how it's going to end?'
Q: Sure. You finally grow into your body, really put some muscle on, have  all the concepts and blocking schemes down, and then, Bam!, you're shut off from playing the game, huh?
JP: Yeah man, gone. It wasn't very easy. But it is what it is. It wasn't very easy. That's how it ended for me. And I took that medical scholarship for my fifth year, which would have been '94.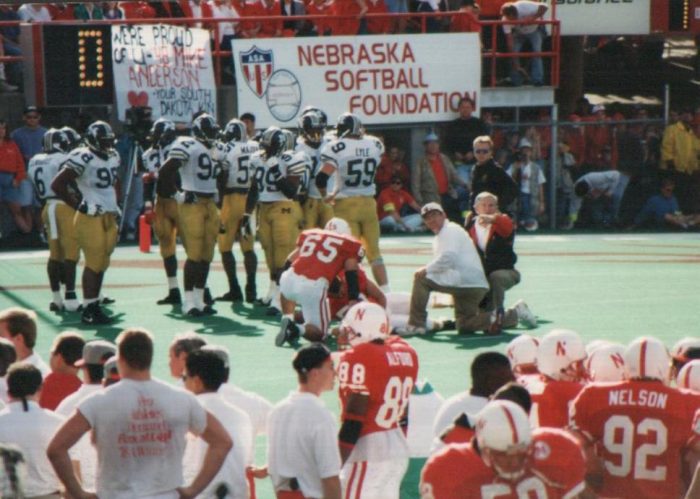 Jon Pedersen: The Final Play
Q: So the first national championship would have been that year, the year of your medical scholarship?
JP: Yeah, and that was actually really cool, because then I got to see how the coaches worked. So I got to see the big picture and not just practice, weightroom, go eat, go home and go to bed. Those guys put in a shitload of hours. The amount of hours those guys did and the amount of film and preparation that goes into every game, all sorts of things. Those guys would go all day on Sunday, there was no stop. I didn't know if during football season if they ever got any time off. They were always there.
Q: Do you recall any of the guys just sleeping overnight in their offices?
JP: Well, Coach Tenopir had that little red psychiatric couch in his office that he would sleep on, but he would go home. They all went home, but they put in an inordinate amount of hours. The hours of preparation that those guys would do… it was neat, man. It was definitely a great experience and I was glad to be a part of it.
Q: So, as you said: it's just classes, then eat, sleep and breathe football?
JP: Yeah, statistically, you just look at the number of kids who go to college and then don't make it: they can't or don't like school for whatever reason. Then you look at a program like Nebraska Football where, "Okay, how many percentage of guys who go to college and play football actually graduate?" And Nebraska was at the top of the Big 8 Conference all the time. You had to get all your classes in before noon and you'd eat a quick lunch and then you're getting ready for practice. The practice was physically demanding on your body, then you'd have to go to the weight room. Then you'd have to go eat and you were, 'Okay, can I go to bed now, or what?' So being a student was a full-time job; Football was a full-time job.
So hats off to everybody who ever went there and played football, whether they started or not. If they made it through school, that's a huge accomplishment. Just going to school, most students can't even do that. So I think that's a huge accomplishment, you know?
Q: Amen, Jon. Amen.
JP: I think that's the caliber of person who was there at my time. It was weird, because you rarely ever heard of anyone dropping out. And if they did, it was because they were declaring for the draft early. You never heard of anybody failing-out or anything like that. It was the dedication the guys had for the football program, because nobody ever wanted to let Coach Osborne down or their position coaches down. I think about some of the stuff the guys said to this day, carrying over into my job now.
Q: Really? Like what?
JP: We'd have these team meetings and Coach Osborne would stand up there and talk about things like loyalty, pride, dedication. It sounds kind of catch-phrasey -and at the time we probably didn't really know what he was talking about, probably- but he knew exactly what he was doing.
I don't know how many guys you've talked to that said, "Hey man, when I showed up I was just a boy, but when I left I was a man." And still, to this day, the life lessons that we learned… and everybody thinks it was all just about football, but it takes some time to realize that this guy wasn't really preparing us for football, but he was preparing us for life in general outside of football, for all the guys in the NFL, knowing that someday it would all end.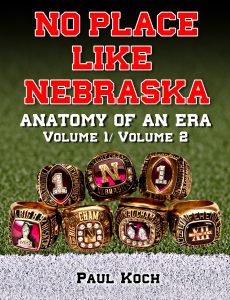 Available on Amazon.com
And all of the guys who didn't go to the NFL? Just starting to work. And what he was talking about really prepared us for that outside of football. It was really about being a good person.
To be continued tomorrow….
Copyright @ 2013 Thermopylae Press. All Rights Reserved.
Photo Credits : Unknown Original Sources/Updates Welcomed
Author assumes no responsibility for interviewee errors or misstatements of fact.