Anatomy of an Era: John Livingston, Part 1
Excerpted from Chapter 100, No Place Like Nebraska: Anatomy of an Era, Vol. 2 by Paul Koch
We had a good, healthy fear in Coach Brown. Our fear was not playing. The guy was really tough on us. But I tell you what, it paid off: when we got on the field I was super-focused on the ball. I could not see the fans: I was super-focused on the ball. If you weren't going to catch that ball there was someone right behind you who was…
— Clester Johnson, NU wingback, '91-95, Legends Radio Show
There's an old Russian proverb that says, "He who looks over his shoulder loses one eye; but he who does not and forgets the past, loses both." One benefited greatly by possessing a good range of motion in the neck region during that great 60 & 3 era, because keeping an eye on the posse coming up the rear was equally important as a forward-looking vision to attainment of playing time.
One late-comer to the rat-race of the Husker Receiving Corp was John Livingston, and he provides another keen and quintessential insight into the culture, the quality, the character of, and the characters on those years' rosters. Initially an Arizona State Sun Devil for reasons odd and perhaps ill-advised, a change of heart and spurt of maturity led him to a rare second-chance at wearing the Scarlet and Cream and the infamous N.
"Culture is like the air we breathe", says Charles Sherlock, author of The Doctrine of Humanity, "Unless we are ill or are making a deliberate attempt to concentrate on it, breathing is something we take for granted. So it is with culture; unless we deliberately focus upon it, or move to live in another culture, we are largely unaware that we are 'cultured.'" Here we'll get a sense of two competing college football cultures via comparison and contrast, his open and unvarnished thoughts on display for us now from a pure Husker heart. Give John's sentimental journey a listen, as I believe this last player to be interviewed more than adequately sums up the Big Red spirit as we near the close of our quest.
Notable quote #1:
"How about Warren Sapp coming up to the sidelines and telling Coach Osborne -in front of us, as if he's a buddy- saying, "Coach, don't run the ball my way. Don't run it to my side." And we stood there, right next to Coach Osborne; we stood there and looked at him. And anybody else would be, "Screw you, dude." (laughs) But Coach Osborne, you know how he is. He was like, "Okay, okay. Sure thing." If it was anybody else, how would you explain it? Unbelievable. You see the genuineness and the purity of people in their actions and how they lived their life, and I got to view that every day. He was grandfatherly."
John Livingston
Scholarship recruit, Hemet, California
Where are they now? San Diego, California, School Administrator
Q: Hello John, I'm glad to have gotten ahold of you, because you had the occasion of not only experiencing one Division I collegiate football program, but two of them. I'm thinking you can probably compare and contrast your experiences and share some insights as to what made the culture at Nebraska different, special, unique, set apart…
John Livingston: Oh, absolutely.
Q: For starters, where did you grow up?
JL: I kind of grew up all over the place in California and Hawaii. My mother was a single mom and she got accepted for a PhD in Psychology program at the University of Hawaii. And right around the time I was the age of six she just kind of picked us up and moved us to Hawaii.
And after about eight or nine years she met my stepfather and they got married, then we moved back to the mainland and lived in San Diego for a while. And then I moved my way up the coast to Riverside County and went to high school in a very small town called Hemet. My mom had a lot of allergies, so we constantly moved, and we moved there.
And at this point I was fairly tired of moving and liked the town -and it was a small town- and I was a young man who enjoyed the sport of football and liked to play football there, so I told her, 'If you don't mind, I'd like to stay here.' And a friend of mine, his parents, I lived with them during football season and that's how it all started.
Q: So directly after high school you attended Palomar College in San Diego, right?
JL: Yes, I was heavily recruited and it was quite overwhelming. I think my football career was quite different from so many of the other guys' you've spoken with.
I'm certain, because after moving back from Hawaii I really hadn't played football until my sophomore year in high school. I'd played soccer and ran track and did all those things, but coming back to the mainland American football was the sport of popularity and girls and all that stuff, (laughs) so subsequently I decided to switch over. I'd watched my whole life and appreciated it and started playing then.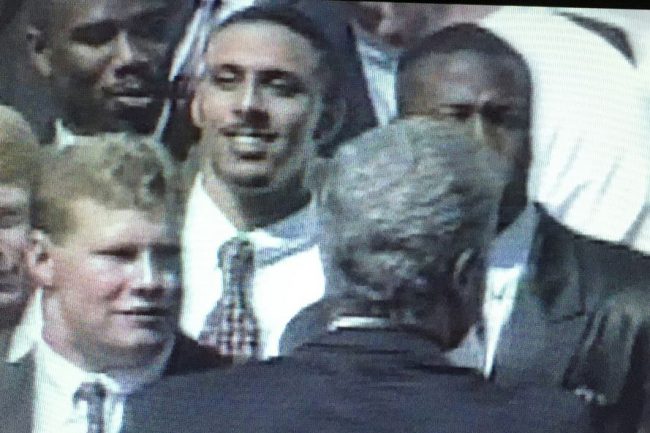 Anyhow, it was so overwhelming, and I did very well in high school. We were a poor team and went 3 & 7 my senior year in high school. And it's kind of one of those things of happenstance, because we played a team in our league where other players were being heavily recruited, and I had one of those really good games where I had like three touchdowns and a hundred-some odd yards. So then I start getting heavily recruited.
Well, my parents -and my mom especially– they knew nothing of American football. UCLA was kind of my dream school -being from Southern California- but the coaches at the time had mentioned that they'd seen how highly recruited I was -and of course, back then they had some very premier receivers- and suggested that I walk on.
I said, 'Well, this is a young man whose room is filled wall-to-ceiling with letters from all over the country, and this is the place I want to go. What can I do to make this happen? I can't afford to go to UCLA and pay for my school there.' So they recommended a junior college in San Diego. My heart was set on it to go down there and this great wide-open passing offense, so that's how I ended up at Palomar. The coach was Tom Craft.
Q: So you played a year at Palomar?
JL: I played the first year I got there. We were a national championship team. I played kind of sporadically; we had two All-American wide receivers. My second year there was really my first year starting and playing and that's when things first started to sprout, because I led California in touchdowns and receptions and that kind of stuff. So talk about quadrupling the recruitment and all that kind of stuff that occurred? Yeah, it was insane.
Q: Again, Division I colleges are coming after you calling and such… and Arizona State caught your eye?
JL: Now, of course, you're nineteen years old and your ego is so astronomically ballooned and your dream was to go to one specific place… and then the politics of it? Coaches had changed over. I think (Rick) Neuheisel was the receivers coach at the time and he came to look at me and, long story short, Coach Craft said to him (I found this out years later), "Well, I think Livingston's small. He's fast, but he's not … he may not be UCLA material."
So after being recruited heavily I kind of narrowed my choices down to take a few trips, but when going through that whole recruiting process I became very emotionally connected with a very small list of coaches that I'll never forget for the rest of my life. Of course, there was Ron Brown from the University of Nebraska and oddly, Urban Meyer, who was then the receivers coach at Colorado State, and also the receivers coach at Arizona State, and finally Hayden Fry, who was the head coach of Iowa at the time. It was just mind-blowing.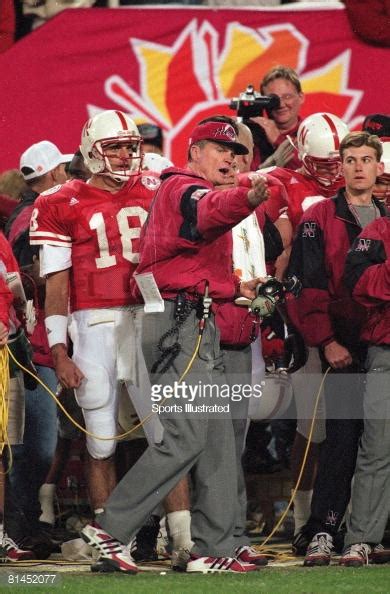 I was kind of going through all these emotions; I was having stomach cramps and still finishing up my junior college degree. So my mom, she was my agent basically; she was speaking to these guys more frequently than I, and we basically narrowed the decision process down to Nebraska or Arizona State. And again, it was the most difficult decision ever in my life at that time. My heart was with Coach Brown and Nebraska, but again, that nineteen-year old inflated ego was thinking differently as far as what the priorities were.
Q: Sure, the girls are more tanned in Tempe…
JL: Yeah. (laughs) Exactly. And then you kind of narrowed it down, you think "closer to home."
And my whole understanding of the complexity and depth of programs and the traditions? A lot of that stuff didn't really come until much later. I knew of teams from watching and hearing about them, but essentially I took a couple of trips. I went to Iowa and it was a great trip, and then I got really sick there; I'd never been to snow before except for mountains in Southern California. There were great coaches there.
And then I took my trip to Nebraska and then a trip to Arizona State. I think overall, it was like you say, thinking about it from the scope of a nineteen-year old, you didn't really think very wisely. And I really didn't have a whole lot of guidance. I wasn't as connected with my coaches as a lot of other players are, or were, so I didn't have much guidance. I basically had my mother and my step-dad.
And that's what I came down to: the hardest thing to do was when Coach Osborne came to my house. That blew me away. I had just watched the game the week before and they had played Kansas, and here's Coach Osborne in the living room with Coach Brown. I couldn't speak and my voice was crackling. (laughs) So I just sat there and listened to them and I basically just told them, 'It's between you and Arizona State.' And a few days later I had to make a decision. I just told Coach Brown, 'I think I'm gonna go with Arizona State.' (And a part of the decision came with the fact that I'm a receiver, and at that time Nebraska was a dominant running team.) But their pitch was kind of telling me that, "We have been this dominant team, but we've had difficulties when we get to the bowl game, with speed when we get to bowl games."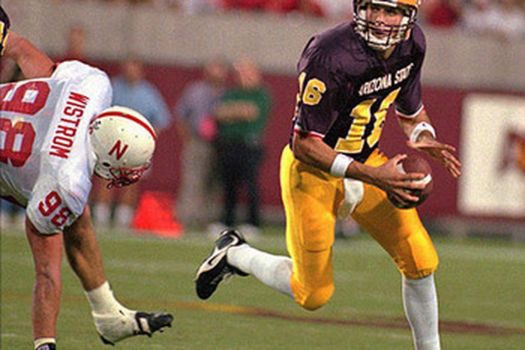 Well, again, a nineteen-year old kid with ego says, 'I want to believe that, but…' (laughs) Bottom line was, it was very difficult decision. So I go to Arizona State (and my wife's sitting next to me so I'm gonna keep it as pure as possible) (laughs) but I had an incredible… too much fun for a young man to have. And my football? I kind of lost focus as to why I was there and why I was invited to be there and given this chance: a full athletic scholarship.
Anyway, long-story-short is: I went down and I didn't take things seriously, and around the fourth game Coach Snyder called me into his office and said, "We'd like to redshirt you." And, again, a nineteen-year old with ego, I said, 'Are you kidding me? I could have gone anywhere in the country and you want to redshirt me?' I called up my mom and I said, 'Mom, is there anybody that's still around?' And not even remotely in my mind did I think that Nebraska was going to be an option, you know? That year when they were obviously a field goal away from beating Florida State, she had been keeping in communication with Coach Ron Brown. That's how close they had gotten.
He's such a spiritual guy and he was just an amazing, amazing friend throughout the whole process, and we got into communication and I just said, 'Coach, if you could find it in your heart I would love to somehow come to Nebraska.' At that point I told him I would love to have the opportunity, and so I subsequently let the head coach at ASU know that I would like to transfer, so that whole process went through. So I ended up weeks later watching that bowl game against Florida State on TV and watched Lawrence Phillips and his break-out game -who I'm sure you knew was my roommate…
Q: I didn't know that. Son of a gun!
JL: Yeah, California guys… we somehow got to know each other and moved in with each other. When I first got there -I don't know if it was their policy- but you had to stay at the dorms. And I roomed with a local fellow who was from one of the small communities outside of Lincoln, and it was in the same dorm with all the freshman football guys.
And that was the unique part: Nebraska, at the time, they didn't have to go after junior college players. They had blue chip All-American high school guys lined up, so I stayed in the dorm and Lawrence and Michael Booker -he and I were friends before I even went to Nebraska, we had a lot of mutual friends- so I was gonna be his roommate, but he went to live in a house with five or six guys and I wasn't interested in that. So I became Lawrence's roommate, and at that time I had nooooo idea what that entailed. (laughs) So that was it, then we ended up living off-campus. It was the same apartment complex that the Peter brothers lived in and a couple of other guys…
Q: Brian Nunns, Grant Wistrom?
JL: Yeah, those guys.
Q: So you and Lawrence were roommates for how long?
JL: For the year I was there in 1994. And after I left I don't think he had another roommate there.
We had a great relationship, I mean, years ago… again, this is going back fifteen or whatever years when all this stuff was getting really blown out of proportion and all this stuff was going on. Some newspaper people called me and I refrained from wanting to speak on the issue, but one thing I let them know was that, 'You guys really have to understand Lawrence's past. And although I don't condone anything that he may have done (I witnessed a considerable amount of stuff) I just think there's a large amount of stuff the poor guy went through in life.' And a lot of people don't understand that.
Q: Walk a mile in his shoes and you might understand him a little better?
JL: Exactly.
Q: So you arrived on campus in the fall of '94?
JL: Actually, I got there right after New Years, January '94.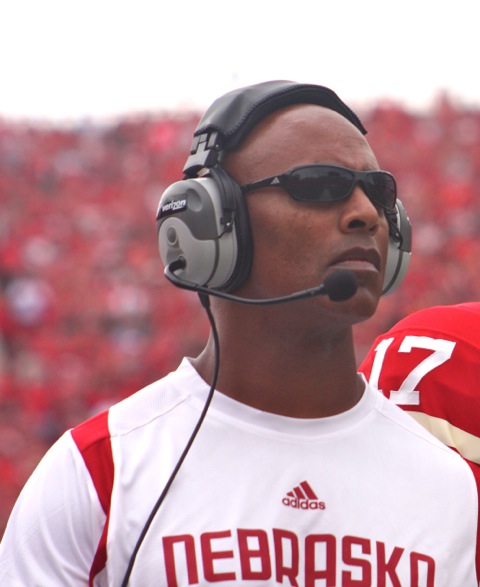 Q: You showed up just in time for Unfinished Business?
JL: Exactly.
Q: What stood out to you as far as being different from your Arizona State experience?
JL: Oh God: the people, the community, the fans, the media. There is nothing… nothing like what I had experienced. I had no idea. I was a young individual who didn't really know what it meant to be a Cornhusker or what it meant to be a part of what that entailed. Again, my football knowledge was fairly limited. I knew, obviously, that it was a great program, but I didn't know what that meant.
Getting off the plane, there were people there to meet me at the airport. It was unbelievable, I was just, 'I'm nobody. I'm just some guy who's coming here.' The mystique is definitely what it was all about. When I was on campus and would go to classes and meet people, it was just phenomenal. You look back, and there'd be Darin Erstad, I used to goof around with the guys in practice where he'd be like third team defensive back going against us and I'd say, 'I hear you're a pretty good baseball player. I'm gonna end that if you mess up my route here.' (laughs) And then the guy was an Angel. It was unbelievable, but it was phenomenal.
The people were just unbelievable, from the secretaries to the staff at the tutoring center. And I didn't even know who some of these people were. I'm in the study hall and Johnny Rodgers is signing us into the study hall and I didn't even know who the guy was, to be quite frank. And then after walking the halls and seeing trophies and finally finding out that this guy was so and so, I was like, 'My God!' I mean, those type of things are all around you and it's overwhelming. That was it.
Q: In comparison to a few weeks previous at Arizona State, how would you compare or contrast the culture?
JL: Absolutely, you're talking night and day. I'll just take a small segment -and one I wasn't as fond of: the weightroom (laughs)– I just didn't understand the importance of it. You just kind of had this natural ability and you think that that's good enough. Well, at Arizona State the weightroom facility and so forth was nice, but their program was nowhere near what it was in Nebraska. And the amount of effort and passion that was there, with the guys helping you and spotting you and going through the workouts at Nebraska? At ASU it was just kind of like you'd come in when you wanted; you'd sign in and then do a couple of bench presses and you're out of there. At Nebraska there was a full-blown program… it was unbelievable, the drinks that were provided for you to replenish. And then what was it? What was that one workout where you just go non-stop and they had the timer…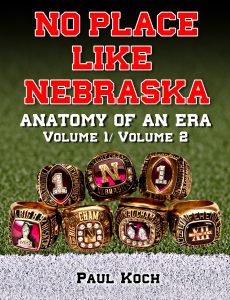 Available on Amazon.com
Q: The metabolic power circuit?
JL: Oh, my god! That's it! I will never forget that. And it's funny, because I had no idea what this thing was. But you have to do it –'I don't want to be this punk and let the guys down and not do it'- and of course, I'm puking. When it's over I was laying down -and I'll never forget- that walkway from the gym to the lockerroom, I was laying down on the side there. And everybody's passing by just laughing at you and they were like, "Don't worry brother, we've all been there." (laughs) But then that was the most incredible shape I've been in in my entire life! I look back on it and I'm sure I could have pulled off an Ironman. Oh yeah, it was tremendous. Those are the types of things you can look at and say, 'This is the difference between an incredible program that takes every single aspect seriously as opposed to one that just kind of goes with natural talent and hopes that it kind of flourishes,' which is interesting. (And the funny thing was, the next year Nebraska went to Arizona State and they subsequently were beaten.)
But anyway, the weightroom and the training table… oh, my God, the training table! The facility was, bar none, like a five-star restaurant. At ASU it was kind of like a very small buffet in the one of the stadium rooms, but at Nebraska it was chefs and king crab legs. You were just eating, literally, like a king. You talk about compare and contrast? You're talking about macaroni & cheese at ASU to crab legs at Nebraska.
Q: (laughs) I remember on special holidays we would have those crab legs, John. And guess what, just a few months ago in preparation for my 42nd birthday I did the old metabolic power workout in the months leading up to that. I felt like I was 25 years old again!
JL: Oh, God. That's great. And I remember the Marines would come out and work out with us. Some local Marines or whatever would come out and try to pull this thing off. It's insane.
To be continued….
Copyright @ 2013 Thermopylae Press. All Rights Reserved.
Photo Credits : Unknown Original Sources/Updates Welcomed
Author assumes no responsibility for interviewee errors or misstatements of fact.