Anatomy of an Era: Joel Wilks, Part 3
Excerpted from Chapter 17, No Place Like Nebraska: Anatomy of an Era, Vol. 1 by Paul Koch
Joel Wilks, Part 3
Q: Anybody else in your O-line group stand out to you from those days?
JW: One guy, Bryan Pruitt, he had a really intense personality and intense work ethic on the field. He was the kind of guy that definitely fit in with all of us, the same mentality, and he was so undersized. I think that kind of hurt him initially, but he had that tough, Chicago mentality, a really tough guy. I think he fit in and rubbed off on everybody, I would definitely say him. He really sticks out to me.
Q: Any staff members you think were really helpful to you?
JW: Oh yeah, one guy who really was great and I keep in touch with to this day was Keith Zimmer. Whenever I get back I try to see him. He made a really big impression on all of us. Really cares about the athletes there and does a great job.
Q: What did he bring to the table?
JW: He's just a real good personality, and great sense of humor. We could go joke around with him. And he'd always help you out. He cared about you, not just in football, but with academics, trying to decide my major and what career to choose. He was always there for you, always had an open door, always had time for you, was never too busy. So, he was just a great guy.
Q: When most fans hear something like that about an academic advisor, they probably think that he ended up writing papers for you. In what ways did he help out?
JW: Oh no, (laughs) it was just academic resources. If you had a question about a career he would get a hold of a former player or somebody in the community and you could to talk to them and ask questions. You could always count on him with little questions or help, but it was nothing like papers or anything like that.
Q: Nothing like Florida State? (laughs)
JW: Yeah, (laughs) he'd help you find a tutor. He was just kind of an ear, too. If you had a tough day, you could just sit in his office and talk to him a lot.
Q: Does Jack Stark stick out to you at all?
JW: Yeah, I had some good times with Jack. He did a lot of visualization stuff, he'd make tapes and do that kind of stuff. Spent a bit of time with him too, he was helping me out when I was there for graduate school, too, so we had a good relationship.
Q: And you were on the strength staff after '94, right?
JW: Yeah, just one semester, when I was taking grad classes. It was mainly over at the Devaney Center helping out with track and that kind of stuff.
Q: So were you under me for awhile doing that?
JW: Yeah, I was. I started off in the stadium and then I ended up doing track stuff, so yeah, I was under you for a while.
Q: You knew your way around the weight room so I didn't have to keep too close of an eye on you. (laughs)  And let me ask you, what did you take away from the whole experience? Things you learned and use to this day?
JW: I relate a lot of what I do to my football experience: it's the team thing. There are eight of us in our station and we're a tight-knit group, maybe it's at the level of the Pipeline, it's a unique experience. With these guys you have to have unity and go into a burning house together and know you can rely on each other. There's a lot of similarities, that closeness, that teamwork we had with football. So I rely on how to get along with guys, build that camaraderie together, stuff like that. And just like Coach Osborne always said, "Doing the right stuff and (knowing) how to treat people and be an asset to the group," and I feel that that I'm always looking out for the team, not an individual thing, I don't need to stand out or anything. It's about getting the job done and working together to do things. You get more satisfaction out of the team thing rather than the individual accolades, you know? I was so happy for those guys to get All-American, not jealous or anything. At all. I was so happy for them.
Q: I heard Zach mentioned everybody's name when he received the Outland…
JW: I remember when he did that. It was awesome, we were pumped about that. He deserved it, he was a great player.
Q: So Zach was the only smack-talker on the O-line?
JW: Oh yeah, he was the biggest talker, for sure. I remember so many times in the huddle, you'd look over, he wasn't even listening to the play being called! He'd be pointing over at guys, talking smack to them. It was like, 'Are you even listening to Tommie calling the play?' (laughs) 'Do you even know the play?' He'd just be chatting it up.
Q: What would he be saying?
JW: Oh, just how he was going to get after the guys, just how he was gonna kill 'em, stuff like that. Gonna show 'em what's up. I don't know how he said it, it was all about how he was gonna dominate the guy, you know? He was funny. He was hilarious to listen to. He'd start laughing in the huddle and it was like, 'Are you serious?'
Another story: I remember one time I told Adam Treu to pass the salt at the training table -and Treu had a great arm, and Matt Shaw challenged him to hit something way up near the ceiling of the Training Table- and Adam just heaved it up there and hit the thing! And the plastic salt shaker just exploded and rained salt down all over me. Showered me with salt,  just covered me. It was funny. Treu and I have some good stories.
There were so many guys from those days. And Lawrence Phillips, he was a great teammate. I remember the Pipeline was on the sidelines in a huddle getting fired up before the game for the Orange Bowl and he just exploded into our group, jumped right in there. And he jumped through the middle and he was crying, full tears, telling us how hard he was going to run for us, how all we had to do was make a couple of holes and he was gonna run, how emotional he was, how he just cared so much and wanted to do such a good job. I never partied with him or saw him much outside the stadium -I never knew that side of him- but from a personal experience he was such a great guy. I loved that emotion and passion that he had.
Q: What did that do for linemen like you, blocking for a guy of his caliber behind you? Did it spur you on even more?
JW: It definitely motivates you. Having him and Tommie (and Brook was a great guy and a great player and I had confidence in him, too), but there was a little something extra when Tommie was in there, maybe it was the cockiness he had. He was obviously such a great player, but he had something about him. And Lawrence, they made you play better and gave you confidence, it was incredible having those guys in there.
Q: Knowing if you just gave 'em an inch they'd make a yard?
JW: Oh yeah, you just had to make a little hole, just hold them for a second and it was over.
Q: You held?
JW: On every play! I'd never admit to it to a defensive lineman, though! (laughs)
Q: What would you say about Tommie?
JW: At the time he got so much attention so quickly when he came on campus. He was a little cocky, you know. But you got to know him and spend a lot of time with him, outside he's a different guy. A great teammate, same thing, real passionate.
He did have his moments where he had the cockiness about him. I remember one time at the training table a little kid came up to him and asked him for an autograph and he said no, and the little kid ran off crying. I don't know what was going on there, what the situation was. Maybe he had a bad day. And I remember one time, when I was a sophomore, asking him to sign a football for me and he wouldn't do it. It was like, 'I'm your teammate, you know? And you won't autograph a football for me?' So I was kind of pissed. He was kind of immature, grew up a lot, and later on he was a junior when I was a senior and he grew up a lot. So it was different. I remember he just had that air about him, that confidence when he came into the huddle.
Q: What about the Turmanator?
JW: I just remember that the Kansas State game, he was handing off to Lawrence every play, I remember the Kansas State guys were joking around and laughing at how small he was, but what a great job he did. A lot of teams would have folded, having their third- or fourth-string QB in there and all, how small he was, but he rose to the occasion. I can't say enough about him. He had a lot of poise and he kept our magic season rolling. He did a great job.
I remember we ran Lawrence Phillips on an ISO up the middle about 40 times. We started telling Kansas State what side we were going to, "It's goin' to the right this time, boys. Let's see what you can do!" (laughs)  We'd get 7 or 8 yards every time. That's what I recall about that game.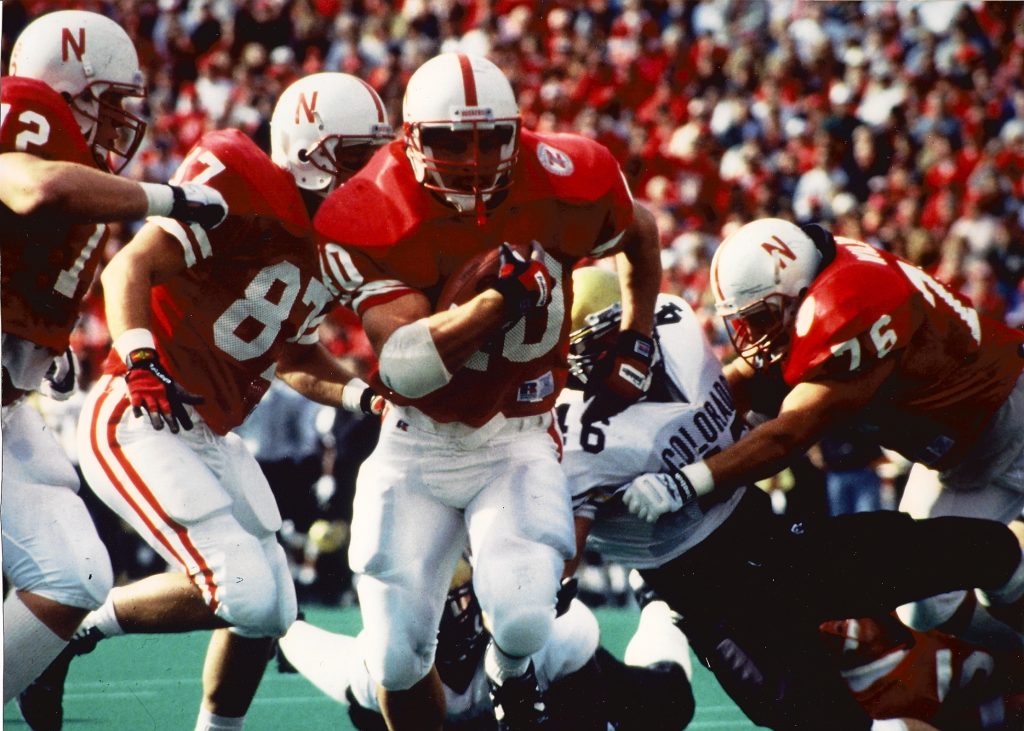 Joel Wilks #76 (right): It's only holding if the refs call it… (Nebr. Sports Info)
Q: Well, before I let you go Joel, anything we didn't cover that you feel made us so successful during those years?
JW: Well, if I were to go back to one thing, it was just that bond, that chemistry of playing with the guys those years. I don't know if it was by chance or what, but we had a lot of similar guys with a lot of motivation and lot of passion about it. We just had a tight group and were such good friends, and that was the key for me. And that's what I miss the most, too, just the love of the guys and being around them, all the guys. What I remember most was the good times with those guys and just putting everything on the line for them.
Q: Do you want me to pass on any word to the guys down the line when I talk to them?
JW: Who did you say you were talking to next, Troy Dumas? Tell him "Buddha said Hi". And have you talked to Donte Jones, yet?  Tell him the same. Donte and I had a lot of fun times together. Donte always acted like he liked me a little more than he should have, you know? (laughs)  Like he always had a crush on me, joking around. Tell all the guys, "Buddha says Hi."
End conversation.
PMA: Positive Mental Attitude. How about that for a personal mantra to get you through a few lean, rough spots in life? I enjoyed talking to Joel again, and almost forgot that he was under my supervision for a short while as a student assistant Strength Staffer after his last bowl game. In the course of my great Why and How I am finding it refreshingly and insightfully peculiar how some kids would create a slogan, a motto, a catchword to spur them on when the enthusiasm waned, when their bodies were are less than prime due to study load, sickness, fatigue, whatever. Most of these kids were already high-achievers, part the top 5% of high school players in the country. I'm led to believe this percentile figure isn't due to talent alone, but also the ability to process self-motivation tricks and techniques, assisting them "through bad practices and stuff." That's what I've garnered from dissecting some of these conversations.
I've held off mentioning it yet, but it should be acknowledged that talented running back Lawrence Phillips by and large appeared to be quite a respected and well-loved teammate. In attempting to contact the figures of the day for future conversations I'll refrain from expounding on him for now, but he's definitely on my radar for the part he played on the those teams, controversial figure or no. Quarterback Tommie Frazier's name has also come up, too, though not necessarily in the light that I've expected as it compares to Lawrence. Whereas Lawrence was noted for his poetic ball-carries and the tragic episode of teen heartbreak and its resulting domestic altercation, Tommie, rather, has always been known for his incredibly successful win/loss ratio as well as the health issues he had to battle through. It's probably a little too early to point out, but I have feeling that there was a brotherly love for Lawrence while there was more of a respect for Tommie. Surely we'll hear more as we go on.
Joel also mentioned the coaching staff's unique dynamic and how Tom Osborne was able to (purposefully perhaps?) assemble a team of varying contrasts in personalities, some completely dissimilar to himself. I've arrived at the impression that the team looked to its head coach for displays of calm, self-assured, undoubting leadership while in the meantime sought the quite unique assistant/position coaches for closer bonds of not only a coach/player or mentor/mentee relationships, but even friendships. This contributed to a form of 'participatory management,' meaning that everyone had input, collective 'skin in the game,' and found their role boundaries oftentimes blurring, especially when communicating up and down the leadership hierarchy in times of heated competition. There was also Joel's, "You were always getting graded. Always getting looked at. Always getting coaching." The communication and learning never ceased.
Finally, Joel revealed something about the concept of vengeance and what a motivator it, too, can be. Speaking of the undefeated 1983 team's loss at the hands of the University of Miami Hurricanes in the 1984 Orange Bowl, "I'll never forget that for the rest of my life!  I cried for like a week after that. I was devastated, man. Actually, my biggest disappointment in my life was that game." That may sound like hyperbole to an outsider, but I'm pretty sure you, too, have a vivid memory of that last-second two-point pass attempt from Turner Gill to Jeff Smith and the crushing, last-second tip of the ball by 'Canes strong safety Ken Calhoun. It extinguished a perfect season and a surefire first national championship for Tom Osborne. It still pains me to think about it. In my mind's eye I'm still a high school sophomore sitting on the edge of the sofa, hands prayerfully clenched and feet rapidly tip-tapping non-stop, nervous as a whore in church, hoping, praying, waiting for the successful conversion. Then in a split-second: heartbreak. I can empathize with Joel, because it was like having your heart ripped out and stomped on. Revenge was sweet, and the calf grabs plus a little PMA sure did help for good measure.
Notable quote #2:
Joel Wilks on growing up a Husker fan: "I remember every big loss we ever had growing up. We lived it, man. Sooner Magic, horrible."
Copyright @ 2013 Thermopylae Press. All Rights Reserved.
Photo Credits : Unknown Original Sources/Updates Welcomed
Paul Koch
---
---
---