Anatomy of an Era: Joel Wilks, Part 1
Excerpted from Chapter 17, No Place Like Nebraska: Anatomy of an Era, Vol. 1 by Paul Koch
Is it or is it not a matter of importance that a young man starts out in life with an ability to shut his jaw hard and say "I will," or "I will not," and mean it? 
Perhaps the most unsung member of the '94 crew known simply as The Pipeline, Joel Wilks literally scratched and clawed his way to a starting position on the pancaking, steam-rolling, relentlessly hostile offensive line. Picking up the nickname 'Buddha' somewhere along the way, he was extremely good-natured and embraced his Nebraska born and bred underdog status, reaching the apex of every walk-on kid's dream to become a starter.
Despite that friendly social demeanor, though, around gametime he would metamorphous from this kindly Buddhan spirit into a snarling, eyes dark as death, frothing-at-the-mouth pitbull. His mean streak intact, Joel and many of the student/athletes of that era were into the heavy- and thrash metal music of Metallica, Slayer, Pantera and the like. This was hard-core head-banging and not for the faint of hearing nor heart. The lyrics of these groups' verse testify to some of that, and were regularly on Joel's pre-game psyche-up playlist. Let's hear now from Joel Wilks, the Pancake King himself…
Notable Quote #1:
"Brenden and I had this thing where we would put a piece of tape across our helmets and we wrote 'PMA' on it. And other guys would go, "What the heck does PMA stand for?!"…it was PMA: Positive Mental Attitude. And that got us through a lot of bad times, just motivated us, you know. Through bad practices and stuff. We always said, "PMA."
Joel Wilks  
Walk-on, Offensive Guard, Hastings, Nebraska (Hastings High)
Where are they now? Portland, Oregon, Firefighter               
Question: So you were from Hastings, right?
Joel Wilks: No, actually I was born in Omaha. My Dad was a high school principal, so we moved around. We lived in West Point, Nebraska, Red Cloud, and then we ended up in Hastings just for my high school career, for four freshman through senior years.
Q: When it came time to think about college, were you heavily recruited?
JW: You know, I got a lot of interest letters, but as far as actually getting scholarships I was only offered Division 1 scholarships by a couple of schools, Northern Illinois being one. I could have gone to Army, West Point Military Academy. But then I got a bunch of other offers from smaller schools. And when I went to visit West Point Military Academy, I really debated that. That was a really hard decision. What an opportunity that was.
Then what happened was, I deep down always wanted to go to Nebraska. I had so many ties there and grew up wanting to be a Husker. My Dad played there in the '60's (he was in Devaney's first recruiting class). Deep down I really wanted to do that, but it was an ego thing that I didn't want to sit there and just be a walk-on. Actually, I accepted the scholarship offer from Northern Illinois, then it kind of sunk in -and one night I couldn't articulate it, but it was just kind of a bad feeling- I knew I should go to Nebraska and see if I was good enough. I remember getting up in the middle of the night and going into my parents' room and telling them, 'I've changed my mind. I can't go to Northern Illinois. I have to go to Nebraska.' My mom was so happy, she didn't want me to go there, anyway. So they were happy I changed my mind and were very supportive.
Q: That's cool. You know, Army was recruiting me out of high school, and sometimes I wonder what might have happened had I gone there…
JW: Me too.
Q: So you were extremely knowledgeable about Nebraska football coming in?
JW: Oh yeah, I remember every big loss we ever had growing up. We lived it, man. Sooner Magic, horrible.
Q: The '84 Orange bowl two-point attempt?
JW: Oh, I'll never forget that for the rest of my life! I cried for like a week after that. I was devastated, man. Actually, my biggest disappointment in my life was that game. That's what made it so good to get the '95 win over Miami when we did that.
Q: I'm building up to that, Joel. But to start, any memories of the first few days on campus?
JW: Yeah, I remember just being kind of in awe at first, pinching myself and saying, 'Man, I'm really here', after dreaming about this for so long; definitely looking around at the big house and having the 'deer in the headlights' look at first.
But then I had a little chip on my shoulder because I just barely missed out on getting a scholarship (and I think they actually gave the last scholarship to Brenden Stai). But it worked out alright, because otherwise we never would have gotten Brenden, so I was glad about that. But I kind of had a chip on my shoulder when I came in and wanted to prove that I could play, too. I had that look in my eye, thinking, 'I'm as good as these guys.' I wanted to make an impression right away, so they wouldn't forget about me. My plan was not to get pushed around and to get in fights -if that's what it took- so they wouldn't forget who I was. Show them I was tough enough to play. That was my mindset.
Q: How long until you got into your first fight?
JW: I think it was my first day. (laughs) You ask Brenden and those guys. That first year I got into a fight every practice.
Q: Do you remember with whom?
JW: No, I don't remember my first one. Especially my freshman year and my redshirt year. If you remember, my first year I was on that last freshman team, but that second year I was going against guys like Raemakers and Parrella, those guys. If you ask Brenden, those guys, they'll tell you it was an everyday kind of thing.
I remember Coach Osborne, after a while, he was getting tired of it. I remember him sitting me down one time and it was like, "Joel, if you ever want to get on the field we have to know you won't lose your cool out there and get into a fight. We know that you've been fighting for a year now and we know you're tough enough to play." So my plan worked. (laughs)
Q: Any impressions of the program from your earliest days there?
JW: You know, it was a little different, where we were freshmen and we had our own little team and everything. Ever since the first day, just feeling out the guys and seeing how it was gonna be like, it was a deal of having a separate group, just the anticipation of seeing the scholarship guys, feeling them out, seeing who's a good guy and all. I don't remember much else about the first practices, though.
I noticed right away the scholarship linemen, Brenden stuck out right away for sure, and I knew Rob Zatechka pretty well in high school. Rob was so huge coming out of high school, he was around 290. When I came in I was about 235, which was after a buffet. And Rob is like 290 as a freshman. I wasn't sure if I could play here because of the size and everything. Brenden was like 250 or so, and I wasn't sure if I could play.
Q: First friends you made?
JW: Actually, another kid from my high school team walked on as a kicker, and he lasted like two days. So we roomed together. Three practices and I came back to my dorm room and everything of his was gone, he just bailed.
I became pretty good friends with Matt Shaw right away, we both walked on and played against each other in football and basketball in high school. He was a good friend right away, and then him and kicker Tim Seiler were good friends, so we became friends, too. And then I noticed that Brenden was the strongest freshman in the weightroom, so I kind of hung around him because I wanted to play. I knew I had to get bigger to play and I kind of befriended him and worked out with him. And then we became really good friends and lifted together all the time in college, became lifting partners.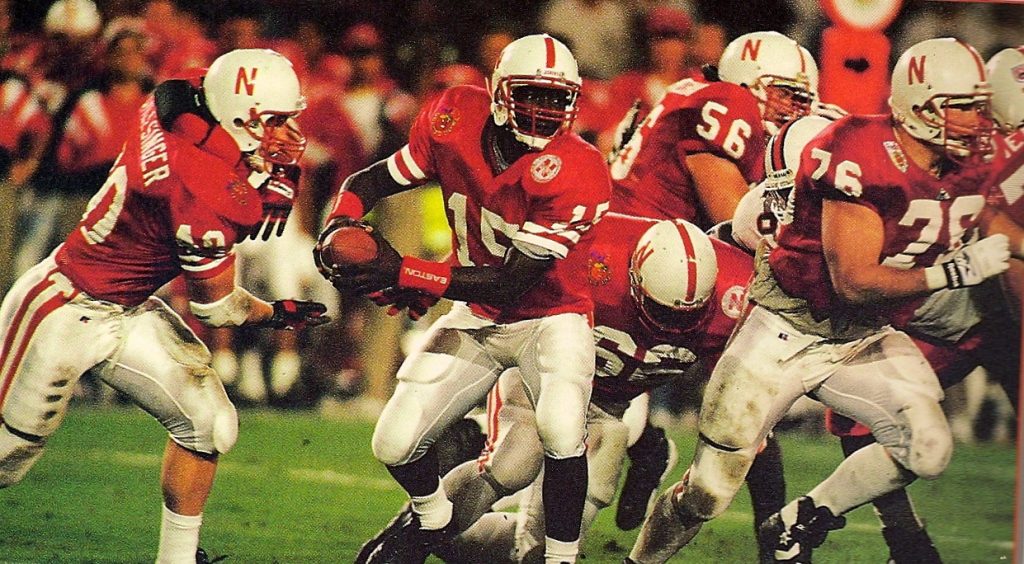 Joel Wilks leads the way. (Unknown Source)
Q: Who's the first Husker staff member you remember getting to know?
JW: Of course, you're in awe of Coach Osborne, but Kevin Steele, you got to know him pretty well. George Sullivan, of course, he was a trainer when my Dad played. When I was in 10th grade or so we had some issues with my lower back so he took me in to see Sully, so I got to know him. He was always giving me a hard time. And maybe not initially, but Doak and I became good friends, too. We'd always mess around with each other.
Q: So your first fall season was 1990. What was the culture of the team compared to when you left 5 years later?
JW: Yeah, it was 1990, and the first couple of years I didn't see the work ethic. I don't remember what the record was in '90 and '91, but I remember getting spanked by Oklahoma and then losing the bowl game. They had the talent, but the work ethic just wasn't there. Even the linemen would be the first guys out of the weightroom. I remember just not being impressed with some guys and their work ethic.
And then here we were getting kicked out of the weightroom by Boyd and his shutting the lights out on us and stuff. We just worked harder than those guys did. I didn't really see the camaraderie and brotherhood that we had, the five of us on the line, for sure. The whole team too, but the five of us on that line were so close, we would do anything for each other. I didn't sense that as much among the group when I first came in.
Q: What fostered that closeness?
JW: We had a lot of things in common. We were tough guys, we had a drive about us, we all wanted to make something really special and knew we had to rely on each other to do that. The time spent together having that same mission, Brenden and all the guys had that push to stay in the weightroom. We never wanted to leave. I didn't want to ever be the first guy out. And we were competitive, so that helped.
Q: Did the coaches preach intensity or attitude?
JW: Intensity was talked about, for sure. Specifically, there was just kind of a thing where Coach Osborne didn't like to see the scrappy ones and fights, you know? But Coach Tenopir and McBride, they loved that stuff. They loved it. Downstairs in the pit doing one-on-ones, if a fight broke out there you would let it go on for a few minutes. The intensity, just getting fired up, they allowed that. They didn't ever say it specifically; you just knew that's what they wanted, because they let it go when it happened.
Q: It seems like the coaches mainly focused on the technique and the process, depending on you guys to provide your own motivation…
JW: Quite a bit. Milt would jump your butt now and then, but it was more technique. If you weren't doing your job and getting it done, Coach Tenopir could cheat you out of playing time.
But Coach Tenopir, he wouldn't really have to. Some days my senior year, if you were a little sick and didn't feel like practicing, Graham and Stai both would be getting in my face in the huddle, telling me to pick it up and bring it up. So Coach Tenopir didn't have to, because those guys would. They didn't let you have an off day and slack off. It was about all of us being on the same page. They were like, "Man, you've gotta suck it up. I don't care if you are sick or not." A lot of the coaches let the guys do it themselves.
Q: What about Coach Tenopir? Tell me about him.
JW: He's kind of a good 'ol boy. Nice personality, nice guy. But he definitely was intimidating at first, gruff and growly at first, you kind of had to earn his respect. But he loved all his guys, for sure, he's got a heart. Love Coach Tenopir. I remember your first couple of years he wouldn't buddy up to you, you had to earn it. When you were a senior he treated you like more of a friend than anything, but he was pretty hard core at the beginning. I remember him chewing me out a couple of times, but my senior year was great. Had a really great relationship with him.
Q: What did he chew you out for?
JW: Just technique and stuff. I mean, you're coming out of high school, and the difference in technique from college and high school is just ridiculous. In high school you just came off the ball and hit people, but in college it was a matter of, "Your step with your right foot being two inches or an inch shorter than where it has to be." So much technique, it was really hard at first. It takes you a couple of years just to understand the offense and have my technique to where I could even play. So when you're young, on every play there was always something to get chewed out for your first couple of years, (laughs) something you could do better. He would ride me pretty good. Also, he respected me, that I was tough enough to play, and he wouldn't have done it if he didn't care.
Q: Did Coach Young work with you much?
JW: Yeah, he did a lot of the pass stuff. He recruited me, too. He was more quiet. A pretty quiet guy, more so than Coach Tenopir. I guess his low-key personality, I don't think I became as close to him as I did with Coach Tenopir. He kind of took a little crap behind the scenes from the guys because he had a quirky personality. (laughs) He would coach us up in practice and have a funny way of talking and we'd joke with him. So many guys would imitate his voice. It was all in fun. He was a good guy.
Q: So Milt focused on the run game and Coach Young had the pass protection, huh?
JW: Yeah, that's how they split it up, for sure.
Q: So the typical week, what percentage of time would each of them spend with you guys?
JW: I don't remember us passing a ton. Tommie Frazier, a lot of that was play action stuff. We didn't do a lot of one-on-one stuff, but we did a group thing where we spent 15 or 20 minutes each practice doing it, it was pretty short. As far as technique, it was pretty short. Majority of the time was with Tenopir working on the reps most of the time.
Q: The reason I ask was that I saw some of Tommie's stats and I couldn't believe how many touchdown passes he had. I didn't recall him throwing that much.
JW: What he did was big plays -play action stuff where a guy was wide open- like Mark Gilman and those guys.
Q: What about Coach Osborne? Any special conversations or memories?
JW: Obviously, that one about the fighting, for sure. I remember when he called me and told me I was going to be on scholarship. After two years he told me I was going to be on scholarship, which was pretty neat, told me what a good job I was doing. It was great.
Q: Do you recall much about that day?
JW: I remember sitting in his office and the conversation. I remember just being fired up and calling my Dad right away. I think it was spring or summer going into my third year, I was on scholarship that fall. I was really excited and it was a feeling of accomplishment, knowing you earned it, that he really respected you, that you earned it. Validated it, you know?
Q: All those fights paid off?
JW: (laughs) Exactly!
Q: Did he possess any peculiar mannerisms?
JW: You just respect him with everything he did, a great guy with his values and morals, such a top-notch guy with everything. I feel so fortunate to have been there and played for him when he was there. Everybody just put it on the line for that guy, such a father figure. He's trustworthy, he didn't lie to you, just did everything the right way. It was an honor to know him and play for him.
Q: Your last year was the '94 team, what do you think set the team apart from others in those years?
JW: Definitely, it starts from the top. Coach Osborne was a different breed. Coaches go about things in different ways, and he went about it the right way, and that pays off over time. It starts with him and what he built, having the right coaches underneath him. He wasn't the rah-rah kind of guy, but he had guys underneath him who did. You have to have those guys. He didn't micromanage them and just let them do their thing. He had Coach Steele and Coach McBride, he knew what he was doing.
Q: Tell me about Charlie…
JW: The guy, he was intense, man. He was always intimidating. You never really got to know him, being on the offensive side. He would just chew those guys out and intimidate them, but by the time they were juniors and seniors they would put their life on the line for that guy, you know? Just an intimidating guy. Like he had that switch on him where you wonder if someday he might go crazy. He'd look at you like he was gonna kill you, you know? I didn't say much to him at first, not until I got a little older. He'd get fired up, doing one-on-ones down in the pit he would get those guys so amped up. He would get them in a circle and just yell at them. He got so intense down there, we had so many intense battles down there, fights. There was some crazy stuff down there. All of that comes from McBride. Some guys would get their helmets ripped off, and people swinging helmets. You could kill somebody, getting that intensity up. The most intense it ever was down in that pit, Christian and Jason Peter and John Parrella; they didn't get any meaner than that. It made everything else you encountered seem pretty easy, you know?
To be continued…
Copyright @ 2013 Thermopylae Press. All Rights Reserved.
Photo Credits : Unknown Original Sources/Updates Welcomed
Paul Koch
---
---
---