Anatomy of an Era: Jason Peter, Part 2
Excerpted from Chapter 77, No Place Like Nebraska: Anatomy of an Era, Vol. 2 by Paul Koch
Anatomy of an Era: Jason Peter, Part 2
Q: Was there anyone behind the scenes that some folks wouldn't be aware of? Someone who played a huge role in making those teams special?
JP: There's a lot of them, from the academic guys… but I think just in terms of me as a football player? I would probably say Bryan Bailey. He was the guy that I always kind of went to as an athlete, as a player. He was the guy who trained me when I was getting ready for the NFL, for the combine. He was a guy, you know, that didn't get a lot of the press or a lot of the praise that he maybe should have. I think the guys within the program knew, because he was the guy that most of them went to. He wasn't the guy who had the big desk or the big office, but he had the office that was usually filled with the most players.
Q: What was it about Bryan Bailey? Here was this skinny little red-headed guy who weighed about a buck-seventy. What made him unique?
JP: Because he had the heart of a lion. He had the heart of a 300-pounder. He didn't care that he weighed half as much as you, he was going to push you. And you could tell him that you were going to wring his neck or rip off his arm, but he didn't care. He loved the program, too. There's another one of the great injustices here at Nebraska, is what they did with Bryan Bailey. Guys like that, guys that are behind the scenes, guys who don't get all of the ink, those are the guys who really make the program what it is.
A lot of success goes to not just Bryan, but a lot of other guys, like Mike Arthur was another guy. The academic guys, Dennis Leblanc and Keith Zimmer, the list of people they had working over there at the academic center, the list just goes on and on.
Q: I was talking to Keith Zimmer and he spoke about putting that book together with you and Grant. He said he had a fun time editing it.
JP: I'm sure. There's probably not much he could have used that came out of our mouths. (laughs)
Q: It was a great hearing his description of the process. (laughs) Now, with everything you've been through and then come out shining like a diamond whereas others have met worse fates, have you had anything to do as far as playing a part in the Life Skills program Keith Zimmer now oversees?
JP: You know, I did what everybody else did. But when you're 18, 19, 20-years-old and you're playing football and you're having the time of your life, you're not really thinking about what you're going to do when football's over, you think you're going to play forever. The reality is, it's not true, and you need to take advantage of it….
I had the opportunity to go back and speak to the team, and one thing I tried to get across in my message is that you don't play forever. And the amount, the percentage of guys who do get to play after college is like slim and none, so you better be preparing yourself for the day when football is over.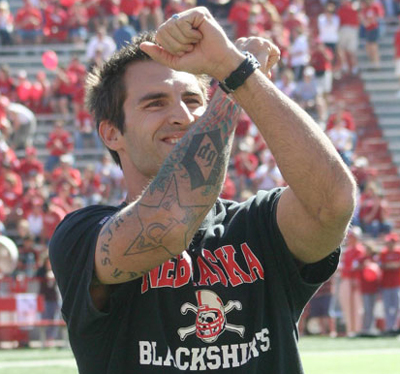 Q: I heard that you also did a little work, you were invited back to have a little one-on-one time with Ndamukong Suh when he was still in school…
JP: He's a heck of a football player. And what he accomplished, that's all on Suh's shoulders. He worked hard and he made the decision that he wanted to be great, and I think that's what every athlete is faced with at one time or another, "Do I want to be great?" It was a bunch of us at Nebraska, we wanted to do that. And there's a certain effort and certain commitment that goes along with that, and that's what I tried to get across to him: It's not just saying you want to be great, you have to go out and do the things that are going to make the players great. That's the extra time in the weightroom, studying your opponent, treating Tuesday practice like it's a game, that's the way that we operated.
I tell people that the games -for us- were easy. If you could get through Tuesday or Wednesday practice, that was the real accomplishment of the week. You pushed yourself. You could never be satisfied. You have to play with an attitude, play like somebody just stole your lunch money, and that's what we did. I think you saw that, especially when he played. I was fortunate to have played a small part in his life and him being willing to take advice, being willing to listen. All of these kids now, they all think they know best. I remember when I was young, still a teenager, you think you know everything better than what everybody else does, and for him to say, "I want to know how it works. I want to know what you guys did"? That was pretty mature of him.
Q: Did he ever say that he took one great lesson away from you more than another?
JP: I couldn't answer that, but maybe he used some of it, maybe he didn't. I just tried to get across how it was in a championship environment.
Q: What's that saying: "When you're 15 years old you think your dad's the dumbest guy in the world, and when you're 35 he's the wisest"?
JP: Something like that. (laughs)
Q: Now, you were the middle child. Did that affect how you approached life, the game?
JP: I always heard of the middle-child syndrome growing up whenever I threw a tantrum or yelled as a child. I just think in our house it was a competitive atmosphere. We were always trying to outdo one another. And at the time it probably drove our parents crazy, but it was probably a good part of our success, the constant competition. That carried through, at least to Christian and I at Nebraska. And even for guys like myself and Grant, you know, best friends. And I consider him a brother, but there is that friendly rivalry, that friendly competition that helps you push one another.
Q: In what way would you say that you and Christian are most alike?
JP: I think in our wanting to succeed, to be successful, and the work ethic that goes along with it. I think we both have tremendous love for family and our friends and, for me at least, Christian was there when I was at my lowest and constantly offering and providing support and just wanting me to be okay, to have his brother's back. I know a lot of people that went through a lot of the same things I did and they had family who were just sick and tired of the whole thing and said, "I can't deal with this anymore. I don't want you around." Christian never did that. Nobody in my family ever did: my parents, Diane didn't, my sister, nobody.
Q: Your sister, is she the youngest?
JP: Yeah, she's younger than us. Thirteen years younger than me.
Q: Finally gave your mom a little piece of mind, having a little estrogen in the house for once?
JP: Probably.
Q: Now, in this book I'm delving into the mix of guys that we had, the melting pot. What was it about the Jersey guys? The Peter brothers, Doug Colman, Barron Miles, Troy Branch, Jason Jenkins? Now is the time to brag, so what was it?
JP: It was attitude. I still think, to this day, that Nebraska's got to get back into New Jersey, has to recruit New Jersey. There's an attitude. There really is. Lots of guys from Jersey had it. It's just kind of a 'tough guy' attitude, you could almost say. You know, all the guys that were from Jersey that were on Nebraska's team, we were guys that never quit and we all came from different walks of life and different environments and upbringings, but I think we all had that same desire to be great and to work and push one another.
It was a great state for me to grow up in and I really do think that Nebraska has to get back there. Coach Osborne, when he took over the job as Athletic Director, some of the things he wanted to see happen with the football team… I know he had said getting back into New Jersey was one of them. They haven't really done that, focusing more on Texas, but I'm crossing my fingers they get back in there.
Q: And when you said 'attitude', what kind of attitude?
JP: Like a 'street-fight' attitude. I always tell people that our mentality -when we were playing- was that we wanted to hurt you. We didn't want you to be in the hospital for an extended period of time, but just long enough for the doctor to check you out and say you could go back home. It was just something that we brought to the table. It's in the water back there, I guess.
Q: (laughs) So do you have a favorite play? Something to this day you could play in slow-motion and you'll remember until the day you die? Any such memory?
JP: Not really a play. I mean, I've got a favorite game, probably, that Colorado game in '96 at Memorial Stadium that was in the rain and sleet and snow. But as far as a play? Not really. My memory doesn't work as well as it used to. People come up to me that tell me about certain plays that they remember, but nothing that really sticks out. I would just probably say walking off that field for the last time as national champions.
Q: And did you earn your degree?
JP: Yes, I finished it halfway through my senior year.
Q: Which national championship means the most to you?
JP: Certainly the '95 team was just amazing to be part of it. And you know, you talk about the greatest college football team ever, and I just remember the domination that we had over everybody. I wouldn't want to say one means more to me than another, but the '97 team, we weren't picked to win a national championship and I think we had three starters or something coming back on defense that year, and I think seeing Coach Osborne go out as a national champ, that meant a lot. They're all just great memories. To tell you the truth, it's the games that I lost that probably stick around longer and I think about more often than not.
Q: That would be Arizona State and Texas?
JP: Yep. At least the Arizona State game, defensively, we played well enough to win. Offensively, we just didn't have it, and that was the first time that Scott Frost had really played in a hostile environment like that and they had trouble with the snap count or whatever. It was a total team effort, but I just remember thinking, even in the fourth quarter, that we were still going to get it together and win the game, because that's all I ever knew. At Nebraska we were going to pull it out no matter what.
It was just a shock when that final second ticked off and we walked out of there with a loss. I remember the stadium being loud as heck, and I remember the night before when we went to the stadium for practice and there were a bunch of Arizona State people there, and they were heckling our team and Coach Osborne and everybody else.
Q: Classy!
JP: Yeah, to say the least.
Q: Now, the old axiom says that you learn more from your losses than you do from your victories. That might mean that you didn't do much learning during your time there, but what would you say was the most important lesson taken from those few losses?
JP: We got right back on the horse after that game. And the Texas game? They had our number. It was odd, because that defense, we played so well that year. Even to this day I think we were probably a better defense in '96 than we were in '97. But Coach Osborne suspended Terrell Farley (and it was a decision that was the right decision), but that was probably the difference between losing that game and winning a national championship. You knew the rules and you had to keep your nose clean, and he didn't. And that was it.
He actually suspended him before the Colorado game and it didn't kill us that game because Colorado didn't know what we were going to do. We ended up having Mike Minter play linebacker, but when we went into that Texas game they knew what we were going to do and they ran the ball. Mike's a tough guy, but he was only about a buck-eighty-five or a buck-ninety soaking wet back then.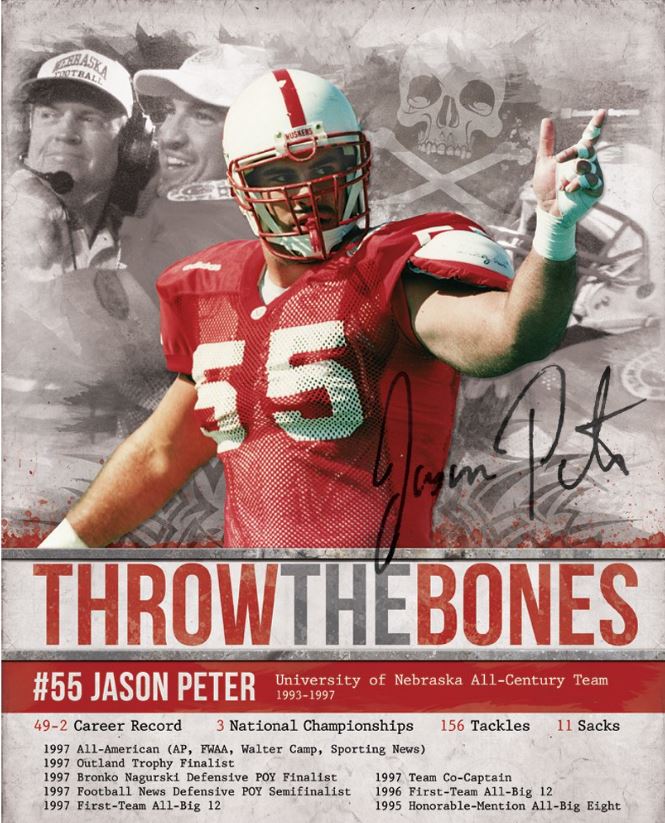 Q: Any favorite practice memories from those days, Jason?
JP: The thing that I remember is when we used to pick on some guys for their birthdays. That goes towards that locker room and the comrade-ship and brotherhood-type thing -those are things that stick out in my mind, Jeff Ogard and those guys- just doing the sorts of things that only we were part of. Not even the fans got to see that, and it's probably better they didn't. There were some special times in practice.
Q: Were you one of the guys who grabbed kicker Kris Brown and shaved his head one day?
JP: Yeah. He was like a dog, he'd just come back to you and keeping coming back to you. (laughs) Every single game he was knocking on our door saying, "Can you cut my hair? Can you cut my hair?" (laughs)
Q: Were there any memorable off-field experiences that produced a special chemistry among the guys?
JP: Just the D-line barbeques that we'd have, and obviously with Grant being my roommate, or Christian -those were the two people that I lived with- and every day was kind of memorable, so to speak. We always had a good time, we always laughed. (Brian) Nunnsy was there, too. Just the ribbing that goes on, those were the fun times.
Q: Well Jason, I've exhausted all of my questions but one. So is there anything we haven't touched on? Anything we haven't put a finger on yet?
JP: Yep, I think it's when you see the love and the appreciation the fans have for the team and the program. When you see their dedication, when you see them sit through hours of pouring rain or snow or sub-zero degree weather, when they line up for your autograph, this is what they live for and they love the program. Even the walk-ons, I know we didn't really touch on that, but you see the way that those guys come down and the way they approach their business, what it means for them to put on the red and white jersey.
I remember seeing guys get Blackshirts for the first time: it's an emotional thing. It all starts with the in-state people -whether you're talking about the fans or the in-state walk-on kids- these are people who have an immense amount of love and appreciation for the program, and for some it's a dream to be able to go down there and be part of that program. And for others, to sit in the stadium and watch their team play is a dream itself. When you have people like that supporting your program it's hard to do anything less than give everything you've got.
Q: So there was a profound respect for Nebraskans in general, both on and off the field?
JP: Oh yeah, I told the story when I did that HBO Real Sports show for the first time and talking about my addiction -and I was obviously nervous with how it would be taken, especially here in the state- and after I did it and it aired for the first time, I started to get tons of fan mail. Everybody just saying, "We support you and we just want you to do better, and we want you to be happy. If you're ever in our area here's our phone number. If you ever need a place to stay or need a meal, call us." And I tell everybody that every piece of mail came from Nebraska. They were all from Nebraska people.
Q: And you were in California at the time?
JP: Yes.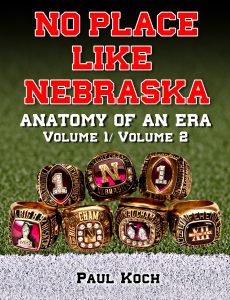 Available on Amazon.com
Q: One last question: Is there one unsung scout teamer who stands out to you as being someone special in particular from those days, someone most folks have completely forgotten about or never heard of?
JP: Just a guy like Brian Nunns. He was a guy that worked his way all the way up to second team and was never a starter, was never a guy that the media was looking for after practice, but one of those guys that enjoyed being part of it and knowing what his role was… and that was preparing the guys who were gonna play to be ready.
And if, by chance, he was able to get a few plays or a few series in, then that was the icing on the cake. You'd never know he wasn't a starter by the way he went about his business. There were a ton of guys like him every single year and they all went about it the same way, and that's an infectious thing for an out-of-state guy to see the in-state guys and see them going about their business like that. And for a scholarship kid who seems to have the red carpet just laid out, to give anything less would be a sin.
End conversation.
"Do I want to be great?" Now there's a loaded question. Taken at face value, some folks run from the thought of it, because deep down they are fearful of how they might respond in answer at crunch time. For some, it may be that they find their inner character will happily settle for mediocrity and a resulting life of self-disappointment. For others it may be the fear or concern that they don't have the discipline, the drive, the mettle to withstand the rigors of reaching that greatness. But the Huskers of those days, especially the Defensive Line? Jason answered resoundingly with, "It was a bunch of us at Nebraska, we wanted to (reach greatness). And there's a certain effort and certain commitment that goes along with that." They put forth the necessary effort and commitment in spades, leaving nothing to chance, and they reaped the reward of greatness, both personally and as a team. So where did it come from? From the tough, New Jersey 'street fight' attitude, from the home, from the upperclassmen at Nebraska, from Charlie McBride, from a love for each other and a state of supporters. In other words, it was a group effort in the greatest sense of the word.
Then there was the concept of the Unity Council and self-policing within the player ranks. Now, that's not to say that Tom Osborne fully and completely handed the reins off to the youngsters and turned a blind eye and deaf ear to the goings on, but he surely figured out by this time in his long coaching career that no matter the football coaching staff's or support staff's or the fan base's yearning and expectations, it all simply came down to the fact that it was the players who held the key to season's successes. Playing up the peer pressure effect to the Nth degree, he rolled the dice and went for two yet again, placing accountability and unity in the hands of those who made the plays in practice and games. I enjoyed hearing Jason mention, "if it got past us, we didn't do our job… when it's a classmate or a teammate who says you're not going hard enough or fast enough, that kind of digs deep, it hurts when it gets to that point." I surmise that it all came down to a basic human desire to avoid pain. Author Jim Rohn once wrote, "We must all suffer from one of two pains: the pain of discipline or the pain of regret. The difference is discipline weighs ounces while regret weighs tons." They chose the pain of discipline, which became lighter than a feather to their present day consciences. As a result, they soared.
Notable quote #2:
Jason Peter on his Nebraska Football mentors: "When you learn stuff from guys like (Kevin) Ramaekers and (John) Parrella and Christian (Peter) and the guys that were there like Trev Alberts and (Terry) Connealy, when you have a bunch of guys who continue to push each other and hold one another accountable, what you end up with is successful football teams."
Copyright @ 2013 Thermopylae Press. All Rights Reserved.
Photo Credits : Unknown Original Sources/Updates Welcomed
Author assumes no responsibility for interviewee errors or misstatements of fact.