Anatomy of an Era: Jared Tomich, Part 1
Excerpted from Chapter 71, No Place Like Nebraska: Anatomy of an Era, Vol. 2 by Paul Koch
"Fire is the test of gold; adversity, of strong men."
-Seneca, Moral Essays. On Providence
We've notably seen the Nebraska-effect as well as the Chicago-, Texas-, California- and New Jersey-effect that some of the players brought to the amalgamation that was Nebraska Football in the 1990's, and here is one more example of the Chicago effect, that Midwest area's bloodlines fusing into the whole rigmarole.
Jared Tomich shares what I believe to be an inspiring and emblematic narrative of his unique experience during that great 60 & 3 era. Far flung from the 'woe is me' crowd, it's a tale of resolute steadfastness, of implacable perseverance and abiding love for a man, for his newfound brothers, and for the violent game that merged it all together into one. Jared was originally an academic non-qualifier known at that time as a Prop 48, and much has been made of Nebraska's pursuit of such student-athletes and the wisdom of doing so 'for the good of collegiate athletics.'
He found that anything worthwhile in this life rarely comes easy. It was a hard and rocky road for Jared to travel, it's true, but you'll soon agree that his Blackshirt journey was well worth the effort. Let's hear of his hurdles, trials and adventures in Nebraskaland.
Notable quote #1:
"We practiced the way we played. Coach Osborne was very, very big on that. We practiced full-bore. And that led to a lot of hot heads and emotions and things when Coach would let them cut-block us and things like that. We were constantly fighting the offensive linemen. At times it was half-football and half-boxing, but that's what got us ready for Saturday."
Jared Tomich
Walk-on, Rush End, St. John, Indiana (Lake Central)
Where are they now? Shererville, Indiana, Entrepreneur
Question: Hey Jared, are you back in the Chicago area once more?
Jared Tomich: Yeah, after I was done playing I got myself entrenched in small business when I came back. I have three gyms and I'm getting ready to open up two sports performance centers with indoor turf and tracks and performance training. And I've got a couple little Italian pizza joints and a bar, so I keep busy.
Q: You're a regular old Boss Hogg, man! (laughs) I heard you've been doing some contract work with the Dolphins, too?
JT: Yeah, I was down there last year for about 8 weeks. Myself and my instructor would fly out there on a Tuesday morning, we'd train with them all Tuesday and Wednesday and then fly back Wednesday night. It was just martial arts training and how it's applicable to football.
Q: Do you see that taking off in a bigger realm in the future?
JT: I think if I really wanted to push it, I could. I'm so busy right now, and I want to do the same classes with high school and college kids locally. And I made it out to Nebraska about a year ago and they really liked it and they mentioned bringing me back this year to do the same type of thing. So I don't know what's going to become of that. I got into martial arts once I got into the pros because I had to do something to help my game.
Q: A little Bruce Lee action, huh?
JT: Yeah, absolutely. Whatever helps.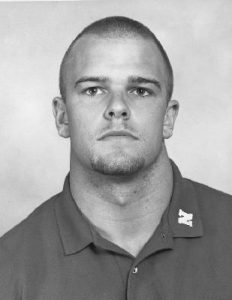 Q: Well, hey, I really appreciate you making yourself available for this book. So let me ask you, a kid from St. John, Indiana, how did you arrive at Nebraska?
JT: Nobody really knew much of this while I was there, but my path was quite a bit different than most of the kids. I was not recruited at all out of high school: I had no offers, no nothing. Was an all-state player, but the biggest reason was that I just didn't have the grades to get into school.
And actually, a former Nebraska strength coach at East Chicago Central, Mr. Peterson, he sent Coach McBride my game film from when I'd played East Chicago and said, "You might want to take a look at this kid." So it was April and everybody's signed and everybody knew where they're going, and here I was working at the pizza joint and getting ready, for the most part, to join the Operator's Union with my dad and start working in the mills, which is what a lot of kids in that area do.
Coach McBride calls me and says, "We'd like to bring you out and meet you because we've seen some of your film," and you know how Coach McBride is, "… and we'll see if there's something there." So I fly out, meet coach and everything else and he just says, "If you were to come to school here next year and be a Prop 48 and get your grades up and just work really hard at that? If you walk-on the next year you might make the team." (laughs) At that point I'm thinking, 'We don't have much money to send me to school. At least my folks don't.'
But we made the decision with the help of my grandma, and they got me into school that first year. And I just kind of started plugging away and was able to work out in the gym with the guys, and that was real cool. But that was it. So after that first year, then I came out and walked-on my second year, made the team and kind of started my career from there. And then that next season Coach Osborne granted me a scholarship for the next three years.
So between him and Coach McBride -and I flew down to Arizona for Coach McBride's birthday party not too long ago- and he's one of my absolute favorite people in the world. I owe, as far as my football career goes and just getting a college degree, I owe that tremendously to Coach McBride.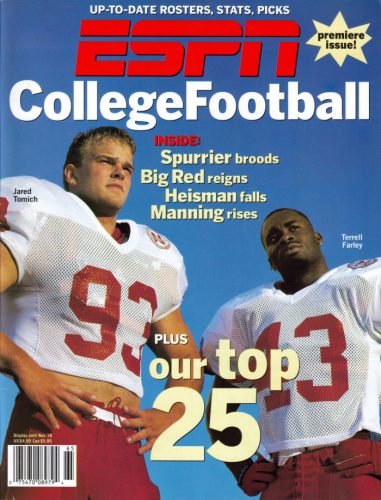 Q: Wow, that was a leap of faith on your part.
JT: Yeah, and he was always very upfront with me. And I remember that even when I was the just a 'Prop' getting my grades up, he would make me come into his office once a week and tell him how I was doing.
Q: Accountability, huh?
JT: Yes. Coach Osborne and the staff did such a phenomenal job. Here I was, being the lowest of the low as far as kids in college and scholarships and even the walk-ons… I wasn't even that. I wasn't even a preferred Prop 48, for crying out loud. And to have them make me feel the way they did? They gave me the ability to believe in myself to get this done -a kid who had to struggle his whole life with learning disabilities- and they got me the proper assistance. You know how our study hall was: whatever study halls you needed or tutors you needed, they provided it.
And going into my sophomore year they got some extra testing done, which released all kinds of old stuff as far as I was concerned. Because I basically learned that I wasn't dumb, I just learned things in a different way.
Q: What way was that? What was your key?
JT: I'm just an audible learner. So once that was figured out these professors would read me my tests and I started to then get decent grades and more decent grades, and by my last semester there I was on the Dean's List and I was enjoying it. I finished my degree in four and a half years and was able to go on from there.
Q: Amazing. What was your degree?
JT: Communications.
Q: You've probably used that every day henceforth?
JT: All the time. And I had some business classes, too. So I actually do use my degree quite a bit.
Q: Other than that initial visit, do you recall your first days on campus as a student?
JT: (laughs) The camaraderie of the Nebraska Cornhuskers in the '90s was interesting, as you know. It was a very, very interesting paradigm.
One of my best memories is when I was a Prop: I would try to come and watch practice. And I didn't know it, but Coach McBride and his style of motivating? He was telling Terry Connealy and Christian Peter and those guys… he would say, "Hey, you know what? When this kid comes in next year he's gonna be taking your job." You know how coach was. So every time I'd come to practice and I'd sit and watch from the bleachers -because that's all I could do- within the first five minutes I'd hear the footsteps… tap, tap, tap, tap… of their shoes on the steps. I'd look down and they'd be chasing me. Peter and those guys would chase me out of the stadium!
They loved it. They absolutely loved it! They would scare the shit out of me and chase me right out of the stadium. And these guys were monsters. You know how they were. (laughs) Yeah, they would chase me out of the stadium every time. If I wanted to watch I had to crawl up and hide to watch practice. And then it wasn't even worth it. Luckily they were all slow, so I didn't have to worry about them catching me. (laughing)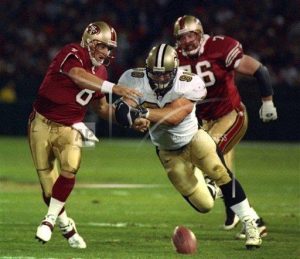 Q: I have to know, what was your impression of Coach McBride, watching him from the sidelines that whole first year?
JT: Coach McBride was a very, very tough coach. But from day one you knew he cared about you as much as he possibly could, as much as his own family. And that was the great thing about playing for him, he had that uncanny ability to make you want to perform for him. When I would do something good on the field -and I've said this when I speak to kids- the greatest feeling in sports, in my opinion, isn't when you do something -it's not the action of a good play- but it's when you come to the sideline and your coach is jumping on you and the players are jumping on you so much that your neck hurts. That's the greatest moment in sports.
Q: Positive, painful feedback, huh?
JT: Yep.
Q: Any great impressions of how things operated? How it stood out to you?
JT: I thought it was pretty neat how Coach Osborne ran the show and was our leader without any doubt, but he allowed the team to run itself. And he allowed us to discipline ourselves, which was worse than any other discipline the coaches would hand out. The worst thing you ever wanted to do was go to the Unity Council because you missed class. I learned that right away, because even as a 'Prop' Coach Osborne signed me up for that gig, so they were checking me just like they were checking everybody else.
So they cared. Coach Osborne and Coach McBride? The whole organization, you felt like they cared. And it wasn't even about whether or not you were going to be a great player, it was whether -when you were done at the university- if you were going to go out and be a positive influence in the world.
Q: When you say that, Jared, maybe some non-Nebraskans reading this will think it sounds hokey. But it's the truth, right?
JT: They will. They will. But I can say it from being a Chicagoan and not a Nebraskan, because "people from Nebraska would say that" and blah, blah, blah and buy into it all. I didn't know where Nebraska was when Coach McBride called me and I had no predisposition about the school or the program, it was only my understanding of it when I got there and I figured it out.
And the great thing was that I figured it out when I was in school -the middle of what I was involved with there- that it was something really, really special. It was really cool to understand it at the time, not something I had to figure out only in looking back. I didn't take it for granted at the time. I knew I was part of something really, really special.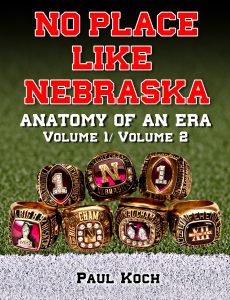 Available on Amazon.com
Q: Was there one thing that made that glaringly apparent to you?
JT: Just the camaraderie at the time and what we expected of ourselves. For the most part we thought of ourselves -in the classes when I was there- that we were pretty humble, because most of us just thought of ourselves as scrubs; like myself and Christian Peter and guys like that, where we were walk-ons that weren't touted at all in high school and didn't have egos and those other things.
That was the cool part about it, and somehow the coaches got all these guys from all across the United States together at one time and we lose three games in 5 years. That's a rarity. It wasn't until I got into the NFL that I realized even more that the camaraderie we had at that time was not so prevalent at other schools.
Q: From talking to your pro teammates?
JT: Yeah. Most guys from other schools? It was just more individualism at other schools. There was not "I" at all, it was just "Team" with us. Even when we celebrated after doing something, the first thing our defense would do -when we made a play- you would turn around to the next guy to celebrate with him. You didn't celebrate yourself or show yourself off in the middle of the field in that sense -"Look at what I just did!"-  you looked for the guy who was playing next to you. And that just comes from years and years of Coach McBride's speeches: "You don't play for yourself. You play for the man next to you…."
To be continued….
Copyright @ 2013 Thermopylae Press. All Rights Reserved.
Photo Credits : Unknown Original Sources/Updates Welcomed
Author assumes no responsibility for interviewee errors or misstatements of fact.
---
---
---