Anatomy of an Era: Final Chapter/THE HUSKER OFFENSE
Excerpted from Chapter 104, No Place Like Nebraska: Anatomy of an Era, Vol. 2 by Paul Koch
Anatomy of an Era: Final Chapter/THE HUSKER OFFENSE
THE NEBRASKA OFFENSE
Focusing now on the offensive scheme employed, Nebraska differentiated itself from many pro-style offenses by employing a multi-faceted run game, which in turn led to play-action passing culled from those same running sets. Defenses, very often lulled into stopping a brutal power game up the middle and then chasing after the field-stretching bootleg and option game- were often caught unawares when the ball was eventually put to flight. The aforementioned 3 to 1 run to pass ratio was a bit of a surprise to me after confirming those numbers, as Brook Berringer's 10 passing touchdowns in 1994 and Tommie Frazier's 17 in 1995 can attest. Mostly, though, the squad waged a physically demanding rubicon of attrition via a dynamic ground-n-pound philosophy:
…we had some different running game option-type things going on, and dove-tailed a passing scheme in with the play-action passes. We ran maybe fifteen different plays and we always tried to have a pass off of those different plays…   – Dan Young
…we had not only the power running game, we had the option game and all those passes that came off of those different actions. We had kids who were very intelligent on the offensive line, and a lot of players at that time were four or five year players… Plus, when you run the option game well, there's just no way the (opponent) can get prepared in one week to play that style of football. – Dan Young
…(Frank Solich) says, "We've got a plan." And I go, 'Yeah? What is it?' And he goes, "Well, we've been watching (Florida) and we think they're a little soft. We figure if we can come out and smash them in the mouth they're not gonna like it too much."           – Randy Gobel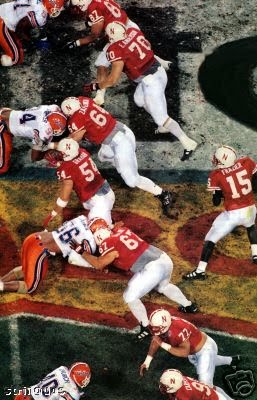 So the power and option running game evolved through creative play sets and was used to set up the passing game: in many ways a forerunner to the modern-day spread offense…
…I remember seeing a little more shotgun. That started being developed and he started moving that in. And the shotgun had the spread stuff to spread the field, and Osborne started running the option out of the spread. You look at that spread option package that everybody's running now, and Coach Osborne was doing that back in '91 or '92 already. – Bruce Moore
Osborne went from a pure power option running game to his sort of hard-to-define shotgun forerunner of the spread option that nobody had any clue how to defend… We were running fullback traps out of the shotgun, were running QB option keepers, QB passes; like a play where the quarterback could hand it off, run it himself, pitch it to the running back or throw it to the tight end. All on one play! And we're running it out of the shotgun. How do you defend that? Osborne came up with that stuff.                   – Rob Zatechka
…it was kind of a complex system with all the shifts and motions that Osborne did… It was very efficient. From the blocking schemes to the fullback to the I-back to what everybody did, everyone in the whole system had a part and they had it broken down in detail to what each one individual had to get done to make the play work.                      – Chris Dishman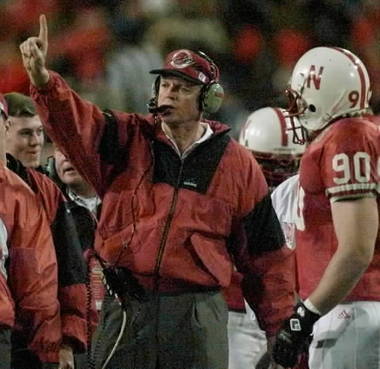 In turn, opposing defenses were left with precious little practice time to effectively prepare for all facets of play-calling:
…(preparing for) it was a nightmare. (laughs) There were so many things you had to stop that Nebraska did offensively. You had to stop the fullback, stop the outside power game, you've got to stop the option game, you've got to stop the bootleg. When you're on the other side there are so many things, you can't believe what you have to prepare for. And you just couldn't simulate it in practice. Teams just couldn't simulate what we did in practice. – Ryan Held
The option. We had a whole option drill and that's why no one could stop us in the option. We could run on the short side of the field and they could put all eleven guys over there and run at you and we'd still get yards on you. We were just masters of it.      – Cory Schlesinger
Tommie Frazier threw the ball an average of something like 17 times a game. It wasn't like we couldn't throw the ball at all.   – Aaron Graham
The ground game excelled at taking time off the clock, too, giving the defense plenty of rest…
Our offense had the ball so long that when we did get in, there were only about 10 plays where you could make a tackle during the game.  – Phil Ellis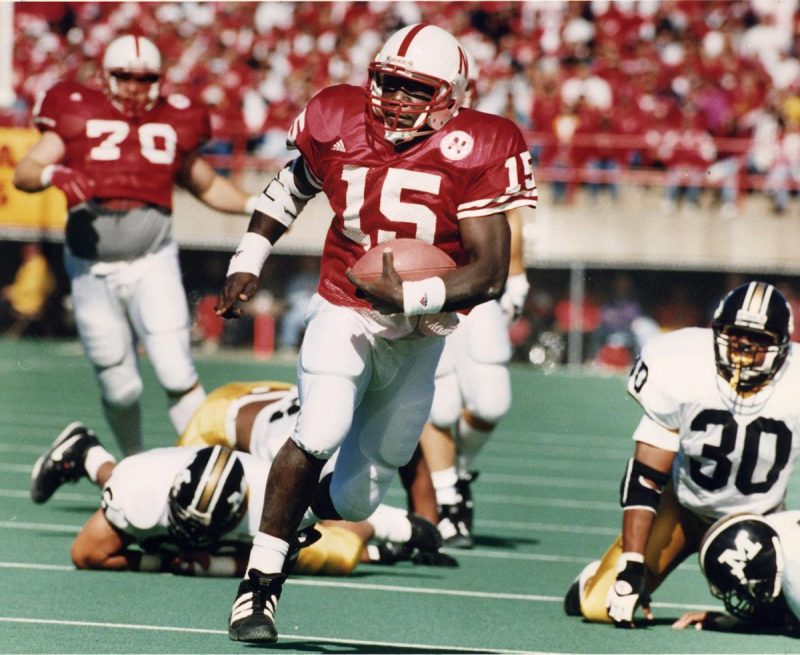 Everyone focused on mastery of their role, be it large or small…
…I didn't catch any passes. My job was to go knock people on their backs… For the tight end position my senior year -with Mark Gilman and Eric Alford- I played a lot of snaps. But when Eric came in he was more of the deep receiver threat. (Mike) Vedral, he was a gifted athlete running and catching. Gilman was a little bit of both… Put together, we were a pretty darn good force at tight end. – Matt Shaw
Rather than an arm-talent based, quarterback-centric offense, its success hinged primarily upon the big boys of the offensive line: known fondly as The Pipeline…
It was a bond between us, such a big trust there with everyone knowing their job and getting things done. We were told in the huddle that we had to run a certain play and we had the confidence that the big guys up front could get it done. You had Brenden Stai, Zach Wiegert, Rob Zatechka and those guys, all those guys. We knew that everyone knew what their assignment was and we had total faith in those guys getting their job done.    – Clinton Childs
That's why they called them the Pipeline, "If you get in our way, we'll roll over you."     – Bryan Bailey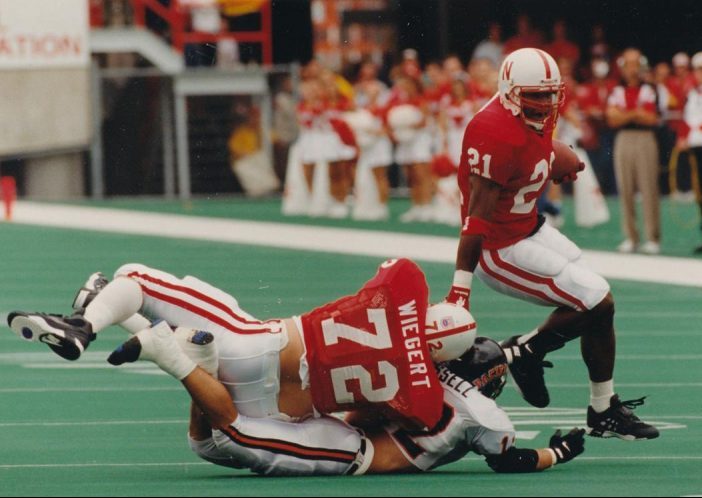 This was an aggressive group, leading the charge for ground acquisition rather than a protectionist passing game unit. They set the pace with a focus on both physically dominating and punishing opposing defenders…
Those (offensive linemen) had a little moxie about them, you know… They were aggressive football players and our whole offense was built around them. It didn't center around the receiver or center around the quarterback, necessarily… we were a physical football team and that all started with the kids up front. They took challenge to that and it was important to them to let the other guys get out there in the fourth quarter, and that was what we'd do… we dominated in those national championship games not necessarily doing battle on the scoreboard, but as far as physically dominating, that's what we were all about. Those kids took the word 'dominate' to heart. They knew what the heck that meant. It wasn't just a quote, saying we were gonna dominate them. They did it… They'd get more of a thrill from knocking someone on their can than most guys would catching a touchdown pass. – Milt Tenopir
…we took the approach that we were smart, we were athletic, and we were tough. We didn't get over-enthused, whereas on defense you played with a little more wild approach, wild abandon. The offensive side, it was more like quiet confidence… we always fired off the ball. We always wanted to be more physical than anybody. And I think we were always more athletic. We had big guys, but they could all run and there wasn't a guy that was a soft guy. All very agile players. – Bill Humphrey
…we were so physical. And like Tom would say, those two or three yard gains in the first quarter were going to turn into seven and eight yard gains in the fourth quarter if we'd continue to be physical and continue to work on our technique and not get sloppy. – Dan Young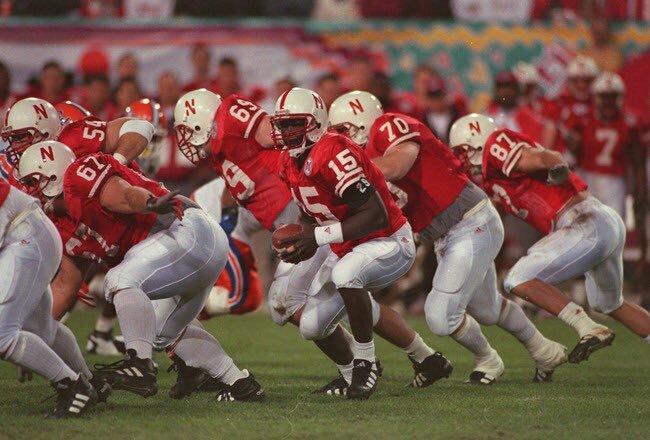 Part of their effectiveness was taking out opposing defenders with the dreaded cut-block…
…we cut-blocked a lot at Nebraska. Even on the line of scrimmage we cut-blocked. With the option the more people you get on the ground the less people they have to catch the running back. That was our philosophy. – Chris Dishman
…I hate to sugarcoat it, but we could get pretty dirty. For offensive linemen, we'd 'cut' like crazy; we blew guys' knees out and ankles all the time.
– Bryan Pruitt
In their attempt to dominate, they sought to break down both bodies and wills…
I think everybody in those years had a superior attitude and always felt we were better than everybody we were going against, that we would wear them down and be more physical and tougher than those we played. That was 'The Attitude.' And in talking to opposing coaches, they'd always say, "When we play you guys, the next couple of weeks we'd just try to recover and get by until we got our players back again." That was the attitude our guys played with and took a lot of pride in, actually made us good…           – Dan Young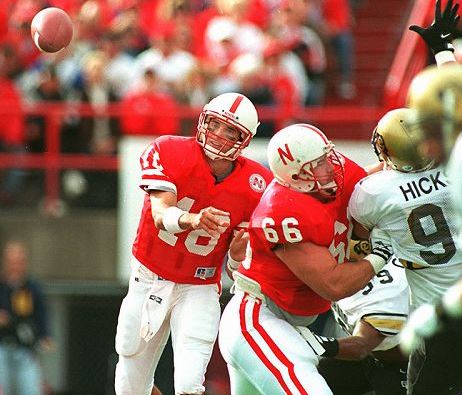 …we'd cut people at the line of scrimmage because a lot of plays we'd try to get to the corner and use our speed with our I-back and quarterback, to get out to the corner and make things happen out in space…  basically you take all the 'jukiness' out of them by putting a shoulder into their kneecap. Either they're gonna blow their knee or they're gonna fall down on top of you… they'd have to definitely think twice about what they were going to do when they played against us.  – Chris Dishman
I remember seeing some All-Big 12 safeties -I remember one from KU- he was just laughing at our sideline. It wasn't a mocking laugh, it was a funny laugh like, "You guys are just killing me." It was almost to the point where he asked us to call off the dogs. And another thing, against Tennessee in that national championship game in '97, I remember Leonard Little, their All-American linebacker, I remember him actually walking over to Charlie McBride in the 4th quarter and said, "Call off the dogs, Coach. Call off the dogs." – Chad Stanley
What drove those offensive lines to perform at such a high level?
…from a goal-setting perspective from the offensive line… our goals were ridiculous: Rush for 400 yards per game, Don't get any penalties, Don't give up a sack. The numbers were staggering.  – Aaron Graham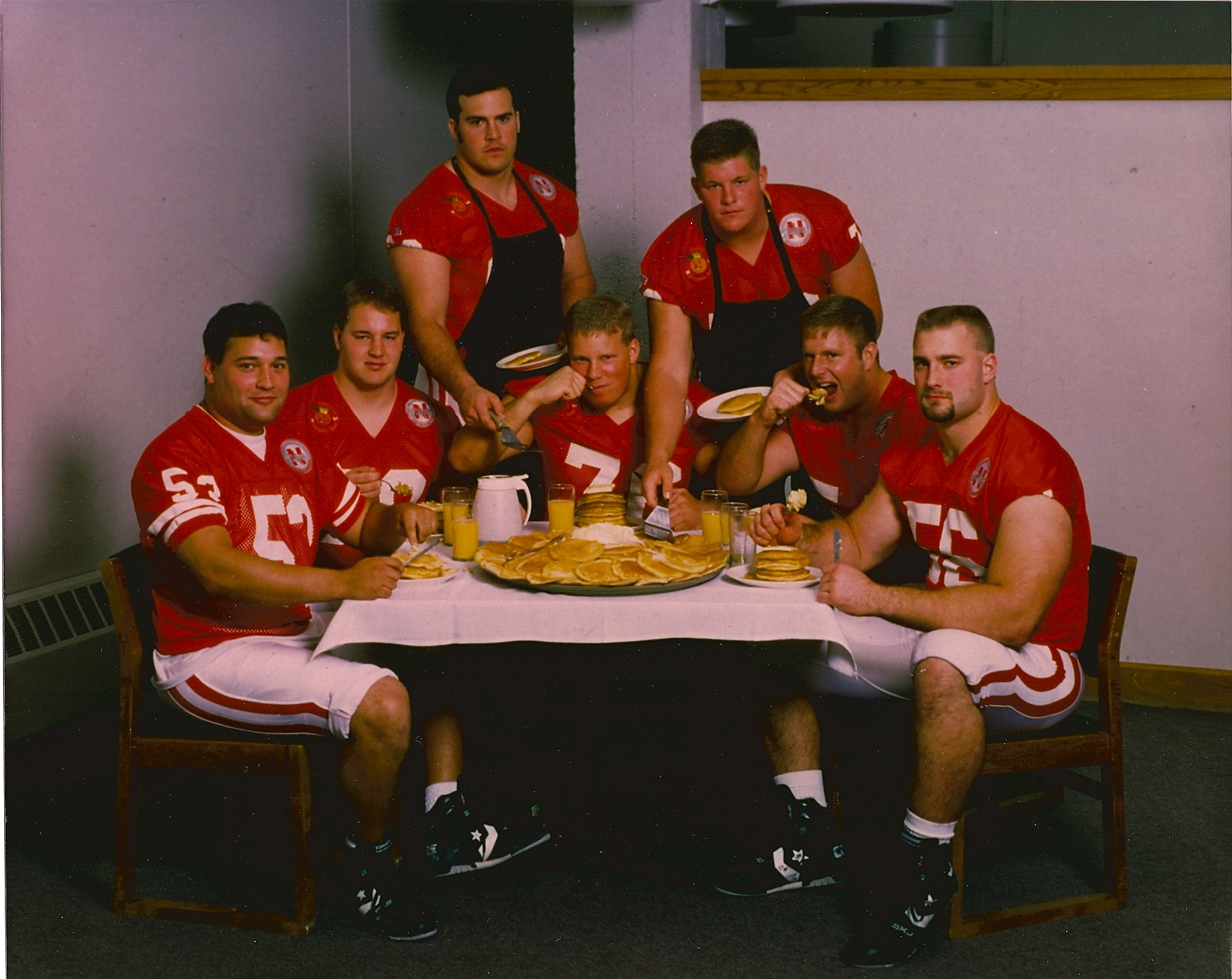 Every time we'd flat-back someone -pick them up and slam them on their heads- Coach Tenopir would give us a Pancake Award… Literally, you hit someone face-up and you man-handle them and you throw them on their back. And you don't finish the play until the whistle blows. Literally, every game, that was our competition: whoever had the most Pancake Awards wouldn't have to do conditioning after practice as a reward… No gassers. It was a big deal to be on top. You'd be like, "Hey, I got 48 pancakes this last game"…you know, it was a pride thing.       – Brian Nunns
Not like we were bent on winning (Lawrence Phillips) the Heisman, but you had to make sure we were up there leading the nation in rushing. It was just absurd the amount of yards we were rushing for back then…    – Adam Treu
We were tough guys, we had a drive about us, we all wanted to make something really special and knew we had to rely on each other to do that… Brenden (Stai) and all the guys had that push to stay in the weightroom. We never wanted to leave. I didn't want to ever be the first guy out. And we were competitive, so that helped.   – Joel Wilks
The offensive linemen weren't the only ones blazing a path. Nebraska's wide receivers excelled in opening up lanes for the ball-carriers at a rate far exceeding their contemporaries…
The receiving corps at Nebraska stood alone in college football, was just known as the all-around type of receivers in the United States because of the work ethic, the physicality, the cut-blocking, all the things that you have to be: an unselfish, hard working guy that didn't care about credit. You were going to do whatever it took to spring that block and enable the running back to go all the way… – Ryan Held
…and how about Ron Brown's Mighty Mites out there that decade? Unselfish guys that were feared. We'd go into the stadium and the secondary would just fear these little ninjas out there. They were like assassins. Seriously, they wanted people-knockdowns! You hear Ron Brown talk about knockdowns? They'd go for 10 a game; that was just unheard of! – Chad Stanley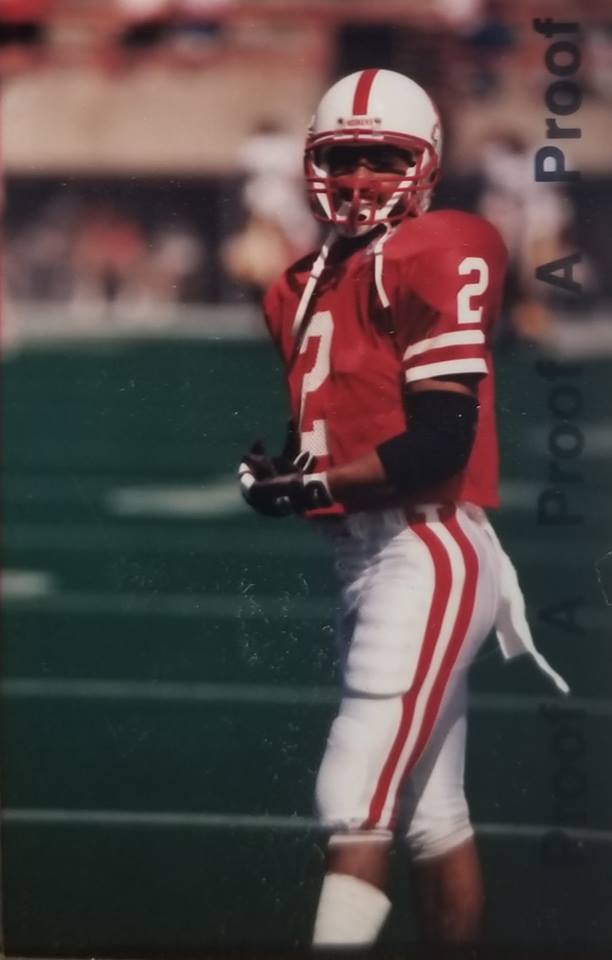 We had a bunch of ankle biters out there at receiver that were probably better blockers than we were: Brendan Holbien and John Vedral. I think they had more blocks than we did. They'd line up out there and they knew their role on the team; they weren't going to catch a pass and they bought into it, and they just beat the crap out of the other teams' defensive backs. We were gonna run the ball and just come right at you, and everybody bought into it.
– Chris Dishman
All of us at Nebraska, being a receiver, you'd get joy out of smacking a linebacker across the face or smacking a free safety or driving a corner to the dirt. That was a way to smack somebody around when you couldn't do it any way otherwise.          – Riley Washington
I wasn't a receiving tight end. In fact, I didn't catch any passes. My job was to go knock people on their backs. I was basically the starting tight end because I could block, and at that time in Nebraska history we ran the ball 90% of the time.    – Matt Shaw
What about the offensive 'skill-position' players? The ones actually handling the football? Both Quarterbacks and Running Backs usually –and deservedly so- receive the accolades for their courageous physical exploits. What was it that set them apart? Let's start with the quarterbacks…
…(Tom Osborne) didn't want his running backs running out of bounds and he didn't want his quarterbacks running out of bounds, either. It was the same expectation for everybody.   – Matt Turman
I remember I broke through the O-line once in a scrimmage and I was like a half yard from Tommie, and some sweat appeared -I blinked my eye- and looked back and he had cut twice. By the time I had come to a stop he was down the field ten yards. I said, 'Oh, my God. How are you supposed to catch that dude?' He could run sideways and backwards and fast as he could run forward… It was just amazing… It was like catching water, trying to catch Tommie.
-Larry Townsend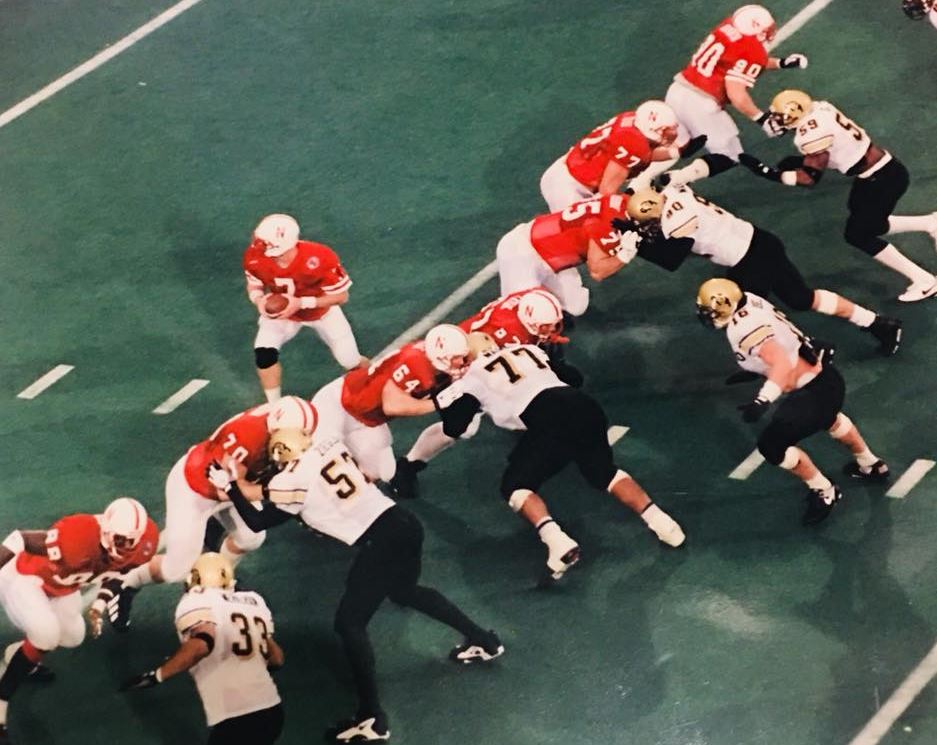 There was a toughness about them, an old-school physicality across the board. They were no prima-donnas…
…the quarterback -when I played at Nebraska- was just like another running back… who would occasionally throw. I mean, Tommie (Frazier) was the toughest running back in the country. He was such a good runner… we played a season without Tommie Frazier. We had Brook Berringer, who was hurt for most of the season, and we played some games against top ten teams without either of them. Kansas State? Lawrence Philips had a cast on his hand and we had the Turmanator at quarterback. I'm not taking away anything from the Turmanator, but he's not Tommie Frazier.
– Zach Wiegert
Tommie really was -if you think about it- he was an additional running back who played quarterback… Tommie Frazier gets in health trouble and who comes out? Brook Berringer! Berringer goes out and who do we bring on? The Turmanator! …And he did a wonderful job…   – Aaron Graham
It was the perfect storm in that respect. (Osborne) had the great system. It was so unique in so many ways from what most everybody else was doing around the country offensively, and he had the best players in the country to execute it. So he had everything covered…  – Kent Pavelka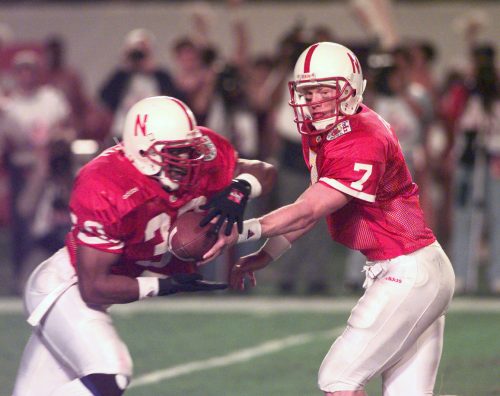 The gutsy signal-callers were 'gamers' in every sense of the word…
…the beautiful thing about Tommie, when the game was on the line, when you had third or fourth down and a yard or two to go? He was willing to put that pressure upon himself and make the play and show you he could get it done, and that's why he expected excellence out of you. A hell of a leader. Not the most sociable guy… But you knew what you were going to get out of him each and every time he needed to step up and a play had to be made. And there was no failing, he would just do it… Brook, just a great guy. In the locker room, great personality… What I remember about his playing was that every time he went into the ballgame it seems like we always went down and scored. Always. Whether or not that was the case or not, it's just what my perception was. A great leader, but a different type of leadership …And I had Frosty, who I think was actually the best option quarterback we ever had… as far as running the option I don't think there was anyone better than Scott Frost… he was tough, he was big, he was strong… there were many times Scott Frost would get blown up or deliver a blow, but he knew how to run that option so well: he would take it right to the pitch man. A lot of times Tommie Frazier would rely on his athletic ability instead of pitching it …but Scott Frost would actually run the play out like it was designed… I don't think there was anyone better. And tough! Just tough as nails. There were times I would pick him up off the ground and he was seeing stars. And the receiver -whether it was Lance Brown or Jeff Lake or somebody- would run in the play, they would actually have to call the play and Scott would just give the snap count. And I remember thinking, 'How the hell is he going to run this next play?! He's out of it!' And he'd do the same damn thing. Just absolutely amazing.   – Aaron Taylor
They were all mad because they thought we ran up the score. Matt Turman did his job: he checked out of an audible that he saw. Lance Brown saw it too and ran the right route, and Turman hit him on a post route and he scored…  – Matt Vrzal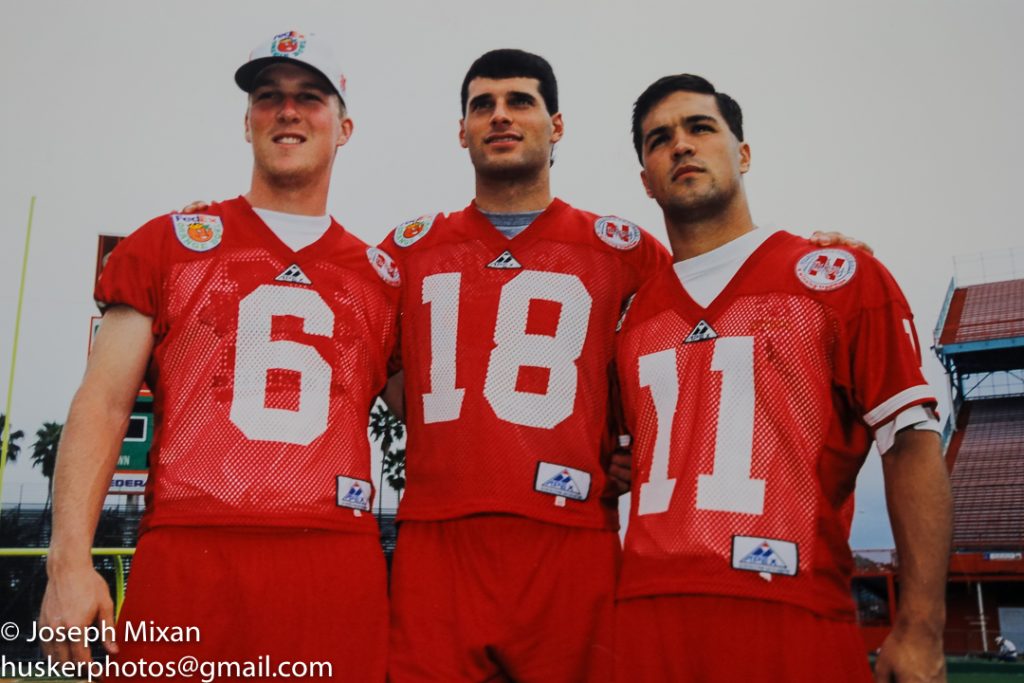 Darin Erstad, Brook Berringer & Matt Turman pre-National Championship
The cupboard was loaded with a very physical brand of running back. You talk about pedigree? They didn't just place or show, they won… with speed and style. These thoroughbreds ran primarily North and South…
We took it to defenders. People feared Nebraska backs because we were gonna do the 'lift drill' and punch them in the sternum.   – Chad Stanley
…so many different talents in our room. At one point (Frank Solich) had Calvin Jones in the room, he had Clinton Childs in the room, Damon Benning in the room, Lawrence Phillips in the room. Those are all quality running backs and he did a hell of a job at keeping everybody happy. – Clinton Childs
…think about that, we had a third string quarterback who was a walk-on, we really couldn't throw, Lawrence Phillips was playing with a broken toe and a broken thumb and still carried it 30-some times…  – Eric Stokes
…Damon Benning, Lawrence Phillips, the Makovickas were hard working guys. So many of them just did what you asked of them. They'd run through a wall for you… They pushed themselves, they pushed the linemen. They'd step up and challenge the linemen to anything, anytime. It went both ways, so that was pretty cool.                       – Randy Gobel
Speed was their tool. They were fearless when hitting the hole…
…you just had to make a little hole, just hold them for a second and it was over.           – Joel Wilks
I always remember Coach Solich saying that when you ran the ball you had to "speed through the hole." He wanted us to accelerate through the line of scrimmage on each play…  – Damon Schmadeke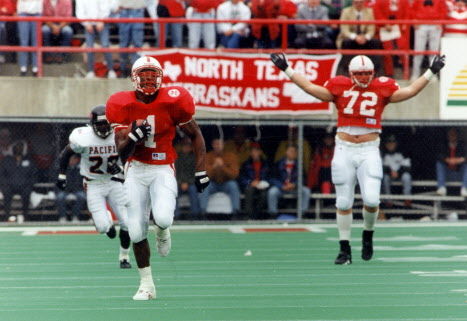 Lawrence Phillips & Zach Wiegert
Devising the methods most suitable to utilize all of those talents, we now look at the master designer himself, the genius of Head Coach/Offensive Coordinator Tom Osborne…
Tom was playing chess while everybody else was playing checkers. Tom was just always two or three steps ahead of everybody. All the conversations on the headphones, "If they do this we'll do that." He was just way ahead of the defensive coordinator…           – Chad Stanley
Coach Osborne was a different breed. Coaches go about things in different ways, and he went about it the right way, and that pays off over time. It starts with him and what he built, having the right coaches underneath him. He wasn't the rah-rah kind of guy, but he had guys underneath him who did. You have to have those guys. He didn't micromanage them and just let them do their thing. He had Coach Steele and Coach McBride, he knew what he was doing… I never heard him say a swear word for five years. – Joel Wilks
Kevin Steele told me that Tom's success in part -and in large part- was that Tom had the ability to make everybody in the organization, when he was dealing with them, to make them feel like they were the most important person to the success of that organization. Whether you were a secretary or an assistant equipment manager or whatever. When Tom came to you and you talked he had the ability to make you think that you were important and the success of the organization depended on you doing your job in a positive and effective way …There's no question about Tom's understanding of x's and o's. People always said that if any head coach could coach from the press box it would be Tom, because he had the strategy -the understanding of offensive football, in particular- such an understanding that he could do it from there.   – Mike Babcock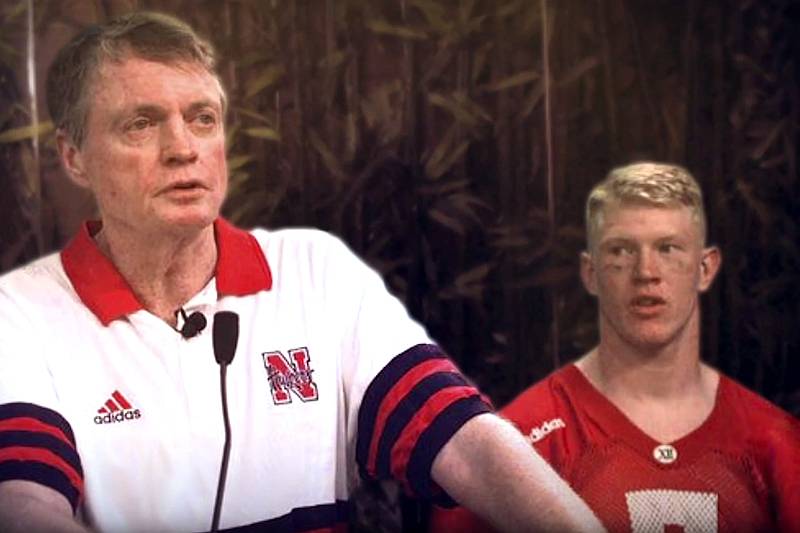 Who, odd as it sounds, focused on more than just winning…
I can probably count on one hand the number of times Coach Osborne discussed the national championship in my five years there. And I probably wouldn't need all five fingers. (laughs) It's about -I hate to be cliché- "one game at a time, focusing on the right stuff." – Troy Branch
…usually once a week -when he had his platform to speak to the team- he didn't use all that time to talk about football. Once a week there was usually some life lesson he'd try to give us. Whether it was about investments or agents or other stuff, he always used at least part of one meeting a week to address something outside of football. That's something I always really appreciated about him.    – David Alderman
Coaching in a way that a Doctorate of Educational Psychology would know best…
He'd always teach us… in a very encouraging way. You might have just gotten smoked by a guy, but he wouldn't make you feel like a total failure. He just had a way of encouraging you that you'd want to do better, but not making you feel bad if you didn't pick up a drill… He just had a way of keeping that drive and that fire burning to make you want to keep doing it. – Matt Shaw
He would also point it out, "Guys, take this anyway you want to, but there are certain things that you need to guide you in life. What you have to ask yourself is, "Is this the right way to do it or the wrong way to do it?" Another way he put it was, "Could you tell your Grandmother what you did last night?"  Things like that. And it would kind of get their attention. But he was also smart, he surrounded himself with really good people. And at some point he also -because of the people he worked with- he never had to be the bad guy. He could be, but usually he led with his expectations… I think that was just his strength. Quiet leadership. And I know the man's brilliant, so I don't think it was all totally unintentional, either. – Jerry Weber
…(before games) he'd always say, "You are going to play well today." I remember, that's always one of those things that stands out. He was, "You are prepared and you will play well." And that meant a ton. And he would say it with such confidence…         – Mark Gilman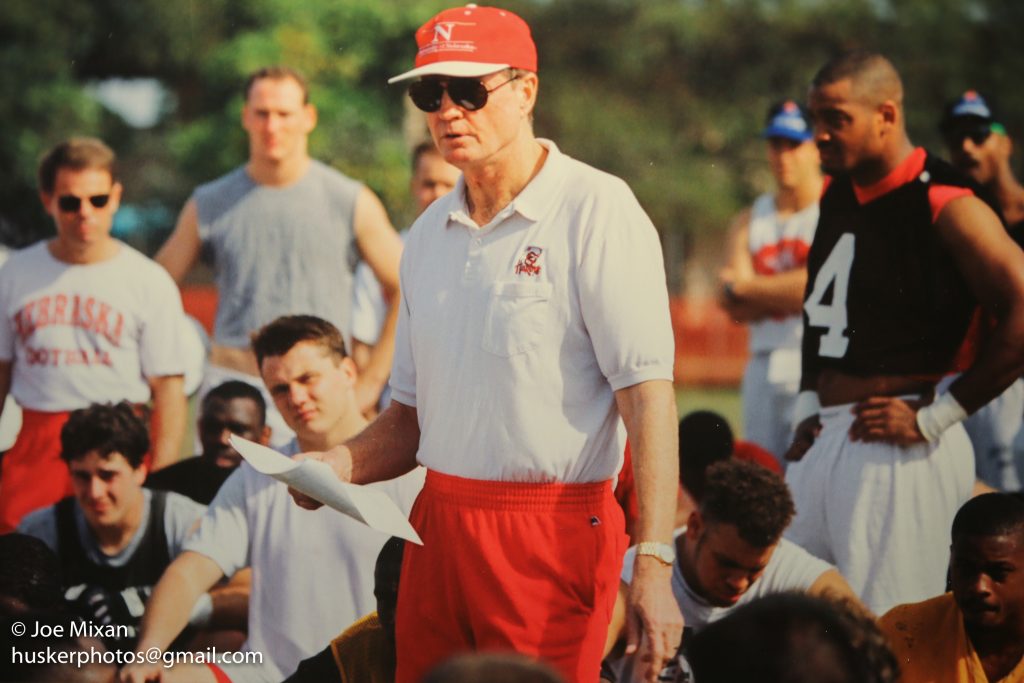 With a keen understanding of servant-leadership and the ability to understand and empathize with a youngster's points of view…
I said, 'Coach, I'm really homesick, and I know we're supposed to stay over an extra day or something for practice, but I was wondering if I could go ahead and -because I'm not playing and there's not much for practice the next day- if I could go ahead and go home?' And (Coach Osborne) stopped and put his hand on his chin, like he'd often do, in deep reflection. And he looked at me and said, "Well, sure Eddie. I think that's alright. I think we can do that." And that is something -and I've told him before, but I don't even think he realized that at that time- it was a moment of 'all-buy-in' on my part. Because here's this legendary figure who stopped what he was doing, made time for me, knew my name -that was a big deal. Of a hundred and some guys in the program and I'm just a redshirt guy- had the compassion and the empathy to listen, understand and evaluate my situation and be compassionate. That was just a moment of saying, 'You know what? I'll follow this guy. This guy's okay. I'll do what it takes. I'll do what he asks to be successful.'  – Ed Stewart
Coach Osborne had a persona and aura about himself that demanded respect. And not so much demanded it, but you just felt compelled to respect the man for the way he carried himself and the way he lived his life and the type of person he was. So you just kind of felt this profound respect for him in a crazy way, because you knew he was always going to be fair and he was always going to be looking out for your best interests as a young man. And I think that's something that carried over even to the game itself. You had so much respect for him that you didn't want to let the man down, you just did not want to disappoint him in any way.  – Aaron Davis
…everybody gave Coach Osborne a rough deal about that, but he was just trying to help (Lawrence Phillips). That was his whole intention. The structure of the team and being around the team, that's what the doctors thought would be the best for him. It wasn't what Coach Osborne thought would be the best thing for him, it was what others thought would be the best thing for him. It wasn't about the wins or Coach Osborne wouldn't have suspended him for however many weeks he was suspended. It wasn't like we needed him, you know? …Coach Osborne was all about helping the kids…   – Mike Mason
Tom Osborne knew that paying a high physical price in weekday practices paid great dividends when Saturday rolled around…
You've got to have heart when you play football, you've got to be physical and pay attention to detail. And I think that's what Coach Osborne was about… Our practices were tougher than games. A lot of people don't know that. They think Coach Osborne was a soft spoken, great guy, but when we put the pads on it was blood and sweat. He worked us hard… – Vershan Jackson
…they practiced as hard as they played. They only knew one gear, and that was top gear… Just the intensity and how hard those teams practiced every single day throughout the year. That stood out to me. It was a continual thing. – Clayton Carlin
The man's even-tempered exterior belied a fierce, calculating and competitive spirit…
He was driven. I think he was driven in his profession, driven to be the best there. I don't think that winning was ever his most important goal, but more how you got there. But he knew if you did it right you'd be successful, and he knew if you did it right long enough you'd win national championships… – Jack Nickolite
…Osborne was really big on, "We couldn't run out of bounds and we couldn't slide," so we were always supposed to lower our shoulder and get extra yards… – Matt Turman
But rarely ever did he lose composure and allow that competitive spirit to undermine a high standard of self-discipline, his exhibition as a faithful Christian witness…
When Coach Osborne gave us the, "Gosh darn, men.." you knew he was really pissed.'He is so mad right now that he had to use "Gosh darnit"'… but just the respect level you had, that's all it took. He didn't have to raise his voice or curse or anything like that…  – Jared Tomich
(Osborne) had a calming effect, an even-keeled demeanor, but oozing with confidence, you know what I mean? That's what I liked about Osborne. Here's a guy who didn't have to yell, didn't have to jump up and down, but you could tell this guy knew what he was doing. When he said something you knew it meant something… – Mark Gilman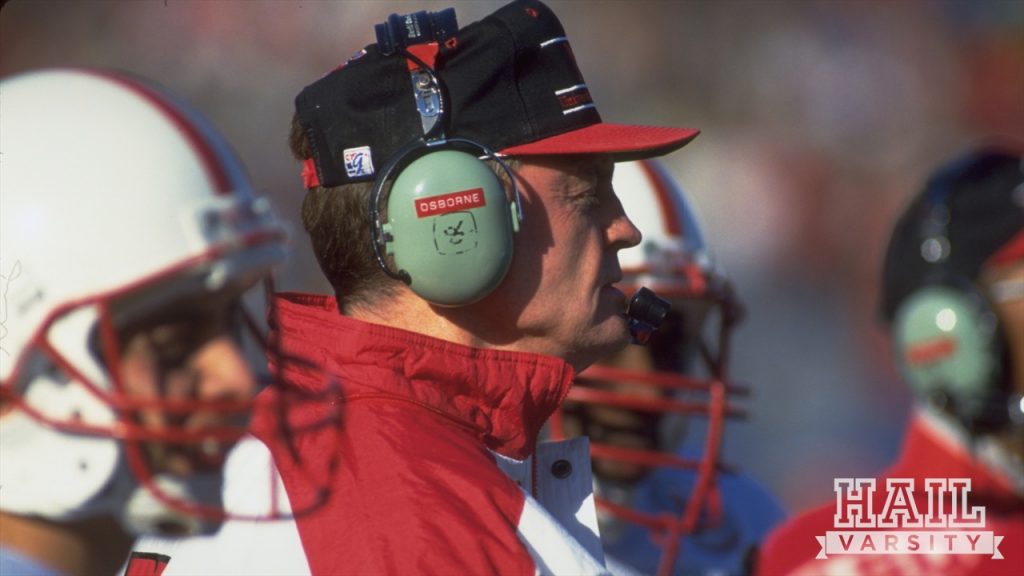 Nor his ability to most effectively inspire proficiency to play the game…
(Osborne) promotes performing at your top level by breaking things down to their most simplistic level."Here, if we just execute this, or here if we attain this goal: no turnovers," give very objective measures that they can see and they can get focused on, then you're only dealing with what you can control. – Doak Ostergard
…after the game we were the last guys in the locker room, and T.O. and me were the last guys in the showers. And Coach asked me what was wrong with me. And I told him that player said something about my momma and I had to get him. And he asked me if I did a good job of getting him and I told him I felt pretty good about what I did. And he was like, "Okay, as long as it's out of your system we can go on from there." (laughs) I was like, 'I'll take that.' I wasn't in trouble after that.   – Corey Dixon
The team's competency resulted from a disciplined dedication to structure and routine…
Coach Osborne was a very habitual human being with the particular routines, and he still maintained a lot of that. I mean, I could be away from practice and then come back two years later and know what we were going to do next in practice again, you know? "We're gonna do kicking drills, we're gonna do this, and then this is what we're gonna do next." – Bruce Moore
It really didn't matter who you were playing, he got ready the same way, approached the game the same way, did the same things in meetings, in practice. – Gerry Gdowski
Osborne was enjoined with Offensive Line Coach Milt Tenopir, an offensive coordinator's dream and quite possibly the greatest offensive line coach ever to stride the trenches…
Coach Osborne and Milt Tenopir. They both had a fire to them and I think we all saw it, but it was a controlled fire in their belly, and when it needed to be unleashed they could unleash it. – Aaron Taylor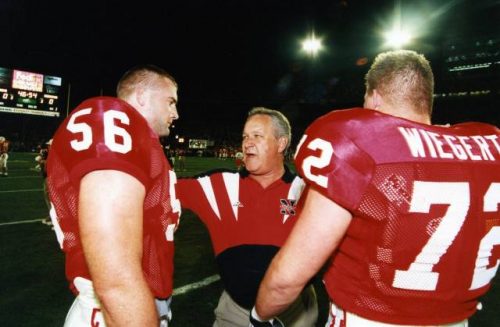 …a good human being -the kind of person I'd like to have around my son; Coach Osborne, Coach Brown, Coach Tenopir- they treated people really well. Even if you weren't a really great football player they'd treat you with respect. – Matt Shaw
…we kind of called (Milt) the 'social chair' of the coaching staff. He really had a gift… He was really a social guy… Milt could look at the grease board and really dissect a defense. In that interior box, the ball between your five or six against their seven or eight, how you could dissect and beat them? Milt was really good at that. – Chad Stanley
Coach Tenopir distilled the perfect mix of technique and 'The Attitude' into the dominating Pipeline:
…it didn't matter if the other team heard the play or not, or who was the quarterback, we were gonna run the ball over you. And that was the mindset that Milt instilled in us. – Bryan Pruitt
Milt was as good a line coach as you could find in the country. – Charlie McBride
Tom would have different routes and different patterns he wanted to run. Milt would always say, "Well, get those two to four passes out of the way in the first quarter so we can just run over 'em." – Dan Young
With a fine eye for every detail and nuance, no matter how tiny or intricate…
Milt was just a very detailed guy. We would go again and again on making the right steps, and if you weren't in the right place making the right steps you'd do it over and over. And again, he always led or coached with belief in us. – Bill Humphrey
…(Milt) did the best job of instilling confidence in you, keeping it simple, but expecting perfection. He never changed his coaching technique, never changed his philosophy, and never changed his blocking techniques. And to me, that's a recipe for success: Do one thing and do it well. – Aaron Taylor
…he would basically say, "This is the way we do things: You play fast and you play physical. It doesn't matter who's across from you if you keep with these fundamentals: play low and keep attacking all the time, and you'll do fine."    – Zach Wiegert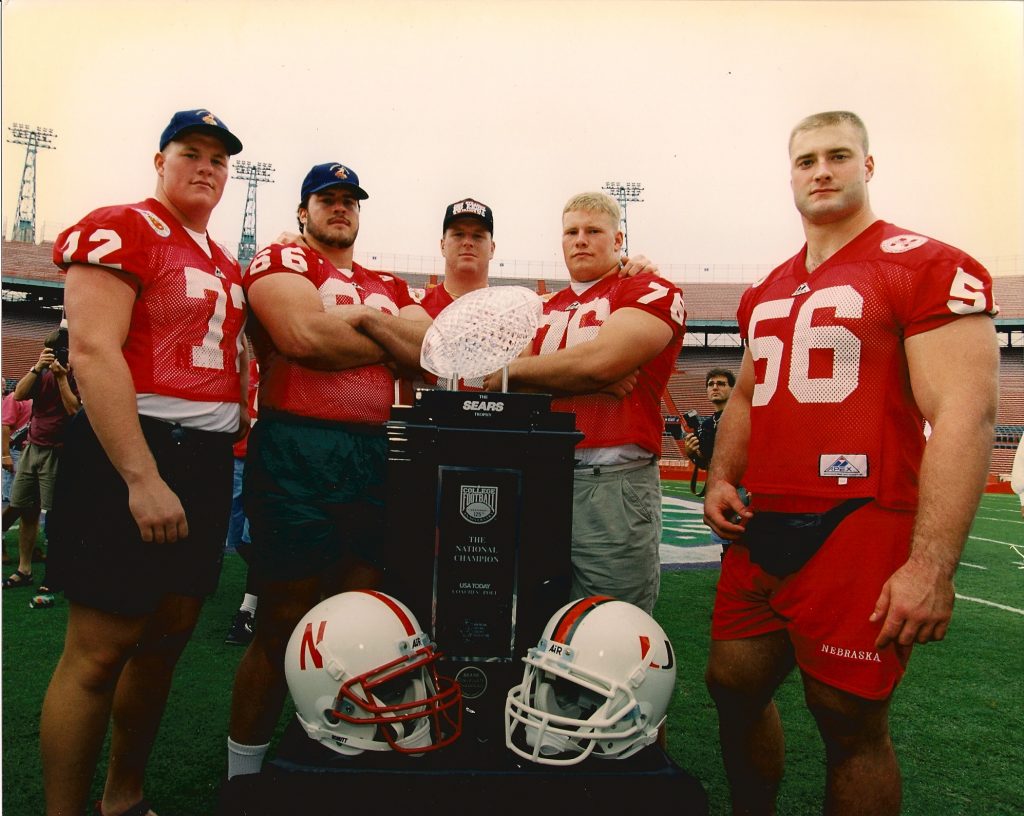 He used both pride and competition as a motivational tool for position players who normally don't get paid much notice…
…he didn't have a lot of rules, but the couple he had, boy, you had to adhere to them… "Just don't screw up your assignment" and "Don't sleep in the meetings."…Milt talked about being nasty. He kept track of knockdowns, pancakes, something that was recorded week to week… – Adam Treu
He wasn't afraid to expose his emotions for maximum effect:
…a real serious guy, but he was extremely emotional… – Jon Pederson
Coach Tenopir was more of a fiery guy and Coach Young was more of a laid back kind of coach. Coach Tenopir'd get so riled up right before gametime, he'd get so pumped up right before the Saturday speech right before the game and we'd be ready to run through a wall for him. He wouldn't share a whole lot of emotion -he was more of a stern kind of guy- but you knew when he wanted to get something accomplished: his voice would start cracking and he'd have that chew sticking out of his lip. (laughs) What I remember most about Coach Tenopir was the Saturday morning meetings over in the Nebraska Center and all the O-line was in their own room, and he'd get up to give us a motivational speech and he always got us fired up to go play and kick some heads in…
– Chris Dishman
…the best thing about Milt was, I always knew what kind of attitude he was in, because we'd always start practice off with our 2 o'clock film sessions. We'd always meet and do a team briefing with Coach Osborne and all the coaches, and then we'd split up and do our breakout sessions and the O-linemen would go into Milt's office. And when you walked in he'd be calling the guys by their names. If he called me 'Pruitt' he was pissed off. If he called me 'Pru', he was in a pretty good mood, and if he called me 'Bryan' he was in a real good mood. – Bryan Pruitt
He developed extremely close relationships with his offensive linemen…
…he was one of those few guys who could kind of tread that thin line between being sort of the firm disciplinarian who was running the show and at the same time be a bit of a player's coach, as well. – Rob Zatechka
…he treated you like a man from day one. He respected new guys, he expected a lot out of us, and he treated us fairly. He could coach run-blocking better than anybody I ever saw or ever played for, and the one thing that he taught his guys how to do was to come off the rock. – Aaron Graham
…he definitely was intimidating at first, gruff and growly at first, you kind of have to earn his respect. But he loves all his guys, for sure, he's got a heart. Love Coach Tenopir. I remember your first couple of years he wouldn't buddy up to you, you had to earn it. When you were a senior he treated you like more of a friend than anything, but he was pretty hard core at the beginning… He would ride me pretty good. Also, he respected me, that I was tough enough to play, and he wouldn't have done it if he didn't care. – Joel Wilks
The man even played a part in inspiring the defensive players…
He'd say, "Do this.." or "You had a great game," just constantly encouraging me. I didn't even play for the guy. – Kevin Ramaekers
Then there was Wide Receivers Coach Ron Brown, a motivating and overt Christian who in many respects was an extension of Milt Tenopir further out along the line of scrimmage…
Ron Brown and those guys worked harder than you'd believe. They learned to block hard before anything else. – Bryan Pruitt
Coach Brown would give us some good speeches… we had to play the game like it was our last. Sometimes Coach Brown would get so deep and motivate you and you'd be so anxious that you'd get teary-eyed… Coach Brown could bring it out of you, man. He could bring you to tears. – Corey Dixon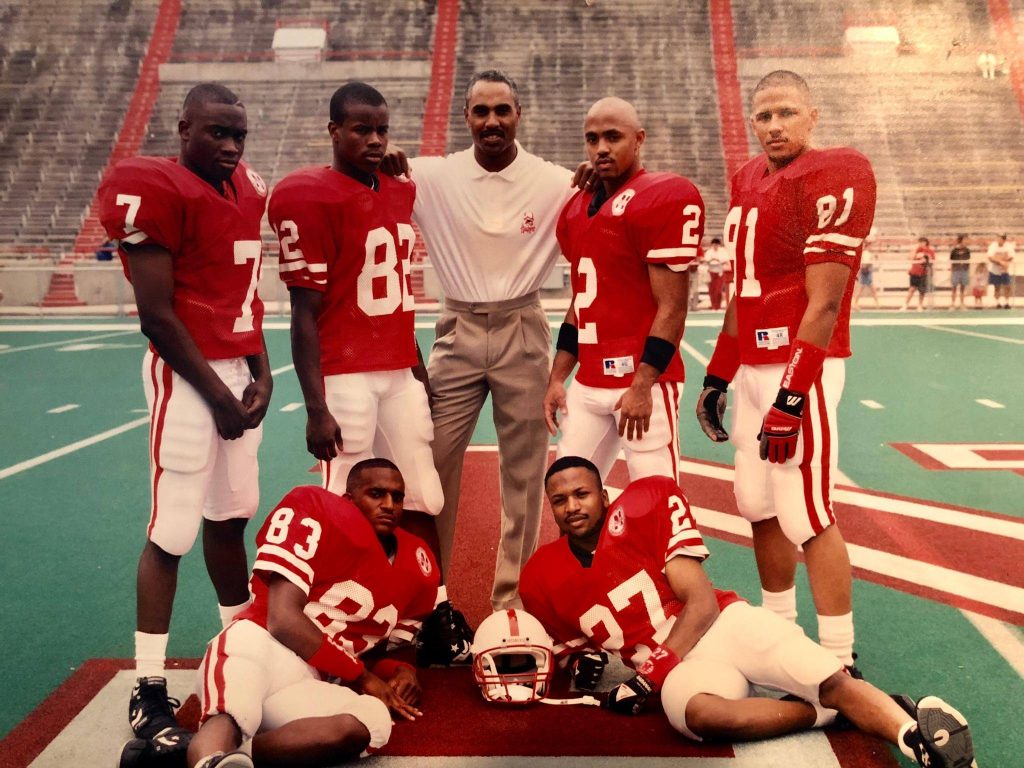 Coach Brown always used to preach, "Dominate the perimeter. Dominate the perimeter." …as receivers, we understood that a ten yard run could be a twenty yard run, a fifty yard run, a ninety yard run if we took out the corners and the safeties and linebackers… it was just a mindset that nothing less than full effort was tolerated.          – Aaron Davis
He heavily emphasized the necessity of redeeming the time, of maximizing opportunities…
(Ron Brown) demanded excellence… it was excellence because you have God-given ability and you have to give it all up to Him. It was that kind of presence.                      – David Seizys
…an unbelievable person, a Christian man of faith, and just a guy that would never let you settle for mediocrity, always trying…    – Ryan Held
Striving for an unrelenting sense of urgency and attainment of perfection via his pupils…
He was the key figure even when you were on the freshman team. He'd always be looking to you, asking questions. He was a great coach. He was a great motivator, high energy, a real caring person who had everybody's interests in mind…  – Matt Shaw
…he pushed us to be perfectionists, to play hard every single snap…to pay attention to details, to be great, great, great blockers, technique wizards.  – Vershan Jackson
…it was constant, continuous improvement and challenging us at every moment to be better and to feel the pressure and intensity that it takes to be a champion at all times. I would walk out of Monday meetings ready to take on the world …And that was the phrase that he used, if I recall, 'sense of urgency.'  – Mark Gilman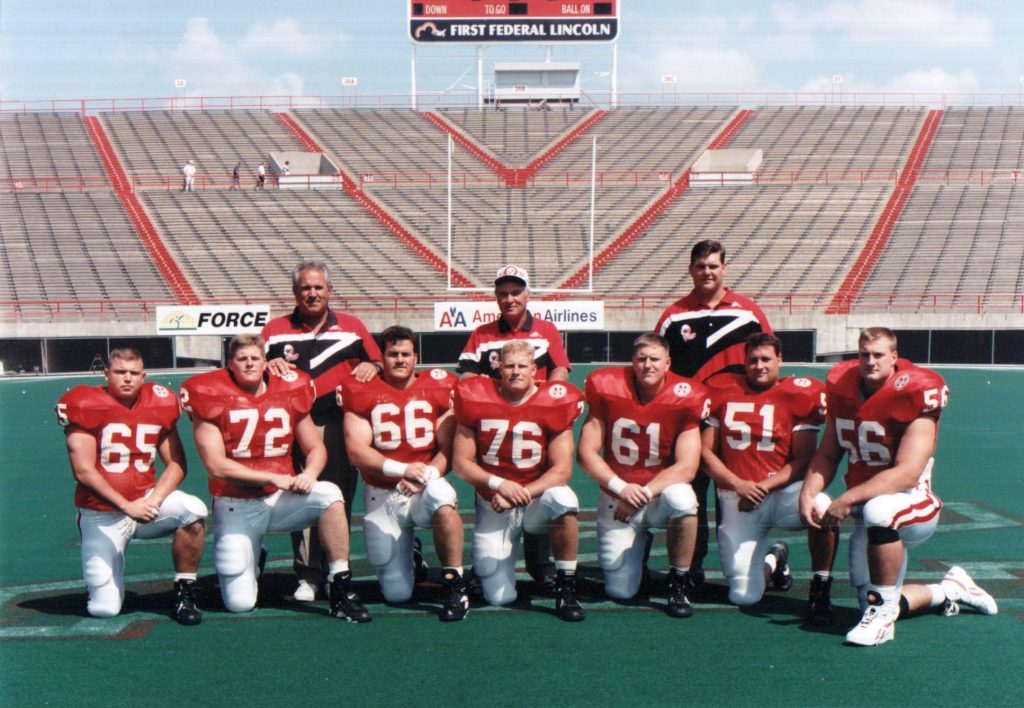 Then you had the young newcomer on staff. Complementing Tom Osborne was a former Husker quarterback who'd been there & done just about all of that a decade before: Coach Turner Gill…
You know what, I think (Coach Osborne and Gill) were both a perfect combination if you've got Coach Osborne coaching quarterbacks. Their personalities fit pretty darn well… I think they were a lot alike in a way, but of course Turner being the young buck had a little more fire. Of course, most people had a little more fire than Coach Osborne. (laughs)   – Ben Rutz
Turner worked with the quarterbacks on the fundamentals, footwork, throwing mechanics, etc. Turner was a very good influence and a good role model. He helped keep everyone on track and was a very valuable asset. – Tom Osborne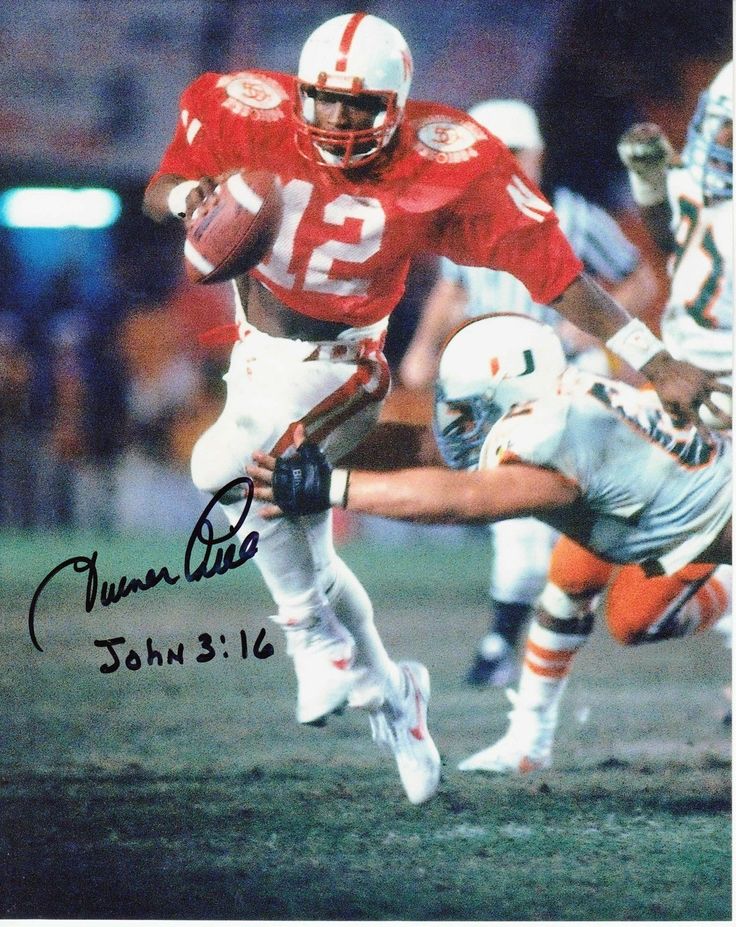 Old number 12 had a way of bridging possible generational communication gaps:
A Christian, quiet demeanor, never brash, a total leader by example. Turner was a great technician, just a great comrade and friend to his athletes. There was a great love there…  – Jerry Weber
Turner (Gill): I always loved talking to Turner, because I could get a perspective from him since he did go to school there and he knew exactly what it was like being a student-athlete there and being an African-American male. That helped me draw up some of the programs I would try to do for some of the young men, some of the things I would have liked to have gotten involved with. – Sonya Varnell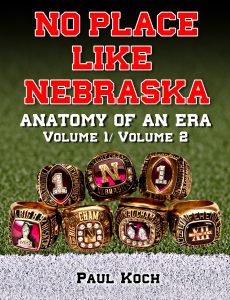 Available on Amazon.com
…the thing that struck me about him was his professionalism… he treated his players in a way you knew he cared about you.    – Matt Turman
His greatest feat may have happened in a meeting room, creating the most inspirational team motto in Husker history:
…Turner Gill's coming up with the '93 team slogan, 'We Refuse To Lose.'                    – Gerry Gdowski
Another Husker legacy -this one dating back to the 60's- there was none grittier or tenacious on the offensive side of the line than Running Backs Coach Frank Solich:
You can just see that he's a tough guy. And he instilled that in all of us players. We fought for every inch on the football field. There was no running out of bounds, as you know. Great technician, just tremendous running backs coach, also a tremendous coordinator up in the box during games…        – Chad Stanley
He could definitely get very intense… He was like a little pit bull, just 'switch' on you and very intense at times. But then again, he was very personable and you could talk to him… then again, he was about the details… I'll always remember him saying, "We will be the leaders of this team by the way we practice. We will finish out every play, and other guys on the team will be like, "Wow! Look at these running backs. We have to keep up with these running backs." We don't have to say anything, it's just by our actions. When we're practicing and playing games we'll be the leaders that bring the team along"… And that's one thing I remember, too, "When we do score we're gonna go back and congratulate our offensive linemen, because they're the ones who got us in there -and the wide receivers and the tight ends- because without them we're not getting into the end zone." – Cory Schlesinger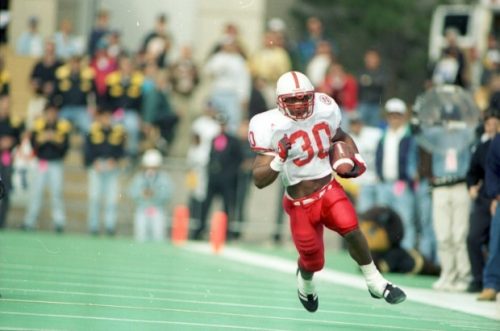 The man possessed a bona fide history of excellence beyond challenge…
…a tremendous teacher. And I think he's one of the most driven people that I've met, and I think this sums it up: when you look at when Coach Solich became the running backs coach -it might have been fifteen years or something– and twelve of those years Nebraska led the country in rushing. In a nutshell, that sums it up… There was always a reason behind the madness, why you were doing something. Sometimes you wanted to rebel and don't want to practice and this drill is not what you think it should be, but he always had a way to show you on the field why he did that drill. And you know what? A lot of us, like I did, I never questioned him because his record spoke for itself.                – Calvin Jones
He fashioned young thoroughbreds into battle-tested warhorses…
I always remember Coach Solich saying that when you ran the ball …"You guys do the punishment to the people. Don't take it. Take your fist and drive through their sternum. Then pop your fist through and drive through them." – Damon Schmadeke
He was a guy who shot it to you straight, he got you prepared physically and mentally… by midseason we're probably the most in-shape guys because our individual drills, our workouts with Coach Solich were so taxing. By the time we got through with that we were ready to go practice for another two, three hours, easy. And that was good for us. We needed it. – Ahman Green
In (Cory Schlesinger's) case you had to watch and make sure his facemask didn't break. Oh man, that guy was nuts. His facemask was the point of impact. I think we had to change his facemask every week. By the end of the week his facemask would be flat, because that's what he hit with: either his head or his facemask. That's why we called him RockHead. Billy Legate was pretty much the same way, we had to change his all the time, too.   – Mike Mason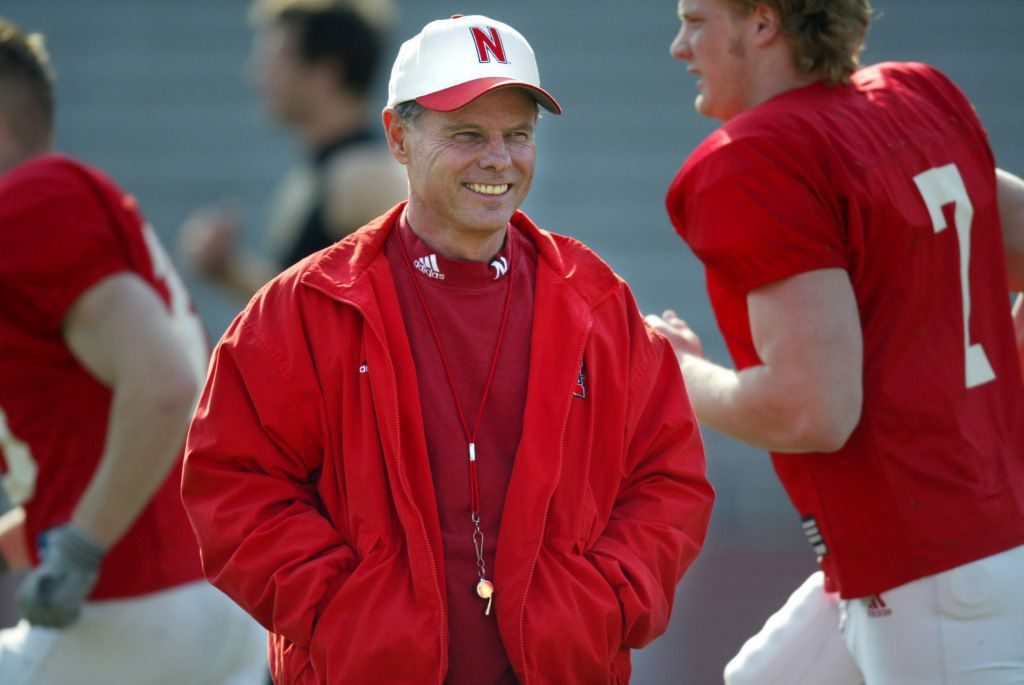 He exhibited a tough, yet supportive and compassionate spirit…
He was a hard, tough guy. A tough guy. (laughs) A competitive, tough guy. And when I was playing for him sometimes I thought, 'God, what do I have to do to make this guy happy?' (laughs) It was like you were never good enough. And it wasn't until about the halfway point of my senior year, though, I finally realized, 'Now I understand'… He wanted to make sure you didn't think you were better than you were, I think, and he didn't stop trying to be perfect in what you were doing… he was a perfectionist… It's easy to tell a guy he's great and let the guy who's a good athlete do whatever he does, but Frank challenged them to make them better.   – Bryan Carpenter
He was not afraid to bring his 5'6" frame, or however tall he is, into your face and tell you about whatever it is. As soon as he'd get done whipping your butt he'd turn around and slap you on the ass and tell you, "Good job," too… – Clinton Childs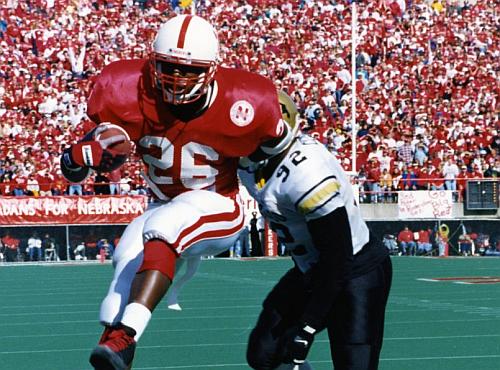 Clinton Childs vs. Colorado, 1994
He shared a great camaraderie with them…
…if Coach Solich ever saw a football photograph of us backs with bad ball-technique -holding it out and away from the body, with daylight showing between the ball and the body?- you owed a dozen donuts… – Chris Norris
He'd always crack a smile and laugh, but he never let the running back take one drill, one time through the bags, easy. He coached 105% every drill, every play. He had some very gifted running backs, but nobody got cut any slack. He had a great relationship with all those guys, they'd always laugh. And we were always joking, there was always a joke. He always had an inside joke with every player, and yet if they were running a drill it was all-out intensity. – Brandon Hamer
…(Frank) was really an athlete's coach. I think he was. He really was empathetic with the athletes. He would really listen to them, he liked to hear their story and he'd help them work through any problems they had. And as far as a coach, he was a great technician… – Jerry Weber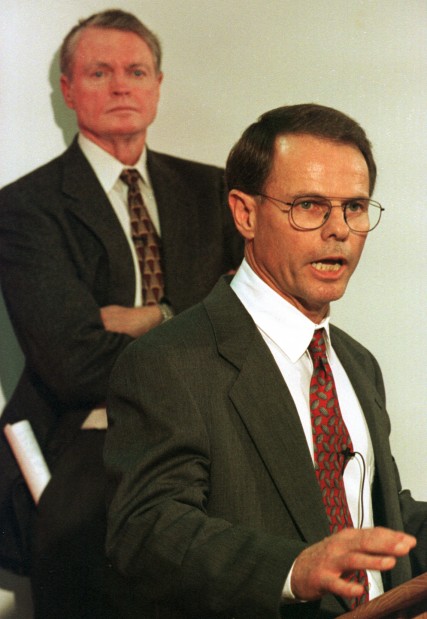 Then there was the somewhat unsung Dan Young, native Nebraskan and Co-Offensive Line Coach/Kickers Coach, who specialized in the passing game blocking protections…
…and he just watched… almost waited until I said something. Then he came to me and told me what he was thinking, and it was great. It was just a perfect match as far as a coach and a player. – Darin Erstad
I remember …Coach Young. As a freshman on scout team you spend time going against those linemen, and I think everybody was on their game as far as teaching guys and knowing what to do. I don't think anyone was lacking in ability, as far as the depth of the position or 'coaching up' their guys to be better players.   – Aaron Penland
Playing the more mellow of the Offensive Line Coaching tandem…
…(he was)one of the most fun coaches I've been around. You know his attitude. He was a very good coach for us, knew the plays just as well as anyone there, technically sound. Coach Young was probably the lighter side of the two… more on a personal level versus a coach level, which I enjoyed. You could joke with Coach Young a lot more. – Aaron Taylor
We sure got a kick out of him and the dry sense of humor that he had…
-Damon Schmadeke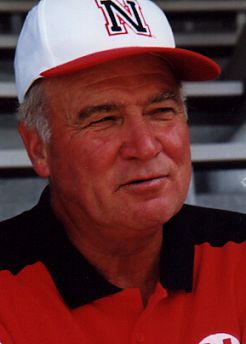 He had an eye for talent along with an approachable persona…
…if you got him fired up you knew something was really, really wrong… Coach Young probably knew personnel better than anybody. Coach Young was just so laid back (laughs) and had that slow way of talking. – Matt Vrzal
The Nebraska offense and the men who coached it ran a tight ship; a focused, detailed and fast moving one at that. It was built on muscle memory through years of run-blocking repetition and always had a few surprises in store. They kept many a defense off-balance and struck blows from all angles, making some appear foolish and inept as the game wore on. This potent offense not only depended upon talent, but on the physical development of the players in equal measure. None more so than the offensive lines who anchored the machine, a team of kids who developed a great trust in each other with a workmanlike, hostile nature. They bullied and bludgeoned top-caliber defenders into submission, resignation and even surrender at times.
Copyright @ 2013 Thermopylae Press. All Rights Reserved.
Photo Credits : Unknown Original Sources/Updates Welcomed
Author assumes no responsibility for interviewee errors or misstatements of fact.
Summary Chapter to be continued…..