Anatomy of an Era: Final Chapter/TELEVISION & BOWL GAMES
Excerpted from Chapter 104, No Place Like Nebraska: Anatomy of an Era, Vol. 2 by Paul Koch
Anatomy of an Era: Final Chapter/TELEVISION & BOWL GAMES
TELEVISION & BOWL GAMES
Expanding a bit more on the concept of tradition, there were also the recurring nemeses' and what they did for Cornhusker Football.
Three schools throughout the years fielded teams that pushed the Huskers and made them reach for their best, to strive for domination, to emulate their standard: serving as ultimate foes to conquer. Whether it was the conference schedule or the annual Orange Bowl, spirited contests and heart-breaking losses served up future motivations and drew potential young recruits to an awareness of Nebraska Football by way of the living room television.
Both Thanksgiving and New Year's holiday exposures paid off big in the recruiting, too. It was a publicity that money can't buy. Along with that came some heartache, but time cures many an ill. The three dragons to slay, the royalty to dethrone, the predators in the cross-hairs who played a large part in the ascendancy of Husker Football were…
#1 The University of Oklahoma Sooners:
I always watched the Oklahoma-Nebraska game. You dream of playing for a program like that growing up. I never realized in my wildest dreams that dream would actually come true…   – John Reece
…it's the tradition and the history and growing up in New Jersey and seeing the Nebraska/Oklahoma game my entire life, seeing the N on the helmets. All that stuff.                                                           – Christian Peter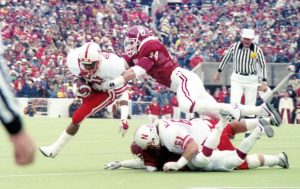 I remember Mike Minter was from Oklahoma and he lived and died, legitimately loved Nebraska football. The guys who came to Nebraska already had a sense of what it was all about… There was a standard that was set and everyone had to toe it. – Eric Stokes
…as a kid it was pretty big to see Nebraska play Oklahoma. And so you know about Nebraska Football…    – Trumane Bell
I always followed Nebraska since I was a kid. The Nebraska/Oklahoma rivalry, I used to follow that game every year at Thanksgiving.                                                           – Jason Scott Jenkins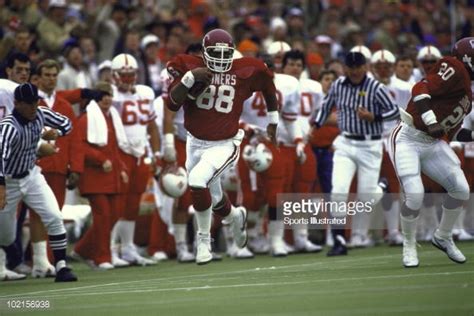 The Bootlegger's Boys had a way of bringing out the post-Thanksgiving mean streak…
My first traveling game was Oklahoma, and I remember going there with all the fans hollering at us and stuff on the sideline, saying all types of stuff, pretty derogatory, nothing very complimentary. (laughs) I just remember staying focused and going through my drills and giving them mean scowls when I looked up into the stands.           – Aaron Penland
…one of the most difficult things, I think, to get across to people: is to play every game like it's the only game. You play every game like it's Oklahoma. And if you can do that, what you find out is that you are playing against yourself, you are playing against what you believe is your max(imum) self.  – Troy Branch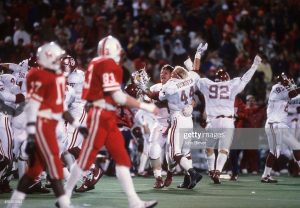 And preached the necessity of finishing strong…
Growing up and watching them play on January 1st, between Christmas and New Years, I just loved that. And the Oklahoma games were such big deals -the families would get together and all- and being part of that on the field, that whole situation, being involved in that? I wanted to be involved with that.    – David Alderman
Aaron Graham- he did a great job of managing situations. I remember him with Chris Brown, making up different scenarios, giving him situations like, "We're playing Oklahoma and have only so many seconds left," or "we're playing for the national championship and have only so many seconds left." Just creating different situations and scenarios all the time for them in taking the center, kicker and holder onto the field and working on those situations the best they could. – Dan Young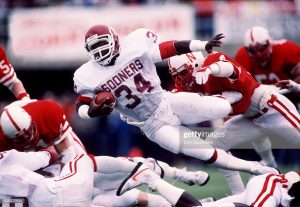 …back in the heyday with Mike Rozier and Irving Fryar and Turner Gill, we'd sit around on Saturdays with my buddies and watch Nebraska dominate the teams they played against. And because of that, one of my buddies down the road, a lifelong friend of mine, he had what we called 'The Triplets Poster' in his room… The Scoring Explosion poster, that's correct. It was in his room and it was always a constant reminder when I was a kid playing around. I'd come around and I'd see that poster and just say, 'Man!' Nebraska always had a special place in my heart…   – Aaron Graham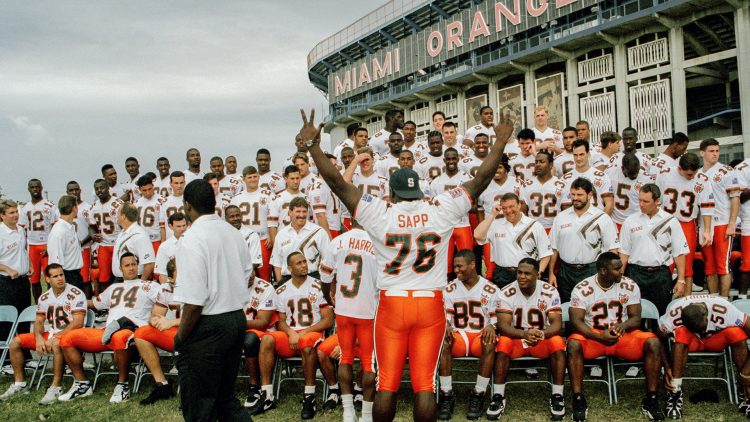 The January Nemesis…. #2 The University of Miami Hurricanes:
I was probably a junior and was watching a bowl game, and it was Nebraska versus Miami. And the next year I said, "You know what, I want to go to Nebraska." …whatever I saw that night at the Orange Bowl, I just decided that I was going to Nebraska… There was something about the way the (announcers) talked about Nebraska football. It sounded like the way the guy used to do those old NFL tapes that I watched in high school, "Nebraska. Football Factory. Strength Coach Boyd Epley…" and I was, "That's where I've got to go. That's where I need to be."                                               – Lance Gray
…we lost to Miami 22 to nothing. That was the year I committed to Nebraska. And I was sitting there watching the TV and scratching my head, thinking, 'That's the school I'm going to? Maybe that's what I'm going for, to help us win.'            – Kareem Moss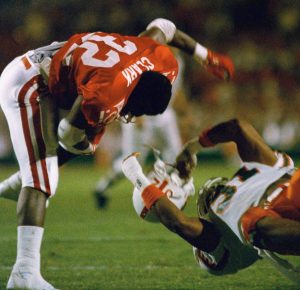 …that groundwork was laid in '91 and '92 with some disappointing seasons for Nebraska standards, and losing some bowl games. I remember playing in '91, I think it was, against Miami and losing 22-0, and being out on the field at the end of the game and feeling the most humiliated that I think I have in an athletic career. And I remember looking around in the defensive huddle there with maybe 8 minutes to go and you're down twenty-two to nothing, but there was a sense of 'fight' in that huddle, where it was, "You know what? We might lose the game, but we're not going out like that. We're gonna play hard, we're gonna try to smack somebody in the mouth, and we're not going out like that." That was the lasting memory of being out on that Orange Bowl field in '91 and losing twenty-two to nothing… – Ed Stewart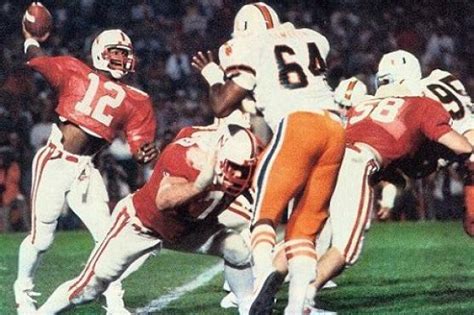 A decade later, vengeance borne of childhood heartbreak still breathed…
…here I am in fourth grade and back in Nebraska, and I just bawled my eyes out when we lost the national championship to Miami in '84. I cried my eyes out, cried myself to sleep. So then to play Miami and win the national championship, what a great feeling.     – David Alderman
…Miami's not going to give up. And they're used to this heat and humidity while we aren't. We have to push the envelope everyday in preparation for that matchup on their field.                            – Aaron Davis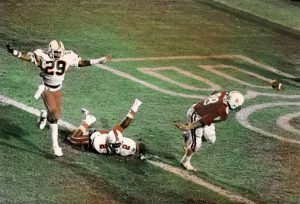 I think it was the recruits and the guys who had seen -like myself, when we went down and got blown out in the Citrus Bowl by Georgia Tech- when we went down my freshman year and lost to Miami…    – Calvin Jones
And I think going to Miami and losing in Miami those two years in a row, that was a feat in itself. And then actually being able to beat Miami in Miami for the championship, that was an accomplishment.  – Jon Pederson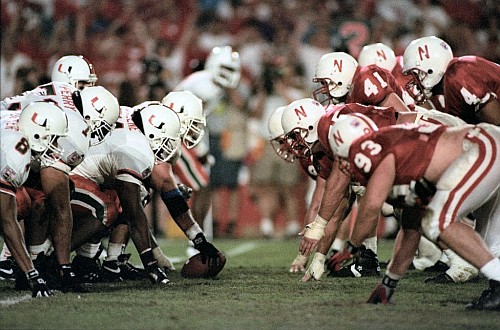 There were differing opinions of the Florida locale…
…we liked going to Miami because that was usually where the Big 8 Conference Champion went. The goal was always to go to Miami, so if we went there we knew we had a pretty good year. Miami was very good to Nebraska, because Nebraska won national championships there with Bob and with Tom. They probably got a little tired of us being down there all the time, us and Oklahoma, but that goes with the territory.                                   – Jack Nickolite
For four years we were down in damn Miami. I hated Miami so bad. – Phil Ellis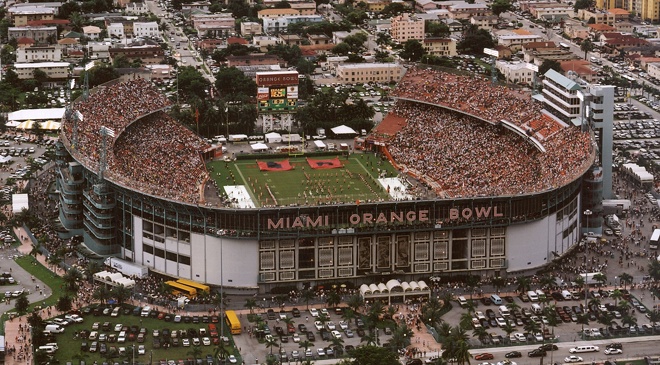 The crowd was very loud. And mean. I actually experienced it both as a player and a fan, because I had the experience of being at the game in '84 as a kid. I was there in the stands at the age of like 12 yrs old. You wanted them to win the national championship so bad, and watched them come back and then go for two. Those guys left a real impression. The crowds were throwing beer at you as a fan, at our family. That's what they did. It was a lasting impression, so it was very cool to go back years later and be on the field as a player and take it to them a little bit. It was a unique experience for me that no one else had on the team. Deep down, I hated the Hurricanes ever since that '84 game.                                   – Matt Shaw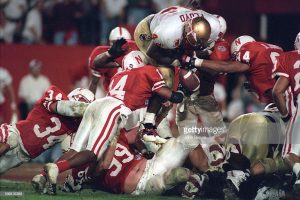 The freshest Nemesis…. #3 The Florida State University Seminoles:
…it was just a huge disappointment that we weren't able to pull that game out against Florida State- but I think there was a level of resolve as a result of that game during that '94 season. It was full buy-in, and everybody was committed to getting back to that stage and not walking away empty-handed again.    – Ed Stewart
…one other thing was the loss when there was the 1:16 seconds where we had Florida State beaten, and knowing that we actually had them beat, that next season we were dedicated after that. The next year after every practice we had 1:16 put on the clock and went that much longer, after every practice, where we dedicated to finishing our unfinished business. "We've got unfinished business here, folks." That really sticks out, because that extra work we put in made all the difference in winning the national championship against Miami in Miami.                                – Kareem Moss
I think the players really took a new mental approach in going to the bowl game, going to play Miami or Florida State in Florida. I think that mentality had really changed… Because sometimes, I do believe, in the past we were already defeated. We had so many things up against us: "Oh, we've got to go down here to Miami and play these Florida teams. That's not fair. They get to play at home." But the mentality changed to where, "We don't care where we've got to play. We're gonna suit up and we're coming after you…"   – Calvin Jones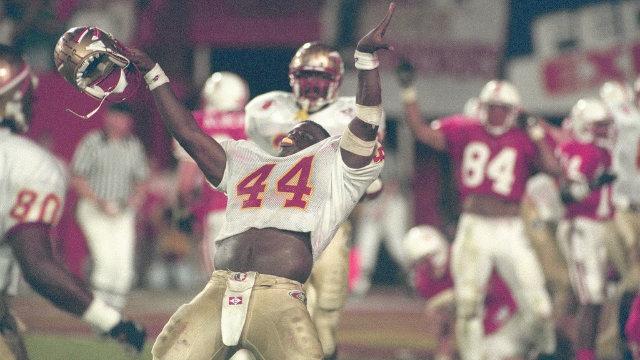 The Seminoles served up a big, heaping portion of motivation, though payback these many years later is still in the waiting…
I remember that loss to Florida State. Our freshman class said, "We're not losing anymore. That hurts us. We're not losing anymore…" That was a sick feeling in '93 versus Florida State… I remember that feeling. Sickening. Sickening…                 – Jacques Allen
…when we lost to Florida State, that had some implications for us working hard all year. Getting to that point and then we lose down there to Florida State and missed that field goal? We'd really beat that team on the field. Some of that is motivation, I guess. We were determined to come back and finish unfinished business…                          – Aaron Penland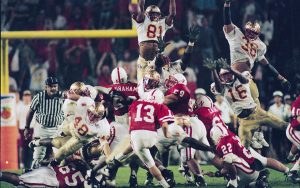 Florida State was putting linebackers in the defensive line and putting defensive backs up playing linebacker, and so as a result everybody was quicker than us. And here we were with these big linemen that were slow as compared to these Florida athletes. It wasn't that we were really slow, it was just that they were moving people into positions that made them much faster. So we had to catch onto that. Charlie McBride figured it out…  – Boyd Epley
… that game there set the tone for the next couple years, with the back-to-back and then in '97. – Trumane Bell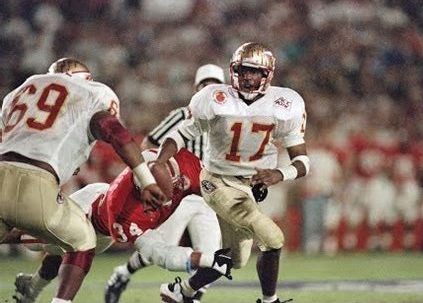 If you recall, there just weren't as many televised college football games at that particular time in America. Unlike today, with a vast plethora of entertainment options running up and down the dial, this was a time when singer/songwriter Bruce Springsteen sang of "57 channels and nothin' on," as if fifty-seven was the full complement of available cable television channels.
Even so, as sure as turkey, stuffing & cranberries you could count on the annual NU-OU matchup at the end of the season being for all the marbles. This was drama; this was real reality TV. This was sweaty palms, rambling curse words at Musburger & Crew, at that shifty shyster Switzer and his slick, fast, wild-eyed hooligans.
It was also some sad, dejected, torment-ridden nights to start off the new year. They served as fresh introductions to many young kids who soon would have the Cornhuskers calling on their doorstep, and also as prime motivational fodder for staff member, player and fan alike.
Copyright @ 2013 Thermopylae Press. All Rights Reserved.
Photo Credits : Unknown Original Sources/Updates Welcomed
Author assumes no responsibility for interviewee errors or misstatements of fact.
Summary Chapter to be continued…..