Anatomy of an Era: Final Chapter/ PRACTICE ORGANIZATION
Excerpted from Chapter 104, No Place Like Nebraska: Anatomy of an Era, Vol. 2 by Paul Koch
Anatomy of an Era: Final Chapter/ PRACTICE ORGANIZATION
PRACTICE ORGANIZATION
You think Saturday afternoon Husker game days were full of action? That was nothing compared to Monday through Thursday inside Memorial Stadium, at the grass infields of the Ed Weir outdoor track, the indoor turf of the Cook Pavilion, or the Schulte Fieldhouse pit, which was a nasty little 'man cave' of sorts. Oh, if the athletic department could have sold tickets to these events! It was outlandish, intense entertainment and an exercise in utmost efficiency. Ever see 8 teams use the same football field at once? Sounds much too incredible, right? Listen to this…
…at one point at practice you would have four full stations, the 1 offense versus 4 defense, 2 offense versus 3 defense, and vice versa with the defense versus the offense, and play after play after play like a machine, like a printing press. Regimented like the military, running these things over and over again until they become second nature and perfection. Now, when you looked around the field no one is sitting for a period of time. No one. From the starting quarterback to the tenth string quarterback, constant repetition, constant movement, constant conditioning, constant mental training. Just go, go, go…     – Mark Gilman
I remember watching a lot of Coach Osborne's practices and how he ran practice. Nobody ever stood around, everybody was always getting reps. He had 4 stations going and people were always constantly doing things. – Randy Gobel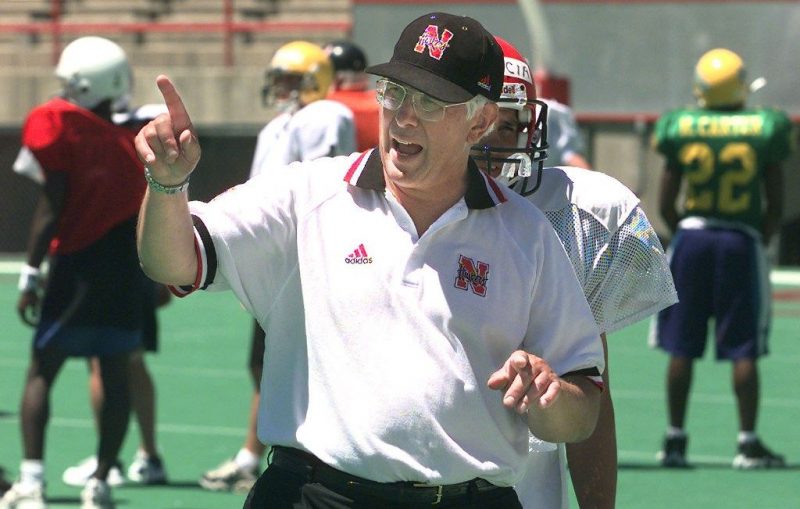 Which was aided by the walk-on program's additional squad members…
…his squads, the number of people that we had out for football, was much larger than the average institution had and it allowed him to have a greater number of drills and activities going on at the same time. – Al Papik
(Getting) the reps… You feel involved!  And it keeps morale up… (The way) Nebraska ran practice was so much more efficient than any other school I've ever seen. And what I mean by that is most teams would divide up offense and defense, okay? And half the field would be offense and half would be defense. And basically you'd have scout team offense against first team defense, and scout team defense versus first team offense on different sides of the field. So those guys would get 70% of the snaps and the two's, the second teamers, would get 30 percent of the snaps, okay? At Nebraska it was different, they ran 4 stations. So you had first team offense run & pass station and the first team defense run & pass station. Now those stations were done at the 50 yard line going in toward the end zone. The pass station we ran from the goal line out to about the 40. So instead of having just your first team and second team get 70% and 30 % of the reps, the first team would get about 70% of the run station, the second team would get 70% of the pass station, and they'd have 3rd and 4th stringers getting 30-40% of the reps, so you had -for me when I was 3rd string quarterback in 1994- if that would have been now, I wouldn't have taken a snap until the week of my first game when I was moved up to second when Tommie got hurt. But I had been taking reps running Nebraska plays from the first week of practice.    – Matt Turman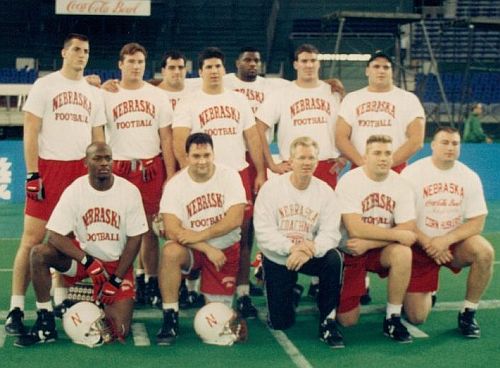 Coca-Cola Bowl, Tokyo: Husker D-Line and Charlie McBride
Extremely organized and scripted, not a second of available time was wasted…
That was probably the most impressive thing about practices. They always had every play scripted out and they always ran two groups. One group would be running the play while the other group was up calling the play, so we'd always have two managers. Each manager would have the ball to set out there, so as soon as one play was finished the other was out of the huddle and over the football running the play… it was non-stop…  – Brandon Hamer
That clock strikes down and the whistle blows and everybody switches their stations. It's chaos… controlled chaos. Everybody knows where they're going… I just appreciated the seriousness on the field…"you can do that another time, but when you're on the field, it's time to work." I just loved that. – Darin Erstad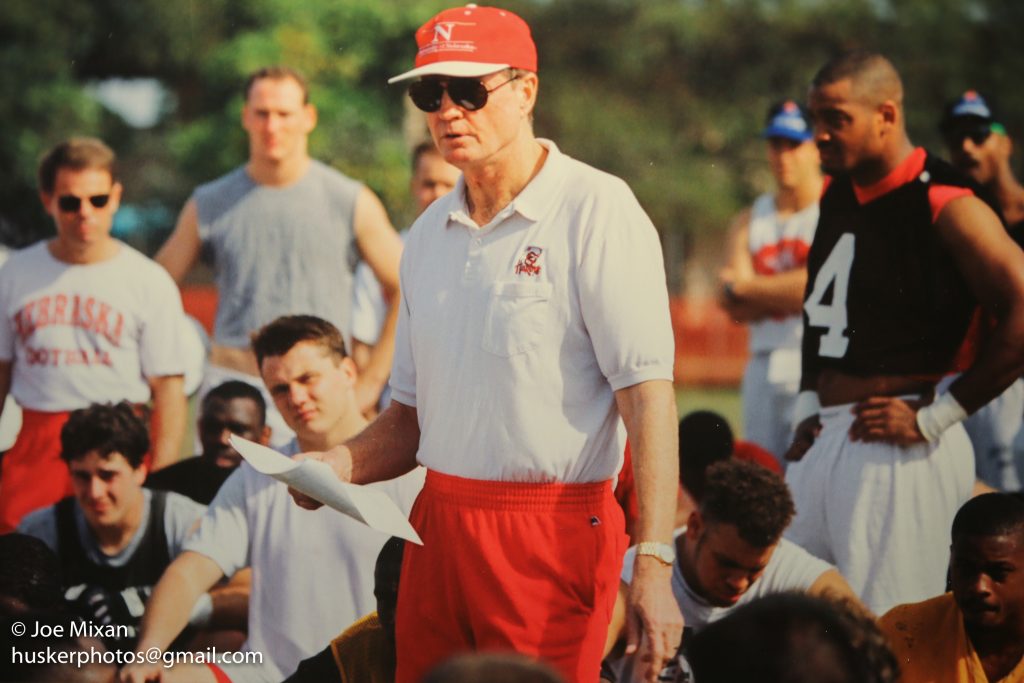 The Leader of the Band
Where one learned by doing, not merely observing…
…when Coach Osborne was there we had four stations going- and any time you can get a kid those reps… If you have a freshman who can run and get used to audibles and what not, that's a big deal…     – Tom Seiler
Which led to some false impressions of the program if one didn't have all the facts…
…people always said that Nebraska always ran up the score, but I don't think we did. They were good athletes, first of all, then they had been practicing this stuff… it wasn't like it was brand new and a scout team kid hadn't run 19 Sprint Option since spring ball of last year the last time they tried it. They got the reps and they knew what they were doing, and the mental part of it was still there. And I think that's another reason they were so successful. So many kids were getting prepared.  – Matt Turman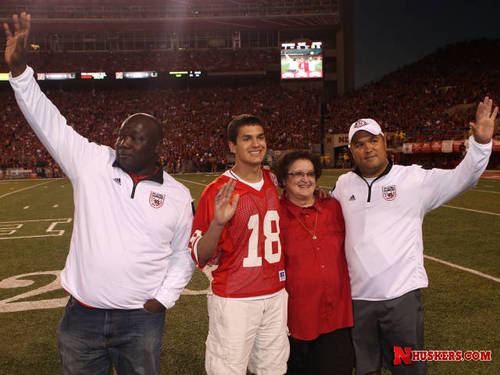 "If we score 80 points with our backups in the game, then that is more the other team's fault, not Nebraska's or Coach Osborne's. Maybe those teams should put more effort into the off-season and spend less time pointing the finger."
– Grant Wistrom, Wistrom & Peter: Heart & Soul, with Keith Zimmer, 1998
The only reason Nebraska didn't blow all those teams out, 80 to 20 and things like that every game, was because Coach Darlington, Coach McBride, T.O. and all the other coaches collectively got together and took us off the field. You didn't see us playing well into the fourth quarter, so they didn't really know how good we were because we never played four quarters of ball. If you happen to watch the films on us, by the end of the third quarter we were gone. That's when we could have been padding our stats. I had three interceptions to where I probably should have had eight. But because of the trickle-down effect Coach Osborne respected the other teams, so we didn't get to pour it on. – Michael Booker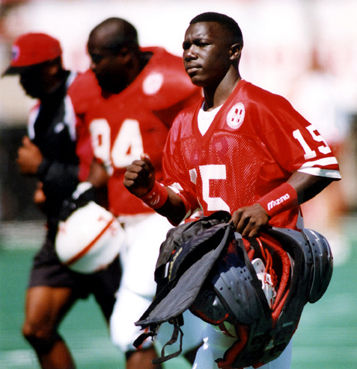 And it was all caught on film to be analyzed before the next day's practice session…
…practices were really well organized, every move we made was filmed, it was a complete practice. – Darren Schmadeke
Which led to better overall conditioning levels and a stronger 4th quarter game day surge when such an effort was needed…Think about how many guys we had out there: we had 4 stations running, with both scout teams and substitutes, so the number of plays you could run in a practice? …through the conditioning program that you guys put on, the number of reps we would take during practice, that was even more conditioning than we even knew, running all those plays throughout the practice was very beneficial. And it was as live as could be…    – Adam Treu
Like the intricate workings of a fine Swiss clock or a powerful, precision jet engine, all the moving parts of a Husker practice were an orchestra for the eyes. It was like a violent, scarlet ballet to witness the crisp precision with which the coaches, players and managers moved during the afternoon bouts. Years of refinement and well-thought out, purposeful augmentation to the day's NCAA-mandated time limits on the practice schedule created an echelon of efficiency.
Copyright @ 2013 Thermopylae Press. All Rights Reserved.
Photo Credits : Unknown Original Sources/Updates Welcomed
Author assumes no responsibility for interviewee errors or misstatements of fact.
Summary Chapter to be continued…..