Anatomy of an Era: Final Chapter/PLAYER SKILL & TALENT
Excerpted from Chapter 104, No Place Like Nebraska: Anatomy of an Era, Vol. 2 by Paul Koch
Anatomy of an Era: Final Chapter/PLAYER SKILL & TALENT
PLAYER SKILL/TALENT
What made this gathering of young men different? Unique? What kind of dynamic existed among them? Was it a smorgasbord of individuals or one, big, amorphous congregation? Was it merely all about speed or talent, or was there something more?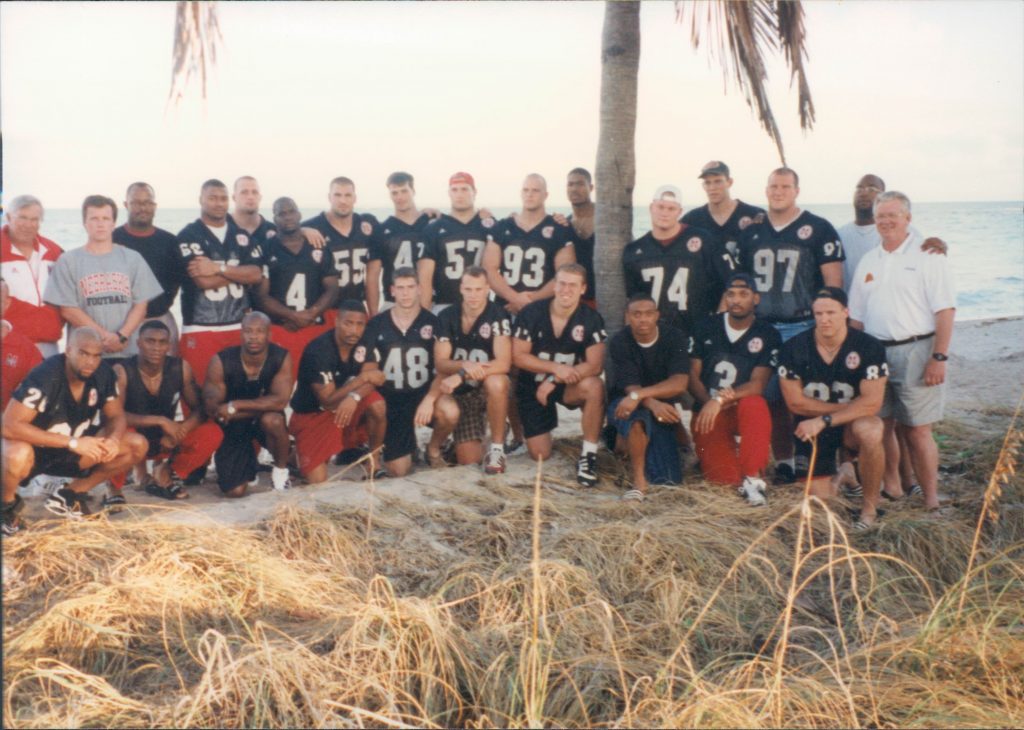 Blackshirts '96 (Tony Samuel back row, 3rd from left)
Talent…
To bring guys from across the country, from different backgrounds -be it economic or whatever, whether a guy from California or Texas or New Jersey or Florida- you look at that and the local guys. But to bring that type of diverse group and talent and bring it all together… and put together that type of production, that's pretty impressive. And I think that's why it's arguably one of the greatest teams… that ever played. The reason was the diversity of it… Nebraska literally got the best players from a variety of different states and got them all in one spot. And it's one thing to get the talent, but then you still have to develop the talent. And they were able to do that. It was pretty rare… in the eleven years I've been scouting I haven't seen any teams with more talent than what we had. I really can honestly say that… On a neutral field, neutral site, 8 p.m., you pick the spot, no one could beat us. I really believe that from top to bottom. No one could have beat us. There's no way. In my heart I truly believe that.    – Eric Stokes
Yeah, we had a lot of talent, but so did fifteen other teams in the nation. You had to have some way to separate yourself, and that's what it was: effort.    – Brandon Hamer
…the offense was a great matching of ability of those guys with what they ran, and that is certainly one thing that Coach Osborne was born to do. He could really swap people in there and did such a good job. With the exception of 2, maybe 3 games per year, we knew we were going to win because we had more talent.    – Brett Popplewell
You just went about your business, and then you brought in your 'freak' talent: Guys like Wistrom and the Peter brothers, and Chris Dishman, a phenomenal college player, and Aaron Graham showed up, Stai, Wiegert, a homegrown kid, Joel Wilks, a kid that probably shouldn't have been playing but worked his way into it… I wasn't the fastest guy. I thought I had decent feet, but man, we just had so much talent.  – Matt Vrzal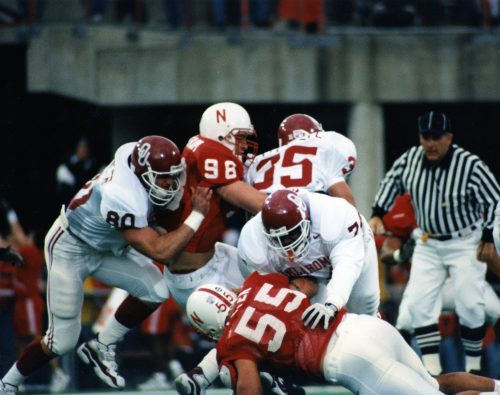 Speed…
We were fortunate to get people who could run. We always tried to emphasize speed, but we did a better job of recruiting speed.
– George Darlington
Tom had kind of brought in a caliber of athlete that could run; that could run with any skilled team in the country.   – Dave Ellis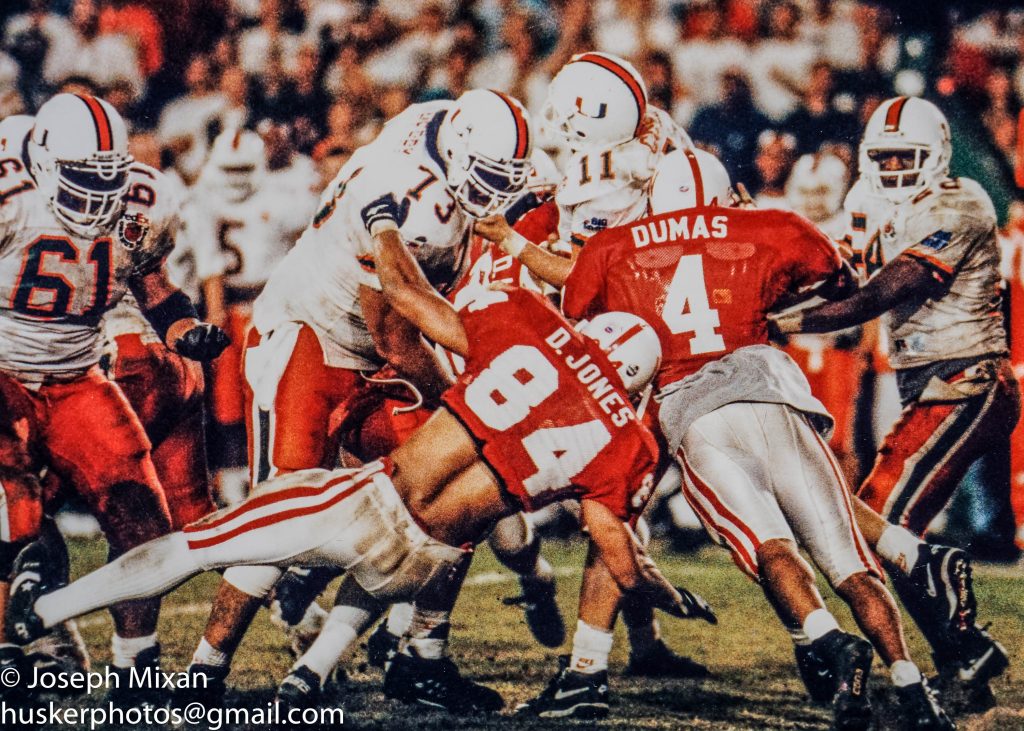 Going in for the kill
…(Osborne) had a running attack, so he recruited athletes that would be aggressive in the running game, and physical.
– Boyd Epley
…when they were recruiting us they said, "We've got to recruit speed at every position."    – Damon Schmadeke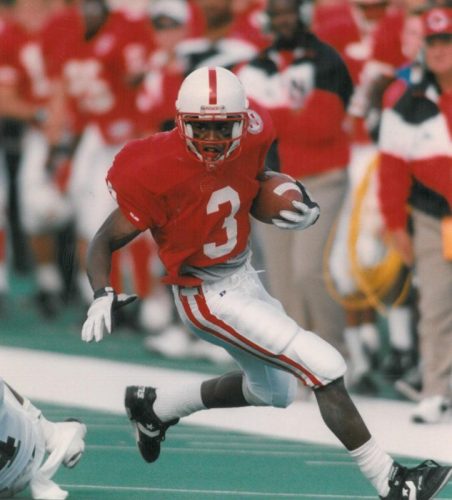 I think it was my freshman or sophomore year at Nebraska: there were actually five running backs who could have started on any other college team. And this was a tremendous help to me, because when you have those kind of athletes and that kind of depth you compete in practice every single day.  – Calvin Jones
Geography may have played a part…
…we signed a few guys out of Chicago that year: Joel Gesky and Matt Jones, a quarterback out of Michigan City who later transferred out. We had Ed Stewart, Bryan Pruitt who was a walk-on, and Johnny Mitchell.    – Bill Humphrey
…in Chicago there are just blue-collar guys. Sometimes they talk about that Chicago toughness? We definitely had it. I think some of us may have a little chip on our shoulder because we were from Chicago. And when you think of Chicago you think of the Chicago Bears and the tough guys and all, so when you see other guys from Texas or California, we say, "Hey, don't think you're the only guys who can play football. We're tough and we can play a pretty good game of football, as well, where we come from." That's the attitude we had, that we could compete with any guys from anywhere.      – Trumane Bell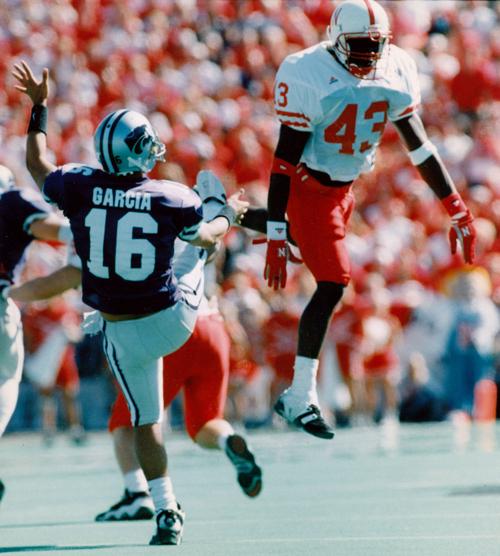 There's an attitude. There really is. Lots of guys from Jersey had it. It's just kind of a 'tough guy' attitude, you could almost say. You know, all the guys that were from Jersey that were on Nebraska's team, we were guys that never quit and we all came from different walks of life and different environments and upbringings, but I think we all had that same desire to be great and to work and push one another.   – Jason Peter
…we had to do our heights and weights and our physicals and stuff, and I remember jumping into a truck with Christian Peter, Ken Bello and Barron Miles. I'm not sure who was all there in the truck, but we had four guys from New Jersey join the team that year.    – Doug Colman
I think they went back to looking for kids that were Nebraska-type kids. Maybe hard working kids who maybe weren't the most talented in the world, but they had potential. – Randy Gobel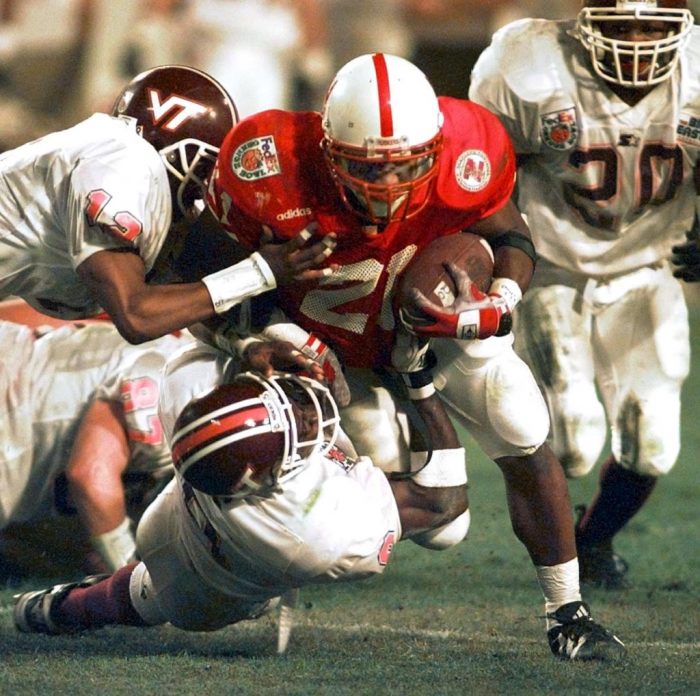 They took from California, they took from Nebraska, they took from Texas, they took from Florida. They took us from all these places and put us together and we found a way to win. – Michael Booker
It was about plugging the right player into the right system…
I think that you had to recruit the right kind of kid. I really do. Were we talented? Yes, we were. Were we more talented than a Florida, Florida State, Texas back in those days? Were we better than them, person by person? No, we weren't. I think it's recruiting the right kind of kid. I really do… it's more the type of person you recruited rather than just athletic ability alone… here we'd go out and we're winning with a walk-on from Wahoo down at K-State, playing a top 15 team in the nation.    – Aaron Taylor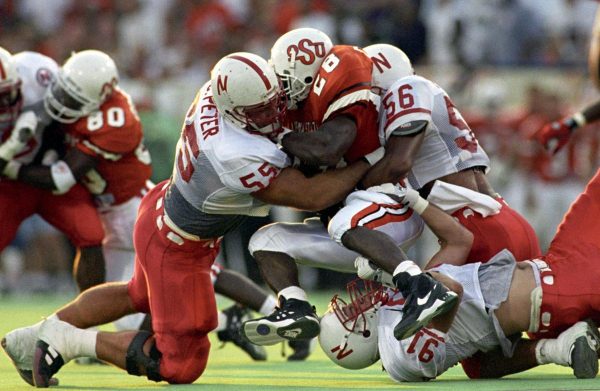 …all of a sudden there were a lot better players, too. (laughs) That was definitely a part of it, probably a very big part of it…    – Gerry Gdowski
…we also ended up getting better players, and they were more serious.  – Jack Stark
Or the unique ability to flip the 'intensity switch'…
…some kid looks like a babyface, and then they're nothing but trained killers on the football field. And I had guys who were highly motivated, God just gave 'em that. When you put that with the responsibility, they start thinking, "I'm responsible to do this." And when you have eleven of them that way somebody's going to have a problem.   – Charlie McBride
You want to recruit a kid who plays with heart. Football players, it's not about the size or how big they are. It's not the size of the dog… it's about the size of the fight in the dog. And I think you want to get a guy that will fight, that has a big heart and is not scared to run through a brick wall, a guy who has a high motor and runs all over the place. That's the type of guy to go recruit because that's the type of guy who's gonna give 110% and then some. Guys who are leaders and not followers.  – Vershan Jackson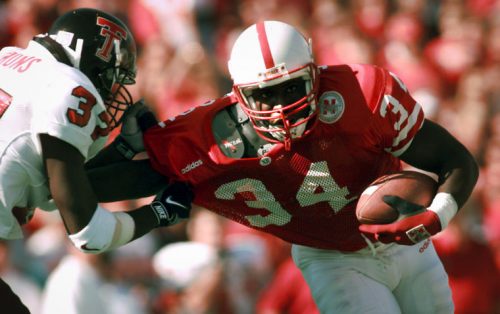 Vershan Jackson
…watching some of that film (when recruiting). We had the benefit of doing that at Nebraska. We had the opportunity to look at them and determine the type of motor they had, and if they could play hard every play in the game they stood out to me. It was only a matter of teaching them… they're typically guys that are very, very intense competitors, and for one reason or another they either don't want to lose or let people down around them. You've got to go have great ability, too, but the ability is not always the most determining factor…    – Tony Samuel
…through the recruiting and the homework they did, making sure that they got the right guys in there, there weren't many that didn't have the right frame of mind.             – Adam Treu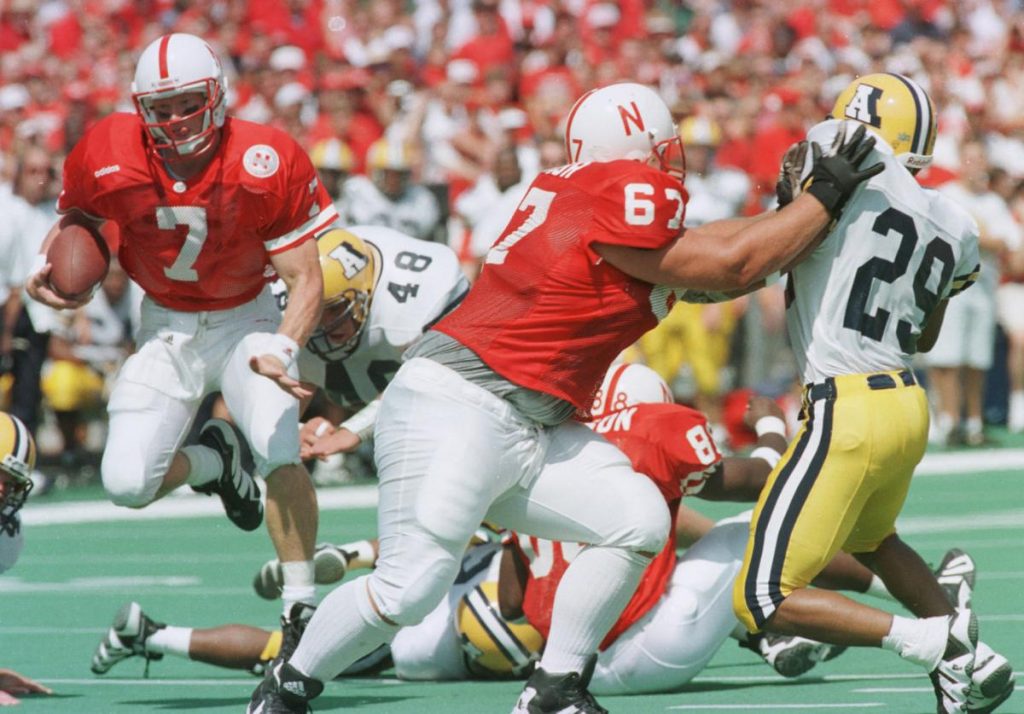 #67 Aaron Taylor: The tip of the spear
Or did it still come down to coaching them up?
…all of the staff that were working for Tom… If they hadn't have been such good teachers I don't think we would have been as strong.    – George Sullivan
…the funny thing was, when we tried to play the other's spot we weren't as strong as where (the coaching staff) stuck us. They just knew. They were so good at identifying the talent that you had and kind of exposing those talents. They put us where they thought it was best.  – Jared Tomich
…they found a way for everybody to utilize their talents. I don't mean that people were in the wrong position… or maybe they were in the wrong position, but somehow they were able to identify where guys fit into the whole scheme.  – Lance Gray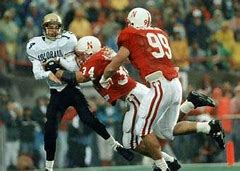 Yes, team speed was improved. Was there more pure speed than in previous years, though? Yes, there was. This fact was most apparent when viewing the change-over on the performance testing record-holder wall on the periphery of the West Stadium Strength Complex. Each position had its all-time record holder and Index Point holder with their framed photo and accomplishment on that wall. The turnover of player names on that wall was astounding during that era, partially due to natural athletic talent and also to the training regimen.
The commingling the two was a sight to see. Out on the field, then, was it just a matter of placing the faster players in positions that coaches of old would not have done, i.e. turning defensive backs into linebackers, linebackers into rush ends, etc. But there was something more than mere talent and placement and performance testing. It came down to leadership, too. We're getting even closer to the crux of the matter…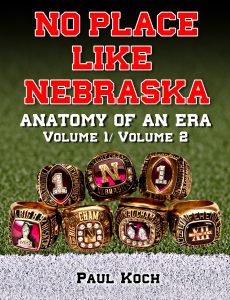 Available on Amazon.com
Copyright @ 2013 Thermopylae Press. All Rights Reserved.
Photo Credits : Unknown Original Sources/Updates Welcomed
Author assumes no responsibility for interviewee errors or misstatements of fact.
Summary Chapter to be continued…..