Anatomy of an Era: Final Chapter/LEADERSHIP ELEMENTS
Excerpted from Chapter 104, No Place Like Nebraska: Anatomy of an Era, Vol. 2 by Paul Koch
Anatomy of an Era: Final Chapter/LEADERSHIP ELEMENTS
LEADERSHIP ELEMENTS
(Author's note: Today's segment of the final chapter is quite large. That in itself should be a good indicator of the vast leadership roles played by so many during the 90's era)
Leadership is a fleeting thing. It's often a difficult issue to pin down, to fully and precisely and most accurately describe. Why? Well, because it comes in so many forms, for one. The most conspicuous form of leadership is that of the verbal, boisterous, attention-getting, chest-beating kind. Not that it's a bad thing, but there are and were so many other forms of human transaction, treatment, and leveraging of the human will. Multiple forms and facets of peer leadership were on display. Some shown more brightly and pronounced than others, yet many stood out in their own unique, subdued light.
Let's take a look at the complex array of leadership styles among the teams of that time… 
…there was no one person or one thing. A lot of it was the players themselves. They had a lot of pride in what they were doing and forced things internally. They had a pretty strong sense of ownership of the program and they didn't want to have anyone stand in their way to be successful, so they just didn't tolerate people who'd deliberately not be with the program.  – Tom Osborne
I think honestly having the players come in like a Tyrone Williams, a Tommie Frazier, Christian Peter, those kind of guys right there were the ones to kind of put it together and saying, "We're taking it to the next level and we're winning every game."                 – Darren Schmadeke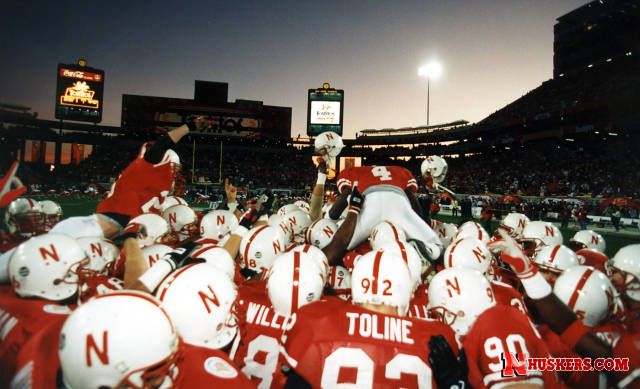 There was not just one who was the sole leader. It was tough to pick a captain, because they were all captains.  – George Sullivan
You had guys that were standing up, John Parrella and those guys really driving the practice tempo. If guys wouldn't play hard you kind of took care of that in the old fashioned way, in practice. You had less coaches… and it started being more and more player-driven…  – Bruce Moore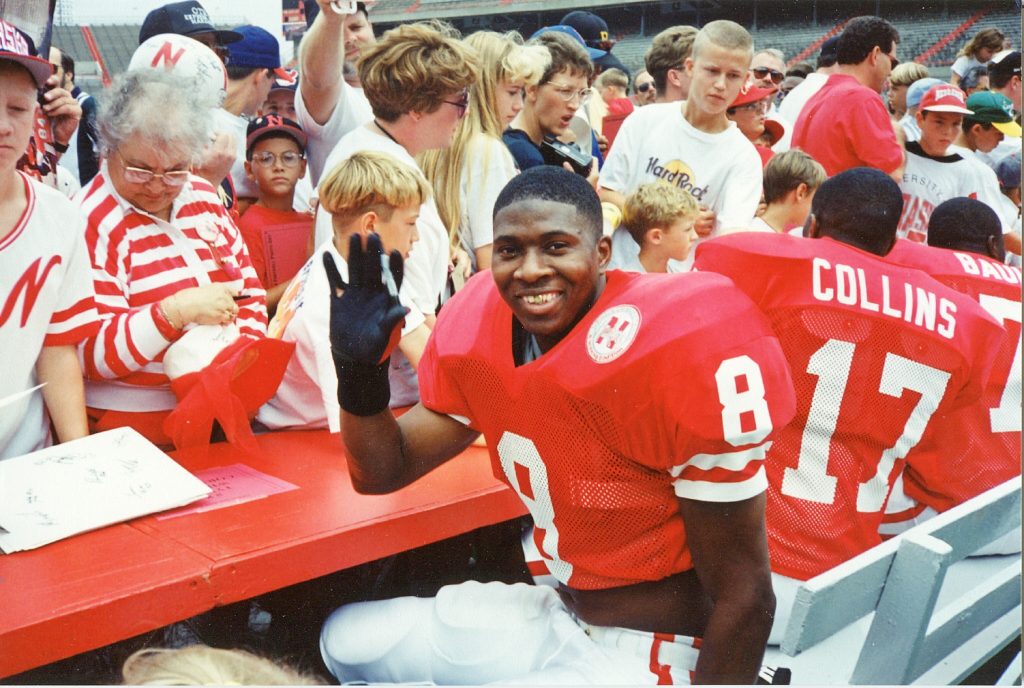 Tyrone Williams & fans at the autograph tables
Every single one of those guys were great leaders. The Peter brothers, Tomich on defense, all those guys. And then offensively, Tommie Frazier, Mike Grant the Field General, they were great players. We had a lot of them… there was a swagger, if you will. Very confident. Swagger, confidence and leadership. Those teams practiced very, very hard and very intense offensively and defensively.    – Jack Nickolite
…when we got Toby Wright, I think that changed the whole mental state of our defense, because he'd knock the shit out of you, to put it plainly… I just remember guys like Mike Anderson and Trev Alberts, who else, Ramaekers and Cory Dixon, who I thought was a good leader, Donta Jones, a hard working guy… we had Barron Miles, too.   – Lorenzo Brinkley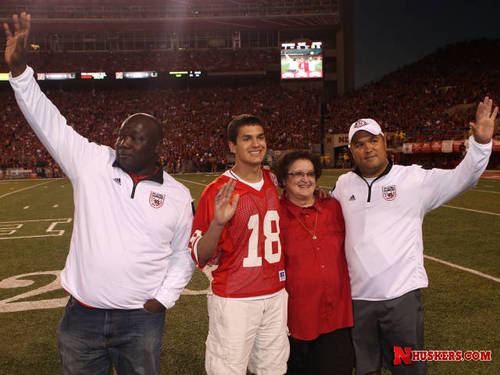 …what kind of warrior (Grant Wistrom) was. He was just a kid whose motor ran no matter how healthy or how sick he was. You couldn't tell the difference… there is a lot of value to modeling by the upperclassmen who not only are leaders in the locker room and on the field, but off the field, also. It was really good for leadership development all around… there were just legions of leaders that came through: Jared Tomich…you could go on and on and on. The Peter brothers, these guys were just tougher than nails. And pain, discomfort, hot, cold? It didn't matter, they giggled at it all, laughing in the face of it all. On the road? It didn't matter. These guys were the kind of warriors that are not so easy to find. – Dave Ellis
Was there one predominant type of intra-team leadership?
…it peaked in those years all the way up to '97. That's when we had the best leaders we've ever had. You had Jason Peter and Grant Wistrom. Just the greatest, two at the same time. You also had Christian Peter before that, who was a great leader in the locker room in '94 and '95… each year you had people who became great leaders…it seemed each year there would be 2-3 guys out of 16-17 guys were great leaders, and they were the ones that really carried it. Terry Connealy, Chad Kelsay, Aaron Graham were natural leaders… They came in different packages. Some guys wanted to beat others up and were tough and wanted to lead from that physical standpoint, whereas other guys were more shy, so you had leaders who weren't vocal, and they could identify with some role in a different nature, like your Kyle VandenBosch and that type of player. So they came in all types… the players choose who they are sometimes. Sometimes they are the great players, and sometimes it just seems like these were guys who the others listened to.  – Jack Stark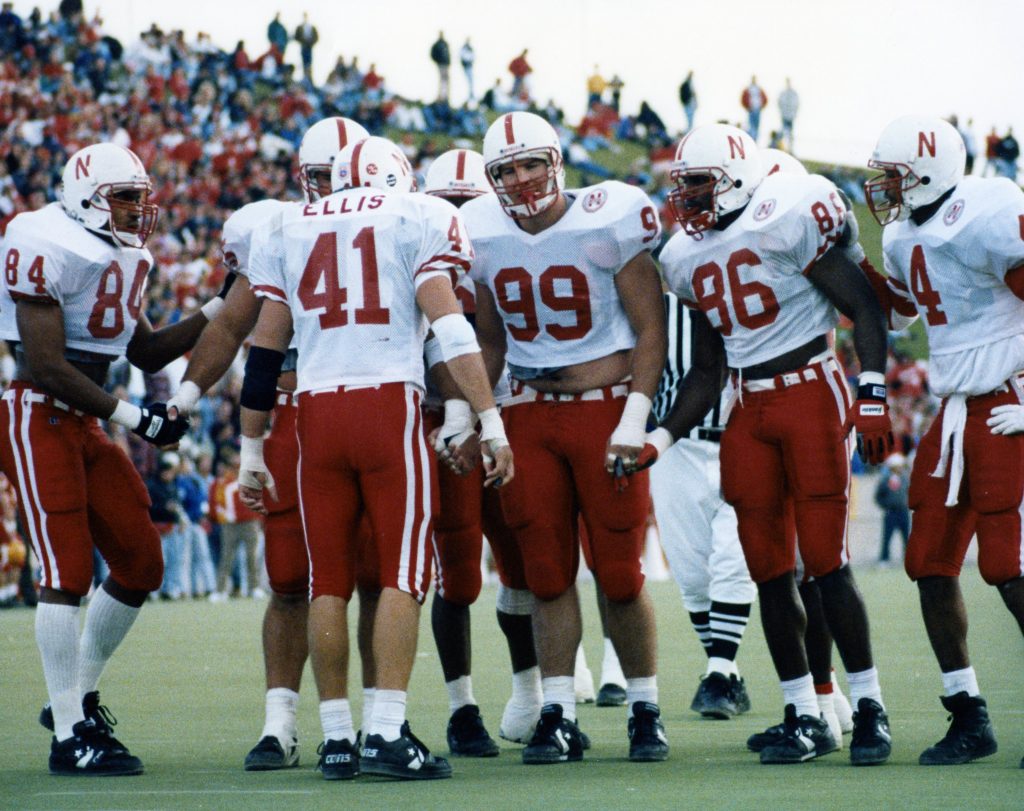 …it was a team deal and it started in the summer. It doesn't just turn on. And the other thing is, they have to decide.'I can't tell them what kind of team we're going have, they're gonna decide in the locker room or wherever it is. They're gonna decide themselves what kind of team they're gonna have.' And that starts in the summer when we can't even be around, the workouts in the summer and stuff like that… The leadership, whether it's sophomores, juniors, seniors, whatever it is, the leadership is gonna start to show.   – Charlie McBride
Some of it was based on in-state bloodlines & tradition…
I have to make it clear, and crystal clear: this was a Nebraska team. There are no outsiders who make that team what it is. You have two options: you either fall in line with the guys who grew up there and really know what Nebraska football is like or you don't make it. That's what I first saw when I came out there, the in-state guys, "This is what the program's about…" I learned what it meant to be a Nebraska Cornhusker through guys like Terry Connealy, Kevin Ramaekers, John Parrella, Mike Anderson. Those are the guys who make the program what it is… I simply did what I saw. I was very fortunate when I came in, there were leaders: John Parrella and Kevin Ramaekers. These were guys who didn't talk a lot. These were guys where their actions spoke louder than their words… a lot of that is owed to the guys who taught us how to practice, how to play.    – Christian Peter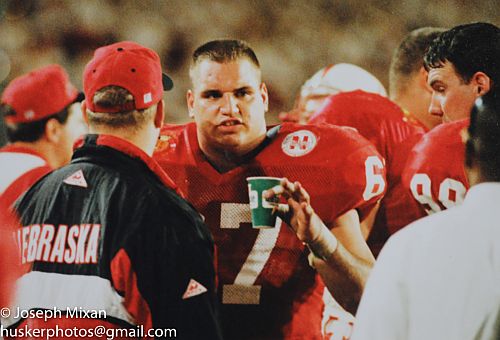 Kevin Ramaekers
"There's never any doubt in your mind whether we are gonna win or lose!" …it was just Nebraska. That's the way it was. When you came here you learned real fast from the upperclassmen and the coaches that anything else was unacceptable… "We have to go out there with a look in our eye." I think it was just a reputation. …Nebraska was Nebraska. You put that uniform on and you became invincible. You'd see that all the time.    – Jerry Weber
There was vocal leadership…
The person who stood out the most to me was Aaron Graham. Aaron seemed like he was the most vocal and so positive and basically saying, "We're gonna run the tables and win them all."    – Darin Erstad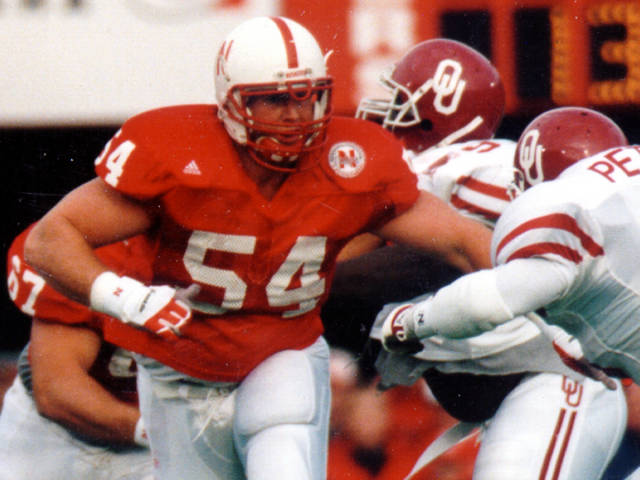 (Christian Peter) was a motivator. There was a role everyone had. When you get to that phase where there's leaders and there's followers, I don't think any of us were followers. Every one of us were leaders, but you had to allow someone to be a motivator. Christian was really good at yelling and psyching us up and coming out like a crazy man, who just took us to the next level… There were quiet guys on the team and then there were really nasty, asshole football players, too. Everybody had their role and everybody came together, and that's why we played so well… We all had that special bond and everyone had certain roles. And when certain people spoke, you shut up and you listened and you gave each other respect. And it worked.  – Brian Nunns
In leading by example…
We just had great leaders. Even in '94 we had Terry Connealy, Ed Stewart, we had 'em all. And it starts with leading by example, and if you can follow Christian Peter through a summer you're gonna be a better man by end of summer …there was a mentality that was instilled in us, "This is how you do it. And if you don't do it this way, then get the hell out of our way." That was it… It was more of a peer pressure atmosphere …it was instilled in us, Mike Anderson and them guys, Trev Alberts…    – Phil Ellis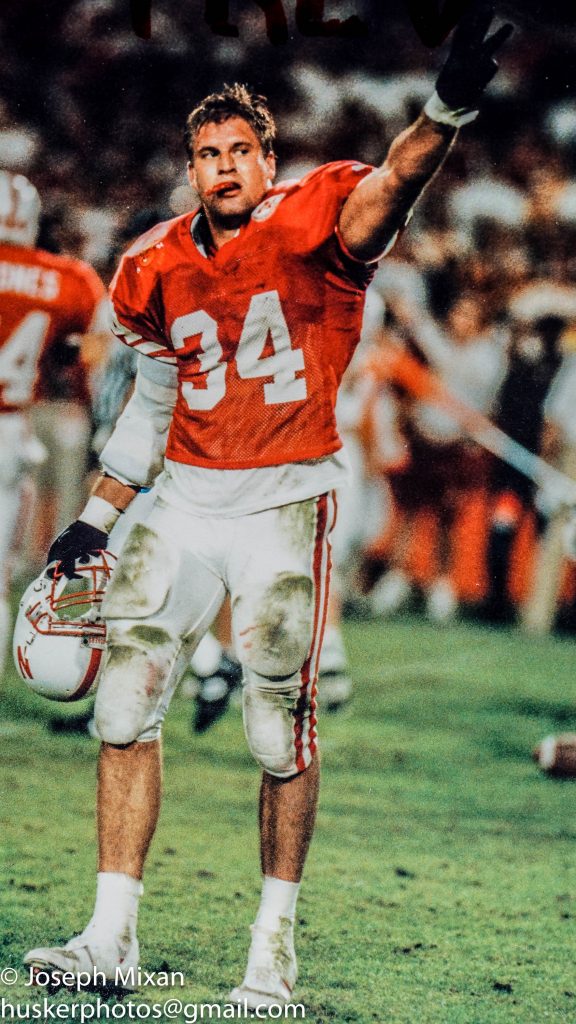 Trev Alberts: A farewell after leaving it all on the field
I was always amazed -when I was calling plays in the huddle- when I was calling plays in the huddle (Kenny Walker) would read my lips. I remember thinking it was amazing that he could read my lips, you know?    – Mike Anderson
You know Will (Shields), he was a very quiet guy when we played together at the University of Nebraska. He had such incredible ability that you just wanted to 'be like Will.' All of us wanted to emulate him in some capacity or another… He was really, really quiet. Will was a guy who led with his actions. He never got too emotional either way up or down, he was just a very consistent player. He was an incredibly gifted offensive lineman.  – Aaron Graham
And I remember Christian, he was a pretty mentally strong guy. He was the kind of guy that made a whole lot of guys around him better …he said, "You know what, Larry? You're a better athlete than I am. You're a better athlete, you have more talent. But you know what? I'm a hard worker." And I always remembered that, even to this day. It was really true. Christian made everybody better because he made everybody work harder. People would see how hard he was working and his intensity level raised everybody else's.   – Larry Townsend
Toby Wright, far and away, that was another guy that made one of the biggest impressions… he was just a fierce competitor… he brought that physical presence that really kind of forced everyone else to step up and follow. And I think he played a role in changing some of the dynamics in that secondary… His attitude, his mindset, and just an explosive, knock-out type hitter, and he was probably one of the most fearless guys…    – Eric Stokes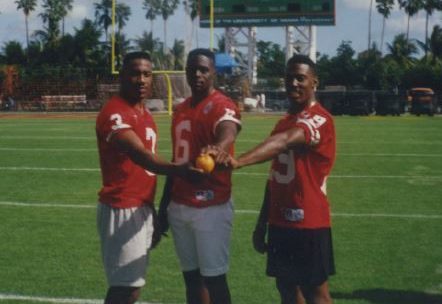 Toby Wright, John Reece & Kareem Moss at the Orange Bowl
Especially by the upperclassmen hitting their stride…
…when I was a freshman Coach Tenopir always said to "watch the older guys in front of you and they'll show you the way." I had Will Shields there, Jim Scott, Kenny Mehlin, Lundberg and Zach Wiegert. That first 5 were starting then. They were pretty good leaders, especially watching Will. Will was never the vocal leader but more the silent guy, does everything right and actually does it to perfection that none of us could really achieve… They were perfectionists to a point that they never wanted to take breaks, ever… Stai and Wiegert and Rob Zatechka and Joel Wilks, all those guys made an impression on me. They pushed themselves, even in the offseason, going through drills. The intensity was where you'd push yourself to a level as hard as you could… You pushed yourself to exhaustion and throw up and then keep going. They put trash cans out there for a reason and pretty well knew people were gonna puke, and that's what we did. A lot of people don't know how to push themselves to where everything is coming back up, but that's just an example of our work ethic.   – Chris Dishman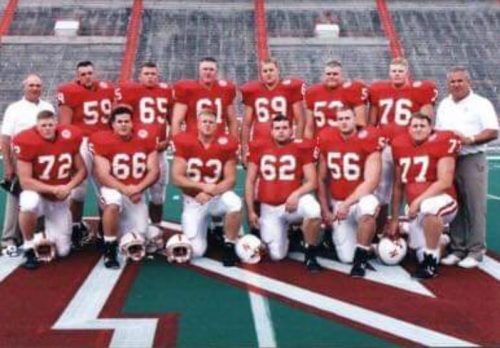 I look back at my time at Nebraska and the obviously fantastic leadership; consistency in the leadership and in the way we approached things… the guys that had been in the program: you followed them. They were leaders and they knew what was expected. And even the though the coaches obviously played a huge role in it, it was the upperclassmen, the role they played trickled down to you… We had some great leaders that were team captains, a friend to this day: Pat Englebert. Pat led by example and did all the right things…    – Terry Connealy
…Ramaekers and Parrella… those guys are the ones that really, really laid the groundwork… You had a lot of guys like Jared Tomich, who would always lead by example… – Matt Vrzal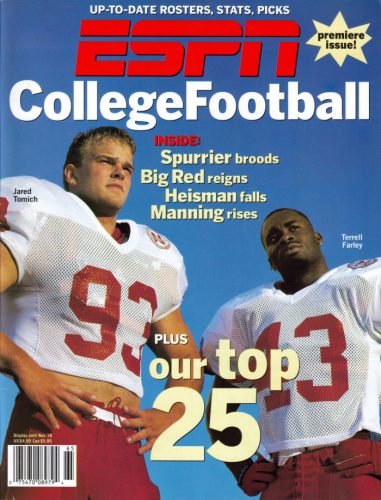 As a player I wasn't all that vocal; my roommates would always call me the 'Silent Assassin'. But when I'm out there I want to go 110 miles an hour and knock your head off. – Troy Dumas
There were stellar examples everywhere one turned…
Abdul Muhammed was another one, a slot guy who was so tough. He was a skinny rail-type guy, but he would go across the middle and catch anything and he stood up to anybody. He would impress me. Tom Werner from Tilden, number 87, he ran the best routes and could catch anything. I patterned myself a little bit after him, because he never wore gloves. No matter how cold it got, he never wore gloves. So I never wore gloves, too.   – David Alderman
A lot of the work ethic, I didn't learn from the coaches, I learned from Joel Wilks and Matt Shaw… I learned a lot from him. And I learned a lot from his studying, too.          – Tom Seiler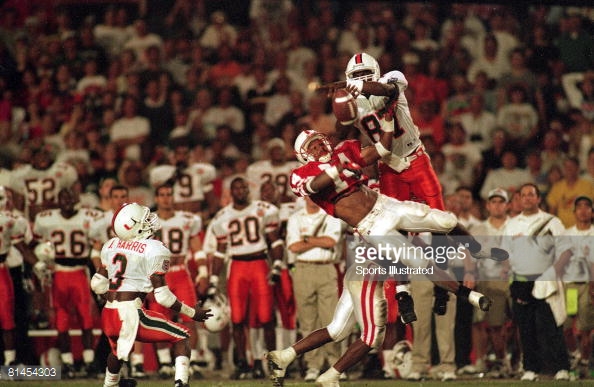 Pass defense against the Hurricanes
Lance Gray was a great special teams player for us. He set the mindset, he got other teams to understand the Nebraska mentality just by his play… Barron Miles: That guy had the biggest heart and spirit than anybody around. I remember him in particular…    – Tony Samuel
There existed a profusion of peer-mentoring…
I'd get on some punt return teams and would back up Barron Miles. He's one of my favorite players of all time. He took me under his wing and taught me a lot of stuff and was always very supportive and encouraging… he'd keep coming over and put his arm around me and tell me, "Yeah, you've got what it takes. You have the tools and the talent, just believe in yourself and trust your instincts." That was the biggest thing he did for me. Always very supportive. That was the thing that really amazed me: the Nebraska upperclassmen, in my mind, didn't view the younger people as a threat, but actually acted as coaches…
– David Alderman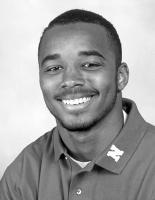 Barron Miles
…one of the guys who really took me under his wing was Curtis Cotton. I don't know why, but we ended up competing for the nickel back position that year and then ended up giving it to me mid-season, but he was just a guy that took me under his wing and showed me the ropes. He invited me over to his house and showed me the ropes… We didn't have training table on Sunday, so we'd go over and they'd have meals and stuff prepared and we'd sit and read and watch Sunday football together, it was cool. You weren't out there on your own.   -John Reece
…any athlete will tell you, you want to be the guy that's out front leading. Most would say that, at least… 'Can you get it done? Can you be the spearhead of making the play break or is it gonna fail?' To me, that's the truest test of an athlete: who wants to show up and perform? And that was what I wanted. I wanted that pressure on me… Aaron Graham. I thought I was a better athlete than him, but I didn't have the technique, the confidence, all those types of things. But as a senior and as a leader he did a good job of fostering that in me.    – Aaron Taylor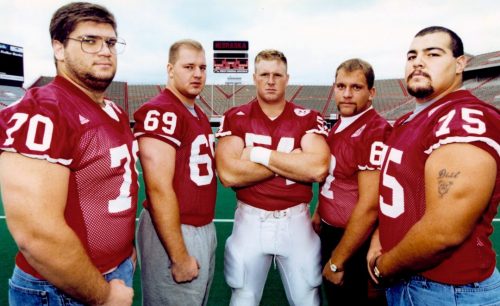 Left to right: Eric Anderson, Steve Ott, Aaron Graham, Aaron Taylor and Chris Dishman.
The mantle was constantly and consistently being handed down…
… you talk about leadership, when you talk about those teams, you passed it on. You were always trying to groom the guys. You got groomed, and then you were getting them ready for the time they were seniors, so they were ready to take over.                      – Doug Colman
I got to know Barron (Miles) really well over on the defensive side of the ball. He was just really one of the great defensive guys. He kind of took me under his wing.               – Matt Turman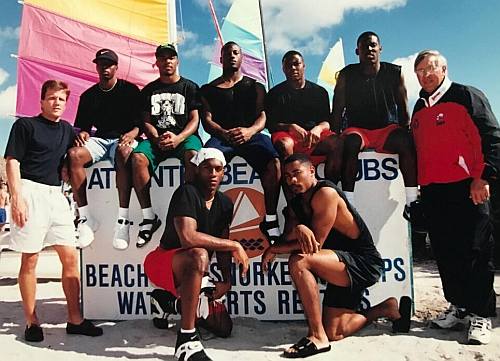 …my objective (was) to help you. If I can make you better that's gonna make our team better, and you're gonna push me and I'm gonna push you…
– Barron Miles
… you find yourself doing a lot of player-coaching kind of things, like helping out the younger guys as a senior member… I found myself doing that at times.
– Bruce Moore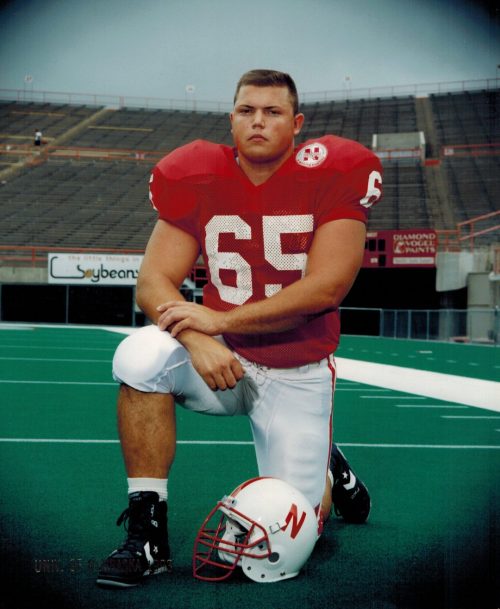 Bryan Pruitt
Even if it was a coercive, authoritarian type of leadership…
It could be a verbal onslaught, it could be a physical-type deal. You'd get embarrassed in front of your peers, and nothing's worse than that. If somebody was slacking off in summer running drills or whatever it may be, practice, and you weren't giving full effort, you were gonna get called out… I think that's why we were able to be so successful, because we had guys that didn't want to get called out… it didn't happen often… We tried to handle things ourselves. If it got to Coach Osborne or any of the assistant coaches then it got too far. And if it got past us, we didn't do our job …but the team kind of regulated itself. That's a position I think most coaches would like their team to get to. It's where the team leaders and the seniors and upperclassmen kind of handle all those little things. – Jason Peter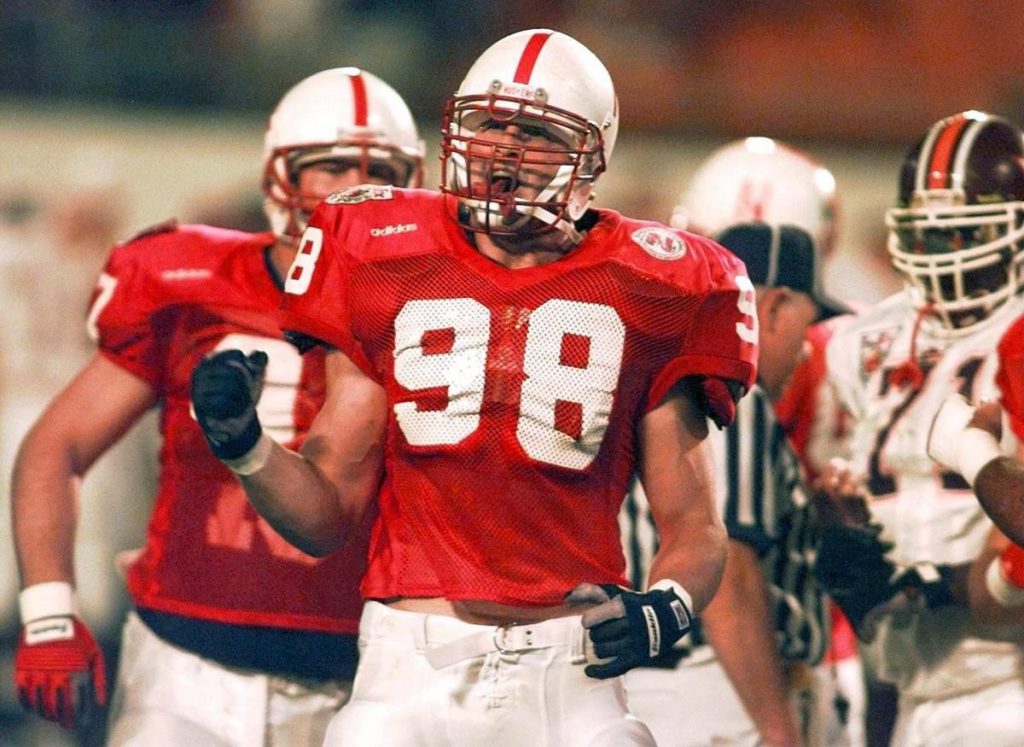 …when the Peter brothers were there, and Wistrom. Those guys basically took the team over and when anybody got out of line they just took care of it. The coaches knew they didn't have to do anything, that Christian or Jason or whoever would have them up at 5 in the morning running stairs. They policed themselves and I think that brought the players closer together than anytime I'd ever seen around there. That was a culture-change there. – Mike Mason
We had great leaders. Any great football program has great senior leadership, and teams that will consistently win have great leadership. And Paul, I call it institutional control. The coaches did their part, but if a guy missed a summer workout there were guys ripping people's asses, "Why did you miss the summer workout?!" It's like a player's prison (and that's a bad analogy), but year in and year out the players ran their own institution. The players would not allow it to get fat and happy because you know when you're successful you want to keep being successful, and you knew that everybody was going to be gunning for you.  – Ryan Held
Clinton (Childs)kept other guys in line because he was such a tough kid…(the)thing that made Nebraska pretty special, the amount of peer pressure and leadership we had was huge…     – Randy Gobel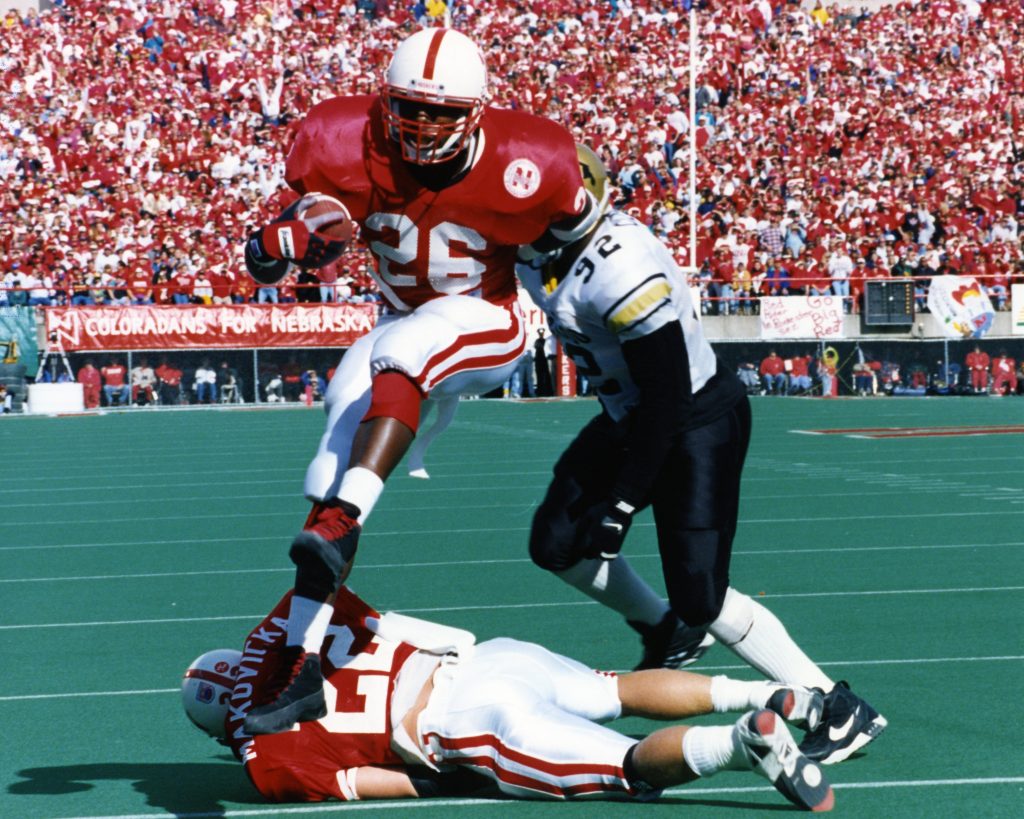 …(the running backs are) banged up and sore -I knew what that was like- and they were grumbling, but Frank gave them to me to do (the drills), and someone said, "Shut up! Chad's going to be the coach today and we're going to do the drills." Do you know who it was? It was Lawrence Phillips. It just shut everybody up and they went through the drills. And I've never forgotten that… He was a warrior… That's the Lawrence I remember. He was a warrior and a good teammate, he really was.  – Chad Stanley
…if you were a little sick and didn't feel like practicing, Graham and Stai both in the huddle would be getting in my face telling me to pick it up and bring it up. So Coach Tenopir didn't have to, because those guys would …Bryan Pruitt, he had a really intense personality and intense work ethic on the field… he had that tough, Chicago mentality, a really tough guy. I think he fit in and rubbed off on everybody… He really sticks out to me.   – Joel Wilks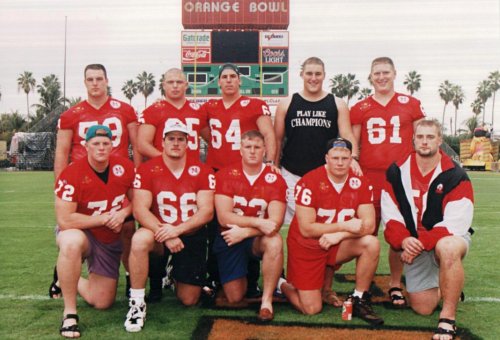 Nebraska O-Line pre-Orange Bowl (Adam Treu in black tanktop)
The older guys on the team? They were the police, watching their own, grabbing a guy around the neck if they had to and setting them straight… in a one-on-one basis where you didn't have to embarrass anybody. You were in awe of those older guys and you had to feel them out and act the right way. You were afraid to upset them because you didn't know what they would do. After you earned your stripes, so to speak, then they would welcome you with open arms.   – Adam Treu
Prominent leadership emanated from the trenches, especially…
Oh, that group in '93, '94, they just started to gel. The offensive line: Rob Zatechka and Zach Wiegert, those guys just played hard. And then you've got the defensive linemen: Terry Coneally and Christian Peter, just the intensity. The leadership of everybody not wanting anybody to take a play off was just -you could go clear down the line- Aaron Graham and all those guys. I think the offensive line and defensive lines really set the tempo for those teams …the intensity of the teams, it all started on the offensive and defensive lines… It was great to have Tommie Frazier and Calvin Jones and Lawrence Phillips and all those guys, too, and those great defensive backs, but the line was where it really came to getting things done…    – Brandon Hamer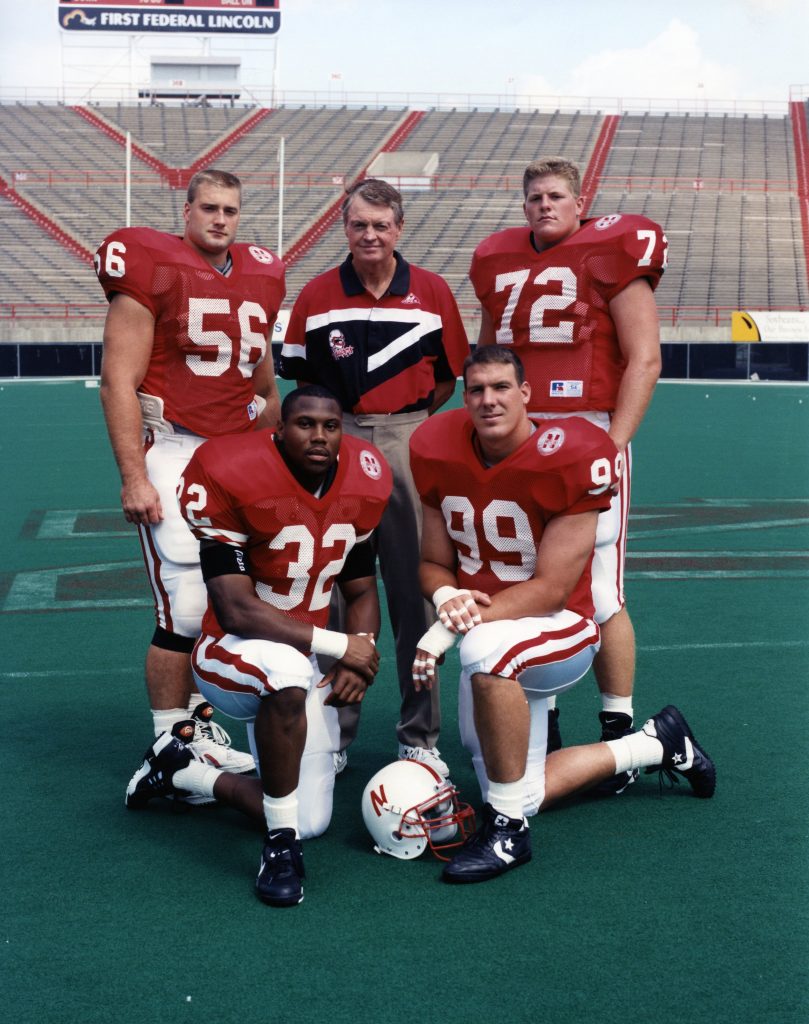 '94 Team Captains w/ Coach Osborne: Rob Zatechka #56 (upper left)
…all you had to do was look at the defensive line, and they were leading us. And they were about as mean and nasty as you probably get. If you're not following suit after that, after those guys, you might as well go sit down somewhere…   – Tony Veland
Christian deserves a lot of credit in changing the culture to a championship culture. That guy was a total competitor. He was a Charlie McBride guy, I'm telling you. The intensity level in practice going from the Peter brothers right up to Grant Wistrom, it was high when I got there. You had the Trev Alberts' of the world…  – Chad Stanley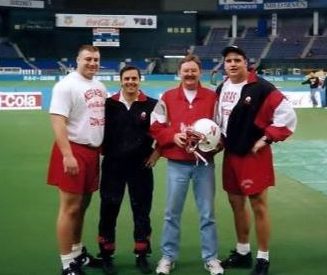 Tokyo '92: John Parrella, Randy Gobel, Dave Finn & Kevin Raemakers
Trev was senior on that team. Him and Connealy, Ramaekers, just defensively it was that crew that probably really started the mindset that you hear a lot about later.              – Gerry Gdowski
And it branched out from there…
David Seizys, he was two years older than me at the time. He was a true leader. Coach Brown really liked him, as well. He was a walk-on and eventually earned a scholarship… I remember Tommie Frazier at the time basically being such a huge motivator. Him and Christian Peter. They were two of the real prominent motivators of the team… Christian was a lot more vocal than Tommie. Tommie would say some fiery things, but he was more of a silent, confident leader …he had an incredible amount of confidence about it, and I think it carried on to other offfensive players on the team. We knew that when Tommie was behind the center, we knew we were going to win. The same thing with Brook. We had confidence with him… There are other players, too, but those two really stand out to me, their presence on the field, "I can't let these guys down. I have to do my part…" …the captains at the time. Their leadership was pivotal in our success that year, as well as the following year. And they expected everybody, everybody to raise their level of play. Even the backups and walk-ons, they all played their part in special teams.  – Darren Schmadeke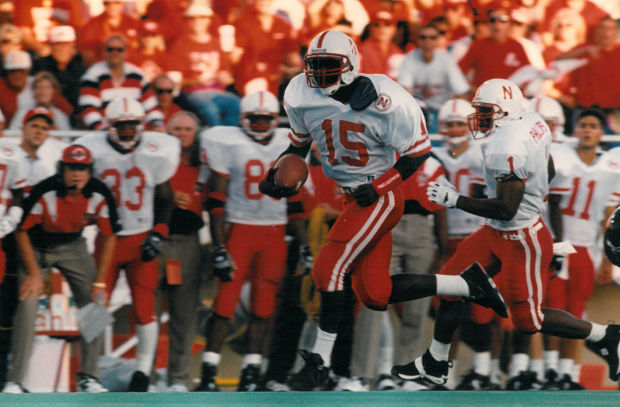 The Bugeater Express
What about the quarterback position in particular? When one typically speaks of 'leading the team' some automatically assume it emanates from the quarterback. It was leadership by committee…
…back in those days (Tommie Frazier) was very professional, very serious. I always had a lot of respect for him, but maybe not someone who seemed like he was approachable to people outside of him… Brook (Berringer), to me, was someone you'd always want your daughter to marry. Just a real upstanding guy, a good worker and smart… I also remember against Missouri and (Matt) Turmanator got hurt that game. I remember 'The Sandwich' came out and played in that game, too… Yeah, Monte Christo. The Sandwich came out to run a series or two …that game was still undecided. Brook was out and Tommie was out and Turmanator got a shoulder hurt or something, and then Monte Christo comes running out there. It was like, 'Monte, it's okay. Just get the snap and hand the ball off.'     – Bill Humphrey
…50% of the plays were called by Tommie, Brook and our quarterbacks on the field by way of audibles. 50% of the time when coach sent the plays in, the quarterback could audible or call, "Opposite." They were like coaches on the field, they were mini-Osbornes.    – Vershan Jackson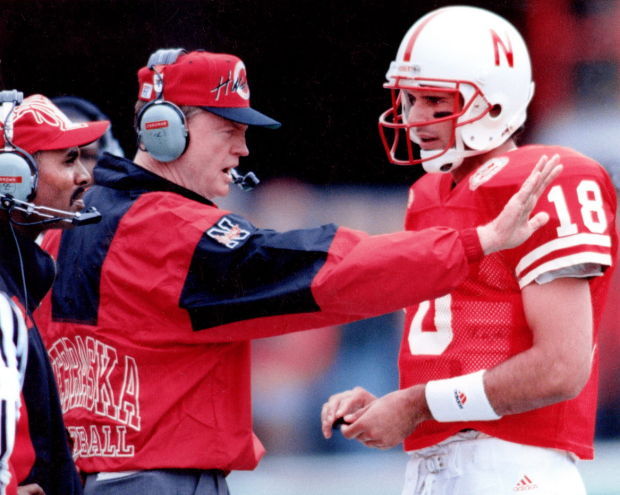 The Chess Master makes his move
If you speak of one, you eventually speak of them all…
…the quarterback -when I played at Nebraska- was just like another running back… who would occasionally throw. I mean, Tommie was the toughest running back in the country. He was such a good runner… we played a season without Tommie Frazier. We had Brook Berringer, who was hurt for most of the season, and we played some games against top ten teams without either of them. Kansas State, Lawrence Philips had a cast on his hand and we had the Turmanator at quarterback. I'm not taking away anything from the Turmanator, but he's not Tommie Frazier.  – Zach Wiegert
Tommie goes down and then Brook goes down, and here's little five foot nothing (laughs) Matt Turman comes in and saves the day and doesn't skip a beat.                      – Tony Veland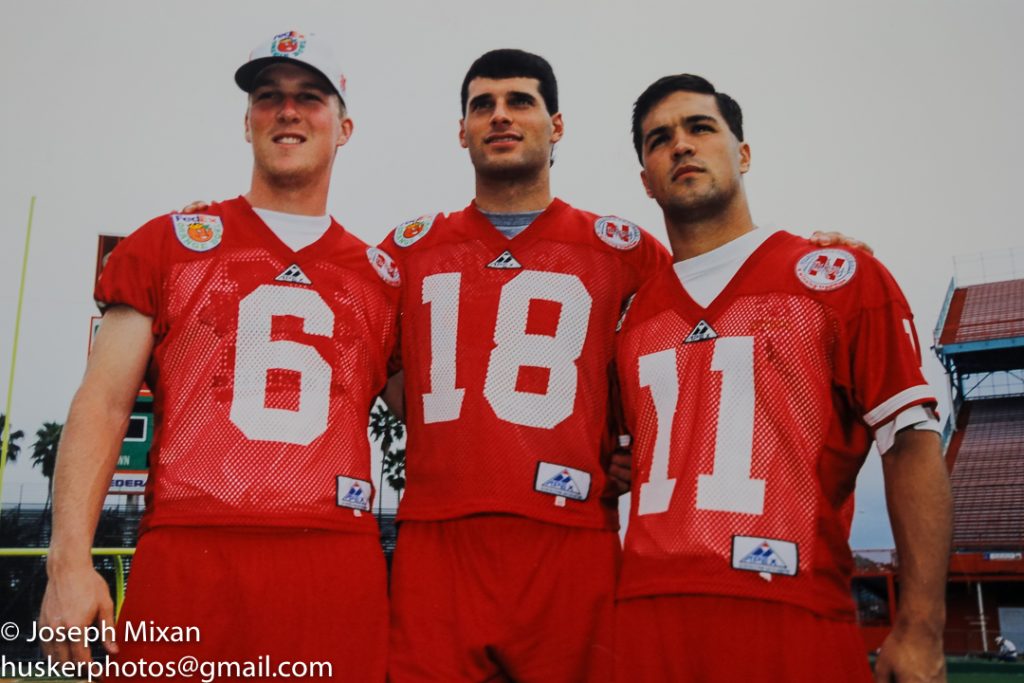 Darin Erstad, Brook Berringer & Matt Turman pre-National Championship
It was tough for those two quarterbacks because they went through major injuries that year, and at the end kind of shared some playing time in that Orange Bowl. But maybe sharing time in the Orange Bowl was one of the major reasons we won that game, because they didn't know who to prepare for. And Tommie was very fresh in that 4th quarter. – Jack Nickolite
Both Tommie and Brook were great guys, you know? Tommie wasn't sometimes the most popular guy because he was pretty demanding, but he'd never demand anything less than what he would do himself. Brook was the quietter guy, but would push himself just as hard… Matt Turman, a good guy, worked hard and gave it all he had. They were all a lot of good buddies.   – Randy Gobel
It wasn't just one individual. Of course you had Tommie Frazier in there and he took that thing to the next level, but the reason we were so successful was such a team environment, and everyone was playing for each other… Look, the superstars the fans will remember, but every guy had a part in it… Tommie was such a leader, no-nonsense and getting everyone pulled together. Phenomenal from that standpoint.                        – Brett Popplewell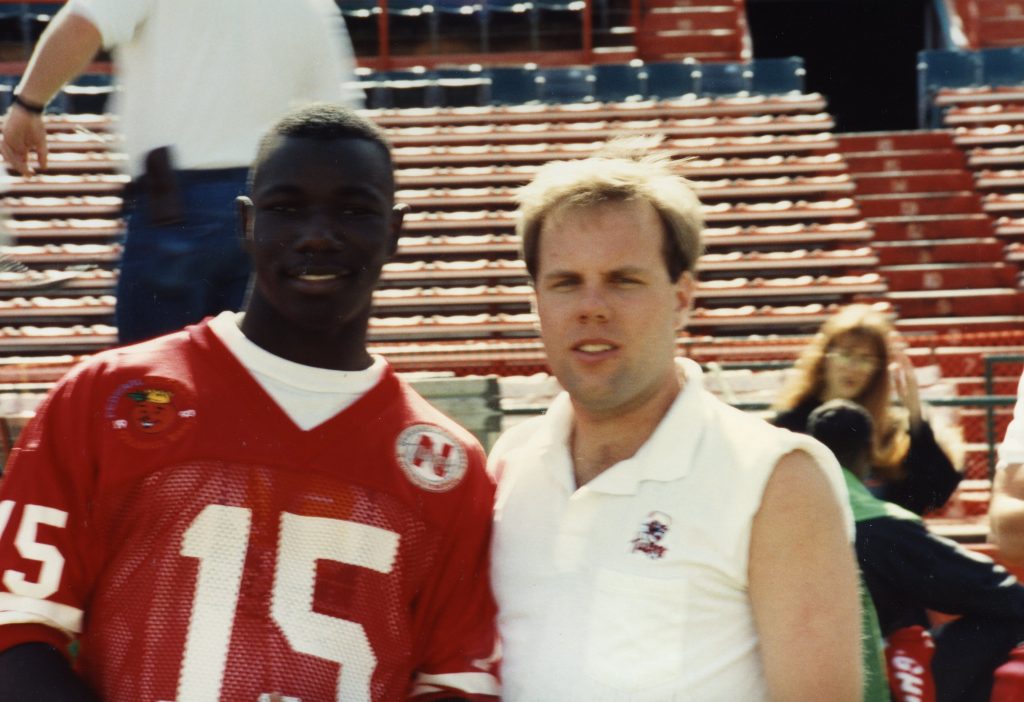 Tommie and Trainer
I just remember that the Kansas State game, (Turman) was handing off to Lawrence every play. I remember the Kansas State guys were joking around and laughing at how small he was, but what a great job he did. A lot of teams would have folded, having their third or fourth string QB in there and all, how small he was, but he rose to the occasion. I can't say enough about him. He had a lot of poise and he kept our magic season rolling. He did a great job.  – Joel Wilks
It was a leadership of attitude…
Brook (Berringer) and Tommie (Frazier) just had a real confidence about them, though they were very different players and very different personalities. Not much alike outside of the huddle, but inside the huddle in a way they were very similar. Brook was really supportive in his attitude, kind of like, "Come on guys, let's get it done." Tommie was more kind of Commander-in-Chief-barking-out type. But both were effective, you know. I never viewed Tommie as 'being a jerk' or not, but it was just that his style was more rougher around the edges. And Brook's was a little more -I don't know how to say it- more encouraging. Both had a tremendous confidence in the huddle. I couldn't have asked for better leaders in the huddle than either of those guys. They were awesome.
– Matt Shaw
Tommie was just a great quarterback. Incredible quarterback. We never could have made it as far as we did without him. I thought he had such character and such leadership at such a young age… Just the patience, the intelligence, the leadership ability at such a young age, the composure, that talent level… Quiet, understated, never in trouble. Just a good kid… Yeah, he was (all business). When he stepped on the field, we knew. Big jokester. Funny kid. But a hell of a football player.   – John Reece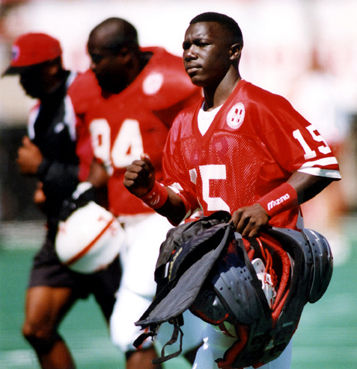 When Tommie was on the field everybody raised their level of play two notches, to the highest degree they could.  – Darren Schmadeke
… if I were to say one person who really had some effect, it was Tommie. He had that glow, that leadership quality. – Troy Dumas
Tommie was all business in the huddle. He wanted to score on every play. He was very, very serious. His demeanor was his demeanor, that was Tommie. Some people might call it a negative knock on him because he was that way, and he didn't really build the great friendships off the field because of the way he was on the field. He made it clear he was there to play football and not be friend, but that's just the way Tommie was. But I never wanted a different quarterback in the huddle, because Tommie wanted to score on every play. He let it be known that if you missed a block, he'd tell you. If he did something wrong he was the first one to admit that he did it wrong. It wasn't like he was all blame and no responsibility. If he missed the pitch he'd say, "My fault, guys." That was just Tommie…  – Chris Dishman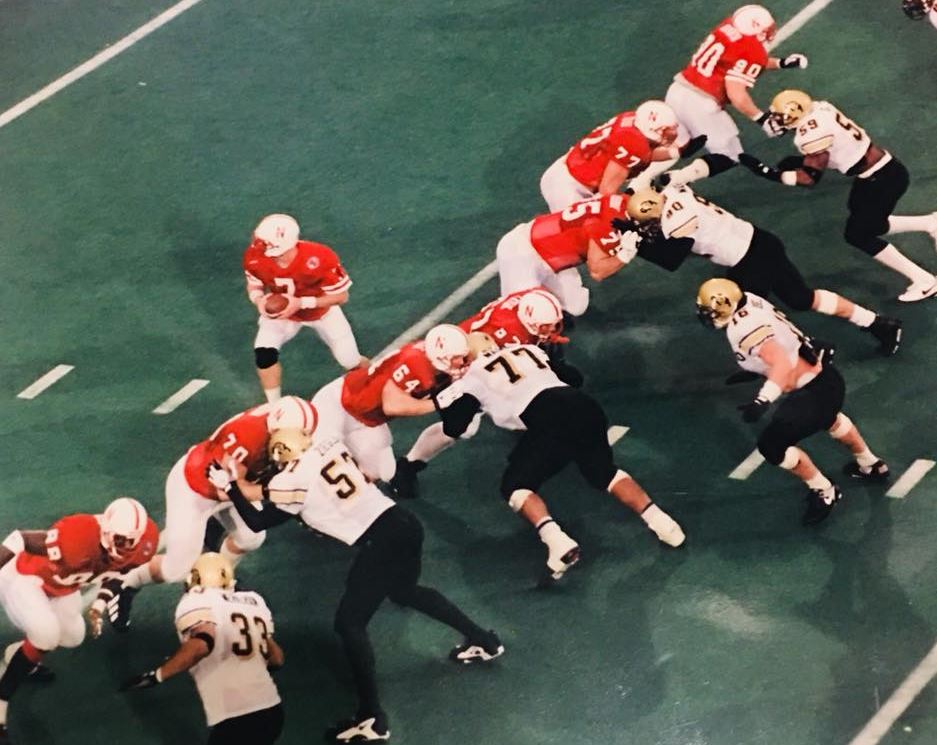 What (Tommie) did was big plays, play action (passing)stuff where a guy was wide open, like Mark Gilman and those guys… and Brook was a great guy and a great player and I had confidence in him too, but there was a little something extra when Tommie was in there, maybe it was the cockiness he had …he just had that air about him, that confidence when he came into the huddle…  – Joel Wilks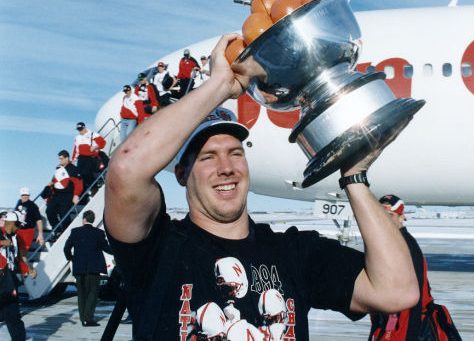 By calling others into account with words…
I remember Tommie walking up to me …and kind of calling me on the carpet and saying, "I've been looking at the stats and what's this? You only had five tackles?" And I'm looking at him and thinking, 'A freaking quarterback giving me hell?!' But that was the type of leadership that he had, even as an underclassman, was to be confident enough and comfortable enough to walk up to a starting (defensive) guy to kind of say, "Hey, what's up, man?" He and I have joked about it since then, but it was a good, little, extra spark. (laughs) I think I went off and rattled off a few ten tackle games after that.  – Ed Stewart
…Tommie Frazier, he made some mistakes, but they didn't bother him. He was like, "I messed up. Next play." Confidence. I would sum him up like that… Frazier, when he got control of the reigns he wasn't afraid to tell a senior when he was a freshman, "Hey senior, you dogged it on that play. You dog it on that play again and we're not going to win. If you dog it like that in a game we're not winning"…It made Tommie not as well liked, as you would expect. But in retrospect, it was wonderful. Because look at it: Tommie was never voted captain. He wasn't voted captain, right? Because he was rough. I remember a couple times him treating me like crap. Do you know what I'm saying? But when you looked at it and thought about it you were, 'He's right.'                 – Mark Gilman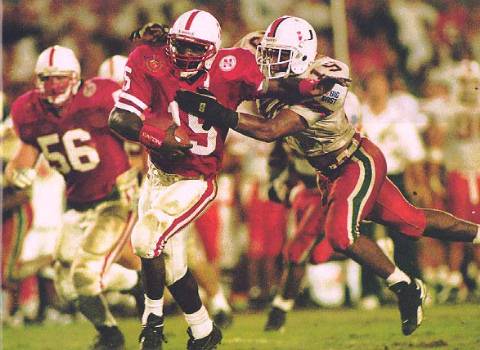 I think it was as the year progressed and I looked at (Tommie) I thought, 'This guy's a freshman and he's in the huddle telling people what to do, telling them to shut up.' You could see that even as a freshman that he was a leader and he was one of those guys who was gonna elevate the other players by the way he played…    – Tony Veland
With their actions…
Tommie Frazier, he won championships. And I know Brook played most of our junior year, but Frazier was very instrumental in winning that first national championship game… with Frazier, the quarterback who had no fear. He didn't give a crap if it was Florida State or if it was Kansas… Confidence. Period. That's what made him unique… he always worked hard in practice. He was a leader, and he led by example and he led by demanding excellence of people and he always demanded it of himself.   – Mark Gilman
I remember Tommie, it was the game in '92 at Washington. It was a competitive game and I think we were down 3 or seven points and Mike Grant was hurt and we were backed up at our own 10 yard line and thinking, 'Oh crap, we're in this situation playing a true freshman.' And Tommie played like a stalwart. And I remember thinking, 'You know what, this guy might be okay.' I used to joke with him and call him 'The Trash Man.' (laughs) Tommie wasn't always the most graceful runner, but he was effective and you couldn't bring him down. I used to give him a hard time all the time… Tommie was a winner. He was a winner, now.   – Ed Stewart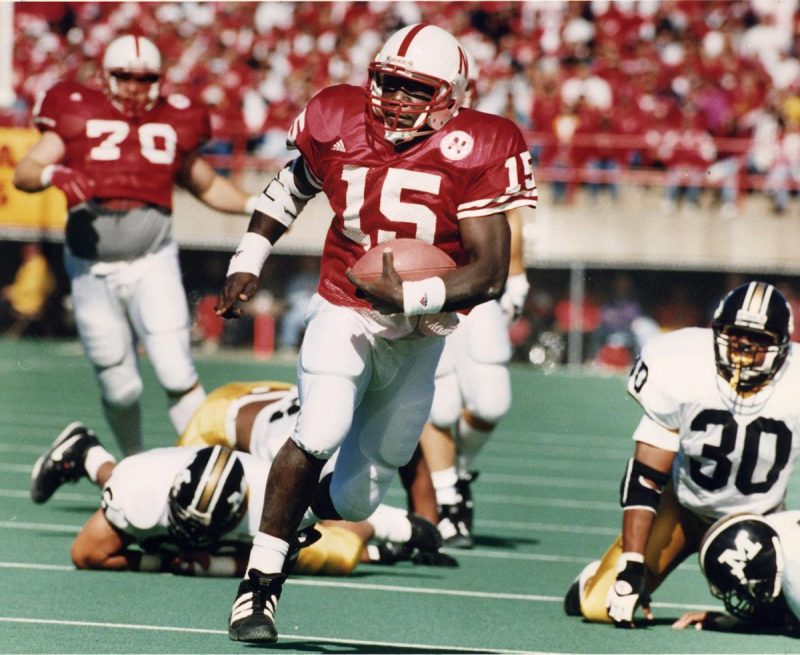 I was real surprised at (Tommie Frazier's) poise and his command, because he was a lot like us off the field. When we first got there Tommie Frazier was just Tommie Frazier. He was the prized recruit of that class and was pretty much down to earth, but when he stepped onto the field his level of poise and maturity and how he handled it, the game came so naturally to him and he made it look so easy right out of the gate, and it wasn't easy… he just 'got it'. If anyone was made to run the option, he was made to run it. It was tailor fit for him, it was the perfect scheme, he had the perfect coach mentoring him in Turner Gill, and then you had Coach Osborne really orchestrating the whole thing… – Eric Stokes
In their ability to overcome personal setbacks…
…you can't forget Matt Turman, after Brook Berringer got hurt. Brook was a wonderful guy as well, I can't end without saying a few things about Brook, how beautiful he was helping us win the national championship… Tommie Frazier, there's another guy who overcomes adversity. Tommie almost died, and to see him in that hospital in that bed with those tubes going through him and into his heart, it was all so impossible. It was a reminder of just how good I had things, of how you never know when you may go down… seeing him so motionless and immobile was scary…
– Kareem Moss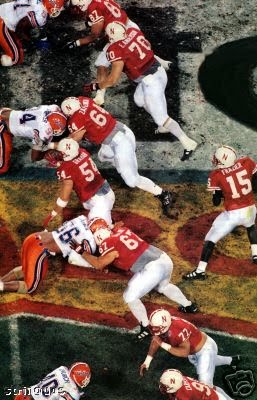 In their ability to get the first down or touchdown no matter what…
…and the thing I liked about Tommie was the intangible things. He wouldn't lose …he wasn't really that vocal, he just did everything with his play. But man, if you needed the big play you knew he was going to do it. His karma for sports was the best I've ever seen.    – Larry Townsend
I don't think (Tommie) was the greatest quarterback to ever play at Nebraska, but he was the best athlete in that position… Brook was a great quarterback and a good athlete, whereas Tommie was a great athlete and a good quarterback… you always figured (Tommie) was going to make something happen because he was a great athlete.  – Michael Booker
Tommie had a voice that was so small. He had a real serious voice. Depending on the situation we were in, we were all serious and focused, and we knew with Tommie handling the guys that anything was possible.    – Corey Dixon
By one's ability to keep personal ambitions from dividing the team…
…(Brook's) demeanor…a real calm, quiet guy… had ice in his veins, and that's kind of how Brook was… He was a silent leader. He wasn't definitely a vocal leader, rah-rah or anything like that, but a great teammate. He knew his role on the team, stepped in there. I know it probably had to eat him alive, because when Tommie was back and he went from winning all the games to standing there. He never complained, that was just Brook.     – Chris Dishman
Another kid who was special to a lot of people, and me in particular, was Brook Berringer: his personality and character. He was always kind of an underdog guy… He was hurt, had the lung injuries, and just ended up fighting back through those chest injuries and was a key element to getting us to that '95 Orange Bowl. That whole time, just a quality kid who never complained about anything, was really well grounded… Brook was really special: he'd be respectful, great work ethic.   – Jerry Weber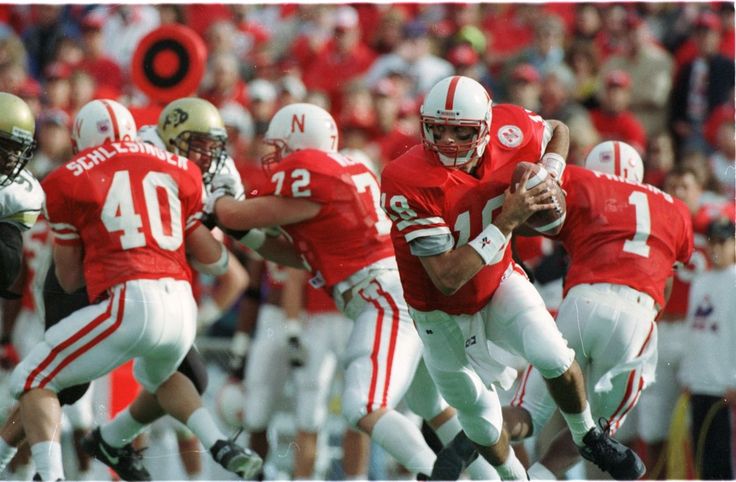 Despite personality quirks or off the field issues…
…to be honest with you, I liked Tommie and I thought he was a good dude and I thought he did a wonderful job, and the only thing I really didn't like was Tommie's arrogance toward children… I didn't always understand why Tommie acted that way… we had so many good quarterbacks, and had so many people try to be quarterback. We had so many quarterbacks hurt, we had Turman. Matt. The little Turmanator…he did a hell of a job when we needed him, didn't he? He was 100% a gamer. He could barely throw the ball fifty yards, but he stepped up his game and helped us win. He was awesome.  – Brian Nunns
Tommie was a great quarterback. He'll probably go down as one of the greatest college quarterbacks ever. Personally? That's beside the point. We were teammates and that was good enough. I got along with Tommie just fine… We didn't put him on a pedestal… he was good. Definitely the best… Tommie was all business, I'll give you that.               – Phil Ellis
I remember Brook always used to come in my office and I'd have a Rock station on my radio, and he'd always come in and turn it to Country. (laughs) I'd go, 'Brook!' It was just his thing. He liked country and he would always mess with my radio. And now, to this day, I like Country. And I can give him credit for that.  – Mary Lyn Wininger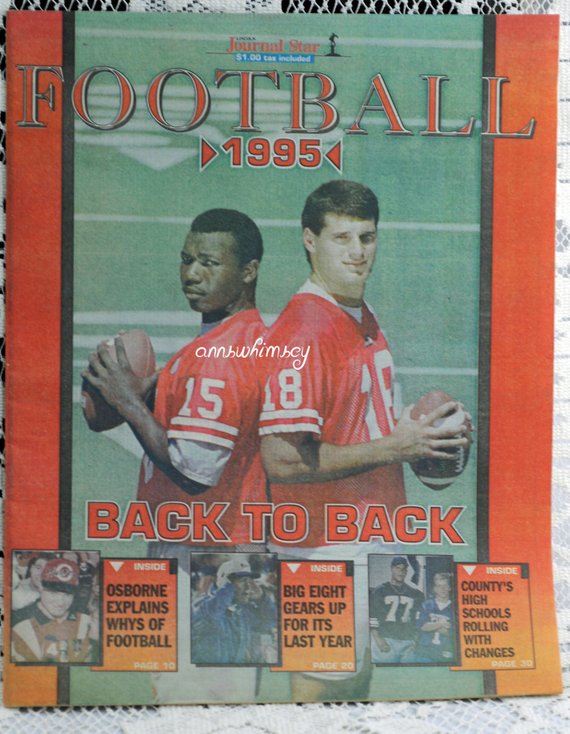 Brook always drove in such a hurry, like his hair was on fire… a good student, a smart guy. He kind of epitomized what was good about Midwestern life and character and hard work and what a Nebraska football player should represent, down to its core. Not just football, but off the field, as well, being a good student and all. He was kind of like Clark Kent back then. He was larger than life… he was such a person of faith.                – Chad Stanley
…the things that stand out are Tommie Frazier and Brook Berringer. Tommie was just a great option quarterback and great athlete, I don't think we would have won those national championships without him. On the other hand, Brook was just as talented a quarterback, but a different type of quarterback. And those two guys got along so well in my view; you didn't hear of any animosity between those two guys, and especially with Brook.  – Curt Thompson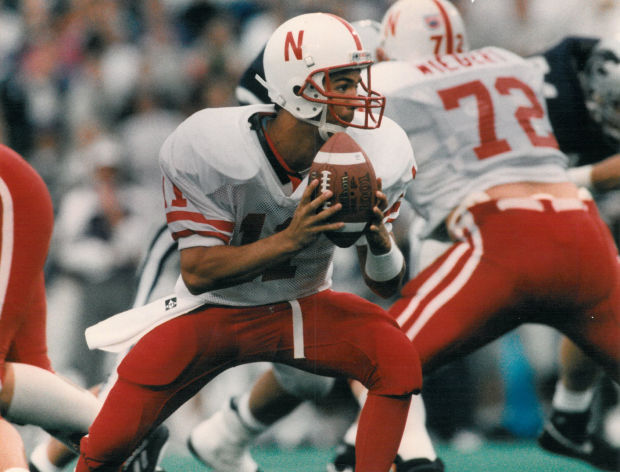 Playing a large part were the Team Captains and/or Unity Council representatives…
I was team captain and on the Unity Council, and Osborne loved all of us so much, he was getting literally 2 hours of sleep a night, and was literally thinking about quitting that year. And you don't want to be the team that had Coach Osborne quit. We kind of implemented "No bars, no drinking, you get caught with alcohol you get kicked off the team." Pretty strict rules, you know, for college kids, for ourselves, you know?  …So it was kind of like, "Alright guys, this is getting real out of control, so let's bring 'em in and take care of business and just do it." So we implemented some pretty drastic steps and I remember it didn't go over too well, but we got it done and just had to do what we had to do… and I can honestly say that no one on that '95 team would ever seriously think of doing that, going out to the bars or nothing. It was, "Hey, if you get caught at the bar, caught with DUI or anything, you were off the team." Even if you were a Captain, starter, non-starter, whatever, you were done… Zero Tolerance. It was unprecedented and you didn't want to do it, but you had to do it…  – Phil Ellis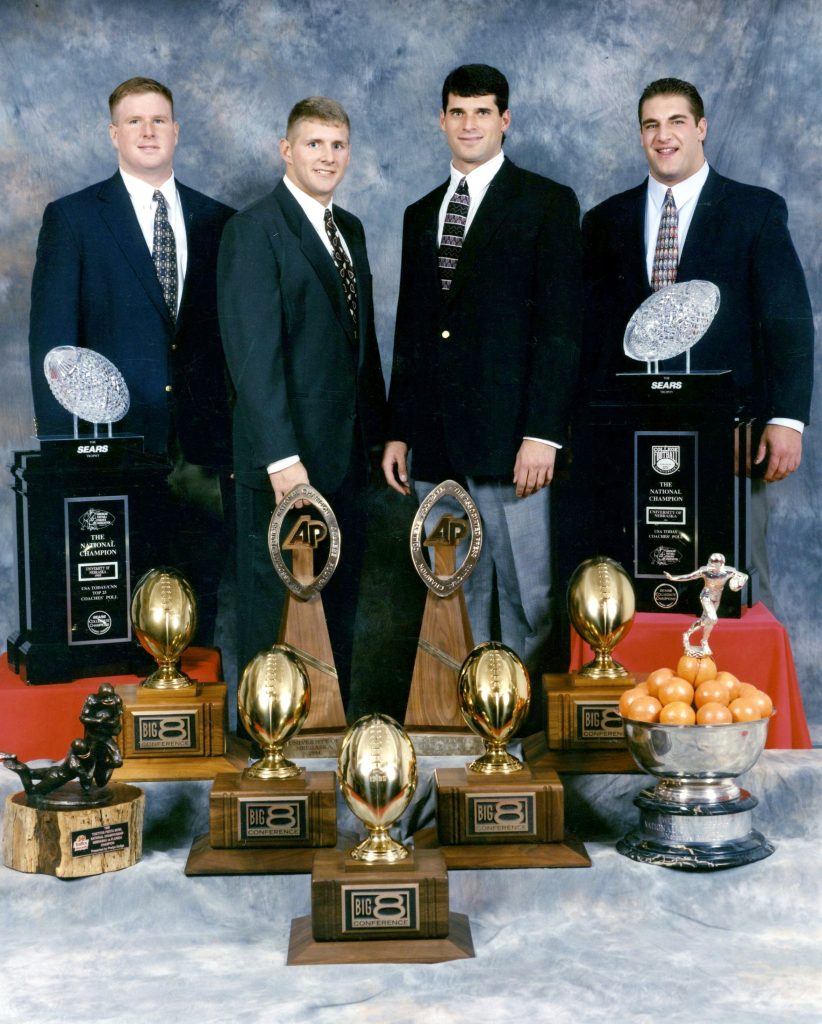 Aaron Graham, Phil Ellis, Brook Berringer & Christian Peter
Not only the coaches, who were of one mind as far as being physical and all that, but as players we had coaches out on the field: player-coaches. Players who would get up in your face when you made mistakes, players that would light you up when you made a mistake, players that would be there when you found success. We pushed ourselves as players at Nebraska. You have to take that on yourself. It can't just be the coaches that push you. You have to put in the extra work yourself and push yourself, doing extra fieldwork… going into '97, that summer we didn't have coaches out there pushing us. We pushed each other. We said, "Hey, look, if you're loafing, are you a part of this thing or not? If you are, we expect you to get up there and work just as hard as everybody else that's working hard." We got in their face.  – Vershan Jackson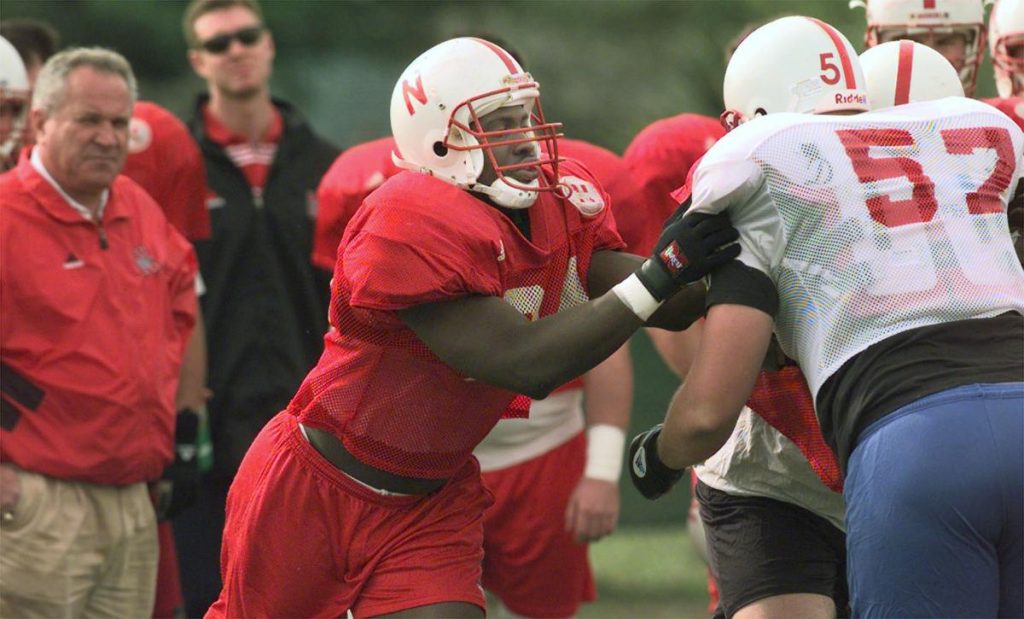 …it had to do with the seniors on each team and the captains who would get up and talk to the people and set the direction each week from the meetings. And we had the Unity Council, too, who would get up and say a few things. The upperclassmen were doing that, but the real thing would be the captains who would set the tone, and when those guys would say something it would be, 'How high do you want me to jump?'…I think the leadership we had really helped pull the guys together and keep everyone focused… I think Christian and maybe Tony Veland or Phil(Ellis) or Mark (Gilman), but those guys, wow. Christian would sure give a motivating talk. He had that East Coast swagger that sure brought some aggression…  – Damon Schmadeke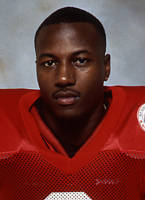 Tony Veland
I was really struck by the serious tone that the leaders had in that (Unity Council) meeting. I remember guys like Phil Ellis… this was really an impressive deal where these guys were the team captains and were representatives of their positions, and they set the tone that this was a serious meeting and what they were doing was important, and what their teammates had to say was also important… there were a couple guys that were brought in that had skipped a class or …they had to stand up in front of the Unity Council….It wasn't that they got yelled at, but they got a stern, respectful talking to, that, "This is not the way to conduct yourself if you are going to be a Nebraska Football player." … it was peer led and there was a lot of leadership, and I was really impressed by the way those guys conducted the meeting and how serious they took it… they could have been divided or broken apart and demoralized, and those players took it upon themselves to have that team meeting. And with great intensity the leaders grabbed that team by the throat and said, "This is how it's gonna be, and we're not going to let that man down. We aren't going to let anybody bring that man down," talking about Coach Osborne.  – Bill Doleman
Christian by far, is one. As far as leadership. His speeches prior to the game were tremendous. Just the way he acted and how he felt about the team we were playing,  you could hear him  breathe heavy, how he would show his emotion, it was how he could hardly control himself. You saw how intense he was…
– Mike Roberts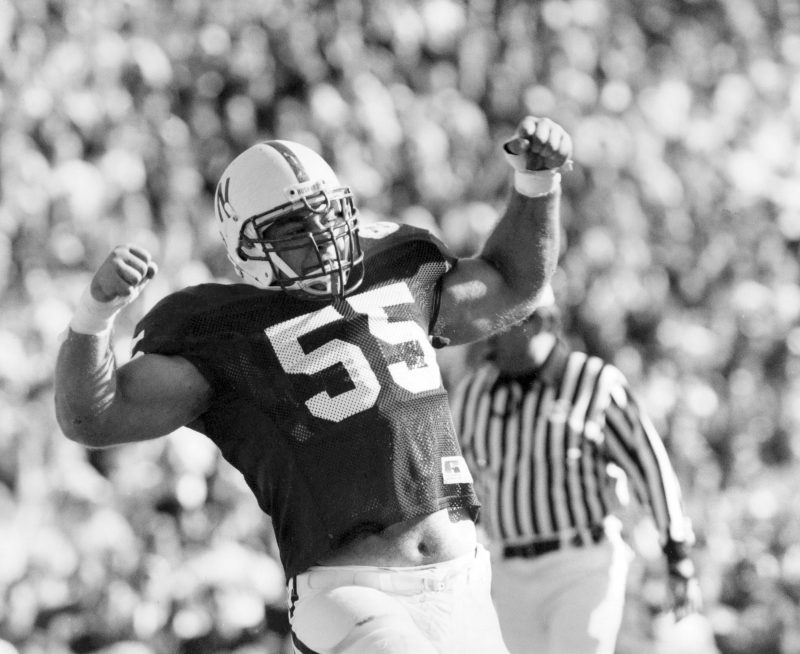 JEFF BEIERMANN/THE WORLD-HERALD
Was it, then, an amalgamation of all the different types? It takes all kinds? Definitely so…
…the attitude came from us collectively as offensive linemen. We just decided that we were going to be just dominators. It started off with Mike VanCleve, who was a tremendous artist, and he said, "Brenden, can you see something that has the word 'Dominate' and have a picture of two offensive linemen just bending guys over backwards, and their pipes just flaring up, the left and the right?"… Ed Stewart, great leader. A guy that sacrificed a lot trying to convert from a safety to a linebacker… And guys like Terry Connealy, there was a guy who was mild-mannered off the field, just a good gentleman, came from a great family, one of our captains, just great leadership from our captains. Every week a captain would get in front of our team …But Terry, you know, those type of guys who had just a complete and utter passion, for not only football, but Nebraska Football? Those are the guys you want leading your team …a guy who really made the team what it was.  – Brenden Stai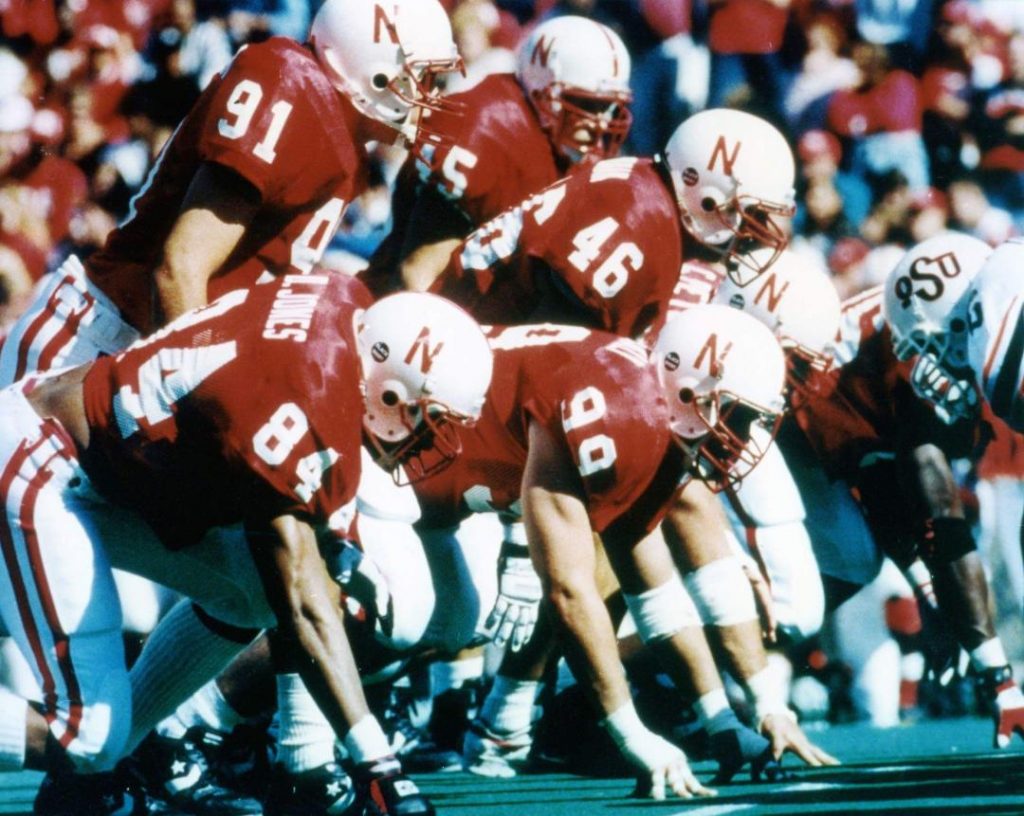 If you haven't noticed, some names appear again and again… and again: Parrella, Ramaekers, Peter, Connealy, Alberts, Reece, Wright, Miles, Anderson, Stai, Graham…
…guys like Troy Branch, Mike Anderson and the other guys involved really rolled that over and changed the mindset a little bit, became more servant-oriented. Those are just defensive guys that come to mind. The other guys like Terry Connealy, Christian Peter…  – Mark Cisco
Trev (Alberts) was, and Kevin Ramaekers was, and (John) Parrella. They were awesome guys there that literally were huge, figuratively were huge in their leadership…                    – David Seizys
As far as O-Line goes, I'd say Rob Zatechka, he was kind of the big ring leader on that …Brenden Stai, he was another leader of that group.  – Bryan Pruitt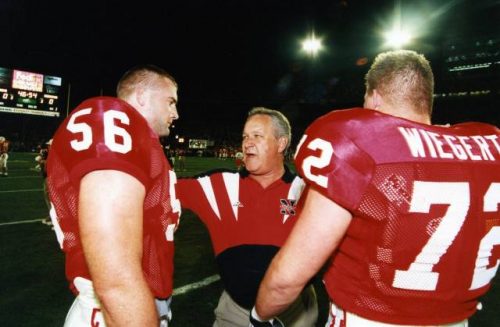 Pre-Game '95 Orange Bowl
Brenden Stai. I still consider him one of my best friends on this earth and I consider him one of the reasons why I stayed at Nebraska because, again, at first it was tough. When I met him it changed. He had the same love for the weightroom as I did, and working hard… we had a great combination of players at that point in time. We just had good personalities; you've got to look at a guy like Christian Peter. Now Christian Peter back then, when he played football, you almost wanted to put him into a 'musclehead' category, a 'dumb jock' category or however you want to do it, but you talk about a dude who could get you going? …Just in his comments and his being loud. It's just football, man: alpha-male football is how I can best describe Christian Peter. He was the one who would punch the locker, he was the one when we were doing winter conditioning he would be over there yelling the whole time at everybody, challenging the guys in his group to keep up with him, yelling over at the offensive linemen. Something you might perceive as a negative was actually positive, like, "Come on, fat boys!", things like that, to the O-linemen. People from the outside might see that as bad, as negative, but it was really the exact opposite. It was basically his way of saying, "Let's get it on together. You're here. I'm here. Let's all give it 100%." Guys like Christian, it was awesome. (laughs)    – Mark Gilman
But they were instilled in us, the leadership values… Parrella was a great impact player, too, in my book. Brenden Stai and Zach Wiegert were phenomenal, and Mike Anderson was a big impact player. There was Doug Colman, too…     – Lance Gray
Trev Alberts was clearly quite a leader on that team… Troy Branch was on that team and Kevin Ramaekers was involved there, and clearly Tommie Frazier early in his career had become a force on the team by then…      – Lee Barfknecht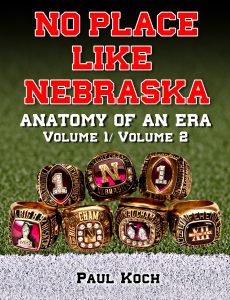 Available on Amazon.com
The foundation was laid by a rather un-diverse crew, with the names Kevin Ramaekers and John Parrella especially appearing ad infinitum. One could say with a great degree of accuracy that these two native Nebraskans lit the fire with their leadership, the genesis which paid off most handsomely after their departures. The torch then passed to Trev Alberts, Terry Connealy, Christian Peter, Jason Peter and Grant Wistrom most notably, their fellow defensive line-buddies who kept the locomotive moving forward along the tracks. They were a vocal, goading, extroverted group who manned up at every possible challenge, in-season and off. Then you had the offensive line and the likes of Will Shields, a quiet leader who displayed discipline, focus and near perfection, acting as the template and basis for the advent of the Pipeline, with Aaron Graham, Brenden Stai and Rob Zatechka most notably called out, followed by the Aaron Taylors and Chris Dishmans, et al. Quarterbacks Tommie Frazier and Brook Berringer played a key part in coalescing when it was time to call the snap count, but it all started with the linemen on both sides of the ball and branched outward from that root of the interior.
Copyright @ 2013 Thermopylae Press. All Rights Reserved.
Photo Credits : Unknown Original Sources/Updates Welcomed
Author assumes no responsibility for interviewee errors or misstatements of fact.
Summary Chapter to be continued…..