Anatomy of an Era: Final Chapter/DR. JACK STARK
Excerpted from Chapter 104, No Place Like Nebraska: Anatomy of an Era, Vol. 2 by Paul Koch
Anatomy of an Era: Final Chapter/DR. JACK STARK
THE EMINENCE OUTLIERS
Then there were the last additions to the staff, the two native Nebraskans who –I firmly believe- put the finishing touches on the organization's getting over the hump, who made the 5%-plus difference both mentally and nutritionally: Team Performance Psychologist Dr. Jack Stark and Performance Nutritionist Dave Ellis. These Eminence Outliers had a way of drawing the players to themselves by way of superior knowledge, accessibility and engaging personalities. Their impact was priceless. While one might have been visiting the locker room to gauge the mood or possibly even a players' home to talk things over until the midnight hour, the other was back and forth from his office to the training table to the sideline and all points in between, pushing water, fruit and foodstuffs into their bodies to top-off the gas tank…
Everybody. Those coaches, the players, from the nutrition with Dave Ellis to you guys in the weight room to guys like Jack Stark, the team psychologist who would talk to us once a week. I still talk to him to this day. What he told Coach Osborne before he hired him, he said, "I can give your players a 5 percent advantage." He would talk to us about that stuff, and that 5% was a big difference when we were already athletically talented, but to give us that extra confidence, that extra will, the way to prepare mentally for a game and prepare mentally for a practice and all that type of stuff… all those little percentages added up.  – Ahman Green
Eminence Outlier #1, the Team's Performance Psychologist, Dr. Jack Stark (native of Hastings, Nebraska)…
He was very well-connected with the kids and I knew he was having an impact and he was wired to the kids, and they talked. He had their attention. – Dave Ellis
Dr. Jack Stark, the team psychologist, he was always around my locker. And everybody was like, "Toby's crazy." He'd ask questions like, "It's really weird, Toby, you don't have a celebration dance after you make a play. It's different with you. It's not like you're ranting and raving after a play, it's like you have something different to prove?"    – Toby Wright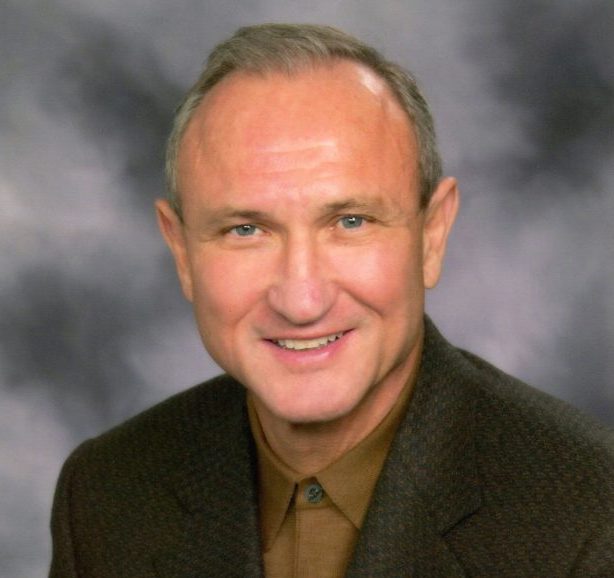 Dr. Jack Stark
He served as a mediator and liaison at times, summarizing the situation for everyone's understanding…
Jack was a big part of just being there every day for us if there was an issue, if someone had something going on or if they had a fight with their girlfriend or whatever, Jack was there to talk about it. Jack gave you the opportunity to be able to visit about things… I think it was an incredible thing to have a guy like him who was a part of our team and allowed the players to express concerns, even if it were something going on like when we were being worked to death, and Jack could make notes and express it to our coaching staff, "Hey, I think the guys need a back-off day to recover" or "Here's some suggestions: the guys would prefer to leave on Friday before the game instead of on Thursday like they've done in the past." Coach Osborne was very receptive to what we put together and presented to him.    – Aaron Graham
…he was great guy, really approachable guy. He knew when to keep things to himself, and other times he acted as a conduit with other coaches, position coaches or Coach Osborne. He could let the coaches know if something was going on in their life, their playing, their studying. But he definitely was a help… Jack was a great conduit between the coaches and helped get things settled and figured out.   – Chris Norris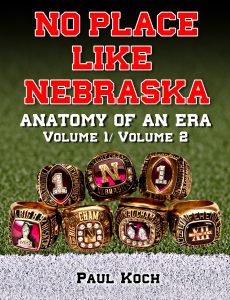 Available on Amazon.com
He performed his practice both en masse and one-on-one…
Dr. Stark was pretty big. I guess you'd call him our personal shrink. Jack would just talk to us. We were 19-20 years old and there were people shooting at people and getting shot, we had the Lawrence deal, we had rape accusations. I didn't actually talk to him personally, but he would just talk to us as a team, just getting up and explaining what the hell was going on. He would do his psychological thing. – Phil Ellis
Dr. Stark, he actually helped me out a lot. I was going through a lot of different things: I'm having a baby when I'm 21, I was still with my wife. I don't know, just a lot of pressure, I guess. Trying to go to school, trying to raise a kid, 'How am I gonna do this?' That kind of stuff. Dr. Stark, he did a lot for me. I went in and met with him, not all the time, but we'd talk and he'd help me through it. Looking back, it was a lot of pressure for me having to raise a daughter. – Chris Dishman
…one guy who needs some due, it's Jack Stark. Not a lot of people back then had a sports psychologist. It's kind of touchy-feely to what you'd consider warrior men. When they started that Unity Council and I got there in '91, there was actually some racial tensions on the field. It wasn't bad, but it wasn't good. It wasn't positive toward the chemistry of the team, but once they started that Unity Council and Jack counseled these players, this was about the time we started seeing a lot of guys from some broken homes and some bad backgrounds and didn't have any family, Jack kind of took them under his wing and counseled them through college and talked them through their problems, and we could go to him about anything. And he deserves a lot of credit during that run.
– Chad Stanley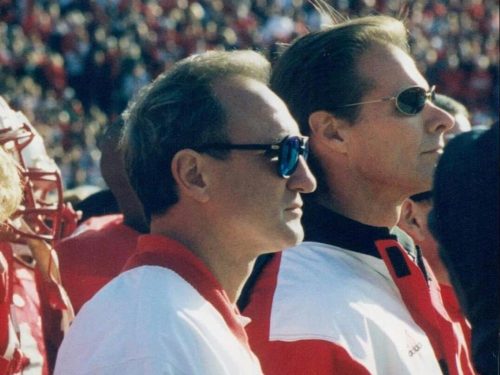 Team Psychologist Jack Stark and Boyd Epley on the sideline
He was the prime figure in originating and facilitating the player-led Unity Council…
Jack Stark is a big one. I think just in terms of the work that he did with the players… he was a guy who revolutionized (sports psychology), at least for Nebraska, and took it to a whole other level. In terms of a behind-the-scenes guy working with players and keeping some guy's heads on straight, keeping the unity and working toward the common goals, Jack did a solid job… And I think the unity within the team was something that he always preached, but there was a process to go through to find the best way to do things, and I think working with Jack Stark and implementing the Unity Council, I think that's where you started having that final piece of placing that plan into place.  – Rob Zatechka
Jack brought the ability or brought the opportunity through the Unity Council, which he and Coach Osborne formed for us to give the players a voice, which is a big deal. As far as communication from the players to the top level, that was an unbelievable story in and amongst itself. – Aaron Graham
Jack Stark, I think, had a huge impact when him and Coach Osborne developed the Unity Council, made the players accountable to one another where they kind of policed themselves, where you didn't really have the coach being the bad guy. It was where you didn't want to let down your peers.  – Curt Thompson
…unity was very important. I think Dr. Jack Stark had something to do with that, the Unity Council, better communication from the coaching staff about, "This is your team, not ours. Seniors need to step up."  – Trev Alberts
…he had a lot to do with helping the guys formulate some sort of -from a psychological aspect- formulating some of the stuff… on the board for the Unity Council.                  – Brenden Stai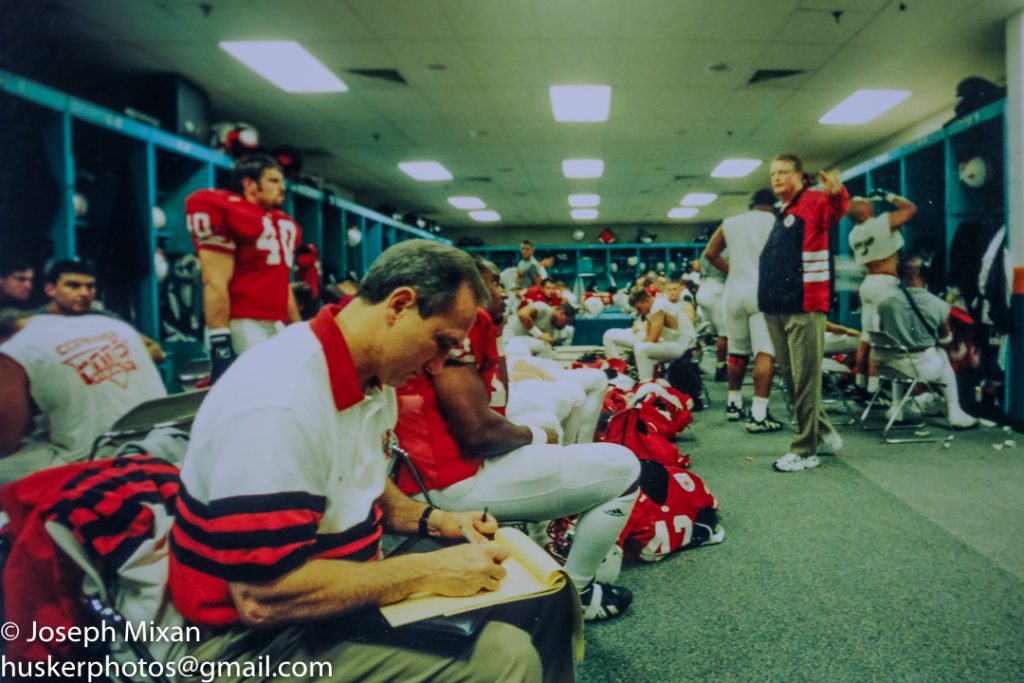 He performed his motivational magic right up to the minute before game time…
…the innovation Jack Stark brought to the table was great. – Dave Ellis
He did a lot of visualization stuff, he'd make tapes and do that kind of stuff. Spent a bit of time with him, too. He was helping me out when I was there for graduate school, too, so we had a good relationship.  – Joel Wilks
Copyright @ 2013 Thermopylae Press. All Rights Reserved.
Photo Credits : Unknown Original Sources/Updates Welcomed
Author assumes no responsibility for interviewee errors or misstatements of fact.
Summary Chapter to be continued…..
---
---
---