Anatomy of an Era: Ed Stewart, Part 2
Excerpted from Chapter 75, No Place Like Nebraska: Anatomy of an Era, Vol. 2 by Paul Koch
Anatomy of an Era: Ed Stewart, Part 2
Q: Do you recall any differences between Chicagoans and Lincolnites?
ES: It was different coming from the big city as an African-American male, growing up in the city on the South Side of Chicago and coming out to Lincoln, Nebraska and the farm and going to class with people from very small classes in very small towns. That was very different. And that was the one thing that was really unique about our team -where you might experience some of those differences in that community there?- but our coaches did a really great job of breaking down any barriers or any real or perceived differences within our team structure.
When we got together as a team it was just that: a team. We were all Nebraska. We were trying to get the N on our helmet and representing the state. That was something that really stands out and was really powerful about what we did and why we were able to operate so well as a team and not a lot of individuals.
Q: Does a specific methodology come to mind in how they went about wiping away some of those barriers of provinciality, culture, race, etc.?
ES: I think the one thing that was unique -and I don't recall any other teams in the country doing this- but as freshmen coming in when we came in, they made an effort to pair us with our incoming freshman teammates. I remember Brenden Stai and I were paired to room together. So it wasn't a situation where we just let all the black players go together and all the players from California stay together. It was a conscious effort, I think, that "we're gonna take a guy from this place and then take a guy from that place and were going to put them together, and they're going to live together."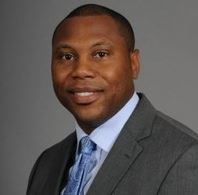 Q: How was that for you?
ES: It was great. We had some great times over there in Abel dorms. Then we had the Unity Council that got started -I can't remember if it was '91 or '92- but I remember the Unity Council being something that I actually tried to duplicate during my time at Michigan State and even to varying degrees at Missouri and so forth.
Q: Ed, this book essentially starts at the end of the '90 season, after the Citrus Bowl loss to Georgia Tech where we had a somewhat down year, if one could say that…
ES: I remember that.
Q: ….and dare I say, the sea-change that fully came to fruition your senior year against Miami for your first national championship. Is that right?
ES: That's right.
Q: Well then, let me ask you: the tenor of the team… it seems like there wasn't quite the greatest bond, the team unity, the intensity of work ethic back in 1990 as it was in '93 and '94. Would I be correct in making such a statement?
ES: I think that's safe to say. I think that going into the program in those early years in '91, '92, it was developing. It was developing and we had a great freshman class that came in '90 including myself, Terry Connealy, Kareem Moss and Zach Wiegert and Rob Zatechka and Donta Jones and Dwayne Harris and a lot of those guys. We came in and kind of had a focus and determination that we wanted to do some big things, and we wanted to perform at a high level. So that groundwork was laid in '91 and '92 with some disappointing seasons for Nebraska standards, and losing some bowl games.
I remember playing in '91, I think it was, against Miami and losing 22-0, and being out on the field at the end of the game and feeling the most humiliated that I think I have in an athletic career. And I remember looking around in the defensive huddle there with maybe 8 minutes to go and you're down twenty-two to nothing, but there was a sense of 'fight' in that huddle, where it was, "You know what? We might lose the game, but we're not going out like that. We're gonna play hard, we're gonna try to smack somebody in the mouth, and we're not going out like that." That was the lasting memory of being out on that Orange Bowl field in '91 and losing 22-nothing. Sometimes I look at teams now when they lose by like fifty points and I'm like, 'How do you let that happen?' At some point pride has to come in. At some point you have to say, "We're not going to let somebody do that anymore." That's why I think the framework was laid.
That '93 year -I still tell people I believe that '93 team was really, really spectacular, and it was just a huge disappointment that we weren't able to pull that game out against Florida State- but I think there was a level of resolve as a result of that game during that '94 season. It was full buy-in, and everybody was committed to getting back to that stage and not walking away empty-handed again.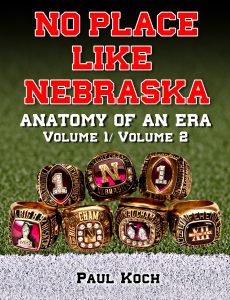 Available on Amazon.com
Q: Personally, do you have any recollection of your own mental/emotional self after that Florida State game?
ES: It was just to look the guys in the eyes, like Trev Alberts and Toby Wright and John Reece and Kevin Ramaekers and those guys, and to feel the level of disappointment that they had, that that was their last shot that they had. And to know that coming back the next year, that you were going to be a senior and you had to be the leader and had to set the tempo through the spring practice on. Early on we talked about first getting there, and I have lasting memories of watching Kenny Walker and Reggie Cooper and Tyrone Legette and John Parrella and those guys flying around, and that really embodied… that was awe-inspiring. And to see those Blackshirts flying around, like Tyrone Byrd and those guys, damn! You said, 'Damn! This is big time, now! If you get one of those Blackshirts it is special.' And I was fortunate to be able to have one for three years.
And I have to say, somewhere down the line, and even since we've left, some of that intensity and that work ethic maybe slipped away a little bit, guys kind of felt a sense of entitlement, but I see them getting back on track there.
Q: Do you recall the first game you played in, Ed?
ES: (laughs) I do. I do. Well, it probably wasn't the first game, but the memory I have, the biggest game, I was a redshirt freshman and we were playing Washington at home the third game of the season, and I remember leading up to that game hearing Coach Steele telling me, "Ed, you be ready to play. We're going to get you in the game early."
And you hear that from coaches all the time, right? So it's the ballgame -and I'll never forget, we're playing there in Memorial Stadium, Lincoln- and it's the first, second or third time that Washington had the ball and Coach Steele yells out, "Eddie!" So I go running out on the field and I remember breaking the defensive huddle, and I remember Mike Petko being arm's distance or more away from me making a check, and I remember looking at him and just holding my arms up, because the crowd was so loud and so hyped, I couldn't hear a word he was trying to say to me. (laughs) I don't think that was the first game I got into, but that is the lasting memory I have from early on, of being out there and really feeling the intensity of what was going on.
Q: And I think that was Napolean Kauffman, their great running back, in that game, right?
ES: Yeah, that was the year they had Napolean Kauffman and Steve Emtman. They had some really good players.
Q: I remember being in the stands for that game, Ed. A heck of a game, which was a loss, but it was a fight. So, do you have any favorite play you made throughout your career there?
ES: I don't know if I have one favorite. There were so many great plays, so many great moments. I really had an affinity for going out on the road. You had the travel squad, which was only about 70 guys, going into a stadium and it was just you against the world. And at Oklahoma, I believe it was '92 or '93, we were on the road and it was a competitive game early on, and Oklahoma was playing pretty well and we weren't getting off to a great start, and I remember stepping in front of a Cale Gundy pass -it was one of the Gundys- and picking it off and running it back fifty yards for my only touchdown, I think. That play stands out. It was a game-changer. It was making a play and making the crowd… being able to silence a crowd of 80,000 people is always pretty cool.
Q: That's beautiful. Any funny plays that you giggle about thinking back on? Any whiffs or anything like that?
ES: (laughs) There's a couple, now. I remember we were on the road playing Kansas State and Chad May and those guys and Bill Snyder was really getting that program going, and I remember Barron Miles and I were playing some kind of a little complicated scheme. And of course, I was playing WILL linebacker, and I was the adjuster and going out covering the slot receiver, and we had some funny combination routes on defense we were playing. And I tell you, I probably blew three or four coverages that game, but Barron Miles was so special at that cornerback position, he bailed me out a couple times in that game and he'd bat the ball away. And we just kind of looked at each other and smiled and laughed. (laughs) A few times.
Q: "You owe me dinner after the game, Ed." Huh? (laughs)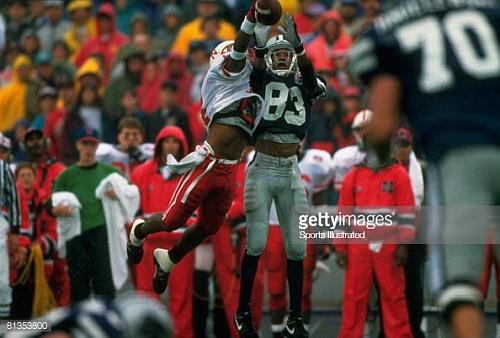 Not big enough to play corner? Not exactly.
ES: It was awesome.
Q: Any memorable practice occasions?
ES: Goodness, practice occasions. I'll tell you about practice. One of the reasons I think that we worked as hard as we did was because of so many of the walk-ons that we had and as hard as they would bust their tails, knowing that they weren't going to get much, if any, playing time in the game. That was a very motivating factor. And you'd sometimes find yourself in practice looking at some of these guys and wondering why they're pushing themselves as hard as they were. And it really kept you on your toes and made you push yourself even harder, because there was a level of competitiveness in our practices.
That was one good thing about the way we practiced: practicing hard and the way we had our stations. I think our backups would get almost as many reps as our starters because we had those four stations that we rotated. And it was just the level of intensity that you had to practice with, because if you weren't practicing well the guy behind you was nipping on your heels to be able to get out there and have playing time, as well. So you had pressure from the front as far as the competition coming up, and you had pressure from behind from your own guys keeping you on your toes and not letting your guard down, so to speak.
And it was just an admiration, too, and appreciation for the little guy. Almost like that Rudy movie, to see those guys that invested in something. You're sitting there as a starter and you've got your Blackshirt and you're looking at this guy who is as committed to the process and is giving as much of himself as he is? It's special, man. It made you look at those guys with a level of appreciation and made you work that much harder.
Q: Any names of those guys stand out to you?
ES: Well, you know, Aaron Penland was a guy who gave us all fits when I played there, Matt's little brother. And a lot of the little fullbacks when they came through there, the younger Makovickas. I remember when they were walk-ons and joined on there and then you saw them have success at the end of their career after you'd gone, that was special.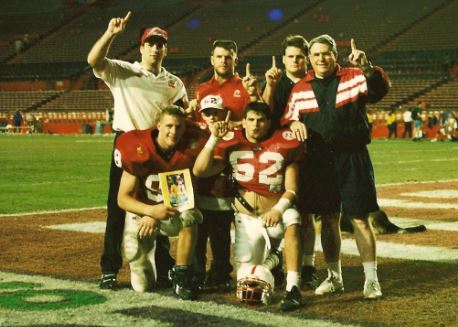 Q: Ed, from an organizational perspective, were there any intangible things that made the quantum jump from that 22-0 Miami-Nebraska game to the 24-17 Nebraska-Miami game?
ES: You know, I go back, and the things that I think about are: preparation, putting in the work, putting in the effort, being disciplined, being accountable. We were always taught to play with discipline, play with poise, play hard, to be accountable, to play together. And when you look at coaches and watch coaching trees nowadays -and I've had to hire coaches- you look at their pedigrees or who they were associated with, and when you look at all those coaches at Nebraska and how they stayed there for so long, there's a reason for that. Tom Osborne had a lot to do with that, because you had some really good coaches who I'm sure could have gone on and been successful head coaches: whether it's a Charlie McBride or a Coach Solich and what he was able to do, or a Tony Samuel or Kevin Steele or any number of guys, but they were vested and they stayed in that program, and that obviously tells you that there was something that was going on, a chemistry there among the staff that was very good, to where those guys were committed enough and felt good enough about the place they were in, the way they were treated and the way things were done that they wanted to stay.
Q: So to conjure a metaphor: the coaching tree of that era is just one long, tall, skinny trunk with sparse branches, because nobody ever seemed to leave. (laughs)
ES: Exactly.
Q: Can you point to anyone behind the scenes who meant something special to you or to the team in general, who you feel has never gotten their due in the way they made a great difference during that time?
ES: Wow, you name them: George Sullivan, Doak Ostergard, Bryan Bailey. A lot of those guys were critical in the trenches. I used to think that old nursery rhyme, Humpty Dumpty, was about me because George Sullivan put me back together again and again. (laughs) It was ridiculous after a game on Saturday.
Our academic staff, Roger and Dennis and Keith, what those guys did. And some of the guys who worked there in the dining hall, I think it was Rolan. But there were just so many people in and around the program. Jack Stark. Just a lot of guys that were in and around the program, Doc Clare and those guys. Just really good people around the program. But George Sullivan really sticks out to me.
Q: Was George 'your guy'?
ES: Yeah, George was my guy. You had George (Sullivan) and Doak (Ostergard) and Webex (Jerry Weber) there, but George really put me back together a lot of Sunday mornings.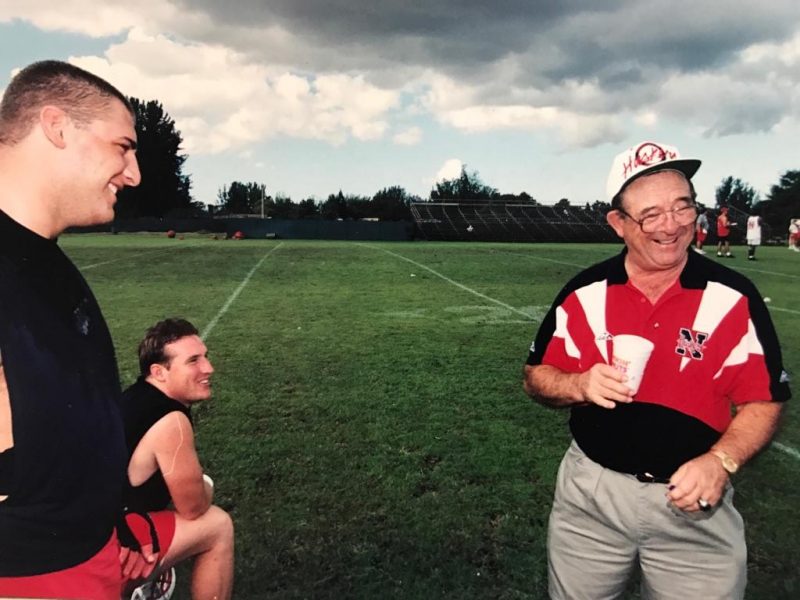 Q: And speaking of, I couldn't help but notice in film from the '95 Miami game, the second half you came out after halftime with what looked like 4 entire rolls of athletic tape wrapped around your upper thigh, your quad. What was that all about?
ES: I had a hamstring. But I wasn't gonna miss that game, so they taped it up. I remember those guys telling me over there, "Yeah, it's pulled." But what are you gonna do?
Q: So you played that second half in a bit of pain?
ES: Oh yeah. (laughs) Oh yeah, but I wasn't going to miss that game. I wasn't going to come out of it. But they were able to spare me, and Terwilliger got to play a lot. And I think it goes to the credit of backups being prepared and ready to go.
Q: I just remember your grass-stained and blackish pants, and all of a sudden there's this bright, white racing-stripe going around your right leg, I think.
ES: It was my left leg…
Q: You were swinging that thing like a peg-legged pirate…
ES: It didn't move like it was supposed to, but we got it around. (laughs)
Q: So that being your last game, do you have any recollections burned into your memory from the game? One you'll never forget?
ES: You know, Coach Osborne was very prophetic at that halftime. I remember our game plan going into that game. It was, again, a lot about poise and being well-prepared, but I remember specifically at halftime him commenting on the aggressiveness of the game and him driving the point home to keep our heads and keep our composure in the second half and that something was going to happen, and to just walk away and let the other team get the flag. And sure enough, I believe Miami got two personal fouls in that second half and that was a product of our guys being composed and walking away as opposed to engaging in something and getting a fifteen yard penalty.
Q: I remember Christian being on the ground and some guy just giving him a jab, a shot, as he lay on his back. And Christian didn't respond with a blow.
ES: I don't remember that, but I do remember Coach Osborne saying, vividly, at halftime and going through the scenario and it was almost prophetic at the end, "Just walk away." Because the game was very chippy, it was very competitive and intense, and him telling us something was going to happen and, "You just be composed and be disciplined and walk away." And I'm telling you, sure enough it happened.
Q: I've always had respect for Christian for not swinging back at that guy and retaliating with a punch, Christian being Christian and his fighting spirit….
ES: And if you knew Christian, that's hard for him to do. (laughs)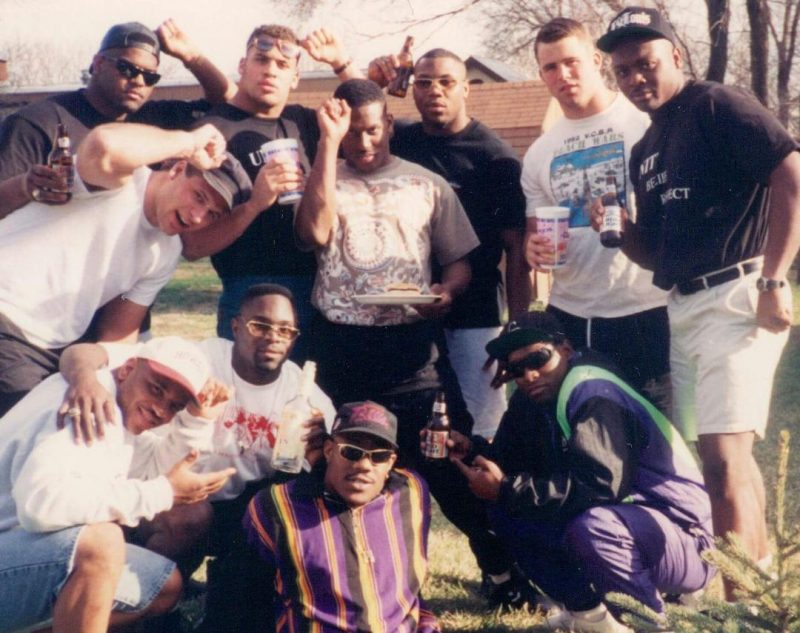 Carb-loading with fellow Blackshirts on a summer evening
Q: Exactly! And speaking of Christian, what about him? Any specific memories of the guy?
ES: He was crazy. (laughs) That's about the best definition you can have. (laughs) Those guys were great, that I got to play with: Donta and Dwayne and Connealy and Christian and all of those guys, there were just a fun bunch to be around. I always thought those D-linemen were a little nutty. And you've got to give my guys a little credit: the Mike Andersons and the Doug Colmans and Phil Ellises and Ryan Terwilliger and Jamel Williams coming on, and Aaron Penland and (Mike) Petko and Matt Penland when I was a younger guy, and Darren Williams, just a real good group of guys. The linebackers always sat together at our movies and would bring snacks and candy and everything to the movies; just little things that were a lot of fun.
To be continued….
Copyright @ 2013 Thermopylae Press. All Rights Reserved.
Photo Credits : Unknown Original Sources/Updates Welcomed
Author assumes no responsibility for interviewee errors or misstatements of fact.