Anatomy of an Era: Darin Erstad, Part 1
Excerpted from Chapter 79, No Place Like Nebraska: Anatomy of an Era, Vol. 2 by Paul Koch
BOB DYLAN: …and the next thing I know I'm in Omaha. It's so cold there, by this time I'm robbing my own bicycles and frying my own fish. I stumble onto some luck and get a job …out at the hot-rod races every Thursday night. I move in with a high school teacher who also does a little plumbing on the side, who ain't much to look at…Everything's going good until that delivery boy shows up and tries to knife me. Needless to say, he burned the house down, and I hit the road. The first guy that picked me up asked me if I wanted to be a star. What could I say?
PLAYBOY: And that's how you became a rock-'n'-roll singer?
BOB DYLAN: No, that's how I got tuberculosis.
-Nat Hentoff, PLAYBOY INTERVIEW: BOB DYLAN, Playboy Magazine, February 1966
Life sometimes throws you a curveball. Nebraska was no different. Who would have imagined that a now-famous North Dakotan would have made his biggest splash for Nebraska Athletics by swinging his leg rather than a baseball bat? By now you probably realize that I haven't been the least bit reluctant to search both high and low, left and right for subtle, sly and eclectic insights into the great "60 & 3 Why and How?"
In this case, you could say I found my man low and outside, as most Major League pitchers would have been smart to do when it came to facing one Darin Erstad over the course of 14 professional seasons. That rare multi-skilled talent with an equally gritty, determined inner resolve to match, he was a Roy Hobbs-ian figure of 'The Natural' proportions during the 1994 Husker Football season. Later winning a World Series ring with the California Angels and earning membership on the American League All-Star Team as a three-time Gold Glove award and one-time Silver Slugger award winner, he spent only one season as the Cornhusker's punter and part-time field goal kicker. Tom Osborne was quoted as saying, "In retrospect, we might've won two (titles with Erstad)…He could kick it 50 to 55 yards, and he was good under pressure." (Curt McKeever/ Lincoln Journal Star huskerextra.com | Posted: Thursday, June 2, 2011, This time, Osborne knows not to hesitate on Erstad)
Prior to his move to Lincoln as a volunteer assistant baseball coach and his eventual taking-up of the mantle of Nebraska Baseball, I caught him at his family's home plate in southern California. Figuring he could give me a very seasoned, multi-faceted and angled approach to that era, Darin gave me nothing but straight fastballs, as is his usual doggedly determined demeanor. Let's give Darin a good listen as he ruminates on the concept of leadership…
Notable quote #1:
"All the successful teams I've been on? It starts at the top. And there's an attitude that's brought. Coach Osborne, he brought that mentality and all his coaches believed in him and they were all on the same page, and it trickled down to the players. It starts from the top."
Darin Erstad      
Scholarship recruit, Jamestown, North Dakota, Punter/Kicker
Where are they now? Lincoln, Nebraska, Coach                               
Question: So tell me, Darin, how did you end up at Nebraska?
Darin Erstad: Well, Steve Gillespie, the assistant baseball coach, was our Legion baseball coach one summer. He gave my name to John Sanders when I was 16 or even earlier, and they knew about me before a lot of other people did. And I went on a recruiting trip there -and Creighton asked me to go on a recruiting trip- so I chose Nebraska over Creighton. They were the only schools to recruit me. (laughs)
Q: You played a number of sports in high school, didn't you?
DE: Yeah, we didn't have enough people to go around so I played baseball, hockey and track. There was no specializing in a sport. I was just playing whatever they needed you for.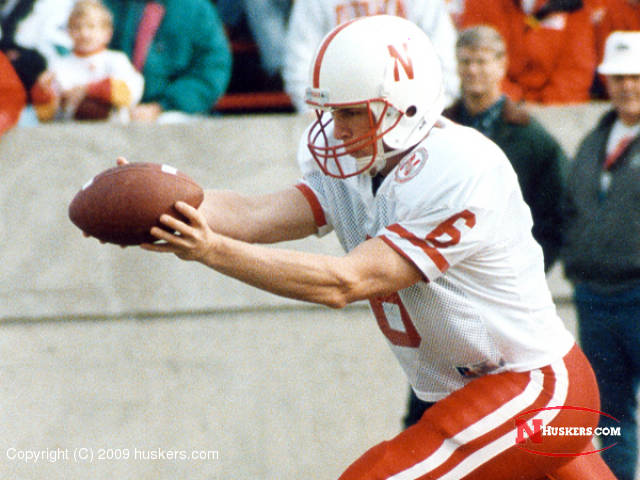 Q: How large was your school, Darin?
DE: I graduated with about 220.
Q: I think I remember the first day you arrived in Lincoln. You and fellow baseball recruit Marc Sagmoen came into the weightroom and sat down on that bench area there. I could sense that you wanted to light that place up.
DE: Man, you have a better memory than I do.
Q: Well, if you remember, John Sanders at that time pretty much discouraged baseball players from being in the weightroom, so to see you two show up there was something of an anomaly.
DE: Yeah, we didn't lift that much, did we?
Q: Coach Sanders was old-school, man. I'd go into his office and show him these fantastic training programs I'd dreamed up and almost beg him to let you guys in the weightroom, but he'd just clip his fingernails and say, "Nah, we'll just have them run a few miles." (laughs)
DE: Yeah, that's definitely different than what it is now, isn't it?
Q: You've got that right. Well, I know you have pretty unique story about how you became a punter on the football team: Didn't you have to solicit help from some buddies on the baseball team to videotape your punting and then give it to the football coaches or something like that?
DE: Yeah, I guess it had to do with some NCAA rules. On Fridays we'd go in the Cook Pavilion and play football for conditioning. And after we were done we'd just screw around and kick the ball. Well, word got back that I was kicking pretty good, and the (coaching staff) called over to the baseball office. They called over to the baseball office and said, "We've got a year where we could use a punter. Is he interested?" I said, 'Well, yeah!' So they said, "Well, we can't watch you. You can't try out. You can't walk on because you're on scholarship in another sport, so what you have to do is have some of the baseball players film you." And they told me exactly how they wanted it filmed: with the wind, into the wind, et cetera. And I took the tape up to Coach Osborne's office and sat down with him in his office and we watched it, and he asked me if I wanted to play Nebraska football. I said, 'Yeah.' And he said, "Are you sure?" and I said, 'Yeah.' I walked across the hallway to the secretary's office and signed a piece of paper to switch my scholarship to football and walked out of there a two-sport athlete at Nebraska.
Q: Holy cow, Nebraska's version of Bo Jackson, huh?
DE: Well, I was a kicker and punter, remember. I wouldn't go that far. (laughs) Now, I don't put myself in the class of him and those other guys like Deion Sanders. I make sure everybody knows that I punted and kicked, because I was not out there with those guys.
Q: Oh, come on. You were plenty athletic, Darin. I remember that two-point conversion that you and Jon Vedral teamed up on. That was pretty athletic…
DE: I could hold my own, but those guys where just a different breed of animal altogether.
Q: (laughs) I'm just giving you a hard time. So did your parents know you were up to the whole kicking bit?
DE: I don't remember the details. I tell them everything, and they supported whatever I wanted to do. They hardly ever tried to push me in a certain direction. They just supported what I did.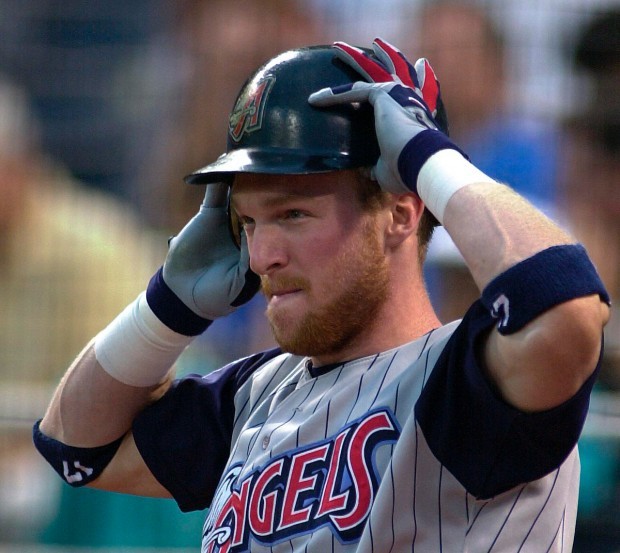 Q: You were a pretty active kid from the get-go?  You didn't need much pushing?
DE: No, I had a little self-motivation. They just were supportive and always there. That was enough for me.
Q: Interesting. And I have to ask: Could you sense a different culture between the baseball and the football locker rooms? Do you remember any differences?
DE: Well, it's two totally different cultures. I mean, baseball locker rooms and a football locker room, they could not be further apart. They are so different. Baseball teams and that part of it, it's much more like a family. The football locker room is harder. Heck, there were 80 or 90 people in that locker room. It's just hard to get along with everybody or talk to everybody, so it's just kind of broken up into different positions. It's much more family-oriented type of feeling in baseball, but I think that's just probably because of the sheer numbers in football.
Q: Do you recall your locker room neighbors?
DE: In football, I'm pretty sure it was Brook Berringer and Tony Veland.
Q: They didn't even make you spend some time in north stadium, huh? (laughs)
DE: Yeah, I got thrown right into the fire.
Q: So you and Tom Seiler were the top kickers at that time, right?
DE: Well, Byron Bennett had just graduated and exhausted his eligibility. They didn't have a punter, really. Jesse Kosch was there and Bill LaFleuer was there, but they might have been redshirting that year, so they brought me in as another option and it worked out well.
Q: Do you recall any of your first practices? How they were run, how they operated?
DE: Well, I was in awe for a couple weeks there. I'd never been a part of anything like that playing a part of high school football. And we worked hard and everything and it was structured, but not like this. That clock strikes down and the whistle blows and everybody switches their stations. It's chaos… controlled chaos. Everybody knows where they're going. I had no clue where to go for meetings, what time to go. I just followed everybody. I didn't say a word for probably a month. I just kind of went where everybody else went and kind of worked my way into it.
Q: Anyone befriend you or take you under their wing?
DE: Brook (Berringer) was really nice to me from the get-go. The long-snappers Aaron Graham and Adam Treu, they were really friendly right out of the gate. And the holders, Jon Vedral and Matt Turman, they were really good, too. I think Brook held a little bit in practice, too, I think there was a bond there. The other kickers weren't happy with me, that I came over and was competing with them for playing time. There was a little bridge to cross there, but we ironed it out.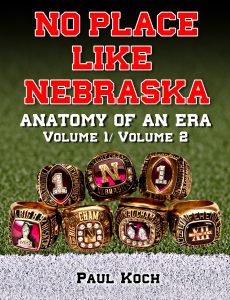 Available on Amazon.com
Q: So Coach Young was the kicking coach, right?  What could you tell us about Coach Young? How would you describe him?
DE: Coach Young, I loved him. He just let you kick. It was perfect for me, because I didn't have any instruction, just kicked the ball my whole life. I just kicked it. Well, he just let me go, didn't tell me anything, you know what I mean? He didn't critique the way I kicked, just let me be athletic and kick it the way I kicked. He just let me be athletic and do it the way that I did it, and for me that was the best way I'm coached.
And the thing that was great, as soon as I ran into trouble -I ran into a little bit of trouble with my footwork on punting– and he just watched… almost waited until I said something. Then he came to me and told me what he was thinking, and it was great. It was just a perfect match as far as a coach and a player.
Q: Someone the other day described Coach Young as a genius…
DE: Yeah, I've heard that, too.
Q: Do you recall any of his notoriously funny phrases or sayings?
DE: No, I'm terrible at that. You have to remember, I was only around for one football season. I didn't get the full season, didn't get to hear everything and I kind of stayed in the background, so I don't remember that stuff.
Q: Prior to your punting that year in '94, did you go to the Cape Cod League for baseball earlier that summer, also?
DE: I went the year before that, too. They actually gave me a bag of balls. They had like five or six footballs. They told me while I was out there to punt a few times. So I'd go out on a soccer field a couple times a week by myself and punt it and get it. I didn't have anyone else to kick with, so I just did it by myself.
Q: So everybody is throwing around bags full of bats and gloves, and here you are throwing a bag of footballs on the team bus?
DE: Well, the Cape Cod League is really different: there's no buses. All the places are relatively close, so when there's a game on the road you just drive yourself there from your host family's house. It was very individual-orientated. My host family, she was a widow and worked all day, so I was by myself in the middle of the woods. I mean, there wasn't anyone within five miles of me who was on our team. So I just had to find a soccer field, which I happened to luckily run into one day where I saw it as I was driving home, so I just used that.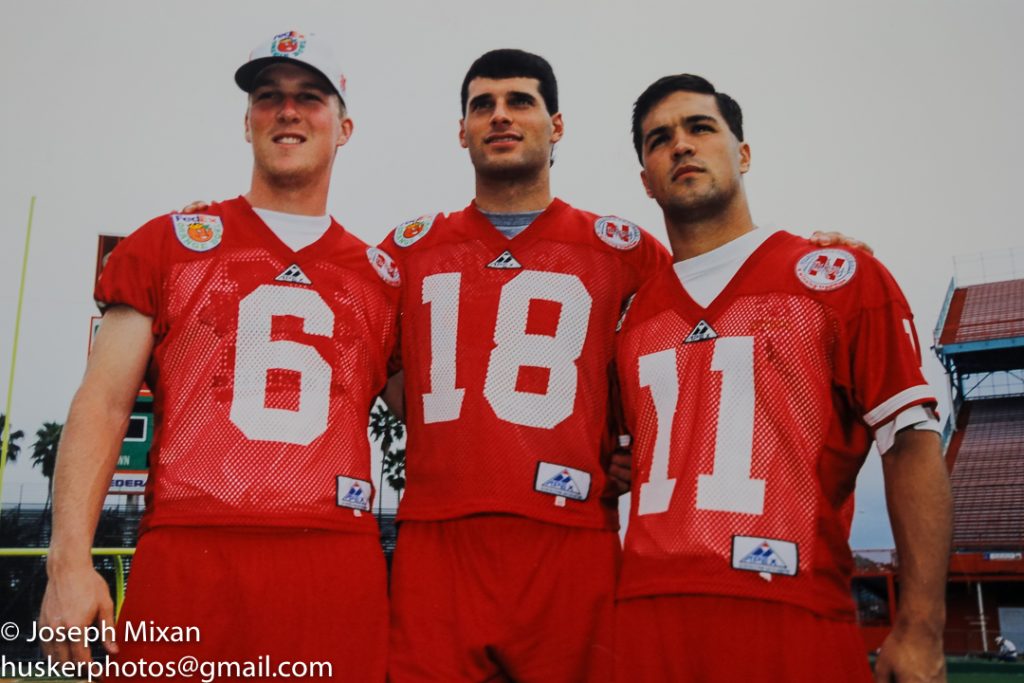 Darin Erstad, Brook Berringer & Matt Turman pre-National Championship
Q: Did any of your teammates know you were doing that?
DE: I think word got around. They knew, because the problem was, I had to leave the team early. I missed the playoffs. That was a big, uncomfortable feeling, because I finished up the season and had to leave for the first day of football before the playoffs started. And that was kind of tough, but what were you going to do?
Q: You were lighting up the Cape Cod League that year, weren't you?
DE: I did okay.
Q: You're so darn humble! Have you been hanging around Coach Osborne too much? He's rubbing off on you…
DE: (laughs) It's his birthday today, too. I think he's seventy-three today. The only reason I know is because my Dad's seventy today. They have the same birthday.
Q: How about that? I'll have so send him a belated e-mail greeting. I usually stay in touch with him and Anne Hackbart, his assistant. Now, do you recall the tenor of the culture there at that time?
DE: You know, they called it "Unfinished Business." You could tell from the second you got there, you could tell there were some boys on a mission, and they put in some serious hours that summer. The person who stood out the most to me was Aaron Graham. Aaron seemed like he was the most vocal and so positive and basically saying, "We're gonna run the table and win them all." There was such a confidence about the team and the way they went about their business. I was just in awe of them collectively having that much focus and that much energy put forth just to win that goal, win the whole thing.
Q: I'm sure that differed from baseball where, heck, you have 50 or 60 games over the course of a season, whereas with football you only have 13 contests to make it happen, so the stakes are upped so much more for each contest…
DE: I was definitely different. It was my first year, and every day felt like a game day with the intensity in practice. Just watching the way the team went about their business, when the ones took on the ones they were playing like it was a regular football game out there. The competition was fierce.
And I guess I would probably gravitate more toward the defensive side. I just loved Coach McBride. The intensity those guys brought? Coach Steele, he was the special teams coach, he'd get the kickoff team ready and I'm a very serious person, and I just appreciated the seriousness on the field.
Q: There was a focus once you stepped on the field, huh? Not a lot of grab-ass?
DE: Yeah, "You can do that another time, but when you're on the field it's time to work." I just loved that.
Copyright @ 2013 Thermopylae Press. All Rights Reserved.
Photo Credits : Unknown Original Sources/Updates Welcomed
Author assumes no responsibility for interviewee errors or misstatements of fact.