Anatomy of an Era: Curt Thompson, Strength Coach/Football Ops, Part 3
Excerpted from Chapter 33, No Place Like Nebraska: Anatomy of an Era, Vol. 1 by Paul Koch
Curt Thompson, Part 3
Q: Any other personalities of the time stand out to you?
CT: You know, the strength staff, I think we had a pretty good mix. Boyd, it's no secret he had a pretty big ego. It kind of got pumped up by everyone else, and he had that big screen above the lifting platform in the weight room. Remember Keith Jackson and his intro where he said, "And this is the reason these guys are so big! Boyd Epley and his weight program." So he'd kind of get fueled that way, but Boyd was very good. He was kind of the same way, he'd kind of let you do your thing. He was a little more 'thumbs on'.
Remember those weekly staff meetings?  It seemed like we had them all the time. But he let Mike (Arthur) do the program, he didn't really have a hand in that. Mike and Bryan Bailey would develop the program. Same with you. You'd do basketball and all the other Olympic sports for the University and do whatever you'd want -I guess as long as Mike was okay with it- which kind of got frustrating at times, I'm sure. But Boyd, he always liked being out front and the center of attention. Mike, he was a little bit more laid back in his office, Randy (Gobel) was more little bit of the mix in between. You, you were a very outgoing personality. Then we had Kevin Coleman, John Archer…
Q: The 'feeder pig' from Arkansas?
CT: The feeder pig! (laughs) I thought we got along pretty well as a staff together. We did a lot of things as a staff together. We'd go out nights every once in a while, mountain biking, running. Remember that one time you and I and Bailey went out after workouts and we did the 'One Bourbon, One Scotch, One Beer?' It might have been Iguana's, right?
Q: I'll never forget that night. Stumbling down O Street looking for my car…
CT: I hear that. (laughs) Yeah, and Buck (Dave) Ellis, too. Bailey, he was always there for the athletes. We'd get pissed at him because you're supposed to close the weight room at 6, 7 o'clock and he's still got somebody in there, working with them. You'd be trying to get everyone out and here would be Bailey. And if you didn't get them out they couldn't get to showers in time, and then they would be late for the training table, so those people would be mad at you because we kept them so late.
I think Dave Ellis had a big impact as far as turning around everybody's nutrition. I'm also thinking about it, and Bill Byrne had a huge impact because he developed this master plan, the skyboxes, which was impressive to recruits. We'd take recruits up there. It just made the stadium go from an old stadium to something that's pretty nice. And we were one of the first teams to have instant replay boards and the big screens. It's just so hard to pin one thing down.
Jack Stark, I think, had a huge impact when him and Coach Osborne developed the Unity Council, made the players accountable to one another where they kind of policed themselves, where you didn't really have the coach being the bad guy. It was where you didn't want to let down your peers.
Q: So, in essence, the boys don't just dress in red and white on Saturdays and go out there and kick somebody's ass on Saturday? There's a whole lot that goes on behind that?
CT: Yeah, there is. And there are a lot of other things, a lot most people probably don't realize. Dave Ellis and I would travel out the day before the games and make sure everything was set up at the site as far as food and meeting rooms go. Make sure the meeting rooms were consistent, so everywhere we traveled to it was kind of the same in the meeting rooms far as the setup goes, so they're not walking into a meeting room that was different every time. We'd tell the hotel how he wanted the food prepared or how the buffet line was to be set up.
Q: What about December? That was a crazy month getting ready for the bowl game, no?
CT: Oh yeah, it was a lot of hours. You know, you'd get to work at 7 in the morning and work all day until maybe 2 in the morning. You do this for a couple of weeks to get prepared for the 7 or 10 days down at the bowl game.
And then my Mom, at one point, offered to come down and clean my house for me. And I told her thanks, but not to do it, 'There's no need, because I'm not home enough to make it dirty.' (laughs) Some long nights trying to get bowl games and the official recruiting squared away. Back then, the month of December you were doing double duty.
It was a fun experience. I had two unique jobs down there that were fun. At times it was fun and at times it wasn't, but there were more good times than bad.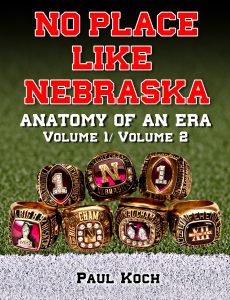 Both volumes available on Amazon.com
Q: What would you say was most fun?
CT: This may sound stupid, but it's the plane rides back from the game. That seemed to be a good place: everybody being on the plane, we'd just completed our goal, we'd gotten the victory, it was just the relief that everything was done, you had a couple hours to relax a little bit. It didn't matter if you got home at 2 or 3 in the morning, it was nice to get some sleep. And then you'd get back at it the next day, then you've got to start again.
Q: Any goofy stuff going on? Kids acting crazy on the plane?
CT: Oh, every now and then we'd be getting ready to land and a bunch of the guys would start throwing pillows back and forth at each other. So Coach Osborne would have to get on the loudspeaker and say not to do it and make sure everybody takes care of themselves and one another that night.
Q: Did you ever run into any stumbling blocks in your travels? Quirky inconveniences, chicanery behind the scenes?
CT: We didn't have many fire alarms pulled, nothing like that. (laughs)
Q: And during the game, you were on the sidelines, right?
CT: Yeah, I was on the sidelines. Two times stand out to me about those sideline moments: One was down in Missouri and that play with the kick and then Davison caught it. And the other one was when Trev dislocated his elbow the last game and he was running off just screaming. I'm like, 'What the heck?' And then you look down at his elbow and see it. So that stands out.
There's more sideline things going on… you'd see the O-line eating hotdogs on the sideline in the 4th quarter because they're not playing anymore. Dave Ellis had this 4-wheeler, his wagon train, where he'd bring all his water and stuff out. Well, some guys would drink so much water that instead of going to the locker room he'd kind of fold those trunks up, so they'd kind of pee in there in this makeshift moat so the crowd wouldn't see them. (laughs) Just little things where Ellis always had hot chicken broth and cocoa out there in those cold games. A lot of people probably didn't realize that.
Q: So you're probably trying to keep the guys who weren't playing away from it so the guys who were could consume some? (laughs)
CT: Yep. And every game, everybody was encouraging everybody. The second, third, fourth teamers were encouraging the first teamers. They'd want to get ahead so they could go in there and play. And the first teamers? They'd encourage the heck out of the younger guys playing. So there was great team chemistry, I thought.
But you think about the different big games, each meant something. I thought those Orange Bowl games were special and neat, just watching those. A huge stadium, which seemed a lot bigger than Memorial Stadium. The Tempe ones were very nice. When the games came, that was the finale for me. You'd work all up just for that. In the bowl games there was so much effort, as far as Pat's and my job in Football Operations.
I think it was that last game, the '97 season, the '98 Orange Bowl against Tennessee. We were there maybe two weeks and I didn't step foot on the beach until after the game. And we stayed on Miami Beach! (laughs)  So once the game came you were like, 'This is it, we're relaxing tomorrow.' San Diego was the same trip, the same way. Actually, Mindy and I, we and Dave Ellis went maybe two days ahead on that one. (laughs) I remember down there for the Fiesta Bowl and we were setting up at Scottsdale Community College one night before the team comes in, and Dave's got this wagon train and we're unloading the semi, just the two of us. Well, the wagon train, that 4-wheeler and two or three wagons behind it on wheels -that he hauled all those 5-gallon jugs of water and stuff on the sidelines– well, it starts rolling and it's dark out, and this wagon train goes off the ramp and falls on top of him, lands on his ankle. He's got water in it and power bars and all kinds of crap and he's pinned underneath it, and I'm trying to lift this thing because he was pinned underneath it. You know, if he was there all by himself, he'd probably still be there!
And I don't know if the average fan knows it or realizes, but every year we'd load up half of our huge weight room into the semi-trailer and drive all that stuff down to the bowl site and unload it. It would be freaking cold out putting that stuff in the semi!
Q: And you'd just be finished up with finals and all that stress, and then you'd be up right away at like 5 in the morning and loading the semi, just freezing your butt off under Memorial Stadium as we completely disassembled the strength complex…
CT: Yeah, and some of the older, lazier strength coaches would show up late and point a finger and let you do the heavy work, and then they'd end up disappearing somehow. (laughs)
Q: Yeah, Boyd would be there for a little bit, then he'd be gone. Mike Arthur would mysteriously disappear. Bryan Bailey would always have an athlete come in for a workout. (laughs)
CT: You know, pulling up to Notre Dame one time, we couldn't even get all the way up to the stadium because all the Nebraska fans were in the way. So we ended up walking through a tunnel of Nebraska fans. I'll never forget that. That was a great moment.
Q: I remember going to that game in South Bend. There were a lot of PO'd Notre Dame fans at that game, rude as hell because so many Nebraskans took over the stadium. They were not happy. I lost a little respect for Notre Dame fans that day by the way they reacted. But hey, it was a W.
CT: Yep, a W is good.
Q: Any guys from that era stand out?
CT: Yeah, Lawrence (Phillips). He was a nice guy. I remember one time down at the Orange Bowl I was walking around with my two nephews and we encountered three of the guys and I said hello to them. And Lawrence, one of the three, was the only one who said 'Hi' back. I thought he was a great guy, a really nice guy on the field, in the weight room, in the football offices.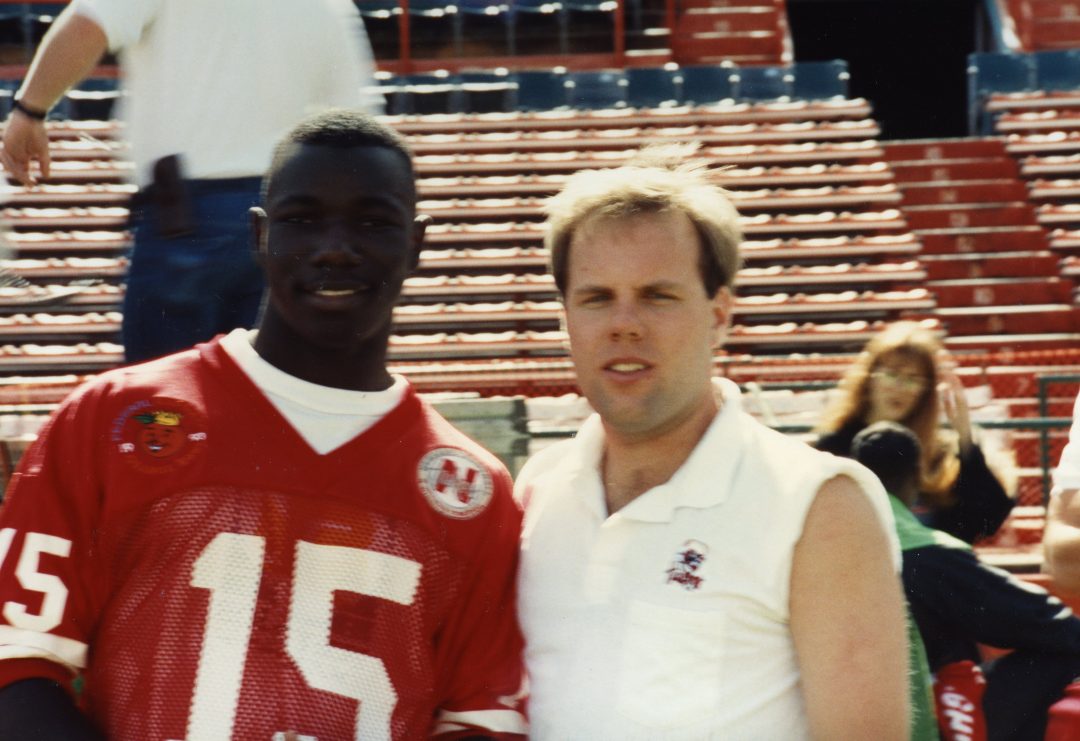 Tommie and Trainer (Unknown Source)
Q: What did you usually end up doing during practice?
CT: When I was on the coaching staff I went out there during warm-ups and stretched the guys. Don't you remember? When you were a student you'd have to be in the weight room when the other guys like Boyd and Kelvin Clark and Randy Gobel would go to The Knolls and play nine. (laughs) But you knew the kickers would come in. Actually, during practice is when I'd go for a run or work out a bit, and during the season it was just, 'Get ready to sign cards.' Watch a lot of sets and sign cards. Make sure your pen has a lot of ink in it.
Q: Exactly. So what would you say you were most proud of during your time there?
CT: Oh gosh, I guess a couple different things. On the selfish side of it, I'm not sure what year it was, but Boyd came up with the Heiser Award, which the first year Ken Williams and I got, which was named after Dr. Tom Heiser, who was paralyzed in a boogie board accident in Hawaii and overcame a lot after that. And myself and Ken were the first recipients of it.
And secondly, I'm just proud of being a part of those years down there. I spent 13 years meeting a lot of tremendous people: athletes, coaches, staff. And you know, helping guys. That's probably the number one thing, helping guys who really wanted to work and get better. That was the job you and I were in. They came to us because they wanted to get better, because they wanted to play and beat whatever opponent they had. Most of that was their will and their drive to excel and be the best they could, and they came to us to use some of our expertise and 'push', I guess. We would push them, make them do a little bit extra, a little bit more to get better. I didn't do anything down there, I was just a guy who signed a card. But somebody had to do it. I didn't win the game for them. It was the athletes who did it. There was a good group of athletes down there at that time.
Q: Anything you took away from it that has made you a better man, made you better in the business world?
CT: I think my biggest influence was Boyd. I had the most contact with Boyd. When I quit down there, I made sure I went down to Boyd on my last day and thanked him for everything he'd done for me. You know, a lot of people don't necessarily like Boyd, but I did. And there's types for everybody, but he gave me a chance as a skinny little kid out of high school and saw my potential and helped me along, his belief in me and his skills. He was very organized. He wasn't a procrastinator. He went down that list every week or so and he made you accountable. He had a great vision, and then he gave you autonomy. He had a way he wanted the final result, but he let you figure how to get there. He let you do the job that needed to be done.
And do you remember the mailboxes we had back in the strength office? Do you remember that sign that Boyd had up on the wall there? It said, "The great ones adjust." I've always remembered that. You know, when you're building houses like I do now, the buyer always wants some last-second changes. Some folks let it get to them and they get frustrated, but I always just tell myself, "The great ones adjust." And that makes all the difference.
End conversation.
Curt covered a lot of ground there, but one thing that struck me was his mention of some key names and their multi-faceted leadership from those years: Grant Wistrom and Jason Peter, John Parrella and Kevin Ramaekers, Terry Connealy, Barron Miles, Mike Minter. All defenders. Which makes me wonder just what it was about the Blackshirts' effect both during training and off the field, as well. Let's face it, defensive football players are often noted as being a tad bit off-kilter and just a little to the left of center, if you catch my drift, and I can't help but suppose that its leader Charlie McBride had a little something to do with that. Perhaps we'll find out later when I corral him for a conversation.
Before we continue on, I think it's important to share how glad I was to have gotten a glimpse of Curt's work behind the curtains. I was a part of this machinery for some years and even I am still baffled and amazed at all of the toil and man hours that made the Big Red Machine go. There were so many names and faces who added their own unique brand of input, and hopefully I'll be able to expose more of them before we're through with the journey. Some might say, "Just talk to more players and coaches. They are the ones who made it go." Well, you might be right to think that, but remember that each and every player and coach had daily interaction with some of these people, individuals who contributed greatly to the unity of the department and the family concept that was so prevalent during that era. I guess a more succinct way of saying it would be, "Everyone matters. There are no unimportant people."
Notable quote #2:
Curt Thompson on the Nebraska Football machinery: "A lot of fans think football is August until the bowl game. Well, it's not. It's seven days a week and it's eleven months out of the year."
Copyright @ 2013 Thermopylae Press. All Rights Reserved.
Photo Credits : Unknown Original Sources/Updates Welcomed
Paul Koch
---
---
---