Anatomy of an Era: Brandon Hamer, Student Manager, Part 2
Excerpted from Chapter 83, No Place Like Nebraska: Anatomy of an Era, Vol. 2 by Paul Koch
Anatomy of an Era: Brandon Hamer, Part 2
Q: Do you recall your first game on the sidelines?
BH: Actually, it was the first year even though we were only volunteering. We each got one game where we got to be the ball-boy on the opposing team's sideline. That was one of our duties, to ball-boy the sidelines.
Q: Was that a unique experience being on the other team's sideline?
BH: Oh yeah, you'd see how other coaches had their personalities. Some coaches would actually talk to us and have fun, other coaches thought we were spies over there. You really learned that there were some classy teams and some teams who didn't have a whole lot of class. My favorite job was to ball-boy. I always volunteered to be on the opposing sideline because it was fun to get to see, to experience other teams.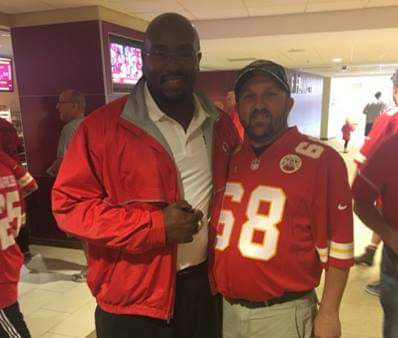 Will Shields and Brandon Hamer
Q: Who was the most memorable?
BH: The one we always liked was Pat Jones at Oklahoma State. Pat didn't even really coach, he was just like a comedian on the sidelines. He'd actually come into the equipment room before the game and watch TV with us while the other coaches were probably coaching. He was one who always talked to anybody who would listen to him.
Q: He let his coaches coach and he just coordinated them?
BH: Yeah, he was the prototypical CEO. You could tell on game day he was basically the pep talk guy and let everybody else do their jobs.
Q: Any guys who surprised you or took you aback? Anyone you came to respect in a lesser way?
BH: Well, of course, Colorado was trying to build their rivalry, and I remember on the road trip games out there -and even when they came in here- everybody on their staff, from their strength staff to their video staff to their managers- I never seemed to have met one single person who was not rude. And then the opposite extreme was when we went to Oklahoma. Their managers would help us unload the bus, their managers and strength staff would have food for us and some pop already on ice. It was just the total opposite of complete class versus none, you know? If we'd go to Colorado and needed a shoestring they wouldn't give you one. It was two different opposites, you know?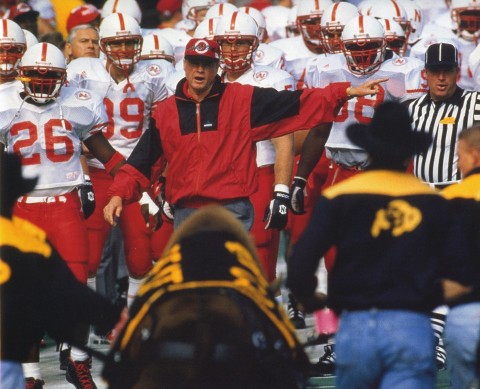 Q: Wow, that's something. And do you have a favorite game from those years?
BH: Well, obviously the Orange Bowl when we won the national championship. That was my last game, versus Miami. I was by Coach Osborne the whole game when he won his first title, so that was the memory for a lifetime there. They've done the video series on him -I've seen a couple times- where he did his halftime pep talk of "them wearing down… just don't lose your temper… stick to the game plan."
And he was coaching that way on the sideline the whole game. Every player who would come off, there was never an ounce of panic in anything. He was just completely positive that whole game and kept bringing the message home that we were wearing them out and "stick to your plan." And of course, we could see it on the sideline: players were even calling out Warren Sapp and those guys, on one knee. They could tell they were in trouble.
Q: So you can probably recall the moment in that game when Warren Sapp was in front of Coach Osborne and said something or other?
BH: Oh yeah. I don't remember the exact words. It wasn't necessarily derogatory, but it was trash talk about, "You can't stop me." That was before he started taking one knee in between plays. (laughs)
Q: If I recall, Coach Osborne just kind of smiled at him and nodded. (laughs)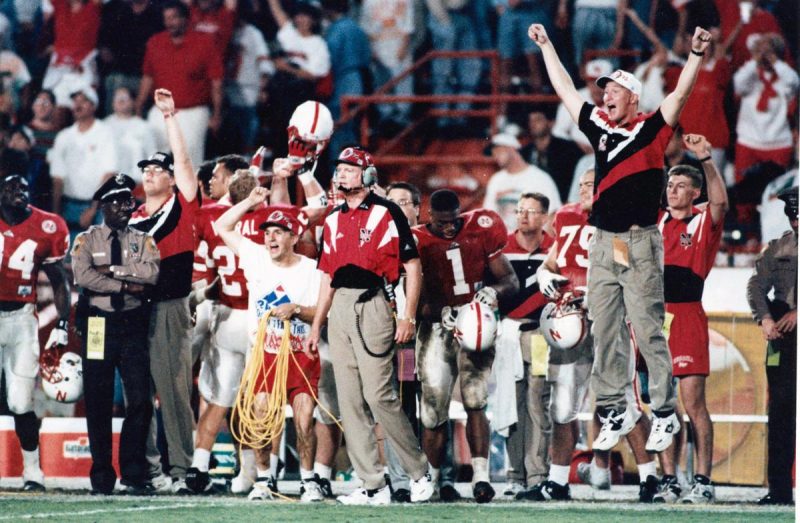 BH: Yeah, and even when we scored the go-ahead touchdown everybody on the sideline was going crazy throwing stuff in the air, and I don't even know if Coach Osborne even cracked a grin. (laughs)
Q: Brandon, he'd taken part in too many of those shootouts to celebrate before it was triple zeros on the clock.
BH: Yep. I was at the right place at the right time that day.
Q: I'm sure you've got a few pictures around the house of you and T.O. on the sideline?
BH: Of course, that year you'd get a lot of the newspaper clippings, and when they'd get a shot of the sideline…I've got a cabinet full of stuff, game programs and all that good stuff from back then.
Q: You've probably got a good load of memorabilia, bowl game booty from trades and road trips. Any of them mean much to you?
BH: Oh, I've got a pretty good collection of footballs from other teams. They could probably throw me in jail because we used to end up trading a slightly worn out Nebraska practice football and we'd brand a Nebraska stamp on it, and they'd usually think they were getting a special game ball or something like that. (laughs) We actually had a branding iron and branded some of the footballs. It was a big wood-burning iron and it would take about five minutes to warm up, and they'd brand the footballs. That was before the ball companies got smart and started pre-printing the logos on them.
Q: I think I have one of those old footballs. The bladder went bad and it looks like it has a hernia of some sort. (laughs) It may have been one of the old kicker's balls, maybe.
BH: (laughs) Yeah, actually one of our hardest tasks was to keep guys from walking off with footballs. We'd have to station guys by the doors because football players would try to tuck them under their jerseys. We'd probably lose from four to five footballs a week.
Q: I think mine was a throwaway, past its useful life. So mine doesn't mean you didn't do your job, Brandon. (laughs)
BH: Yeah, there were certain players who'd take their shoulder pads off and put a helmet in there and try to hide a ball inside the football helmet. You'd figure out who those kids were after a while.
Q: So here's Brandon Hamer, about what 5'10", 160 lbs…?
BH: Yeah, more like 5'8" and 150! (laughing)
Q: …and you're ordering a solid, brick-house, 6'2" 290 lb. Christian Peter, "Hey buddy, give me the ball!"
BH: Yeah, exactly. (laughs) And most of the time you'd have to follow them all the way to the locker room and they'd finally give it to you. At least you didn't have to follow them all the way to the showers. (laughs)
Q: Does any one player stand out to you as to far as having a unique personality or possessing a special quality that they brought to the team's mix?
BH: Oh, that group in '93, '94, they just started to gel. The offensive line: Rob Zatechka and Zach Wiegert, those guys just played hard. And then you've got the defensive linemen: Terry Connealy and Christian Peter, just the intensity. The leadership of everybody not wanting anybody to take a play off was just… you could go clear down the line -Aaron Graham and all those guys. I think the offensive line and defensive lines really set the tempo for those teams.
Being a running back and quarterback, it's kind of hard to admit it all starts up front, but the intensity of the teams, it all started on the offensive and defensive lines. It was really the foundation and the guys who really set the pace. It was great to have Tommie Frazier and Calvin Jones and Lawrence Phillips and all those guys, too, and those great defensive backs, but the line was where it really came to getting things done.
Q: So here's a question for you: Is there anyone who stands out to you, who should have gotten more kudos or acknowledged for what they did?
BH: Boy, that's hard. Everybody just worked so hard there. Everybody from the film room guys… that was about the time they started doing the psyche-up videos. Bryan Carpenter and Dave Finn and Moose (Mohnsen), those guys were always trying to find an angle. And there were just a lot of walk-on players, too, it would be hard to pick one guy out. Then you had the Brendan Holbeins and Clester Johnsons, too, those receivers. Those guys would go out and block every play, you know? We're running the ball up and down the field and those guys had taken somebody down along the way.
Q: The unsung guys?
BH: Yep.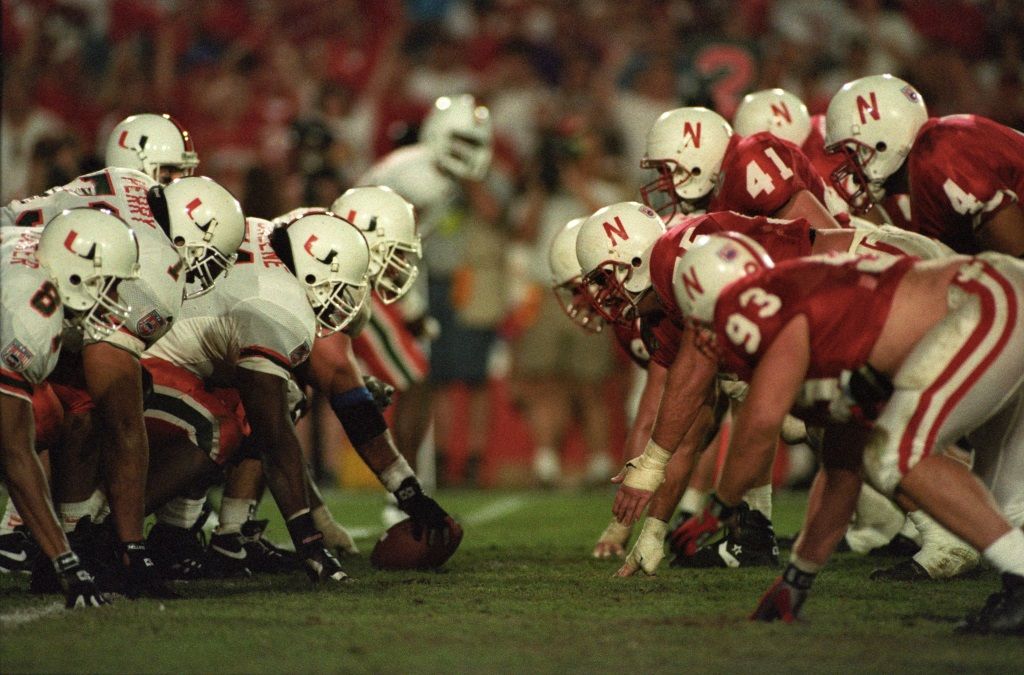 Phil Ellis #41
Q: Any unique relationships you came away with?
BH: Of course, time passes and you lose track of those guys. I ended up being a groomsman in one of the student manager's weddings, someone who I never would have known or met had I not been on the team, and just relationships with players. I run into a couple of guys every now and then. I bumped into Phil Ellis a while back, and it's just fun to talk about that…
Q: That common bond most folks wouldn't understand?  If you spend that much time next to a guy down on the grass field down by the old outdoor track and Buck Beltzer Field and up on the turf….
BH: Yeah, and just traveling to road games. And part of our jobs as Head Manager, we did the curfew checks. We went with the players to all the movies and paid for them to get in the movies and made sure everyone went in the movie and sat in the back to make sure nobody left the movie. We made sure everyone was on the buses. That was kind of our main job on road games, was to make sure everybody was where they were at and checked people off the list. It got to where some guys would walk on the bus and grab our pen and check their own name off after a while. (laughs) We had fun with it. Those guys, you'd check their room and they wouldn't be there, so they'd try to work out a little bribe so they wouldn't get in trouble.
Q: Any notorious repeat offenders when it came to curfew?
BH: No, that was the impressive thing. Everybody was so committed during that era, especially when there was that remarkable change that first year I was there: there was football players getting in fights with the baseball team, guys getting in fights with each other in practice. My last two years there, there were hardly any discipline problems at all. They were where they were supposed to be when they were supposed to be. There was kind of an inner accountability with those guys. Everybody always asks, "So, how many guys stayed out late?" And I always said, 'None of them. They've all got a game in the morning. Nobody wanted to put that in jeopardy by messing around.'
Q: A part of this book is about some of those changes that came about from your freshman to senior year, Brandon. Do you have any other specific examples of how things changed, from your perspective?
BH: You know, it's hard. I just remember the big commitment when we lost to Florida State and when we had the time posted on the scoreboard during summer conditioning and spring ball.
But I think it really started with some of the players, some of the great leaders who emerged in Terry Connealy and Christian Peter. And the process of the Unity Council, I think that set the foundation. I was never behind those closed doors to figure out how some of these leaders developed or if they were natural born leaders. It helps when you've got guys as smart as Rob Zatechka, too, guys that were just brilliant. I saw the players really took it upon themselves.
And I've seen that in players I've coached: if they don't want to hold themselves accountable and push each other -you can do all you want as a coach- but it really takes leadership. I just felt like the coaches deserved it, but those players put in the work and the accountability. I'm a born Nebraskan and I was all for winning the national championship, and you walk away and you say, 'I'm glad for those guys. They absolutely earned that. Anything less would have been a crime.'
Q: So no matter the talent, it still comes down to character and integrity and drive and motivation?
BH: Oh, absolutely. I remember walking out on some fields and looking at the other teams and thinking, 'Wow, we're gonna be in for a dogfight.' Those Colorado teams? We'd walk out and at every position it seemed they were bigger and faster. At least it looked like that in pregame warm-ups. And when it came down to executing on the field, well, you know what happened. In football it takes eleven guys doing their assignment every single play, and I think that's where one guy can throw a play off. And our guys didn't have that. The coaches? That's where they coached every little detail, no missed assignments, all eleven guys on the same page, and that's what really carried them. Yeah, we had a lot of talent, but so did fifteen other teams in the nation. You had to have some way to separate yourself, and that's what it was: effort.
Q: So what experiences have made the difference in your life? What lessons were learned?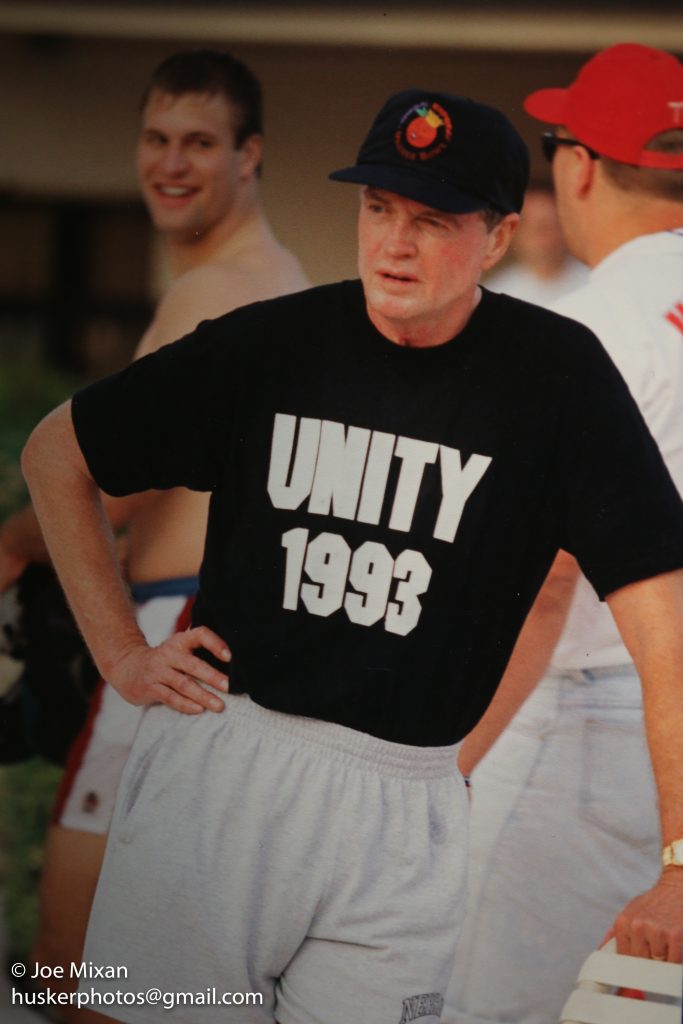 Tom Osborne and the Unity theme.
BH: You think back on the great people that were there, and just the character of all the coaches, there was positive accountability. And that's what I tried to take away, there's accountability for you doing everything right: doing it the right way and doing it 110% percent in a positive way where people want to be a part of it versus feeling obligated, rather than a negative approach. Obviously, I was far from anywhere near a one star athlete, but being around that group on a day-to-day basis? Just the confidence that you felt around that organization? Everybody was part of the team. Even as managers we were treated as part of the team by the coaches and the strength guys, and that sent a message. I managed people who have all kinds of roles and responsibilities underneath me and every one of those is important. You can't overlook your bench players, can't overlook your support staff.
And the family atmosphere, the unity that was there. Remember the t-shirts we had printed up, the 'Unity, Belief, Respect' t-shirts and handing them out? You can build that culture. And I've tried to do that in my work, just build that culture amongst the people and say, 'Hey, if we work together we can get a lot done.' We bought into the whole unity concept along with the coaches, too, and it wasn't just the players that they held accountable. We were held accountable to making sure the practices were run right, the away trips were run right. Obviously, we enjoyed being behind the scenes and that was fine by us, but we played a role, too.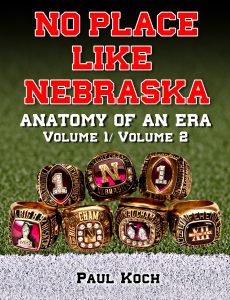 Available on Amazon.com
Q: So is there anything I haven't touched upon that's worth commenting on?
BH: Obviously, on the players' side, I'm sure there are all kinds of good stories. The thing that I always enjoyed was just the sheer number of Nebraska people: Nebraska kids who were either assistant trainers or on the weight staff or equipment staff, student managers. We took some guys from other states, too, but there were just a lot of small-town Nebraska boys and gals on that staff, too, and that was fun. I still have a good friend who was the student manager the same year I was, from a small 8-man school as a kid and he's living in Columbus now. We were all being a part of the Huskers, all kind of living the dream.
End conversation.
You would be outright amazed at the efficiency with which the staff conducted their practices. Visiting outsiders firmly ensconced within the football business even were often left open-mouthed in amazement, as the equivalent of almost two full-scale practice days were compressed into one. (See sample 1994 practice schedule attached) Brandon mentioned, "They always had every play scripted out and they always ran two groups. One group would be running the play while the other group was up calling the play…so as soon as one play was finished the other was out of the huddle and over the football running the play." The Huskers were the gold standard as far as getting repetitions -leading to mastery- even that of the second through fourth team players on the depth charts. Whereas the media and a few opposing coaches (i.e. Arizona State's Bruce Snyder comes to mind) oftentimes accused Nebraska of running up the score late in the ballgame for oft-termed 'style points,' these individuals failed to recognize that the ones putting up the points late in the game were often third and even fourth teamers. Like the t-shirt once stated, "If you don't like us running up the score, get a defense." One should never have to apologize for total team proficiency, practice efficiency and organizational excellence. Ever.
Now, this may sound sacrilegious to many a "skill player" worshipper, but if you don't mind my parsing of words, truth be told every single position out there on the field of play is a skill player, linemen included. Especially the linemen. Lending credence to this statement and proving a point as to exactly why and how that 60 & 3 era came to be, Brandon was most revealing with his, "..the offensive line and defensive lines really set the tempo for those teams. Being a running back and quarterback, it's kind of hard to admit it all starts up front. But the intensity of the teams, it all started on the offensive and defensive lines." Please don't misunderstand, the quarterbacks and running backs and receivers in that day were incredibly talented and polished individuals, but to dominate every game the way the offense did -whether Tommie Frazier or Brook Berringer or Matt Turman or Monte Christo or Scott Frost was taking the snap; whether Calvin Jones or Lawrence Phillips or Clinton Childs or Damon Benning or James Sims or Ahman Green, ad nauseam, was receiving the ball on a pitch– they racked up yards and points at an astonishing clip. Such an accomplishment usually means one thing: the boys up front make it all happen regardless of who handles the pigskin in the SportsCenter highlights. Speed means nothing without a hole through which to pass, and the skills displayed by the Pipeline of the day were sights to behold. Just ask any Memorial Stadium end zone ticket holder, they'll tell you of the precision exploits of the Pipeline's Pancake Crew blazing paths to glory.
Notable quote #2:
Brandon Hamer on player maturity: "My last two years there, there were hardly any discipline problems at all. They were where they were supposed to be when they were supposed to be. There was kind of an inner accountability with those guys."
Copyright @ 2013 Thermopylae Press. All Rights Reserved.
Photo Credits : Unknown Original Sources/Updates Welcomed
Author assumes no responsibility for interviewee errors or misstatements of fact.