Anatomy of an Era: Brandon Hamer, Student Manager, Part 1
Excerpted from Chapter 83, No Place Like Nebraska: Anatomy of an Era, Vol. 2 by Paul Koch
Where the willingness is great, the difficulties cannot be great.
-Nicolo Machiavelli, The Prince
Frank Phillips, founder of a little oil and gas outfit by the name of Phillips Petroleum Company, was born in Scotia, Nebraska in 1873. At one time America's ninth-largest oil company, his leadership and verve propelled post-war America to new frontiers of productivity and unleashed a nation's traveling fancies to the far flung reaches and roadways. Close to a century later, another Scotia-born son's drive and ambition helped the Huskers on the road to the top of the mountain. His name was Brandon Hamer, and nobody, but nobody, had a better feel for Nebraska Football's inner gear-works on a daily basis than this Student Manager.
One would be hard-pressed to find a group of student-staffers as busied and bustling as he and his young crew were, because they were counted on every day -rain or shine or snow or sleet- to ensure the most organized, efficient, effective and effectual of practice sessions. In carrying those teams across the finish line, these guys seemed to never run out of gas. Let's hear of Brandon's insights from his up-close, sideline and personal point-of-view.
Notable quote #1:
"Yeah, we had a lot of talent, but so did fifteen other teams in the nation. You had to have some way to separate yourself, and that's what it was: effort."
Brandon Hamer
Question: Hey Brandon, what year was your first fall on campus in Lincoln?
Brandon Hamer: It would have been the fall of '91.
Q: How in the heck does a kid from Scotia, Nebraska join the football staff as a manager?
BH: Well, there'd been a history of guys from the North Loup/Scotia/Ord area going down there and being on staff.
Actually, Brian Fox was the head student manager down there and had graduated my senior year of high school -but he managed to keep me in contact with the people like George Sullivan, kind of the guy heading the managers and the trainers at the time- and he always had Doug Babcock and Mike Mason and those guys, kind of knew them a little bit and that's how I became aware of who to talk to and how to get on staff.
And then that was the year they cut freshman football, so they went from about 20 student managers down to a number like 12 or 13, so I actually ended up just volunteering my time the first fall. They told me if I just helped out that first fall and helped out when I could at practice they'd probably put me on staff at some point in time. (laughs)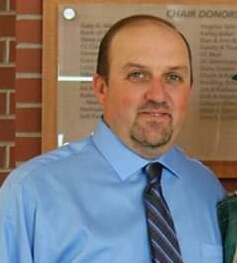 Q: Sounds like my experience, where if you hung around and proved yourself they promised to eventually find a paying position for you?
BH: Yeah, they'd tell you that they'd give you a couple shirts and maybe a pair of shoes if you helped out. (laughs)
Q: If you worked long enough for free at least you might make a fashion statement around campus, eh?
BH: Yeah, exactly! (laughs)
Q: So did you know going into the next fall that you even had a position waiting?
BH: Yeah, I went down there during the summer when they had some summer conditioning and they said they had it lined up where I could at least hang out. They were still kind of up in the air about how many they were even going to hire, because that summer was a little bit of a transition. I didn't know if I'd eventually get on; there were about seven or eight of us volunteered and by the end of the third or fourth week of practice we were down to about three of us, so I knew I had a pretty good shot of getting something when it opened up. (laughs)
Q: So the odds were looking more and more in your favor every week?
BH: Yeah. At first I looked around, and we'd kind of sit around with nothing to do and I was like, 'Well, this isn't going to work out.' But in the end enough guys moved on that towards the end there, actually all three of us who stuck it out ended up getting first shot at the opening the next year.
Q: Do you recall your first day on the job?
BH: Oh, just coming from a small school it was just the size of the players. I remember running back Derek Brown was kind of the first guy. I kind of gravitated toward the running backs because that's what I had played in high school, so that was kind of the first group I ended up helping out. And I remember seeing Derek Brown and just how quick and fast he was. That was the most surprising thing. You think you've seen big guys and fast guys, and then you see these Division I football players and just the discipline of the practice and the amount of stuff they'd get done in a short period of time.
Q: Do you recall the first task you were given? Was it some menial task they give the student assistants right away?
BH: Yeah. (laughs) Pretty much all we did the first few days was picking up bags of footballs. Just bags and bags of footballs. You'd hand them off to whoever needed one, and if a ball got loose you just hunted it down.
Q: Kind of like catching leather chickens for a few days, huh?
BH: Yeah. (laughs)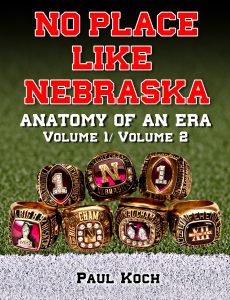 Available on Amazon.com
Q: So Sully was in charge of the managers? Who was the boss, so to speak?
BH: Well, at that time George Sullivan was, and we had a head student manager who we kind of reported to -I think it was Dan Bach- was the guy's name. He kind of gave us orders and we reported to him, and I think he got his orders from the coaches. Eventually my junior year when I became Head Manager, Steve Pederson came back and was in charge of football operations, so I reported directly to Steve. So that kind of changed in that time period there.
Q: You were Head Manager as a junior?
BH: No, I was assistant. They'd appoint the guy who was eventually going to be the head guy the next year so he could travel and learn the ropes, and then become Head Manager the next year.
Q: Now, I was always doing my own thing with the other athletes' training, but it seemed you guys were always going nonstop. What would the typical day entail as a Nebraska football student manager?
BH: Well, we did some odd jobs where we'd volunteer. We'd help the equipment guys fold towels or sort shoes or whatever. We were usually the gophers because there were only two or three equipment guys. We'd show up around two or three o'clock in the equipment room, sit around and watch TV and fold towels. We would technically be on the clock around 3 o'clock, and then 20 to 25 minutes before practice we'd go down in the fieldhouse there and load up the bags, get the bags and footballs out and get the field set up for the first set of drills.
Q: You guys had those gator carts, right?
BH: Yeah, we had the old Cushman carts. They hadn't invented the gators yet. (laughs)
Q: I remember you guys always going down into the old Schulte Fieldhouse, in the pit there, and driving back out with stacks of bags and tackling dummies…
BH: We'd always take the cart down there and load our stuff up and go out there and put it on the field. And once we'd gotten all the bags set up we'd play catch with the football players as they came out on the field and just kind of toss the ball around until they started their stretching and warm-ups.
And then each of us were assigned to a position coach. So I spent my first three years working with Coach Frank Solich and the running backs, so we'd assist in drills and make sure we were one step ahead in setting bags up. Sometimes we'd be the quarterback handing off to the running backs, the next time we'd be throwing passes or catching balls during the teamwork group work phase. Then we'd go to the skeleton seven-on-seven drills and we would have the plays scripted out as far as where to put the ball: left hash, right hash, center.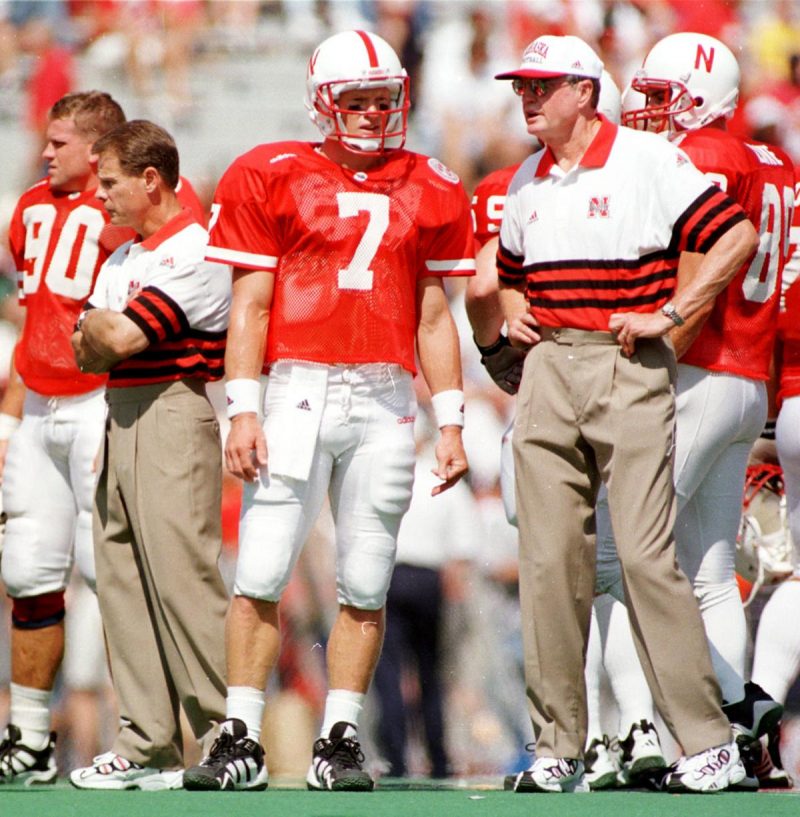 Q: No detail left unattended to?
BH: That was probably the most impressive thing about practices. They always had every play scripted out and they always ran two groups. One group would be running the play while the other group was up calling the play, so we'd always have two managers. Each manager would have the ball to set out there, so as soon as one play was finished the other was out of the huddle and over the football running the play.
Q: No dead space in those practices, huh? "Burning turf"?
BH: Yeah, it was nonstop, and you'd never want to mess up and put the ball in the wrong place because you'd get called on it. (laughs)
Q: Who was the most vocal coach when it came to giving you a hard time?
BH: Oh, you know, Milt was probably the best about giving a guy guff. Coach Osborne would just say, "Hey, get that over to the left." But then Milt would always manage to throw in a jab or two and use it as an occasion to laugh at you.
Q: So you started working with the running backs and Frank Solich a lot. What stands out about Coach Solich?
BH: He was just intense. I always appreciated Coach Solich's intensity. He'd always crack a smile and laugh, but he never let the running back take one drill, one time through the bags, easy. He coached 105% every drill, every play. He had some very gifted running backs, but nobody got cut any slack. He had a great relationship with all those guys, they'd always laugh. There'd always be the joke about who had to bring doughnuts to the meeting depending on who dropped so many passes. And we were always joking, there was always a joke. He always had an inside joke with every player, and yet if they were running a drill it was all-out intensity.
Q: Any idea who brought the most doughnuts?
BH: Well, he always had a thing with Calvin Jones during the years I was down there. (laughs) It seems like Calvin was always on the abuse end of things, joking.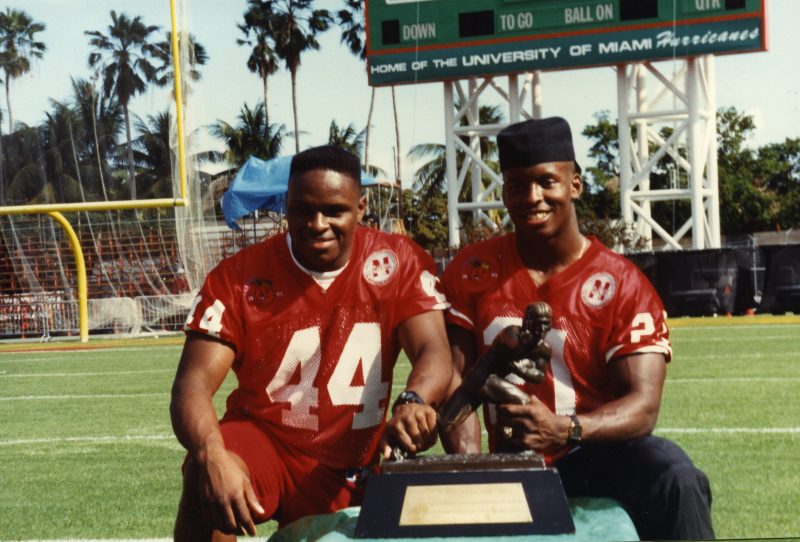 Calvin Jones & Derek Brown
Q: Calvin Jones should have been nicknamed Dunkin' Jones, huh?
BH: Exactly. (laughing)
Q: So, from a former high school running back's perspective, I'm sure you were kicking yourself wishing you would have had that kind of coaching during the high school playing days, huh?
BH: Oh, absolutely. I had a great coach in high school, but there were a lot of things. I eventually went and coached for five years when I got out. And 90 percent of what I used was the things I picked up when I was down there, just the tips and the drills.
Q: Was there one specific tip or drill that was hammered into your subconscious during your time there?
BH: The one thing that was different was that the speed of the game was so fast, and we ran a lot of drills where the running backs would make one cut and then get upfield. There was no dancing, no juking. Just make your cut and get straight upfield, north and south, because if you run sideline to sideline there's too much speed in the game. In high school you can kind of outrun people -that's one of the big things you had to do even with the guys coming in and being four or five star recruits or whatever, they were used to being able to outrun everybody- and that was the first thing you had to impress upon the new recruits, was that you had one chance to make a cut at the line of scrimmage and you better get upfield. So we did a lot of footwork drills just to teach guys to get upfield. That's one thing that I took away from it and spent an awful lot of time lecturing people to get upfield. (laughs)
Q: Where did you end up coaching, Brandon?
BH: I actually ended up with a job in Central City and I volunteer coached at Nebraska Christian High School there.
Q: What are you doing for a living nowadays?
BH: I work for Precision Ag/Aurora Cooperative. I'm a product manager and work with the technology GPS/Precision Ag and head that up. I manage a sales area and do a little bit of buying fertilizer for farmers, a little bit of everything every day. I just manage a bunch of guys.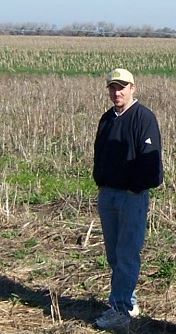 Brandon Hamer out standing in his field
Q: Kind of like folding towels, sorting shoes, setting up bags, handing off balls and throwing them, running practice placement? A little bit of everything?
BH: (laughs) A little bit of everything, yeah.
Q: So did you have to work a full football season before you had a chance to get a paycheck?
BH: They put us on for spring football. Once we got through fall football and the bowl game the old managers had graduated on, so for spring ball we eventually started getting paid that following year.
Q: What was that like to finally get a paycheck for something like that?
BH: Most people you talked to thought you were doing it for the shoes or whatever, for free, and when they found out you got paid for working with the football team they were pretty upset, (laughs) "You get to work for the football team and get paid!?"
Q: It's Nebraska's equivalent of both dating a supermodel and getting comp'd a free dinner, huh?
BH: Yeah. We didn't make much, like five bucks an hour or whatever it was. We'd be there for about two and a half hours for practice, so we'd get about fifteen bucks a practice. You weren't getting rich very fast, but it was as good or better than McDonald's.
Q: Enough to go to a movie on Friday night, huh?
BH: Yeah. Exactly.
Q: In working with the running backs and Coach Solich, did any of the running backs stand out to you as far as the unique personalities?
BH: They were all something. My very first years there was Scott Baldwin and that whole deal with him, and it was tough on everybody. That seemed like it really bonded the guys together. Calvin Jones is one who sticks out because he came in about the same time I did and I don't think he ever didn't have smile on his face. He showed up every day with a smile.
And of course, Jeff Makovicka at the time being an 8-man player, and Brian Schuster from Fullerton coming in, those were the Nebraska boys. Then Derek Brown, he was quick. And then, of course, Lawrence Phillips was pretty quiet and didn't say a whole lot, kind of low key. I had a heart for Lawrence. A couple times I got sent to his dorm room to get him to practice. (laughs) He just… I don't think that he sometimes had a concept of time. There were some times you'd find him in his dorm room and he'd be fine, but just didn't realize it was time for practice, I guess. (laughs)
Q: Was he living in the dorms?
BH: Yeah, he was in Harper/Schramm/Smith over there. Once or twice I got thrown a set of keys and was told to go find him. (laughs)
Q: Instead of  "Where's Waldo" it was "Where's Lawrence?" (laughing)
BH: Yeah. He'd be like, "Oh. Can I get a ride?" Of course, back then not everyone was running around with cell phones. Otherwise, you'd probably just call them nowadays.
Q: I was going to say, was that primarily in the winter months? Maybe he was just waiting for someone to give him a ride over to the stadium so he didn't have to walk from the dorms in the cold? (laughing)
BH: Yeah, (laughs) He's from California. Exactly! "Why walk in the cold?" (laughing) It only happened a couple times.
Q: So obviously you're climbing the ladder there and taking on more and more responsibility. How would things go as you climbed the ladder, Brandon?
BH: Well, the Assistant Head Manager and the Head Manager had the responsibility of going up to the coaches' offices before practice, working with the coaches' secretaries to get the script printed off for practice with Mary Lyn and Joni Duff. It didn't take too long once you were Assistant Manager: everybody knew each other on a first-name basis up there. Sometimes we'd have stuff printed up ahead of time and other times we'd already start practice and they were frantically trying to type stuff up when the coaches' meeting got out. That was probably the biggest responsibility then, and then starting to check around with coaches.
The Head Manager would then just basically follow Coach Osborne around all practice. So me, my senior year, I just basically followed him, and if he needed a coat you ran in and got him a coat, if he needed a cap you ran in and got him a cap, or if he needed somebody kicked out of the stadium that he didn't like sitting there, you had to chase them out of the stadium. (laughs)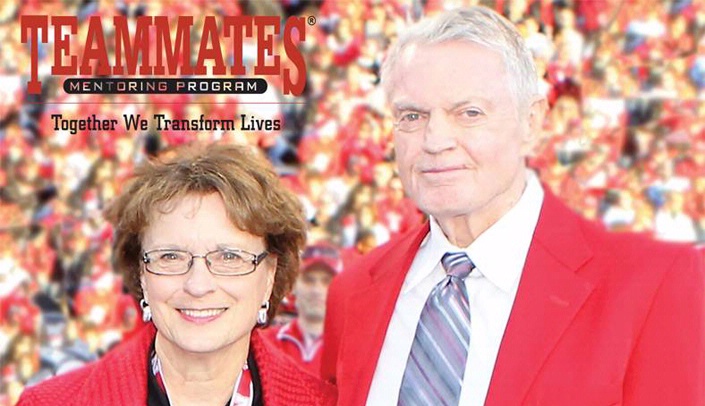 Q: So what was it like trailing Coach Osborne?
BH: You know, the one fun story -and on the sideline we still had the corded headsets- I remember we were at Texas Tech and the funny thing we ran into there, for some reason they called back-to-back timeouts, and they ran water out to them. So after one play they called timeout again -just a play later- and the trainers were still all back on the sideline filling the water bottles. And every time something went wrong Coach Osborne would always yell for the managers, so he was yelling and I'm holding his cord. He was screaming for the managers, "Get the water out there!" (And it was actually the athletic trainers. We had nothing to do with the water) (laughs) But he's hollering and looking around and finally we got water out there. And about 30 seconds later he looked back at me and he said, "That's the trainer's job, isn't it?" (laughs)
He didn't say, "Sorry," but he did acknowledge he was yelling at the wrong people. He was busy calling plays and the timeout was over, but he took a minute to look back and admit that was the trainers' job. He was always intense and just amazing to watch how many things he'd process as the game went along, and just the chemistry on the sideline. That was fun. There were times we'd try to anticipate and make sure we had things in place ahead of time, know the flow of the game and try to have things in place before they yelled for it.
Q: Interesting. As far as having 'things in place,' in what regard?
BH: When they'd throw off a headset. You'd get to know their patterns. You know how Coach Ron Brown ran up and down the sideline? So you'd know when he was getting ready to run… you went to grab his headset so he didn't get clotheslined. And have an idea where to have the footballs for the players -when a quarterback or somebody got hurt and you had to warm up the backup- anticipating that stuff before they had to yell at you and get your attention.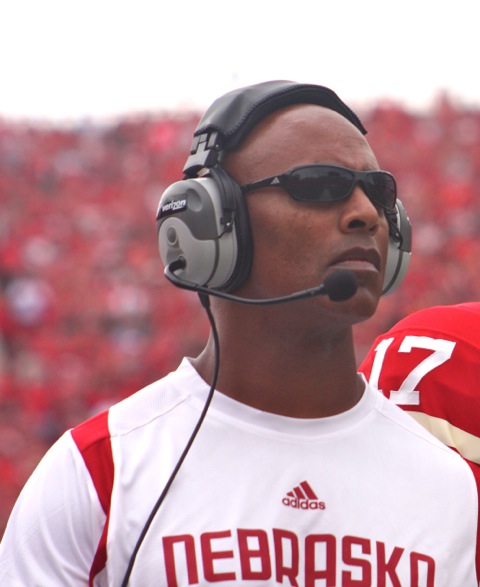 Q: So was it something you looked forward to, holding Coach Osborne's headset and cord, or was it something you dreaded?
BH: Oh, Coach Osborne was great. There were other assistant coaches that we had to draw straws for. (laughs) Coach Osborne was not one to ever take off running. Kevin Steele and Ron Brown? Those two would be walking one minute and then they'd reverse and take off running and there was no way you could keep up with them. And then when they had their headset yanked off their head they'd get pretty upset.
Q: Like playing someone in tight, man-to-man coverage, except you're also carrying their cord, huh?
BH: Yeah. So of course, they were the more temperamental ones, so you always had to try and figure out which way they were going. You didn't want to get stuck with that job on any given day.
To be continued tomorrow….
Copyright @ 2013 Thermopylae Press. All Rights Reserved.
Photo Credits : Unknown Original Sources/Updates Welcomed
Author assumes no responsibility for interviewee errors or misstatements of fact.