Anatomy of an Era: Boyd Epley Part 4
Boyd Epley Part 4
The Godfather of Collegiate Strength & Conditioning/Husker Power
Q: Who first came up with the 1:16 (on the stadium's scoreboard during summer conditioning)?
BE: It was my deal, we discussed it in the staff meeting and Randy Gobel had to go figure out how to do it. And Randy had to do it every day the whole summer. It was a pain in the neck for him. It wasn't easy for him to get up into the press box every day, it was locked. But it had a tremendous impact.
You know how the body's energy systems work: you don't run for more than 5 seconds as a football player. So we weren't going to just go run continuously for 1:16. What we did was came up with 10 hurdles from the track team, and the players went in and around the hurdles; we created an obstacle course with the hurdles and the players all lined up and went in and out of these hurdles and finished up, and then turned around and came right back through it. And we did it every day after the workout and it became a mental thing. They knew they had prepared for the 4th quarter if they did this extra drill.
And when it came time for the season to begin, when they got to the 4th quarter, you see when teams raise their hand and put 4 fingers up? Well, our team meant it. When our team got to the 4th quarter they put those fingers up and they knew they were prepared for anything in the 4th quarter. What happened was, they became unbeatable and they ended up going into the 4th quarter -and of course Cory Schlesinger scored two touchdowns in the 4th quarter- while Miami was on oxygen on the sideline. And Miami couldn't get a first down on seven series in a row in the 4th quarter. Seven series in a row, we dominate them in the 4th quarter. They got no first downs, and we scored two touchdowns and won the game. Well, it worked so well.
Football is a mental game, it's willpower. And these kids really responded to where the next year, in 1995, there was no game where we were even behind in the 4th quarter, it was like a runaway. We finished up Florida 62-24…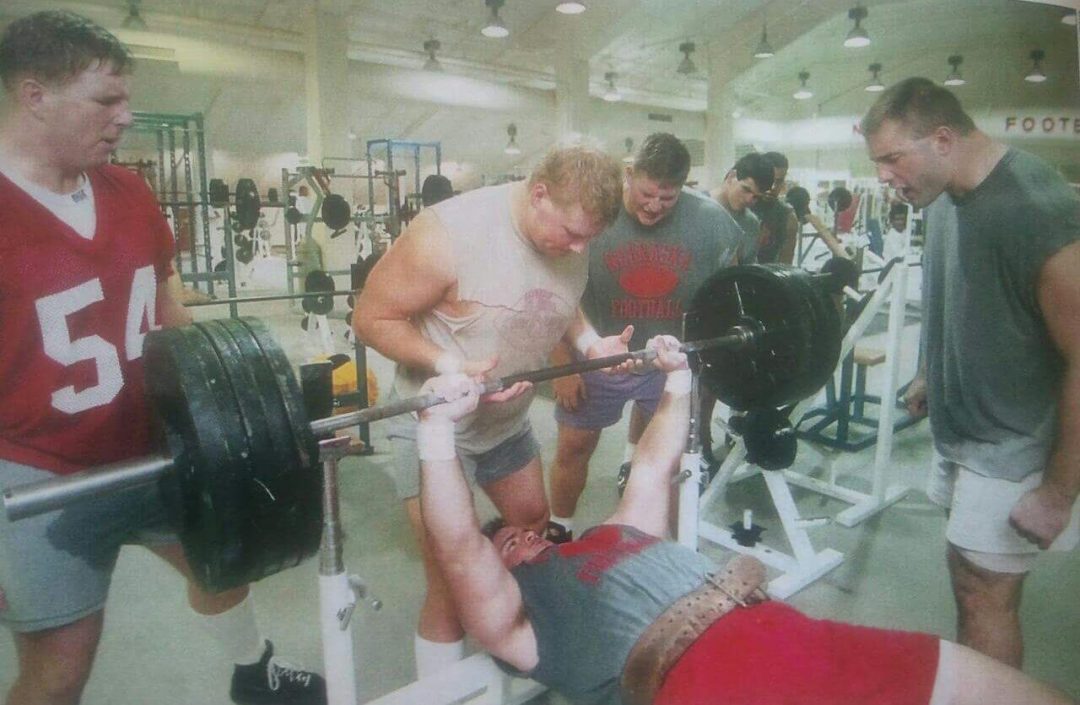 The Pipeline pushing Iron: Aaron Graham, Joel Wilks, Brenden Stai, Zach Weigert & Rob Zatechka w/ Aaron Penland (Unknown/Uncredited)
Q: Anything else about those years that made them special, that stand apart from others?
BE: I think one of the advantages we had was the nutrition program. George Sullivan had overseen it for a number of years, overseeing the training table, and as he got older Bill Byrne asked me to oversee the training table. For 9 years I oversaw that, and I hired Dave Ellis to be the nutritionist. I think he did a tremendous job giving Nebraska an advantage that they didn't have prior to that.
And a lot of the things that he wanted to do cost money, and we got Bill Byrne to support that and we were able to provide supplements, not only for football, but all sports. Byrne was really a good athletic director, he didn't want us to focus on football only. If we were gonna do something he wanted it across the board, so I went to him and said, 'We'd like to start a supplement program.' And he says, "How much, will it cost?" I said,'$25,000.' He says, "Just for football? How much for all sports?" I said, '$45,000.' He said, "Let's do it." That's the kind of attitude he had. It took me a couple tries to catch on to what a great athletic director he was. It didn't take me all that long before I realized that if I was going to try to implement something, he wanted it done for all sports.
He was very supportive, he was very equitable, he wanted me to hire a female strength coach at that time, he kind of got things started that way. He came to me one day and said, "What do you think of hiring a female strength coach?" I said, 'Well, we have one in training who's almost ready to assume that type of position, and right now Danny Noonan is ahead of her as far as readiness, so he would be in line ahead of her.' And he said, "Well, can't we hire both?" I said, 'Well, certainly.' He said, "Well, let's do it." So he got what he wanted and I got two more tremendous strength coaches. He was just an amazing A.D., he really was.
He had a vision, and when George retired they needed someone to oversee the training table. It gave me the opportunity to present a concept to him, and that was the Performance Team. We knew we were going to add nutrition to the team, so we added Jack Stark for Psychology to it. So we had the psychologist, the nutritionist, I think both of those guys, Jack Stark and Dave Ellis, really did contribute to the success of Nebraska football there in the '90's. There is a need for those roles, and those guys did a good job in those roles.
Q: Let the coaches coach and others will fill in the gaps?
BE: Yes, our Performance Team did a really good job there in the '90's. It was tremendous. You know we only had 1.7 million people in the entire state, so it just kind of shows when you really focus, like 1991 in that winter program. Champions really are made when no one is watching. I believe that's actually a Steve Pederson quote. (laughs)
Q: Let me ask you, Boyd, what was your motivation as a strength coach. What drove you?
BE: Early on my role was a strength coach and I worked out with the players and I wasn't much older than them. I was stronger than them, for about 19 years I was stronger than them. Then it changed and the guys like Dave Rimington were stronger than me and I couldn't keep up with the workouts. For many, many years I would do winter conditioning with them. I wanted to do the drills right along with them so I'd know what kind of intensity they were working at. I had a certain respect from them because I could do it with them, and then as I got older that changed and I became more of an older coach, and you don't relate to the younger players as well when you get older, and so my role kind of changed. The guys like Mike Arthur and Randy Gobel, they didn't leave the program, they stayed there and were loyal. All these staff members gave me their entire career and the Husker Power Club was really helpful in allowing me to keep my staff and serve my staff, because the staff had their responsibilities with the athletes. So as you get older things evolved.
Q: Do you have a favorite play or favorite moment?
BE: Well, I have a play that I remember like it was yesterday, but it wasn't my favorite. I was standing on the sideline in Miami and we looked like we were going to lose, Irving Fryar dropped a pass in the end zone. But then on 4th down and 12 we gave the ball to Jeff Smith and he ran for a touchdown, and all we had to do was kick a field goal and tie. And Coach Osborne decided to go for two, which created a tremendous reputation for him in having high character. It was a tremendous thing that he did. I remember shaking Mike Arthur's hand at that moment, because we were going to make that that two point play and we were going to win, we were going to be national champions. I remember we shook hands and we watched the play, then the ball hit Jeff's shoulder. It bounced off and we didn't win. I remember that play about as well as any. Wasn't my favorite, but is one that I certainly remember, and it made Coach Osborne a legend in the game of football. A tie would have ended up giving us the national championship because we were undefeated and would have become number one, but that wasn't what we went there to do. And that meant an awful lot to us who were real impressed with what Coach Osborne did there.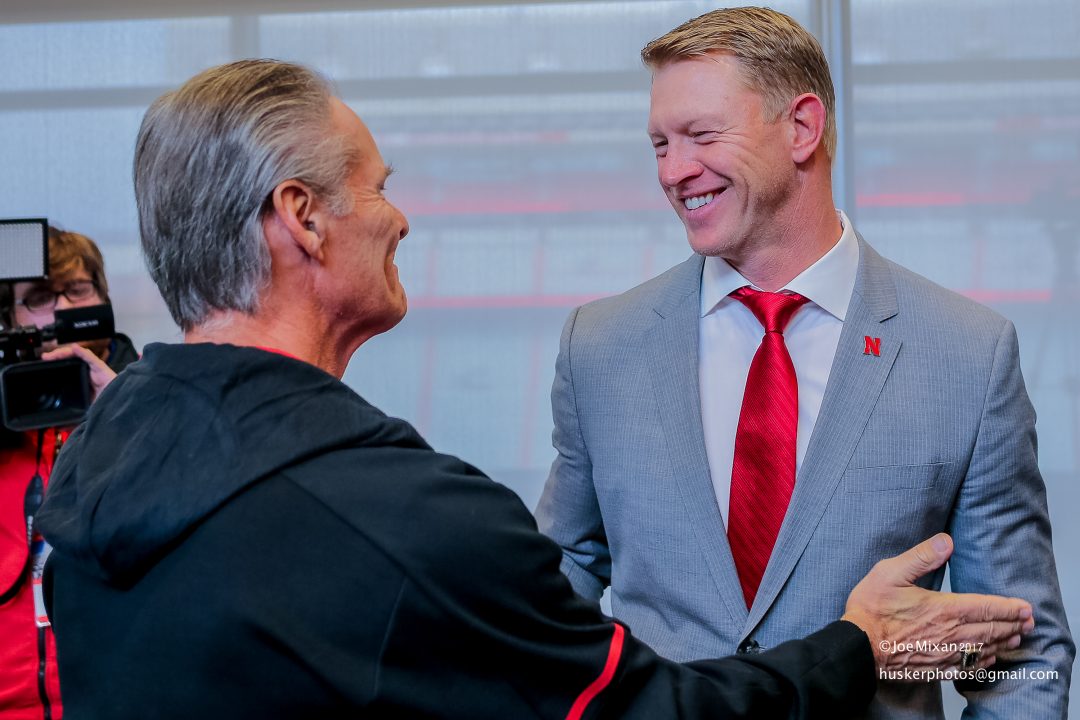 Boyd Epley and Scott Frost (Joe Mixan photo)
Q: A favorite game?
BE: I have two. The one against Miami where we were trained in the correct energy systems and they were exhausted and on oxygen. We found out later that Miami had been training in the wrong energy system, they were running 220's and 440's. But there are a lot of coaches and trainers still don't get that right, don't understand what the energy systems are and how they work. They train athletes in the wrong way. Unfortunately, we have some athletes dying as a result.
The Miami game where we came back in the 4th quarter was the best example of a team that has been conditioned properly versus one who wasn't. Although they might have had better talent, in the 4th quarter they just couldn't keep up with us. If there had been a fifth quarter, they would have had to take the Hurricanes to the hospital.
The other game was the Florida championship game; beating Steve Spurrier and beating them that badly when they were ranked #2 in the nation. I think they were #2 and we were #1. What happened there, I think there was so much attention on the Lawrence Phillips issue, nobody realized that we had a pretty good football team. I remember being on the football field during warmups. You know how Nebraska would go on the football field to warm up in three groups: you had the people that handled the ball would come out first, then the linebacker-types would come out second, then the linemen would come out last. They didn't quite do much to warmup, so they came out last. So I'm out there and the first two groups are on the field, and the assistant coach, Ron Zook -he was with Florida at the time- he was a friend of mine and he came over and said "My, you guys are big!" And I said, 'Ron, what do you mean?' And he said, "Look at your guys, they're huge!" And I said, 'Ron, the linemen aren't out there yet.' And he said, "What do you mean?" I said, 'The big guys aren't out there yet.' He looked around and said "What do you mean, Boyd?" And I said, 'Here they come!' And about that time the linemen come running out, and he looked at them and said, "Oh, my God!" (laughs) They just weren't prepared for Nebraska that night.
Q: Any funny moments with Coach Osborne or anyone else?
BE: Mike Rozier. Mike Rozier was great guy, funny guy. But he was also a valuable person on the team and we couldn't afford to get him hurt. One day at testing he wanted to run another 40 yard dash time. Well, he'd already run twice but he wasn't happy with his time and he wanted to run an additional one, and I told him, 'No.' So we were putting the equipment away. And we were all finished up and I look back, and here he's running stark naked down the field in the 40 yard dash! (laughs) But he didn't run any faster…
End conversation.
Nebraska's strength staff once employed a young graduate student assistant out of Brownsville, Texas who was quite a motivational fellow. Arturo Garcia was his name and he possessed a variety of quirky witticisms. One of them summarized Boyd Epley to a 'T', and went something like this: "You can't stop the man with a plan, because there's not a plan to stop the man." Catchy, don't you think? Also very true.
Boyd was a planner, a dreamer, a visionary, and until now has never gotten his due for his ability to elicit development in a college kid's most important muscle of all, the one right up there between the ears. I overheard ESPN's Scott Van Pelt once make this statement about strength coaches, "Their only role is to act like the biggest dickhead ever… all the time." Well, Boyd was cut from a different kind of fabric altogether, bringing science, marketing and facilities together to aid development of full physical potential via the Husker Power program.
Of course, the University of Nebraska weightroom was a spectacle and a marvel in itself, but merely possessing the nation's largest weightroom and knowing how to properly use the nation's largest weightroom are two different animals, and Boyd used it to maximum extent. Employing multiple assistants with diverse talents and peppering the rafters and walls with catchy slogans such as, "Combine running, stretching and lifting if you dare to be great," and "The great ones adjust," it took the better part of twenty-two years to finally perfect the physical development of the post-adolescent human male for total football dominance.
Rather than training players for only improved health and general fitness -which was the bellwether of the time- Boyd and Husker Power staffers set the bar multiple notches higher and ahead of many programs you'll still find today. Testing every player's vertical jump, the direction-changing Pro Agility Drill, and both the 10 & 40 yard dash multiple times per year and then tying those test results and the student/athlete's body weight, height, and muscle mass into complex mathematical algorithms, he (along with assistant Mike Arthur and, most notably, University Professor Chris Eskridge) found a simple way to compare the performance parameters of all athletic positions and body-types in order to separate the corn from the cobs. (Please pardon the pun) The result was not merely a self-assessment tool to note an athlete's physical development, but a method of assessing each athlete's weakness, aiding one to devise a plan to improve upon those weak links through future training regimens.
The result of this merging of science and mathematics was called the Performance Index, which was also tied into something known as a Strength Index: using the Hang Clean, Squat and Bench Press Exercises (Bench Press was later eliminated due to its almost total inability to predict athletic prowess). The result was an across-the-board measuring stick for each athlete to use as personal- and team-wide competition for every training & testing period thereafter.
Were a player to achieve an Index Score of 500 points on each Index variable, the athlete was not only allowed to lift at his discretion on the hallowed Record Platform sitting center stage in the colossal weight facility, but his name was -for all intents and purposes- etched into a statue at the base of the raised platform for all of Nebraska Athletics' eternity. (These indexes were also a great predictor of All-American worthiness and the potential to excel in the perceived ultimate realm: professional football)
Combining both 1) a full understanding of how the human body best recovers to full power from one football play to another with 2) an obsessive focus on physical domination, it all came together in those glorious 60 & 3 teams. Building a sense of community, dedication and accountability through the Unity Council at the time, each player knew that simply pouring his full effort into 'the system,' –especially the Husker Power training system- improvement and success were only a matter of time. If not? Well, then one had only himself to blame for failing to reach the human performance heights dreamed of as a young recruit.
Notable quote #2:
Boyd Epley on the 357 days per year Memorial Stadium's bleacher seats are empty: "Champions are made when no one is watching."
Copyright @ 2013 Thermopylae Press. All Rights Reserved.
Photo Credits : Unknown Original Sources/Updates Welcomed
Paul Koch
---
---
---