Anatomy of an Era: Bill Humphrey, Part 3
Excerpted from Chapter 64, No Place Like Nebraska: Anatomy of an Era, Vol. 2 by Paul Koch
Anatomy of an Era: Bill Humphrey, Part 3
Q: Speaking of that game versus Miami, are there any specific matchups or plays against those guys that you remember most?
Bill Humphrey: The one thing I remember most was that Sapp had a very quick first step, but we were pretty quick on the line, too. They were strong up front and their linebacker play was good. I don't ever really remember them beating us off the line or being too quick for us, and I think we started out with a couple of 'pancakes' on Sapp to begin with and our confidence was up.
Q: What about that Florida State game the year before?
BH: What sticks out is how we felt we had it and that we were wrong, and some calls. That clipping call stands out on that kick return by Corey Dixon, when they called a clip. And I think they called it on BulletHead and he hadn't blocked anybody on that return. It kind of felt like Bowden was given one, but we had a chance to win that game and didn't pull it out.
Q: Can you tell me anything about the grading or the feedback process? You talked about how Charlie didn't leave you guessing…
BH: I think we went on a three-point grade. One point meant you were in the right place and made the right steps. Two, you maybe blocked your man and you kept him out of the play. Three was, I think, not only did you block the man, but then you got downfield and created a second block or did something beyond that. I think that's how that worked. I don't recall exactly. Zero would mean you absolutely screwed it up. (laughs)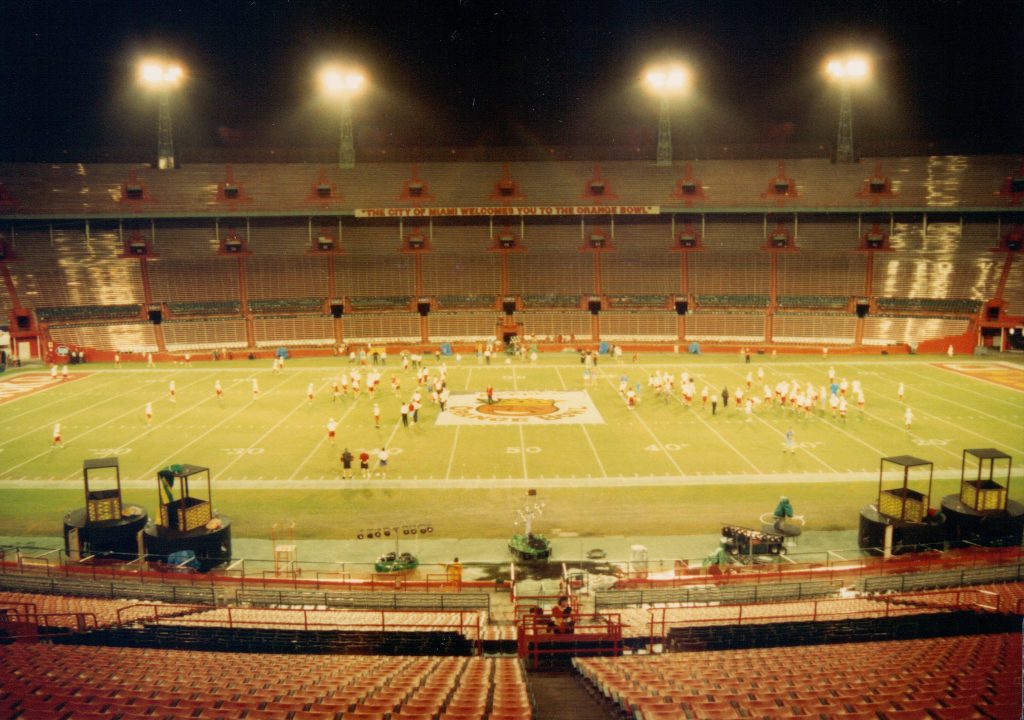 Q: What about Coach Osborne? Any other memorable conversations or events aside from his falling asleep on you and your parents? (laughing)
BH: What stood out was that we had 4 stations going on at the same time and he'd stand in the middle and he would know what was going on everywhere, even if it was behind his back. The confidence he exuded and just how upstanding he was and the approach he took; if there was a halftime speech he was still aggressive with it and would motivate. I never heard a curse word come out of his mouth. And one thing that impressed me was a number of years after I graduated I was walking through the Lincoln airport -and Tom was a Congressman at that time- and I run into Tom in the Lincoln Airport and he immediately remembered my name and who I was. You think of how many guys had been through the program and he immediately remembered my name, and that was nice.
And then I ran into him at the Virginia Tech game in 2009. I was staying at the same hotel Tom was staying at, and when I'd checked into the hotel I found out the Virginia Tech team was staying there, too, and then someone pulled the fire alarm at the hotel, so we're all standing out front of the hotel at 2 or 3 in the morning, and Tom and Nancy were standing outside and they were dressed to a T. They'd already been up, showered, combed their hair, pressed their clothes…. (laughs) Everybody else is in their sleep gear. And I look over, and next to me was Virginia Tech's coach, Frank Beamer, standing there with a hoodie on, but here's 6' 4" Tom, standing there looking just as sharp as can be.
Q: Like he just arrived home from a black-tie gala?
BH: That's right. I talked to him. Also ran into Tommie Frazier when I was there. He was there on an alumni junket and I got in there Friday and walked over to the walk bridge across the train tracks in Roanoke and walked into this tavern and it was Tommie. I had to do a little double-take. Tommie was a little bit bigger than he was when he played at Nebraska. And when I played with Tommie I don't think that him and I ever exchanged more than three sentences with each other, but it was like seeing an old buddy.
Q: And as far as describing Tommie back in those days, how would you describe him and what he brought to the table?
BH: I would say, back in those days he was very professional, very serious. I always had a lot of respect for him, but maybe not someone who seemed like he was approachable to people outside his sphere. But when I saw him in Roanoke he was gracious and having a good time with fans.
Q: Any recollections of Brook?
BH: Sure. Brook, to me, was someone you'd always want your daughter to marry. Just a real upstanding guy, a good worker and smart.
Q: Your last game was the Miami game then, did you ever work with the Turmanator?
BH: Oh yeah, that was the '94 year, and we ran ISO just about every play that Kansas State game. I also remember against Missouri and Turmanator got hurt that game. I remember 'The Sandwich' came out and played in that game, too.
Q: 'The Sandwich'?
BH: Yeah, Monte Christo. The Sandwich came out to run a series or two.
Q: (laughing) He was a freshman, wasn't he?
BH: Yeah, that game was still undecided. Brook was out and Tommie was out and Turmanator got a shoulder hurt or something, and then Monte Christo comes running out there. It was like, 'Monte, it's okay. Just get the snap and hand the ball off.' It would have been to Lawrence or Clinton or Damon. I remember Clinton being a real fun-loving type guy, a real good personality. Lawrence was just quiet. He might have changed after I left, but I remember Lawrence was just a quiet guy.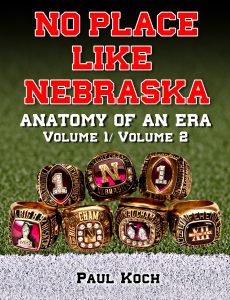 Available on Amazon.com
Q: So let me ask you, was there anyone behind the scenes who you feel made a great difference at the time?
BH: I think it's the whole training staff: Sully and Weber and Doak, those guys. They put up with so much of us coming in there and wreaking havoc on their turf, but that's what they were there for and they were attentive and obliged. And all around, even the Life Skills and Hewitt Center guys, Keith and Dennis, and the strength coaches, of course. I still see Bryan occasionally on the USC sideline. He looked like he was the right hand man to Pete Carroll.
Q: What is it about those people that stands out to you most?
BH: One thing that I could always remember was the squat reps when we were testing. You guys would not give a rep to us on the squats if we didn't go parallel.
Q: Yeah, you're eyes would be bulging from this hellacious set of squats and then when it was over we'd say, "That one didn't count because you didn't go down low enough…"
BH: That's right. And all the ladies in the Sports Information Office and the Ticket Office were always nice. At Nebraska everybody was great.
Q: No meatheads or real jerks?
BH: I can't think of any. I was probably the biggest jerk. (laughing)
Q: So looking back and reflecting on those days, have we failed to touch on anything that made those years and teams special?
BH: I just remember we all seemed to enjoy being teammates. That's what I can recall. It always felt like we here headed toward doing something great, to win the national championship. To know that was out there for us to get and we all worked hard to get it stands out in my mind, to achieve that goal.
Q: That had to feel good.
BH: Oh, yeah.
Q: You went out on a great note.
BH: And it wasn't just us, it was the whole team: the trainers, the medical staff, the collection of people who had a goal in mind and we got there.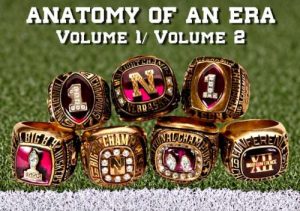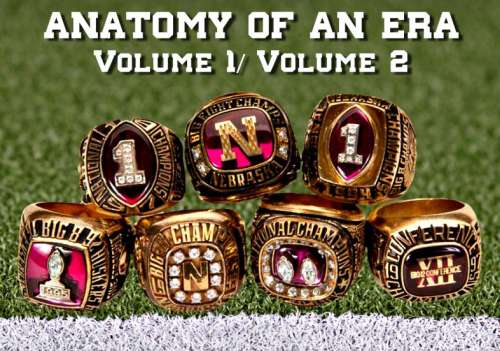 Q: And it was worth it?
BH: It sure was worth it.
Q: Do you ever wear your ring?
BH: Oh yeah. I live in the DC area now and there is a great Husker-backer bar right down Union Hill, or Capitol Hill, called the Union Pub. If anybody ever is in DC they have to go down to the Union Pub.
Q: And one last question: What was it like going up against Christian every day in practice?
BH: Well, for me I had a little bit of a chip on my shoulder when it came to Christian, because I didn't want to be an offensive lineman at first and was made to go over there with encouragement from Tom. So I enjoyed it every day and tried to prove that he wasn't anything better than I was. (laughs) I guess I'd like to think that I made Christian a better football player.
Q: Any special thoughts or remembrances of Christian, otherwise?
BH: I'll 'plead the fifth' on that one. (laughs)
End conversation.
First things first, I had the biggest laugh when Bill spoke of those damned trains. Tearing up the tracks in the old rail yard north of Memorial Stadium and adjacent Harper-Schramm-Smith dormitories in all hours of day or night, the powers that be -you should understand- might just as easily placed them in the Abel-Sandoz dormitories in the more hushed environs of 17th & Vine Street and given them a semblance of night-time peace. Was the leadership aware of the Hell Week-like environment playing out over in that part of campus? Greenhorns thrown to the wolves and beaten to a dehydrated and bruised pulp during the day, only to combat sleep deprivation and an unfamiliar bed miles from home at night? Yes, I think so. Why? I believe it was part of a test, a crucible, a proving ground engineered to push the newbies to the limits of what they could endure. And let's face it, doing so was likely the best way to separate the 'Want to be's' from the 'Have to be's'. It was a great way of doing some weeding out at the start of camp. Those who remained proved their mettle.
Bill also shared his, "I always appreciated 'in-your-face, tell-you-how-it-is, let-you-know-where-you-stand"-type coaching. The most frustrating thing is guessing where you're at. But Charlie always let you know." I could go on a tear about Charlie McBride and his rants and fits and unique coaching mannerisms, but enough of these guys will do him justice in that department. Instead, what I gleaned via this quote was his mention of the need for players to always know 'where you stood' in the pecking order. Much like the Appendix chart I spoke of in the introduction, one detail that stands glaringly out at me is the Six Sigma management philosophy, whereby success is achieved through an almost constant measuring of the performance of workers (players) and the company (team). Instant feedback is the key component of this philosophy, and the student-athletes saw it promptly in practice, in the film room the next day, on the depth chart, in the starting lineup and the gameday rotation schedule. Measure, comment, measure, comment. Feedback, feedback, feedback. Using common sense teaching methods, it freed the players from the bondage of mental concerns and allowed them to focus on the tasks at hand, uninterrupted nor squelched. It also gave them something to shoot for, a personal challenge to improve their standing the next day, the next week, the next offseason, the next year."Onward and upward" was the rallying cry.
Notable quote #2:
Bill Humphrey on the omnipresent & omniscient Tom Osborne: "We had 4 stations going on at the same time and he'd stand in the middle and he would know what was going on everywhere, even if it was behind his back."
Copyright @ 2013 Thermopylae Press. All Rights Reserved.
Photo Credits : Unknown Original Sources/Updates Welcomed