Anatomy of an Era: Aaron Taylor, Part 1
Excerpted from Chapter 56, No Place Like Nebraska: Anatomy of an Era, Vol. 1 by Paul Koch
Each of us has an inner voice that speaks of the gold in our shadow. It is the voice of our secret, hidden self- our most authentic self in many ways…
-John R. O'Neil, The Paradox of Success
As Nebraska was hitting its unified stride in 1993, a cherubic freshman from Wichita Falls, Texas -whom few else so coveted- was quietly learning the ropes as a redshirt offensive lineman. The only non-native Nebraskan starter on the '97 National Championship team's offense, Aaron Taylor first emerged as a cog on the fabled '95 team's O-line. Perceived as too small by other college coaches, Milt Tenopir told him, "I don't care how high you are. I care about the size of your heart." ("Then Osborne Said to Rozier…", Steve Richardson) With a heart of gold and a reservoir of culled wisdom, I'm looking forward to a rousing and revealing tabletalk with this multi-faceted jewel of a man… who now calls himself a Nebraskan.
Notable quote #1:
"The coaches didn't have to get on you when you blew a play because you were already riding yourself and you expected more than what they were expecting of you, so it was almost a self-governing of the practices and the teams those days. The players were harder on themselves than the coaches could ever be to them."
Aaron Taylor
Scholarship recruit, Offensive Guard, Wichita Falls, Texas (Rider)
Where are they now? Omaha, Nebraska, Management 
Question: Hey, Aaron. Thanks so much for making time to talk about Nebraska football and what made your time there special, as well as what you learned from it.
Aaron Taylor: No problem, Paul. I think one of the things I learned from the college days was the leadership abilities I developed and used then. They definitely transfer into the business world.
Q: In what way?
AT: Oh, I would say just the ability to lead, to create a coalition, to have a calming effect, to give directives and have someone believe in you, and to also make yourself a part of a team. And that was a big thing, Paul.
And you know this, but back in the '90's the team atmosphere was something that I don't think has been replicated. I think they're on the right track right now, but '93 to '97, my senior year? There was such camaraderie among us. There were some great athletes, but no one person was greater than the team.
Q: That calming effect: would you have gotten some of that from Coach Tenopir or Young or Osborne?
AT: I would say, number one, on the offensive side of the ball you have to have a little more control of your emotion, and the second and third thing would come from Coach Osborne and Milt Tenopir. They both had a fire to them -and I think we all saw it- but it was a controlled fire in their belly, and when it needed to be unleashed they could unleash it.
But there were awesome control mechanisms in there, you know? The difference between the offensive side of the ball and the defensive side of the ball was just dramatic. Look at the way Charlie McBride handled himself on the sideline versus the way an offensive coach did. On the defensive side you have to play with a lot more emotion, more conviction, more adrenaline, if you will. On the offensive side there it has to be a little more controlled and in spurts.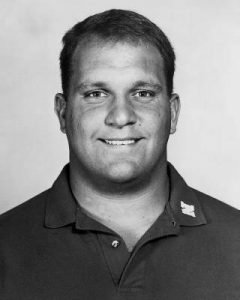 Q: More cerebral, more technical?
AT: Exactly. I remember vividly how some emotions would get out of control and I would completely botch the play. And if I botched the play that usually meant we didn't have a play for many yards, so it has to be a little more controlled fury.
A prime example: I remember like it was yesterday, the Missouri game in 1997, when we were down and we needed to drive almost 70 yards to score a touchdown and put it into overtime. We called a timeout and all went over to the sideline and Osborne was just standing there -just cool, calm and collected. The Missouri fans? It was so loud. It was unbelievable the atmosphere there, and so much tension. And here we had a minute and something like 40 seconds to drive 70 yards and put the game into overtime… and we go over to the sidelines, and he just looked at us all and said, "Well, here's what we're gonna do. We're gonna run 32 and 38 option pass." And here he's just cool, calm and collected, and we all just had adrenaline flowing out of our pores. And he was, "Linemen, you get a good block. Scott, make a good throw. Receivers, catch the ball and get out of bounds. Let's go."
And it was that calm tone. And here you've got eleven men on the field who are just ready to go out and take someone's heads off and go down and score. And just with that kind of little pep talk and calm manner he was able to take you and bring you down a notch from being out of control to, "Hey, the guys are still fired up. They're gonna go out there and do their job. They'll be fine if they go out there and do their job." Little did we know Shevin Wiggins would kick that ball to Matt Davison.
Q: Were you so embroiled in blocking on that play that you missed seeing 'the catch?'
AT: You know, as far as 'the kick': I had a guy that I was engaged with on their defensive line (and usually when a pass is thrown the defensive line kind of lets down their guard a little bit), and when my defensive linemen did that I turned and looked at the play and saw the kick go up.
And actually? I thought that Shevin had caught the ball, first. And then next I see the ball go up in the air. I saw Davison running and then I couldn't see anything after that. Then all of a sudden I see him standing up with his hands in the air! And it was an eternity looking over at the ref, waiting for him to signal a touchdown. Just an absolutely awesome feeling. And you could just feel the air sucked out of the stadium. Absolutely amazing.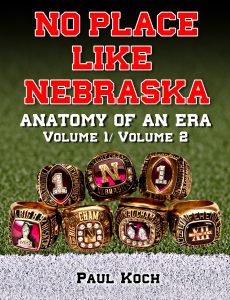 Available on Amazon.com
Q: The other day I was talking to Vershan and he mentioned that he really respected Missouri because they always came to fight. Would you say the same thing?
AT: I would say the same thing. They had a pretty good crop of talent down there that kind of reminded you of a 'mini-me', like a mini-Nebraska. They weren't quite to our level, but they ran the same type of offense and they had the same type of kids that worked hard and battled all game long, and they would just get in your face and they wouldn't stop. They weren't the most physical or the most talented group of guys that we played against year in and year out, but I think they did a pretty good job of giving us a run for our money every single year.
I would have to say, Paul -and this sounds so weird- but the toughest games that I had were against Oklahoma. And we were running through Oklahoma big time, if you remember, 70-something to 20, in the mid-'90s; the Schnellenberger years we were just killing them. But man, I tell you what, the next day or the day after that you felt like you just went through a battle. They didn't really give up, but man they were physical. They were that way, also, a lot like us. I don't know why it was Oklahoma, but for me that was always a tough game. But they always had pretty good interior talent, too…
Q: Any one guy you went against who you developed great respect for?
AT: I would say it would be someone from our own team: Jason Peter. I really feel that way. Just from the aspect that Jason was such a great, well-rounded player: he didn't have a chink in his armor whatsoever. He worked extremely hard to stay at 280-285 lbs. and he worked his tail off on the football field. And I tell you what, just his repertoire of being strong, being fast, being quick, being a knowledgeable football player always made it difficult for me as an offensive lineman; by far the best at developing me as a player -going against him- than anything I was involved in in athletics.
There wasn't a day in the 5 years we were there that I didn't go against him and butt helmets.
Q: Would you agree that practices were twice as hard as the games?
AT: Oh yeah. When we had the likes of Trev Alberts, Terry Connealy, Christian Peter, Jason Peter, Grant Wistrom, Chad Kelsay, Mike Anderson, Phil Ellis? I could just go on and on and on. You were going against those guys day in and day out, and then you go to a game against the likes of an Iowa State or a Missouri or a Baylor? There's no one you're gonna play that's better than the teammates you were going against for 5 days before the game. It just developed you so much, and that's why it's so crucial and critical to have good talent and good depth across the board in a program. 'Cause if you can simulate game experience in a practice? Whenever we walked into a ball game we knew that we had already faced our toughest opponents. And that was our teammates earlier that week.
Q: Gives you quite a bit of confidence then?
AT: Oh yeah, you'd step on the field on Saturday and never felt like you were gonna lose. Saturday was a cake walk. It was an easy deal on Saturday.
Q: So Aaron, was '93 your freshman year?
AT: That was the first year on campus. I redshirted in '93 and then I backed up Joel Wilks in '94, and then '95 I started at left guard ('cause Wilks was done in '95), and then I moved over to center in '96. Aaron Graham had graduated -and I don't know if you remember Josh Heskew at all. He wasn't quite ready to play, a year and a half earlier had an ACL or shoulder surgery- and we didn't have anybody else really ready to take over for him at center. And then Adam Treu came in and played left tackle and Dishman moved down to left guard.
And then in '97 I moved back to left guard, which was actually what I wanted to do. Center was probably my most natural position where I could have stayed longer in the NFL if I'd wanted to, but whenever you're running an offense like Nebraska's the guards were so critical to the play developing and the play succeeding… you were always pulling and always the lead man on the block, and that was something I loved and cherished. And I wanted to get back and get my nose into the play, if you know what I mean? I didn't want to be the second or third option. I wanted to be the guy leading the play, so that's why I moved back to guard my senior year.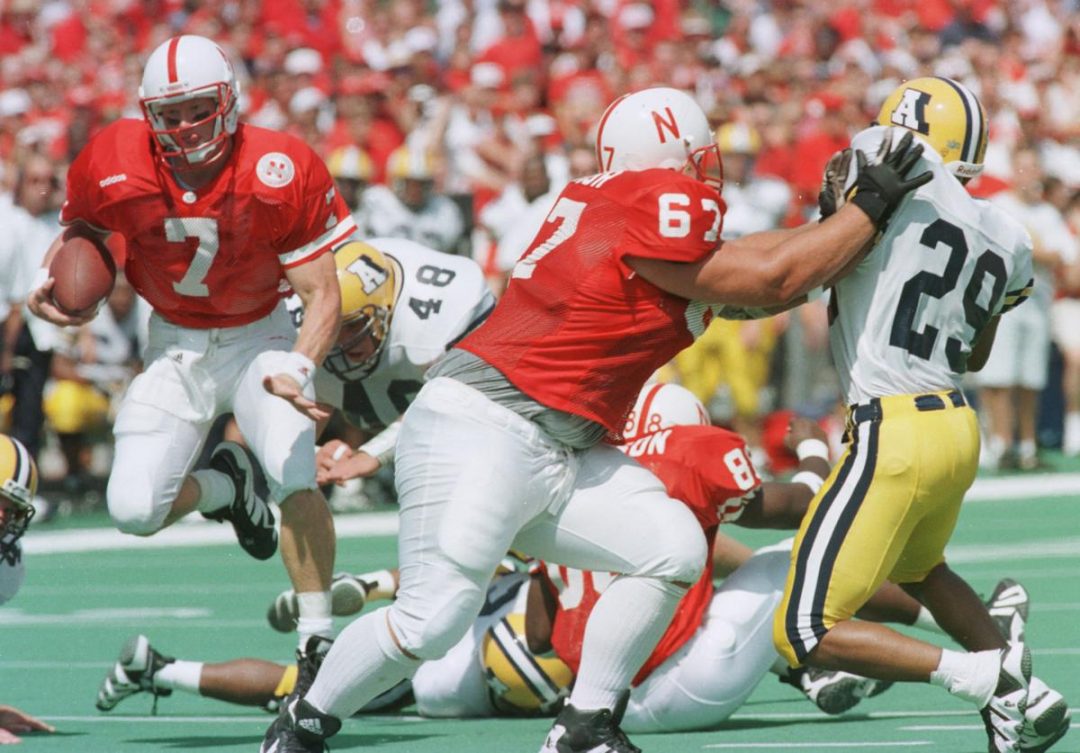 #67 Aaron Taylor: The tip of the spear (Courtesy Omaha World-Herald)
Q: You wanted to be the 'tip of the spear', so to speak?
AT: Exactly. Part of the thing is -just like any athlete will tell you- you want to be the guy that's out front leading. (Most would say that, at least.) You want to be the guy that has the pressure on his shoulders. And it was almost a challenge to yourself: 'Can I get it done?  Can I be the spearhead of making the play break or is it gonna fail?' To me, that's the truest test of an athlete: who wants to show up and perform? And that was what I wanted. I wanted that pressure on me. If the play was going to break it was going to break off me.
Q: Were you always that way? In high school, too?
AT: No, I wasn't. Because my dad was retired Air Force, right? I spent two years over in Germany so I played soccer throughout all my adolescent years all the way up to high school. I came into high school and really my freshman year was my first year to play ball.
And the way it worked for me? I was still learning the game and when I came to Nebraska I was a really raw talent. And being raw and never going against talent as good as it was at Nebraska? I wouldn't say my confidence was completely shot, but I had some doubts in my ability. And you know as well as I do, whenever you have doubts you have tentativeness. And that's the way I was for my first almost two years.
My confidence really didn't start gaining and developing until I started my sophomore year, the '95 season. And I tell you who did a good job of fostering that, telling me I was a good ballplayer and telling me I could do a lot of things? That was Aaron Graham. That was his senior year in '95. He was from Texas. We gelled really well, and I could always look at myself as an Aaron Graham. I thought I was a better athlete than him but I didn't have the technique, the confidence, all those types of things, but as a senior and as a leader he did a good job of fostering that in me. And when he left it was almost as if he was saying to me, "Okay, it's yours now."
Q: How did he foster that? Encouraging words?
AT: Numerous ways. It was by example, there was no one who worked harder. That encouraged you and showed you how to do things on the field.
The next way was verbally, you know, and Aaron Graham is such a super guy. Just talking to you, getting you excited about the whole program in general, all the way down to the offensive line, and then down to you. It wasn't just about you, it wasn't just about the offensive line. It was about everything. He did such a good job of building that, but verbally and showing it by his leadership skills, he did it both ways.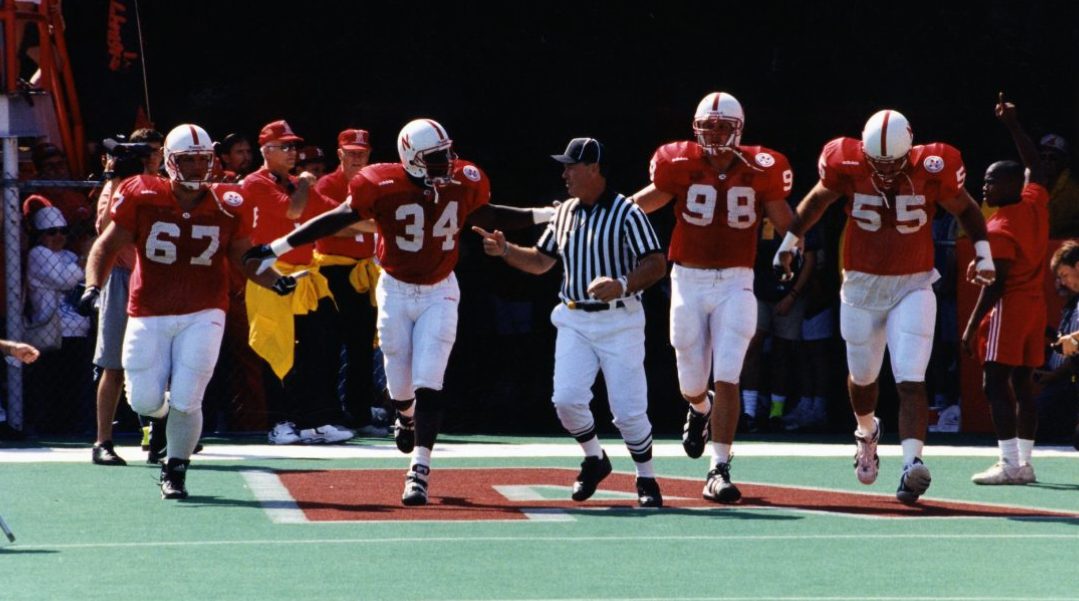 '97 Team Captains take the field (Unknown/Uncredited)
Q: What stood out most when you first arrived on campus?
AT: I don't want to say anything surprised me, but what stood out the most was the family atmosphere. It was the camaraderie amongst the guys and the coaches.
As I said earlier, there was no one individual that stood above the team. And if you did there were other athletes that were as good as you and they let you know that you weren't 'The Man', you know? (laughs)  If you take a look at it, imagine all the guys that came through there, all those guys I mentioned on the defense, earlier. You had Barron Miles and Tony Veland, too. You had Ahman, you had Lawrence. (Lawrence was kind of out there on his own) (laughs) You had Rob Zatechka, Brenden Stai, Aaron Graham. You take a look at all those guys. You never had one star, you had a bunch of stars. And what that did? Everybody just kind of came together and was on the same level.
And just the family atmosphere? I can remember sitting right there in Coach Tenopir's office one time and Coach Tenopir is just hammering on Freddy Pollack. He's just hammering on Fred. And Fred was kind of one of the head-cases and was a hell of an athletic talent and was strong and fast -but would struggle a little bit- and Tenopir was riding him for blowing a play in practice. And I could see Fred started getting pretty aggravated, so I spoke up and said, 'Coach, that was my fault. I gave him the wrong call and that's why he did what he did.' (Knowing damn well that I didn't do it) (laughs) But the thing is, I'm covering his ass and I fully expected him to cover my ass the next time I blow a play. (laughs) But that's the thing: Tenopir turned his anger at me for a minute or two. And that was fine.'I'll take the heat off of Fred.' And Fred realized it and he was thankful for that and he reciprocated. And that's the way it was for everyone. The thing is, if Fred blew that play again he knew I was gonna jump down his throat and 'I wasn't gonna take the heat for ya', you know what I mean?
It was even that way in practice, Paul, where the coaches didn't have to get on you when you blew a play because you were already riding yourself and you expected more than what they were expecting of you. So it was almost a self-governing of the practices and the teams those days. The players were harder on themselves than the coaches could ever be to them.
Q: How do you think that was, Aaron? I'd think that human nature typically leads a person to coast here and there and not necessarily hold oneself to a higher standard on such a consistent basis?
AT: I think that you had to recruit the right kind of kid. I really do. Were we talented? Yes, we were. Were we more talented than a Florida, Florida State, Texas back in those days? Were we better than them, person by person? No, we weren't. I think it's recruiting the right kind of kid. I really do.
We were all good guys, we all had a lot of fun, but we also knew what it took to succeed and were willing to do it. I think it's more the type of person you recruited rather than just athletic ability alone. A prime example? Look at the Callahan years. Callahan fan or not, he had some pretty darn good talent that came in but just never really developed it. It was never that same feeling that was there as when we were winning. I don't think there was ever a more ballyhooed recruit than there was with Harrison Beck and with Marlon Lucky at running back. And here we'd go out and we're winning with a walk-on from Wahoo down at K-State, playing a top 15 team in the nation. (laughs)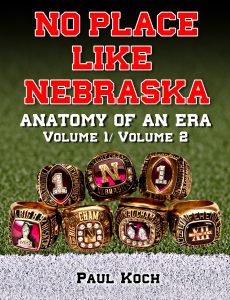 Available on Amazon.com
Q: Do you remember much of that day?
AT: Oh yeah. That was '94 and I was the second string behind Joel Wilks and I was 19 years old and still kind of learning the game of football. (laughs) And Paul, I tell you what, it was kind of one of those days where it was in the mid-50's, so it wasn't real cold and it wasn't real warm. And the stadium was electric!
And really the only person I knew fairly well was Chris Dishman, so I just remember my heart sinking when Brenden Stai broke his ankle during that game. And at that time I believe Bryan Pruitt went in. I think it was Bryan Pruitt, he went in and replaced Brenden Stai, and Dishman looks over at me and says, "You know, Aaron, if either one of the guards needs a rest you're going in." And I just kind of looked at him and go, 'Huh?!' I knew I was a backup, but I never looked at it like that. (And I never really stretched much before the game, I wasn't ready at all.)
And quite honestly, Paul, just mentally I wasn't prepared to play either guard position. I was still so young that I just knew my position of left guard and left guard only. So I remember my heart rate racing the whole game as far as the score, as far as the emotions of the game, I was completely lost in it. (laughs) I was just sitting there just trying to concentrate on those two guys not getting hurt and me not having to go in because I didn't want to screw it up in such a big game. (laughs) Of course, my sophomore to senior year? I would have wanted to go in any time, but that was my redshirt freshman year.
And I remember this like it happened twenty minutes ago: Chad May was the quarterback back then, and him moaning and groaning after the game. And I remember Christian running off the field and had his left hand wrapped around his right index finger about halfway down, so you only saw half of his right index finger. He's grinning, and he said, "I had my finger this far in his f***ing eye! I had my finger this far in his f***ing eye!" (laughs) And I'm 19 years old -so it's really my first game or two traveling, so everything is new to me- and I'm looking at him going, 'What in the hell is going on?' (laughs) It was just a great experience and we ended up beating them pretty good. What a great day. It was a learning experience on so many different levels. I didn't even play, but what a learning experience.
To be continued….
Copyright @ 2013 Thermopylae Press. All Rights Reserved.
Photo Credits : Unknown Original Sources/Updates Welcomed
---