Anatomy of an Era: Aaron Penland, Part 1
Excerpted from Chapter 73, No Place Like Nebraska: Anatomy of an Era, Vol. 2 by Paul Koch
In football everything is complicated by the presence of the opposite team.
-Jean-Paul Sartre
Wedgebuster. It's an odd word, full of action. It jumps off the lips like a firecracker. The sound of it erupts from somewhere deep down in the throat, weighty, dark and grim. To be that man holding the title of Wedgebuster is an even weightier task, for it involves abandonment of all thoughts of self-preservation at the expense of levying a powerful, most purposeful jolt. Done well, it removes all false bravado and squarely sets reality into proper focus.
That view for many a Nebraska Football opponent was a frightening one, often inducing a red-tinged vertigo. In a long, proud line of wedgebusters Aaron Penland reigned supreme during the '94 and '95 undefeated seasons. He was a herald of sorts, announcing with a clamor what was to befall the unprepared, the uninitiated, the soon-to-be-undone at the opening kickoff. A prep all-state center and linebacker in the state of Florida and a walk-on, he was a backup linebacker for the Big Red, but where he found himself busiest -and most vital- were those blinding jaunts downfield, plunging and pillaging and pelting the foolhardy souls by leading the contending charge. Let's hear his story and the impressions made…
Notable quote #1:
"For me, it was just trying to get on the field and make an impact. I was just going to go as hard as I could most times. A lot of times I'd get accused of going too hard at some point, especially on scout team and stuff like that. I'd be accused of being a 'Practice Squad All–American', but I was just trying to do my best."
Aaron Penland
Walk-on, Linebacker, Jacksonville, Florida (University Christian)
Where are they now? Jacksonville, Florida, Trucking
Question: Hey Aaron, when did you join the team?
Aaron Penland: August of '91, I guess.
Q: I know that your older brother Matt was already there, but how did you come to arrive in Lincoln?
AP: I actually accepted a scholarship to Liberty University in Lynchburg, Virginia, and I went down to Nebraska two weeks before I was supposed to go to Liberty and hung out with Matt and had a good time. And I reported to Liberty, which is Jerry Falwell's school, and I wanted to redshirt because I was pretty young, but they wanted me to play right away. I wanted to grow and mature a little bit and I wound up just transferring.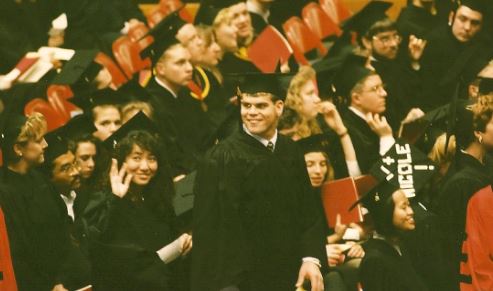 I think Matt had talked to Coach Steele, who said I could walk on to Nebraska. I prayed about it and felt that's what I should do. I had gone to six days of two-a-days at Liberty, had enrolled at Liberty and took two weeks of summer school classes, so I had 6 credit hours. And that was a school where you had to live on campus and it had a lot of rules you had to adhere to. And I'm not the kind of guy that was going to get in trouble or anything like that, but it was just weighing on my heart. I'd had such a good time with Matt that I decided to pack up and head to Nebraska. So I packed up all my stuff and headed out in my Toyota SR5 and met my parents -who met me in Mount Eagle, Tennessee- and they took me all the way out to Nebraska. And when I got there two-a-days were just getting over at Nebraska.
Q: Great timing…
AP: (laughs) Yeah. But I'd been in two-a-days and had a few days off, so I was ready to prove myself. We came in and I was getting up in front of the line and doing all these hitting drills and it was pretty funny.
Q: What was it about this good time that you'd had earlier with your brother that summer? Anything specific?
AP: No, I think it was just hanging out with my brother and a couple of his friends, I guess, and seeing the facilities and seeing the camaraderie of some of the guys.
Q: You hadn't been to campus previous to that?
AP: I'd been up to games, but I hadn't really hung out with Matt any; it was mainly just us coming up for the weekend and going back home. But as far as hanging out and stuff, it was the first time I'd done that with him.
Q: So you got a little better feel for Lincoln then? Who were his friends?
AP: David Noonan and Greg Fletcher. Those were good guys.
Q: How much older is Matt than you?
AP: Sometimes two years and sometimes three. (laughs) He was a redshirt sophomore.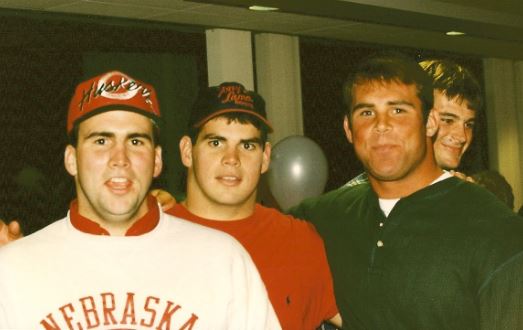 Q: So you joined on after you had your two-a-days at Liberty. Did you redshirt that first year?
AP: Yeah. Actually I'd lost a year of eligibility. I gave up a year of eligibility and had planned on appealing when I got to Nebraska. We worked with Al Papik and he wrote some letters: my dad wrote a letter and I wrote a letter. My coach from Liberty University even wrote a letter. Sam Rutigliano was the coach at Liberty and they were pretty nice about it and supportive of me in the process of getting the year back. And I got it back. In hindsight (Nebraska) was the first choice.
Q: Did you make any new friends right away?
AP: Actually, I hung out with all Matt's friends. (laughs) The weird thing is, I didn't get put in the study hall with all the other freshman. I was a week behind everybody and somehow my name was off the radar and I didn't have to go to that study hall that everybody else did.
And I got there late, so I didn't have a roommate. I was in the Harper/Schramm/Smith deal and I was in Schramm, so I had a room by myself. I didn't have a roommate, so I hung out in my room a little bit, but mainly I'd hang out at Matt's over on 17th Street most of the time. Then after the first semester they kind of realized I had missed the study hall but I had decent grades, so they didn't say I had to go to it. I missed out on all the hanging out with a lot of those guys because I wasn't in there. After the season was over my senior year and we played that senior hoops deal where we travel around, I got to have much better relationships when we'd travel around as a team. (laughs) I wish I probably would have gotten in that study hall: I would have had a lot closer friends. I had a lot of good friends like Joel Wilks and Matt Shaw and Phil Ellis, but I think I would have bonded together with the guys had I been in that study hall.
Q: Wow, you were flying under Dennis (Leblanc) and (Keith) Zimmer's radar that whole semester. I'm surprised nobody ratted you out!
AP: I don't know how that happened. (laughing)
Q: So what did all the folks back in Florida have to say about both of you going to Nebraska?
AP: Well, obviously our parents liked it that we both ended up at the same school and had an opportunity to play with each other. My dad's from Oklahoma and I didn't really know that much about Nebraska until Matt went out there. We grew up Florida Gator fans, and I guess growing up it never occurred to me. It's not like today with the media and how everything is covered. Florida was the team that was right at your doorstep in Jacksonville, about 75 miles from Gainesville.
Q: Do they still have the minor league baseball team called the Jacksonville Suns?
AP: I don't know. (yelling off-phone) Honey, what's the baseball team's name here in town!? You know what they are called? The Suns?
Q: I used to go into Jacksonville two or three times year for them when I was with the San Diego Chicken. I knew the owner Bobby Bragan, Sr., who played for the Dodgers when Jackie Robinson came up to the bigs. I think he was one of the first guys to say that they weren't going to play with a black guy, but somehow they turned him around to their way of thinking. (laughs)
AP: What were you doing with the Chicken?
Q: After '95 I moved to San Diego and was his Director of Operations, managing and producing. I tell you what, I can probably tell you every single Waffle House location in the entire Jacksonville, Florida metroplex, Aaron. (laughs) That was a great old baseball park, too.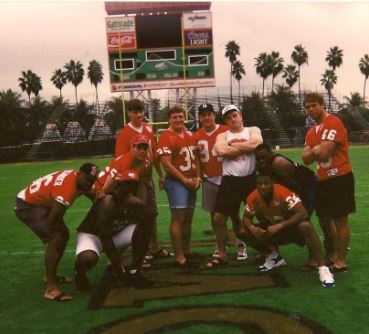 AP: Yeah, they built a new one here recently.
Q: I don't know if you're a baseball fan, but I tell you what, when that old one was still standing I once saw an 85-year-old Enos Slaughter slap a screaming single right between third and shortstop for a Businessman's/Old Timer's exhibition game. I loved Jacksonville, man! But back to you: what struck you as unique or stood out to you upon showing up to play?
AP: Well, hard workers, that's for sure. We used to go out to Greg Fletcher's farm and put some work in out there. We'd always try to outwork each other. We'd feed the cows and pick up the pipe, lay the pipe, whatever. Then feeding the cows, the steers, cattle. Then just odds and ends, fixing fences and stuff like that.
Q: Where the heck was Fletcher from?
AP: He was from Oxford, Nebraska. Out west.
Q: Do you keep in touch with Fletch?
AP: Yeah, every now and then we e-mail. He's a doctor in Evansville, Indiana. He married Billy Winsett the volleyball player, so he's married there and has a successful practice there and three kids or something like that.
Q: I remember them dating but didn't know they got married. That's nice. So you were a linebacker from the get-go, right?
AP: Yep.
Q: That was with Coach Kevin Steele. How would you describe the man?
AP: He was a pretty good coach. I'm trying to think of the words to describe him: (laughs) Pretty intense. From one moment crazy-mad to the smooth side of himself where he likes to pump you up. (laughs)
Q: Raging psycho-maniac to smooth, Southern charm in a split-second?
AP: Yeah, he was a piece of work. He was a good coach. He knew what he was talking about, a lot of things I learned from him I've used to coach some high school football where I helped out for a couple of years.
Q: Gives you a little better appreciation for the coaches you had?
AP: Oh yeah, just the dedication and all the time involved in it and the hours of breaking down film and stuff like that. It gives you a good respect for the job they did and the commitment it takes. Like all the things that are involved with playing time: how to give everybody a fair shot and stuff like that.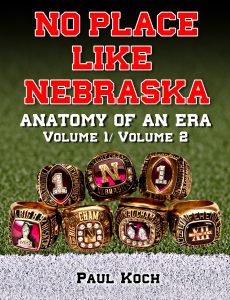 Available on Amazon.com
Q: Speaking of, in talking to a bunch of other guys, you seem to have drawn a bit of a fan club from some of your old teammates and how they loved watching you run down on kickoffs. I take it you took great pleasure in special teams duties?
AP: Well, yeah. I was just trying to get some more playing time, so the only way to do that is to give it what you've got and hopefully that will translate into more time on the field. I was the wedgebuster on kickoffs.
Q: Explain to me the mindset of the ultimate wedgebuster…
AP: (laughs) Well, you've just got to go as fast as you can, and when you get to that point where you see the wedge you've got to shift into another gear and hit it harder than they are expecting you to. You can't loaf down there. You go as fast as you can and when you see the wedge you shift up one gear.
Q: Balls to the wall… and then you blow through the wall?
AP: Yeah, the harder you hit the better off you're going to be. You can't let down.
Q: Was it a specific guy you were after or were you just happy to try and take out a bunch of them, like a bowling ball?
AP: You just tried to take out the wedge, the lead guy, which is better.
Q: Someone recently mentioned a time when you just annihilated that guy. They said that that first kickoff dictated the tone for the rest of the game…
AP: Yeah, I think any time you can do that it's gonna turn the momentum of the game. When you come right out of the hat rack and hit them in the mouth, that's going to put them on their heels.
Q: It'll have a big psychological effect, so to speak?
AP: Yeah.
Q: Did you purposefully do that or were you just doing your job and it just happened to happen?
AP: Well, I was just doing my job. And that happens when you're going full speed and trying to do your job.
Q: Do you recall the first game you played in?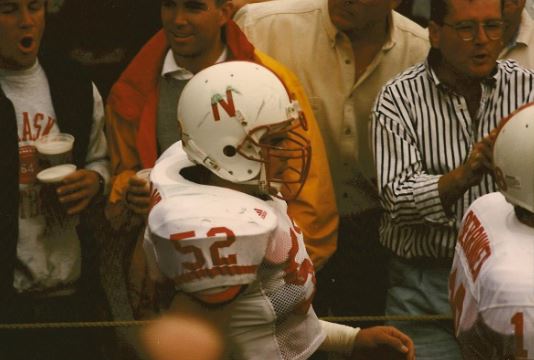 AP: The very first game I played in was against Middle Tennessee State. How I got on the special teams, really, I went in for Donta Jones on kickoffs. When he would start getting some playing time he would come get me and I'd kind of get subbed in on the kickoff team, that's how it first started. I think my first play was playing linebacker against Middle Tennessee State. But as far as getting on kickoff team and punt return team, it was my freshman year and I was subbing in for Donta on kickoffs.
Q: Do you have a favorite game that stands out to you?
AP: Well, of course the two national championship games. That would be the two highlights. There's a bunch of stuff as far as games and hits and stuff like that, but the national championship game against Miami and then the game against the Gators.
Q: What stands out specifically for you as far as the other games?
AP: We just dominated the teams we were playing. Like when we played Michigan State, we just blew them up.
Q: That was Lawrence Phillips' big game down there?
AP: Yeah, that was at Michigan State. But there were different kickoffs in certain games, and I remember in that game I'd been gotten by this kid on a kickoff, he'd got me. And I was working on trying to get him back, and I remember on a punt return I had an opportunity to return the favor and I got him pretty good. (laughs)
Q: You knocked him in his earhole pretty good, huh?
AP: Yeah, he'd gotten a good shot on me earlier in the game and I was still looking him up the whole game to tag him. And so I finally got the chance to get him on a punt return and I hit him right on the edge of the sideline. (laughs)
Q: What was it like at some of those visiting stadiums in comparison to Memorial Stadium?
AP: I remember going to Oklahoma my freshman year. What happened was, when I got out there as a freshman my brother redshirted that year as a sophomore -he redshirted my freshman year because what happened to him was, he blew his ACL his sophomore year and he played in the Citrus Bowl with a blown ACL, and after he came back they did arthroscopic surgery and they took the patellar tendon and they put it in the other knee- so when I came in as a freshman he was dealing with that being sore and having tendonitis in his knee. So he wound up redshirting that year, and then after that year we were both playing at the same time. And what happened was, on the third game we were playing Wyoming and for some reason they were doing pretty good against us and late in the game -it was a flukey play- he tackled this guy and blew his ACL and broke like three bones in his right foot. And the other team's running back blew his ACL, also, and was carted off the field.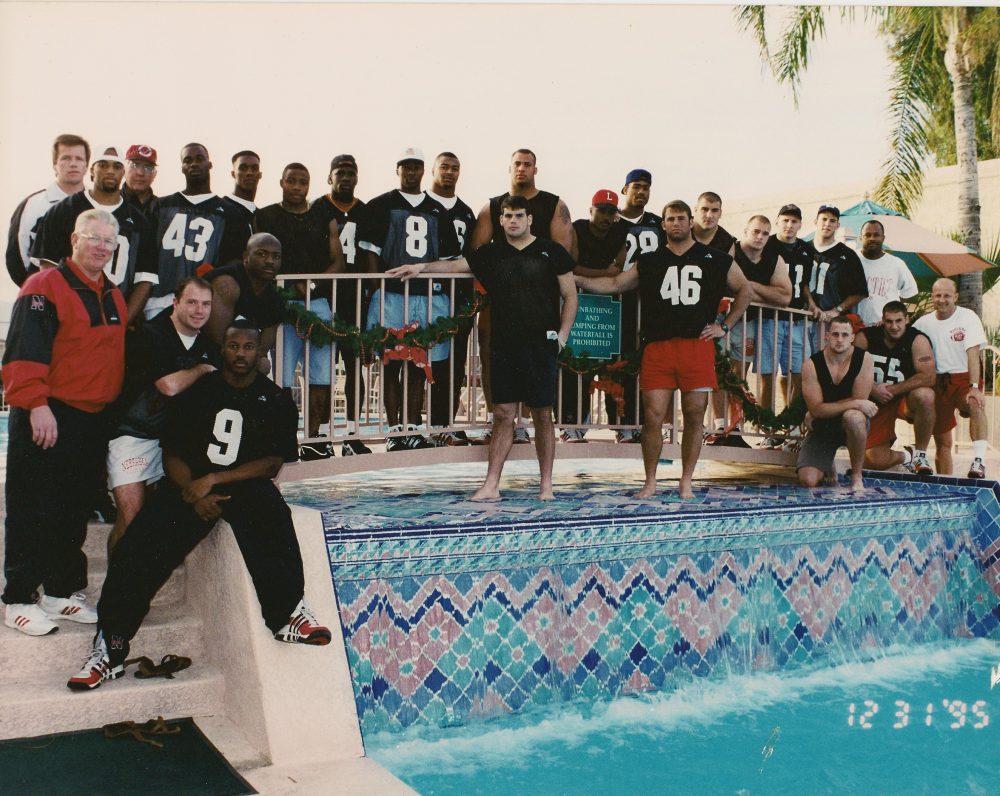 And the thing was, I was number 40. And Cory Schlesinger was number 40, too. And I was going in on kickoffs for Donta, and there was the rule where you couldn't have two guys with the same number on the field, so I wound up switching to number 38 at the beginning of that year. And Matt was number 52, so after he blew his ACL he kind of determined that he was going to retire, so I took over his number. So I wound up making the traveling squad my freshman year for special teams and as linebacker. My first traveling game was Oklahoma, and I remember going there with all the fans hollering at us and stuff on the sideline, saying all types of stuff: pretty derogatory, nothing very complimentary. (laughs) I just remember staying focused and going through my drills and giving them mean scowls when I looked up into the stands. (laughs)
To be continued….
Copyright @ 2013 Thermopylae Press. All Rights Reserved.
Photo Credits : Unknown Original Sources/Updates Welcomed
Author assumes no responsibility for interviewee errors or misstatements of fact.