Khus the Red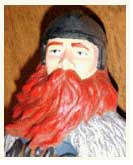 Exemplary

And just like that, the final game of 2005 is over and it is finally time to put the defibrillators back on the closet shelf. So many cardiac moments accentuated this season that it was only fitting that one more would terminate it. This Alamo will be remembered as perhaps turning point or launching point, but only if you haven't been paying attention. Superior coaching installs discipline and instills belief in players who know that they can be a team as dangerous as any, and this victory was weeks in the making. Hail to the victors—they're the ones in Red.
Michigan's talent was as glaring as a corporate logo on a Bowl stadium, but it was negated by Nebraska coaches that coached smarter and Nebraska players that played harder than their opponents. The Wolverines did not come out flat, they did not phone this one in from the hotel hot tub, they did not commit seventeen turnovers, and they were healthy and prepared. Most talking heads gave the Huskers a chance only if the opposite of all this were to be true, which now of course makes them all look as stupid as all nine of Oregon's uniforms. The only thing Mark May needs is fake diamond plating print on the knees of his suit.
Going into the game I was concerned Michigan was going to bump and press our WRs all game long instead of sit in their usual zone, but instead the deviance was that the Wolvies blitzed more than usual. Fine, fine, fine. Zac Taylor has become very good at taking advantage of blitzes, in this game to the tune of 14 points. ZT picks apart zones when given a few seconds, but a few seconds was about as long as ZT had all night. Against the UM D-line, he was often treated like a crash test dummy without the luxury of a car to soften the impact of the maize-and-blue brick wall hurtling toward him. There were moments when the world went silent and time slowed down as I watched another impending impact, but more often than not, by the time Taylor was brutalized the ball had already left his hand. And then he would get back up. Volvo's got nothing on number 13.
We did almost everything we could to put ourselves behind another 8-ball in the first half, giving the Wolvies field position, turnovers, momentum, confidence, backrubs, extra Monopoly money, Omaha steaks, and every reason to think we were going to lay down and fork over the game by virtue of our own mistakes and faulty execution. However, true, unforced errors were few, and the Blackshirts came up good and nasty when they needed to. The defensive gameday battleaxe goes to the secondary; not only did they hold their own against an outstanding UM receiving corps, but also did well enough to produce a couple coverage sacks—without a blitz. Mr. Bowman, you get a gold star for the night's work. In fact, take five of them.
The last lateral-ad-infinum play was threatening to give me nightmares as bad as the time I fell asleep listening to the postgame on a country music station and woke up the next day still shivering from the chainsaw-wielding cowboy zombies moaning and wanting to eat my brain because Brandy is a fine girl. Also, they were dressed as clowns. I hate clowns. Apparently Carr thought it wiser to play sandlot scramble with his team's speed rather than test Henne's arm with a throw that long, and apparently several Wolvie players are currently approaching the Mexico border as they continue to throw backwards laterals in denial that the final play ever ended.
In a year that featured shockingly inept officials in pretty much every game we played in, it was only fitting that the Alamo crew was laughable. To prove how completely incompetent this crew was, they actually called a hold against Michigan. Yes. True. They did. One time. Of course, just to restore the proper order of the universe, they were perfectly content to let the Wolvie left OT and OG tackle Carriker repeatedly. But let's just get a couple things Waterford-crystal clear, okey dokey Michigan fan? Yes, you got jobbed a couple times. Guess what. So did we. And so did we all season long, along with about 113 other Division I teams. So fuss and sputter like your mediocre coach for the next six years if you want, but remember: What goes around comes around. We've learned to live with it, so grow up and shut up and take it with dignity. Okay, too late for that, but scream into your closet all you want, because what college football history will record will not be the missed calls—on either side. It will record that a team with NFL players up and down the roster was beaten by a team that had no way to match your talent but bested you with an astonishing amount of heart and determination. A perfect, fitting end to a season from a team that defined itself with these qualities. This Red one could hardly be prouder.
The conventional wisdom is to give Porkchop MVP honors this year, and I'll add an honorary gameday battleaxe to his host of accolades. He slashed his way to 883 yards on the season behind an O-line that was, shall we eupehmise, slow to develop. However, the 2005 Axe of Valor goes to Zac Taylor. This first-year starter played with wisdom beyond his few months in Red. In the Alamo postgame, Coach Norvell talked about his recruiting of ZT, and said that he once asked Zac what he disliked the most about football. The quarterback's reply exemplified his Husker performance that was yet to come:
"Losing."
Harrison Beck's contribution should not be overlooked either, and I don't mean the pass that led to victory over KSU. After being the quarterback focus of the recruiting class last year, he willingly accepted the recruitment of ZT, recognizing his position needed depth and welcoming the competition. Kudos to the coaching staff in including Beck in the decision to bring ZT to Lincoln, and kudos to Beck for the character to recognize that it's not a one-person program.
The national perception was that it would be all but impossible for Nebraska to keep this game close, let alone win. Mark May and the slobbering gimp next to him can keep this in mind while trying to manufacture more lies and misinformation about this 2005 Husker team:
Nebraska has done your impossible. That makes us mighty.
The media and some fans tried ultra-hard to make this game into some kind of 1997 coda. I was in disagreement, but it is interesting to watch the same media and maize fans back down from that, now that the result didn't go the way their fairy tale was supposed to end. There was supposed to be a resounding chorus of "I told you so, Tom Osborne" ringing from Ann Arbor, Michigan to Bristol, Connecticut. The Red didn't cooperate with the manufactured hype, and we won't forget. You can't have it both ways, Wolvie hucksters and ESPN hypesters. Want to bluster and strut with an 11-point line? Can't go back when it's a four-point loss. It was nice and safe for a few weeks, wasn't it? It was going to be very satisfying to attach a game eight years later to that split title and claim it meant something, wasn't it?
Fine. Have it your way. Send that second-rate plywood AP trophy to South Stadium. We'll even save you a little face by not putting it in the display case next to the 1997 Sears Trophy (that's the really pretty one with the crystal on top, by the way). We'll just mount it in Bill Callahan's office next to Ralphie's head.
=====
Once more unto the breach, Red friends,
Or close up the dome with our Michigan dead!
In the offseason there's nothing so becomes a man
As West Coast playbooks and conditioning;
But when the blast of war blows in their ears,
They initiate the action of the Husker:
Stiffen the sinews, summon up the rich Red blood.