Khus the Red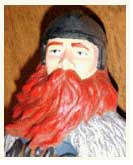 A Step Sideways
Back among the cyber-living. It's becoming standard to apologize for my absence at the beginning of each conversation we begin. I had many rage-Red thoughts following Pittsburgh, assorted thoughts during the off-week, but my schedule prevented me from transferring them from assorted scraps of paper to digital. Regardless, thank you for the correspondence many of you have sent. Nothing passes the time quite as pleasantly as conversation with fellow bloodthirsty Bugeaters.
Just as the words "Michael Jackson" have never been mistaken as a synonym for "normal," so has the word "Kansas" has never been synonymous with the phrase "football powerhouse." However, this rock-chalk-whatever team is much improved from the pre-Mangino years, but they are not yet a true conference threat. And yes, we can repeat the mantra all together now: New-offense-give-them-time-Dailey's-young-give-him-time-coaches-deserve-time-reaping-the-fruits-nay-weeds-of-recruiting-give-it-time-Huskers-Huskers-uber-alles. At the very least, they are relaxing words to repeat as one pries the gameday battle axe out of the living room wall. Repeatedly. Regardless, the K-birds within a touchdown at the end of the game is not quite what we're expecting the West Coast Offense to deliver; in fact, it's more of an offense in general.
Still, it's hard to know what to make of this Kansas team. They lose tight to Northwestern and Tea-Tech, who go on to upend Ohio State and challenge Oklahoma, respectively. And certainly, Mangino's staff gameplanned well; the underneath routes were not there, and Herian was nonexistent. Whether that was coverage or Dailey not delivering is hard to tell when the idiot box doesn't show the secondary, but this game was a good preview of what we'll see the rest of the year: Defenses keying on number 11. We absolutely must continue to take deep shots at Amos and find a way to work Fluellen in as well. Ross won't save us against the more talented defensive fronts awaiting us on the schedule.
Speaking of Ross, Pork West Coast Chopper will be the MVP this year, hands down. He continues to make the OL look good, give Daily an extra receiver threat, and be a yards-after-contact bull on the every carry. His ability to make 12 yards on poorly-blocked screens is particularly pleasant to watch.
Meanwhile, Dailey's struggles from snap one were obvious, and obviously, an offense that cannot allow turnovers to remain a thorn in its side will certainly suffer when turnover thorn becomes a steel I-beam.
So far this season we have watched an NU team that charges hard out of the gates only to fade in the second half. Now we know what it looks like for this team to take the field already in fade mode and struggle to find an offensive rhythm for four quarters. And rhythm was precisely what was missing---far too often the offense got to the line of scrimmage late, giving Dailey inadequate time for reads and audibles, and at least several times, the shifting and motion critical to the WCO simply had no clock to force the all-critical mismatch. During the radio broadcast, Matt Davison reported that Callahan was drilling "Tempo! Tempo! Tempo!" at the offense, trying to spur the boys into take-what-we-want mode. Meanwhile, the point-after was signaled good and Jim Rose was still counting down individual yards somewhere in the upper teens from Ross's touchdown run. It used to be that we could expect rust in the option game following an off-week. The timing and rhythm required of the WCO is similar, as evidenced by the night-and-Dailey difference when the offense manages---if not dictates---the game tempo better. That's an absolute necessity, especially since we will not be out-athleting many opponents from here on out.
It's getting more difficult every week to come up with superlatives to describe this Cosgrove squad. The Blackshirts were in a dime all day, which is why KU found run success early in the game. A number of times we kept a LB out of the blitz and back as a spy on Barmann, and to say that we blitzed a lot is to say that Ichiro gets on base once in a while. Early in the game Kansas did a great job of recognizing where it was coming from and simply ran plays to where the rush was not. Once the poor tackling tightened up, we again saw our darling defensive death dealers de-bone another opponent. Temper the enthusiasm, however; we have yet to see this defense deal with a truly potent offense. That happens in a matter of days.
Was this game a step forward? From the Pitt game, yes; from the SoMiss game, no. Compared to the Pitt game, it was a more steady performance if rarely potent, and fewer distracting clusters of yachts floating past the stadium. Against KU, we had similar kinds of turnovers to the USM game with fewer yards gained against a lesser defense.
Now Texas Tech at night in Lubbock. I stand by my earlier prediction that this coaching staff won't be mystified by a cute little spread-ish offense, and their defense likes to stop the run like their basketball coach likes press conferences. In this one, the run sets up the pass like the days of old, and their nearly nonexistent run game allows the Blackshirts to cry havoc and let slip the blitz packages of war.
Red Raiders, hm? I know of a former Raider wearing Red as well. I also know which horse to bet on.