Khus the Red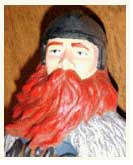 To the Whetstone
A curious choice of music washed over the FieldTurf as I sat in section 28 Saturday night. We're familiar with the swagger of Eminem, the brutality of AC/DC and the raspy scream of the Red Rocker himself, Sammy Hagar, imploring us to stand up and SHOOOOOUUT. As ZT and the offense were still trying to assert their manliness in the Red zone, the…crashing? thunderous? saccharine?...piano of Keane's Somewhere Only We Know came…crashing? thundering? dripping?...out of the stadium speakers. Keane is a charming little Brit-pop band, replete with a charming little Brit-pop singer who often sings falsetto. Needless to say, there was no surge of testosterone and there was no ensuing touchdown. As it turns out, the game was more suited to Trent Reznor, as moments seemed given to inspiring nihilism and misanthropy in the Red faithful before the final gun. The Black Bears were more resilient than expected, and the coffin lid on this one wasn't sealed until the last nail was driven home—all nine inches of it.
Let's all repeat together in the interest of saving bandwidth further down the page:
It was only Maine.
It was only Maine.
It was only Maine.
Those four little words should frame our observations of the game, both positive and negative.
I am rarely interested in stating the obvious, such as the offense was not effective due largely to substandard offensive line play particularly at the ends and TEs repeatedly missing blocks and receivers dropping two if not three touchdowns and painfully familiar turnovers, so when this sentence concludes you are encouraged to erase the memory of having read it. But we all know enough to never be satisfied with the obvious and rarely trust simplicity.
We knew the play selection would be thin and vanilla for this game, the only question was how much. The answer: Very. The rushing yardage was anemic, but it was also limited by most runs staying between the tackles. A few sweeps and draws, but nothing more than a nanometer's worth of pages in the famed gozillion-inch playbook. After watching the tape, I was struck that it wasn't quite the complete O-line meltdown it appeared to be in person. There was good play, but inconsistent. There were missed assignments and blitzes not picked up consistent with what one can expect from a first game. Missed blocks on the perimeter in particular killed what could have been nice runs on a few sweeps and pitch-outs. One outside run in particular stands out as both the left tackle and tight end missed their blocks, either one of which may have sprung Marlon Lucky on a long run down the sidelines. The Red faithful are so desperate to see that kind of lethality in the NU backfield that one stellar touchdown run may prompt the naming of at least a dozen newborns across the state to be christened "Lucky," regardless of gender or species.
And speaking of tight ends, this is an offense that desperately needs a threat at that position. Herian reportedly may be ready by midseason, or he may keep the medical Redshirt and have a full season next year. Sir, you have a decision to make. The other pass-catchers failed to catch too many passes. At the very least there were 21 points left bouncing awkwardly on the FieldTurf Saturday night. You can clearly tell that ZT and Hardy have played together, and the kids play nice; their familiarity with each other is obvious. If Taylor can establish the same kind of rhythm and timing with the other receivers, that will go a long way toward a lot more yards. However, it became clear that when it is third-and-whatever, ZT is looking for # 7. It will not take defensive coordinators long to notice this. Nunn has to become The (other) Man soon. When he gets healthy, Brooks will be as green as they come. When he gets healthy, LeFlore still needs to find his niche in the WCO. When he gets healthy, Fluellen will have another hammy problem as he has for the last 46 consecutive years. When Spain joins the team, it will be next season.
Not all was cause for angst, however. Defensively, superior. This was a team that should have been dominated by the Blackshirts, and they were. And though it was only…you know…several of the sacks and hurries were due to coverage. Granted, it was only…ahem…but that was an improvement over last year that should not be overlooked. Linebackers, excellent. The loss of Octavian is very disappointing. Tragic. Frustrating. But not devastating. We'll have coulda-shoulda-woulda thoughts as we face better offenses this season, but the season isn't lost without him. This was a very fine start for the '05 Blackshirts; they dominated a team that they were expected to dominate. We forgiving fans expect no less.
Points left scattered on the field, turnovers, missed blocks, dropped passes. All things common of first games with new personnel in key positions, and things that can be corrected quickly. My concern, however, is whether this is an offensive line that can outmuscle an opponent when they absolutely must. Inconsistent play and slipshod technique is one thing, lacking horsepower for the meat of the schedule is quite another. Coach Wags worked wonders last year, so it will be interesting to see how this year's line progresses. My grip on the gameday battleaxe is not yet white-knuckled.
And yet, too much of this game existed in that gray area between not-quite-in-doubt and not-quite-locked-up. As the game hung in the balance of an 8-point lead, I noticed the St. Elizabeth sign below the HuskerVision screens, as if reminding us that trauma was only one turnover away. The clichéd game-two improvement needs to happen; Wake Forest is not D-IAA, and they are confident and angry over their loss last week. Much improvement needs to happen this week, and more the next before Pitt.
Maine eventually became a semi-solid win, despite missteps and rust. There is much to be learned in the days ahead. The playbook will open just a bit wider this Saturday, and we'll see how this team steadies itself after a bout of shaky footing. This Red one is not betting on consistent inconsistency. In the meantime, keep the axes keen—or Keane, if you prefer—and the wits sharper.
==========
Frailty, thy name is Sooner!
So much to be said about all things Red. Come, let us talk. khusthered@gmail.com