Khus the Red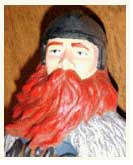 Gears Turning

They say football is a game of inches. It's one of the more tolerable sports clichés, as a game can hinge on the nose of the ball being placed just far enough for a first down every bit as much as it can hinge on an 70-yard screen. This is true whether the ref spotting the ball is only moderately competent or the more frequent almost-totally incompetent. These critical inches require an athlete's full concentration, even during pregame warm-ups. The University of Iowa paints the visiting locker rooms pink, intending for the color to have a psychological effect on the opponent during pregame and halftime coach-speak, in hopes of mollifying players into missing a key piece of info. This quantum-physics-caliber idea was Hayden Fry's. Of course, Fry spent the last ten years of his career thinking North Texas was a sovereign nation and awarding full scholarships to the seventh-graders holding headset cords on the sideline.
At NU, we don't have pink locker rooms. We have the Scarlets. After the game, ISU players noted a lack of concentration at key moments of the game. Perhaps this was due to the other pride of all Nebraska doing their gyratic ballet practically inside the end zone where the ISU players were warming up before the game. All's fair in love, war, and spandex.
There is a lot to say about this game, Red friends. Before it even started, something truly felt different. In previous pregames I noticed a lot of drops and bobbles by the WRs and TEs, but before kickoff Saturday there were far fewer. And perhaps I missed this before, but Saturday I watched a drill in which the throws were over the outside shoulder and the receivers were intentionally only using their outside hands to snag the ball. One-handed catch after one-handed catch. Meanwhile, Iowa State was doing a charming little prancing-skipping number, the whole team sashaying between the 5 and the 40. Somewhere, Nathan Lane burst into song.
And speaking of songs, it was appropriate to hear Battle Without Honor or Humanity over the stadium speakers, that goosebump-inspiring tune from the movie Kill Bill. And kill Bill is what Husker Nation would have suggested if this game would have been a repeat of last year's. This year, the Clones were better than last. This year, so were we.
It's wisest not to overstate this game, but this game was more telling than coming out of nowhere to knock off a top-five team. Such games can be dismissed as flukes, but this game was no fluke. This showcased the promise of what this system holds when the offense executes with efficiency. The execution was multiple receivers finding open space, wide receivers running slants, tight ends running outs, Pork Chop simply running away, and a fullback sitting underneath the zone. This wasn't a game with multiple superhuman performances and a series of breaks that went our way. It was execution where a 13-yard out for a first down was at times as routine as half of an announcing crew pronouncing it Mc-KEE-un.
Maybe, just maybe, that talk about execution being one block or one catch or one pass away…maybe it was correct.
The O-line played solid, and especially the tackles deserve mention. Last year the OL slowly became a strength of the team, and it's not beyond hope to think perhaps Wagner is working the same magic this year. We will see. ZT's play helped the line look better as well; his pocket sense was almost as pleasurable to watch as his delivery to all 37 receivers. He did a much better job stepping into the pocket and an outstanding job moving outside when pressure came and buying himself an extra moment to find his target. His targets made their catches while he made decisions, throws, and Husker history. Beyond a doubt, this is Zac Taylor's team.
This was an excellent game that almost went the other way, and at times it was begging for NU to take control and settle the matter. Credit to Ames Community College for making plays to steal momentum when they needed it. There were moments in which a turnover would have cracked the Clones' will a bit, and I had no sooner noted that in the Moleskine than Jay Moore took his turn in the Blackshirt Merry-Go-Round of takeaways. Shortly thereafter, Pork Chop screams a screen for a 70-yard score, once again proving the age-old Nebraska football adage true:
Pass the ball. Intercept the pass. Win the game.
The machinery was set in motion on Saturday. As the last pass skittered harmlessly on Tom Osborne field, as a team ran out to celebrate, as coaches shook hands and huddled their team, as the mass of Red headed toward the southwest tunnel, I looked around at a Memorial Stadium full of Red faithful who had stayed to cheer their team off the field. No one was leaving. Empty aisles. Gray skies, green and green turf, one true Red. This was all we needed and it was exactly what we needed. In this game, players showcased a system, fans rallied a team and a fistful of puerile critics began to formulate spin in order to salvage a little face.
Too late.
There wasn't Waterford crystal on the line, but the confidence and momentum to take into the heart of the conference schedule is easily as precious at this point of the season for this team. Texas Tech has decimated opponents that would tremble at the sight of Helen Keller and did not walk all over Kansas. Yes, that Kansas. They are not invincible, and when the red Raiders take the field and face 77,000 who have been thinking about 70-10 for far too long, they should be made to feel anything but invincible. In the preseason I called this a toss-up, but this is a very winnable game. It may be a shootout, but now we know that this offense just may have the guns after all.
NU 27
TT 24

==========
Frailty, thy name is STILL Sooner!
khusthered@gmail.com