Khus the Red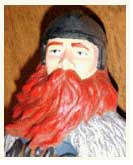 The Season to Come 2005
Once upon a time, a vile, unmentionable national sports rag compared Dear Old U. to the Soviet Union. Imposing, ominous, dominant, mysterious, Red. It was fitting; I very nearly smiled. But the cyclical nature of history has a way of catching up to all superpowers, and last year our own beloved Red menace fell like so many apparatchiks. To the rest of the college football world tired of trembling under the shadow of Memorial Stadium, it was the great big bucket of glasnost they had been hoping for.
So we have listened to Sports Nightly nightly. We have spent our ammunition in the never-ending Ernest E. Bearg vs. Dana X. Bible online flame war. We have checked the closet of Red regalia, looking for gaps in the gameday wardrobe. We have put in a little overtime to fatten the paycheck in preparation for making the season-opening rounds: To Scheels for the overpriced Husker throw pillow, to Authentic for the overpriced Husker cheerleader outfit, to Nebraska Bookstore for the overpriced Nike ACG Dri-Fit pullover and to that corner C-store for the overpriced coffee, which, by virtue of it coming in a Husker travel mug is a bargain, just as are all other things simply by virtue of it being, at long last, gameday.
And 11 gamedays there will be. Time to bury the offseason axe—in an opponent's neck, preferably. This Red one hates to follow conventions, but what is a preseason discussion without predictions? Grip the oars, Red friends; the waters of a new season await us, and it won't always be smooth sailing.
Maine – Scrimmage. WIN
Wake Forest – Tune-up. WIN
Pittsburgh – Dangerous. Returning talent, including experience at quarterback, which is a luxury we do not have. Our first true look at how much the D will have improved. Not a breeze, but a WIN
Iowa State – Sorry Barney, old friend. First game of the year Iowa will de-bone that silly St. Louis wanna-be, then first conference game of the year the division you watch the division return to a shade of Red you do not wear. WIN
Texas Tech – Motivation goes a long ways…but only so far. This toss-up hinges on the D-line more than any other so far this season, but the bloodsucking Leach won't let his QB hold the ball longer than a nanosecond and must be disrupted enough to display as much rhythm as a white farmboy doing Jay-Z. Hurries are key for Blake's boys, sacks a bonus. Our D may not have the guns to hang with the Raiders' O…yet…but we have the lungs. All 77,000 pairs of them. WIN
Baylor – If they had shown Kevin Steele more respect, I would almost be interested in showing them mercy. WIN
Missouri – Gary Pinkel is a desperate man. A cornered animal. An overrated coach. Mizzou returns Brad Smith, but almost the sum total of what Missou returns of significance is Brad Smith. Pinkel aims to unshackle Smith in a retooled spread-ish offense and this one could get iffy. But by this point in the season, the Blackshirt front seven should have that certain je nai se qua…what is it called? Ah yes. Depth. And my favorite kind…battle-tested. WIN
My, things are looking swell so far, aren't they?
Oklahoma – We have not yet the muscle, but as John Paul Jones said at the battle of Grand Island, "I have not yet begun to recruit." LOSS
Kansas – The Big Mangino on Campus is on the clock. The rock-chalk flock has shown up on a few "surprise" lists this preseason, but don't be "surprised" if this uninspired "genius" "offense" unsurprisingly "sucks." Again. WIN
Kansas State – Oh now THIS will be fun. Motivation only goes so far, but far enough. Kansas State may be on its way to becoming Kansas State again in the future, but what matters now is that The Snyde has a roster that would actually look better if it had been pureed in a blender before announcing it to the major press. Or the Glee Club, or the Daughters of the American Revolution, or whatever media outlet he's arbitrarily choosing to sneer at this particular hour. WIN
Colorado – The sitcom referred to as the Colorado football program may still have an accidental comedian for a head coach, but he's an excellent motivator with 17—make that 16…now 15…returning starters. There is hardly a more schizophrenic team in the conference, but as it looks right now, the Buffies have the upper hand. LOSS
An iffy 9-2 seems acceptable given last year's surely-that-didn't-really-happen final numbers. And given those final numbers, 9-2 may seem lofty, even bold. Perhaps CU is a win, perhaps MU and TT are both losses, perhaps Bill Snyder will pull off his face and reveal the mice-eating reptile underneath. None of us should be surprised by any of these. But 9-2 is not knee-jerk optimism, Red friends. This is the week of madness indeed, but there is method to't.
Defensively, last season the Blackshirts were tough to run on. That should be at least as strong this year, and every indication from spring and fall are that we'll be even better, markedly so on the DL alone. One year ago there was no such thing as a two-deep on the front seven. Call it a one-and-a-half-deep at best. Past the box, losing a Bullocks doesn't help, but there is athleticism and—and at long last—size in the secondary, with the exception of mighty mite Grixby. Cosgrove reportedly doesn't use mulligans. Fair enough; not all fans are willing to offer one after a few un-skullworthy games last year. But if you've watched more than 20 minutes of football in your life you know the war begins on the D-line, and this year's Blackshirt trenchmen will be good enough to challenge great O-lines and tear through weak ones.
Offensively, last year's Golden Axe for position coaching went to Wagner. He took a patchwork and thin OL and made them capable, at times formidable. The Pipeline days are in the past, but also in the future. But this season, there are upgrades across the board at the skill positions. You can develop players and push them and Callahan tried to do that with Dailey, but unfortunately Joe's ability was simply maxed out from the start. There were times Joe was asked to do too much, asked to play outside his ability, and there were times when some fundamental expectations were not met—not just of accuracy but in decision making. The offense needed him to develop too soon and his plateau came too early, whereas in Taylor and Beck the raw materials are there, clear and obvious. With ZT, the ball is in better hands after the snap, the huddle is in better hands between snaps and a QB simply putting the ball in the right hands during the actual plays will go a long ways towards more wins in '05. Taylor is not a world-beater. He will struggle this year. Maybe he'll be good enough to make some national wags eat a steaming pile of crow this season. Maybe he'll struggle rarely enough to keep a Redshirt on Beck. Maybe he's not a world-beater, but he doesn't have to be for this offense to be vastly improved.
But this Saturday will not tell us how much. Maine will be as much a depth-chart chemistry lab experiment as anything. Basic packages, few blitzes, multiple ooohhs and aaahhs. Keep your eyes on one thing, however; recall that last year the motion before the snap gradually trickled to a halt as the season wore on due to the need for simplification. It will be very interesting to see over the weeks how much the motion does not disappear. I will lay one of my favorite axes on odds it increases after the first few games.
2005 may be the beginning of a Red return to the elite level of college football. Perhaps this year will mark the beginning of the return to somewhere only we know, atop the college football world year in and year out and from hereafter. Such rarified air still exists for a select few programs. We are among them again soon, friends, if not soon enough.
Sharpen the gameday battleaxes. The new season is upon us, at long last. But first things first—time for a Black Bear slaughter.
NU 52
UM 13
So much to be said about all things Red. Come, let us talk. khusthered@gmail.com