Kenneth Jarecke Bio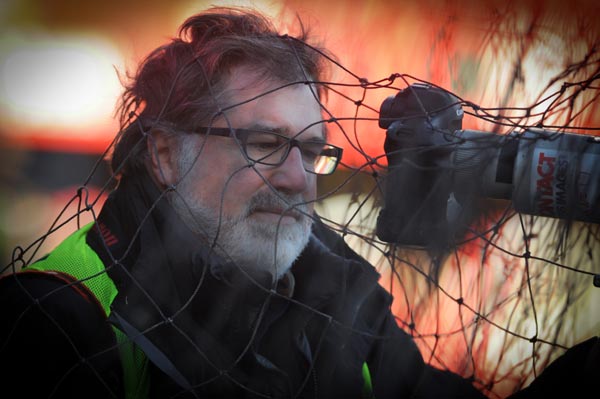 Kenneth Jarecke cut his photographic "teeth" shooting Nebraska football. His senior class project at Omaha Bryan High in 1981, was a handmade photography book of images he made of the Husker's spring game. Less than a year later, in the fall of 1982, he started covering the Husker's home games as a professional photographer for the Associated Press.
His uncanny ability to find unseen angles and delicate shadows at major news events has made him one of America's most distinguished photojournalists. Time after time - during presidential campaigns, the student demonstrations in Tiananmen Square, the Persian Gulf War and ten Olympic Games – Jarecke has captured moments and situations unnoticed by the media pack.
Throughout his career, Jarecke has traveled extensively. Having worked in over fifty countries, he's reporting on everything from tumultuous elections in Haiti, to the fall of the Iron Curtain. He's put a sympathetic face on the plight of child soldiers in Mozambique to the suffering refugees trying to escape a drowning, post-Katrina New Orleans.

In 1989, he became a contract photographer for TIME, whose editors were so impressed with his work that they nominated him for the International Center of Photography's "Emerging Photographer Award." Jarecke rewarded their confidence by producing spectacular cover stories on New York City, Orlando, and the crisis in America's ability to provide emergency medical care.

Of these stories, "The Rotting of the Big Apple", published in September 1990, attracted worldwide attention. Jarecke's nine pages of black and white photographs dramatically illustrated the deterioration of America's greatest metropolis and its signature picture, "Two Bathers," won first place in the World Press Photo Competition's Daily Life category.

During the winter of 1991, TIME sent Jarecke on a three-month assignment to Saudi Arabia, where he covered the allied war effort in the Persian Gulf. He would eventually spend time on patrol and cover combat duty with the U.S. Army's 18th Airborne Artillery Corps. His photograph of an incinerated Iraqi soldier, made on Highway 8 north of Kuwait City, stirred a storm of controversy. American editors refused to run it during the war, citing its extremely visceral nature. Gradually, through its appearance in French and British publications, American magazines noticed it, and it started to appear more widely in the United States, first in AMERICAN PHOTOGRAPHER, and then in TIME's year-end issue. In January 1992 it was awarded the Leica Medal of Excellence. It remains one of the photographic icons of the Gulf War.

In 1996 Jarecke left TIME to become a contract photographer at U.S. NEWS & WORLD REPORT and remained there for ten years.
While making his home with his wife Souad and their four children in rural Montana, Jarecke continues to shoot cover stories for various magazines on subjects as wide ranging as the underground militia movement, the U.S./Mexico border, the state of public school education, the quality of care in HMOs, and turmoil in the Middle East.
In the fall of 2010 Jarecke started photographing the Nebraska Cornhusker's final football season in the Big 12, followed by their historic move to the Big Ten conference. As a former player (nose guard at UN-O) Jarecke is making images from an insider's perspective that is rarely seen by fans. The images will be published in two coffee-table books, the first of which will be released in August of 2011.
Ken has been represented by Contact Press Images since 1986. He will be a regular contributor to HuskerMax starting with the 2011 season.