Texas 2007
Another week under Callahan. Another loss, though this time not as ugly.

I confess I did not witness either of the embarrassing home losses to Oklahoma St. and Texas A&M. The team I saw last week against Texas, however, should not be 4 and 5. We will know soon whether the performance against Texas was an anomaly or a harbinger of better things to come.
Texas obviously took us lightly—to their near-peril. I think Texas is overrated. Personally, I wish we played them every year (even though they keep finding ways to barely beat us).

Add Sam Keller's loss to the list of things that there is no way to put a happy face on this season. Keller wasn't the problem, but I am looking forward to seeing how Ganz performs in this offense. He sounds like the most confident guy in the world. Then again, so did Callahan at the beginning of the season.
In my last column, I mentioned my preference for Turner Gill to be the next Husker coach. Thanks to everyone who sent in their thoughts and shared nice Turner Gill stories. What a well-regarded fellow, that guy.
If the current coaching staff can draw out more performances like last week's, it might make Dr. Osborne's decision more difficult. Our AD does kinda sound like he's already made up his mind. Not saying that that's a bad thing.
THIS WEEK
Hmm…let's see here: Kansas has a mobile quarterback and a rushing offense that is third-best in the league. The Huskers are last in the entire nation in rushing defense. Wonder what the Jayhawk offense will try to do?

If Ganz plays mistake-free and the defense can put together an entire game like the first three quarters in Austin, we might have a shot. I can't believe I just wrote the phrase "might have a shot" about the Huskers heading into a game against KU. The Jayhawks certainly pounded us in Lawrence two years ago, and it will take quite an effort for this year's Nebraska team to come out on top.
What a weird college football Twilight Zone we exist in today that Kansas is undefeated and ranked in the Top 10, while the Huskers enter the game below .500.


---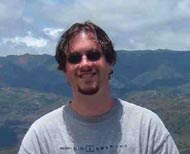 The voice of the Scarlet Commentary is Jeffrey Leever, a Nebraska native who now writes for an advertising agency in Kansas City. He is a 1994 graduate of the University of Nebraska (Kearney) and author of the suspense novels
Dark Friday
and
Even in Darkness
. He has been known to include a tribute to Tommie Frazier and other Nebraska references in his novels. His website is
www.jeffreyleever.com
. Contact Jeff
here
.