2008 Spring Review
And so it is with great pleasure that I write a first-hand Scarlet Commentary report on the sold-out spectacle known as the Nebraska Spring Game.
From about six rows up from the field in the northwest corner of Memorial Stadium, my brother-in-law and I endured sunburns and an afternoon of not knowing who to cheer against. Attending this game as a fan among the 80,000+ others was a distinct treat. Go Huskers! Go Valentino's! Go Runzas! It doesn't get much better on an April Saturday, does it?
There was something cleansing in the air this past Saturday, and a reinforcement that all that is good about being a Husker fan will continue to be so. Cue the Hallelujah Chorus…
The 2008 Cornhuskers might not be National Championship material, but they have the chance to be a team that sets the tone—and helps build the foundation for another run.
Here's a quick rundown on who I personally thought looked particularly good in the game:
Joe Ganz
Not much of a surprise here, but I like his swagger going into his senior year. He certainly sees the field (and open receivers) well for not being all that tall.
Roy Helu
Great moves. Explosion. Might have been the best running back on the field.
Terrence Moore
Redshirt freshman DL whose name kept getting called over the loudspeaker.
Major Culbert
A safety who makes sure tackles, whether bringing down a backup WR or Quinten Castille.
Tyler Wortman
Another guy whose name kept getting mentioned for having made a play. Our most "active" linebacker.
And then there were several other players who had me asking the guy next to me (a cool gent from Papillion named Kirk), "Hey, who is number…?" Thankfully, Kirk had a roster in his pocket. Smart man, that Kirk.
We were both marveling at #18 in warm-ups. Turns out he's last year's #4, Menelik Holt. Watching Holt, who also played well for the Reds, it makes you wonder if Maurice Purify is somehow still hiding out on the roster. #39, DB Lance Thorell, made a couple of nice plays and seemed to be in the game a lot. RB Austin Jones, #31, looked pretty good for being someone I'd never heard of before.
Our kicking and punting were both stellar, but the punt fielding was rough, particularly with Marcus Mendoza (who played a nice game otherwise). The return game was nil because, apparently, the coaches wanted it that way. Too risky, I guess.
Again, Ganz was sharp on offense, and I really like the way Zac Lee both passed and ran. He's going to be good for us next year. The short screen passes—whether to Lucky, Castille, or Helu—have the chance to be a strong weapon for us in the fall. Get Castille out in the open space and he is devastating. Needs to hang onto the ball, though.
The offense has a formation this year where the big-bodied Holt, the perpetually-open Nate Swift, and the speed-demon Curenski Gilleylen all line up on the same side. Lucky is the lone back and Mike McNeill is the tight end. I realize the Red offense wasn't "officially" the first team, but I still really like this set. Someone is going to be open, even if opposing defenses have three great cover men to put on our WRs. Lucky is an exceptional receiver out of the backfield and McNeill looks like he can bring another added receiving threat from the TE spot.
On defense, Armando Murillo played another good Spring Game, just like he did last year. I mentioned Wortman already. Here's one other snapshot from the game that I'll never forget: There is something surreal about seeing Cody Glenn in on a tackle with Marlon Lucky as the ball carrier. Never thought I'd see that image. Such are the delights and surprises of spring.
OF SUNBURNS AND SCARLET APPEARANCES
This week I will continue my tour of Nebraska and will be having a number of book signings. If you are in the Omaha, Lincoln, or Kearney areas this weekend and have an interest in saying hello and/or talking Husker FB, please stop by one of my bookstore events.
I'll be at Hastings Entertainment in Kearney on Friday evening, the SouthPointe Barnes & Noble in Lincoln on Saturday afternoon, the Midtown Omaha Borders on Saturday evening, and the Kearney Waldenbooks on Sunday afternoon. (If you show up and I still look slightly sunburned, the scorching Spring Game rays were the culprit.)
I have a special web page at http://www.jeffreyleever.com/huskers with all of the times and details.


---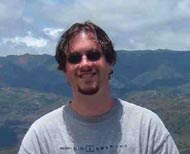 The voice of the Scarlet Commentary is Jeffrey Leever, a Nebraska native who now writes for an advertising agency in Kansas City. He is a 1994 graduate of the University of Nebraska (Kearney) and author of the suspense novels
Dark Friday
and
Even in Darkness
.
He has been known to include a tribute to Tommie Frazier and other Nebraska references in his novels. His website is www.jeffreyleever.com.
Contact Jeff here.