Oklahoma State 2006
The script that played out for this game almost seems exactly like the script someone wrote for KU…except this one was on the road. Here the Huskers are, cruising through the season only losing the games they're "supposed" to lose…until they drop one they were supposed to win.
Early in the game, I remember being bothered that we left points on the field. Of course, at the time it looked like OSU was never going to have an answer for Jackson.
Taylor was utterly out-of-sync in the second half, missing badly on lots of simple throws. He also wasn't helped by multiple dropped passes. This continues to be a problem for Hardy in particular.

The defense in this game…not good. Other than Tierre Green, the secondary seems to have thrown in the towel. Shanle continues to take bad angles on deep passing routes…doesn't get there in time…then doesn't even hit the receiver. Our corners are rarely close enough to the receiver they're covering to even attempt to make a play on the ball. They also get blocked downfield easily.
There is no part of our special teams play right now that is particularly good, or Nebraska-like. The short kicks are killing us. Congdon's FG attempt missed ugly. About the only thing that went right against OSU was Jackson early in the game. Carriker played pretty well at times, but had little help.
Callahan seemingly got outcoached by Gundy. Cosgrove can never seem to make a defensive adjustment when it counts. And Elmassian…no comment.
A week ago, I was eagerly awaiting a rematch with Texas. Now…it's a disturbing thought to think every team we'll play will have tape of how OSU dismantled us. Sure, upsets happen. Perhaps OSU is a team on the rise. It's just hard not to wonder how much "order" has been genuinely restored when you get bombed by Oklahoma St.
I'm glad to hear the Huskers still feel they can reach their goals. Time will tell if it only takes three losses this year to get the Huskers to play like they did after their fourth last season.
THIS WEEK
When Missouri has lost games this year, it's because they've had turnovers. Our defense is going to have to find a way to create some havoc.
In the recent past (even in "down" years), we've still come up big at home against Missouri. I hope we can do it again and save this season.
---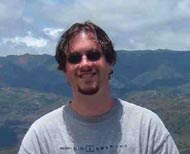 The voice of Scarlet Commentary is Jeffrey A. Leever, a Nebraska native also stuck behind enemy lines in Jefferson County, Colo. He is a 1994 graduate of the University of Nebraska (Kearney) and a freelance writer and author. Some of Jeff's writings of the nonfootball kind can be found online at Barnes & Noble (1, 2), Amazon.com (1, 2), and MenofIntegrity.net (1, 2, 3, 4, 5). Contact Jeff at this email.