New Mexico State 2008
It's a good trend when the defense goes from giving up 24 points in the opener, to 12 the following week, to a mere 7 (turnover-enabled) points this past Saturday. Through the first three games, the offense has been solid in two of them.
Not perfect. But not bad.
The team also seems to be trending toward improved resilience. When things go badly for a drive, a quarter, a half, or even a game, these players are more determined to bounce back. I realize it's easy to say that when the Huskers haven't experienced a loss yet. Still, the team seems better prepared for adversity than we saw last season.
One example of this is the tight end play. San Jose St. was a pretty rough game for Mike McNeill in particular. He bounced back against New Mexico St. This is extremely encouraging ... and makes the offense that much harder to stop.
I've read some things here and there where fans have bagged on Lydon Murtha, but this past Saturday we saw his impact (no pun intended). All it takes is one game back and his presence is felt. Once Andy Christensen also gets back into the flow of things, the offensive line play could rise yet another notch.
Lucky finally had the kind of game that answers the "Why is he still starting?" question for awhile. It will be interesting to see if any of our backs will be difference-makers in the next three games. Who can break a big play — Lucky, Castille, or Helu — when it really matters in a tight, tough contest?
With nine games remaining on the schedule, even if the Huskers split them 5-4 or 4-5, they will finish with a better record than last season. I suspect Pelini wouldn't want to hear that kind of talk — "conceding" any upcoming losses. That's why I like him.
Bottom line: The Huskers have only gotten off to a 3-0 start once since Pelini's last stint in Lincoln in 2003. If they continue to get better as the season progresses, bowl eligibility won't even be the question this year.
(In case anyone was wondering, my column last week fell through the cyberspace cracks. I did write it and it's now archived.)
UNTIL NEXT WEEK
I'm keeping it simple for now and holding back on contributing any more Virginia Tech hype until I see what happens to them this Saturday. I suspect they'll win on the road against North Carolina, but a lot will depend on their quarterback play and a defense that's been somewhat shaky so far.
---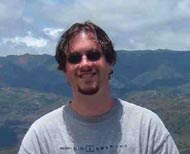 The voice of the Scarlet Commentary is Jeffrey Leever, a Nebraska native who now writes for an advertising agency in Kansas City. He is a 1994 graduate of the University of Nebraska (Kearney) and author of the suspense novels
Dark Friday
and
Even in Darkness
. He has been known to include a tribute to Tommie Frazier and other Nebraska references in his novels. His website is
www.jeffreyleever.com
. Contact Jeff
here
.