Missouri 2006
Racing out to a dominant, 27-3 lead on Missouri is one of the more impressive things the Huskers have done all year. After the meltdown against Oklahoma St., we needed a win like this.
Nunn, Purify, and Swift all made great plays in this game. Missouri's coaches can be thanked for giving Swift the chance to put the game out of reach in the 4th quarter. The Tigers had stopped us on the previous 3rd down, but there was a penalty on the play which Pinkel chose not to decline—giving Taylor the chance to hit Swift.
Carriker continues to impress on D. The more the young defensive backs see the field, the better we seem to play.
Our special teams effort in this game needs to become the norm, rather than the exception, as we go forward.
THE BIG 12 NORTH
It wasn't that long ago people were proclaiming Missouri to be the class of the North. I imagine there is considerable heat being felt in Columbia these days.
I was sorry to see McCarney ousted in Ames this week. He was a good guy, always playing with the hand dealt to him and never whining. Presumably, Barney Cotton will go with him.
It will be interesting to see how serious a look Norvell gets as a possible replacement. Norvell as a coach elsewhere in the Big 12 North? Hmmmm…
THIS WEEK
Being the class of the North isn't all that significant if you lose all of your scheduled games against the South. A&M is certainly beatable, if we don't play to beat ourselves. Their passing game isn't that great, which should help because that's still our biggest weakness.
Another factor that is in our favor is that the Aggies' loss to OU seemed to deflate them. The Huskers have momentum on their side, and more to play for this week. Kyle Field will be a tough environment, of course.
In any case, the final step in the Huskers' long, hard road back to the Big 12 championship game comes Saturday, and players need to seize the day. I wonder what the weather is going to be like at Arrowhead in early December.(?)
---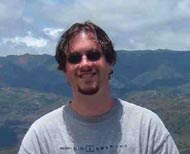 The voice of Scarlet Commentary is Jeffrey A. Leever, a Nebraska native also stuck behind enemy lines in Jefferson County, Colo. He is a 1994 graduate of the University of Nebraska (Kearney) and a freelance writer and author. Some of Jeff's writings of the nonfootball kind can be found online at Barnes & Noble (1, 2), Amazon.com (1, 2), and MenofIntegrity.net (1, 3, 4, 5). Contact Jeff at this email.