Greetings friends…fellow fans…and those who just clicked here because the Colonel hasn't posted yet. It's good to be back for a new season.
Coming into this fall, I held off on writing any preview columns. This, of course, has its pros and cons. One of the pros is that I am not on record writing any breathless predictions like, "Harrison Beck will challenge for playing time this year, should Zac Taylor struggle," or "Look for a big year out of Zack Bowman." One of the cons is that it's been too long since my last column.

It's also been awhile—too long, as well—since the Huskers have had that nice of a non-conference win (against a decent opponent) as we did last Saturday. Certainly the best start of the Callahan "era."
The Good
Running backs: I really like the way this looks right now—everyone playing hard—nobody disgruntled, threatening transfer, or complaining about a lack of carries in the media. I truly hope it stays that way. We haven't had this kind of legitimate depth since Phillips/Benning/Childs/Green in '95. To have four talented running backs who are all good enough to be on the field could potentially be huge. Jackson looks better than he ever has. I hope we will be able to continue pounding teams in the second half with Glenn. Lucky looks sharp and Wilson is big and fast. I don't know how opponents can possibly prepare for all the offense we can potentially throw at them.
Taylor's passing: Man, when he uncorked that strike to Purify, he reminded me of some of the NFL QBs I've seen in the past few weeks. You tend to forget how unprecedented that kind of passing arm has been in modern Husker history. I still worry a bit about Taylor against the top teams, but I give the guy his due against Louisiana Tech. He nailed open receivers at will. He was even more "on" than the final stats show because of the drops, and receivers not quite getting a foot down in bounds a couple times.
The addition of Purify, combined with Hardy and Taylor's stellar timing (even though Frantz still needs to hang onto the ball better), have given another jolt to the passing game. A passing game that was already pretty good with just Nunn and Swift. It seems like Swift is now free to run some of Grant Mulkey's featured routes from the past few years. In typical Swift style, he's doing so quite well. Maybe it took the addition of Shawn Watson to the staff for someone to speak up in a coaches' meeting and say, "Hey, what if we threw it more to the tight end?" (Maybe someone will get brave and propose a handoff to the fullback next?) Herian's return is utterly fantastic news to this offense. That said, the tight ends across the board looked better in this game than all of last season combined. I hope every team we play this year follows George Darlington's lead and tries to cover Herian with a linebacker or a safety.
On the other side of the ball, Carriker, Moore, and Turner are stars. 'Course, we already knew that. I hope they all stay healthy.
The Not-As-Good
For all the talk of the linebackers' greatness, this was really a ho-hum game. The best two hits were from Dillard (and he's now gone for the season), and Octavien—on the opening kickoff. The rest of the game…nonremarkable. Ruud's interception was nice. Overall, I hope these guys are just saving their "A" game for USC.
If you've read my columns in the past, you know I worry a lot about the secondary. This has been true ever since Elmassian has been in charge. This year, it's not just a weakness, it's a glaring weakness. Our best guy (Grixby) can be in perfect position, but then can't do anything about it. I know, he's hurt. It's going to be a loooong season here without Bowman.
Green seemed pretty nonchalant on his safety blitz on the play where Brothers got burned for the TD. My hope is that one of our young players steps up at safety. Dwayne Jarrett and Steve Smith lining up against our D-backs right now is a scary thought.
Then again…I guess I am thankful we didn't give up 590 passing yards like we did in 1998. The secondary just seems like it's going to need a lot of help from the D-line this year.
The Team
All told, the days of getting blown out by some Big 12 North opponents seem like they will be in the rearview mirror for awhile. I don't see this team winning all its games, but we're definitely better now—especially on offense—than at anytime since the option left the stadium.
Winning a non-conference game by 39 points is never a bad thing (even if the team somehow manages to drop a notch in one poll). In fact, it used to be as common as a Runza. I've always enjoyed Runzas.
Around the Dial
Moments after the NU-Tech game went final, I found it interesting that Joe Dailey was in the process of throwing a costly interception to seal a 21-16 home defeat for North Carolina against Rutgers, his third pick of the game (one was on a failed two-point conversion try). I hope NC and Dailey rebound, but it just reminded me of how far the Huskers have come.
Also, living in Colorado, I would be remiss if I didn't at least acknowledge the state of mourning the Buffs are in this week. Losing to Montana State 19-10…at home. To put it in perspective, CU lost at home to a team whose next game is against Chadron State.
My how things have changed in the past couple years. For the better.
This Week
I'm going to go out on a limb and predict a victory. Nicholls State will try to run the ball on us, which will be good preparation for some of the bigger challenges to come. I really, really, really hope we get through the game without any serious injuries. Yes, I'm already thinking about USC. And I want them to get our best shot.

---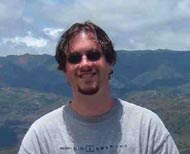 The voice of Scarlet Commentary is Jeffrey A. Leever, a Nebraska native also stuck behind enemy lines in Jefferson County, Colo. He is a 1994 graduate of the University of Nebraska (Kearney) and a freelance writer and author. Some of Jeff's writings of the nonfootball kind can be found online at Barnes & Noble
1
,
2
, Amazon.com
1
,
2
, and at MenofIntegrity.net
1
,
2
,
3
,
4
,
5
. Contact Jeff at
splasheditorial@hotmail.com
.