USC 2007
Please forgive the tardy post this week. It's not just because the Huskers lost unprettily.
So in an effort to pass on the family tradition of Husker mania, I succeeded in goading my 13-year old into attending NU-USC by telling her things like "Biggest game of the year," "Broadcast in HDTV to the entire nation," and "Will Ferrell will be there." Those, I discovered, were winning selling points. That and the opportunity to see Lil' Red.
"Going to a game with dad," was way down on the cool-factor list, but, frankly, I was pleased it charted at all.
For a quarter and a half, the game was everything I'd hoped for. Then, of course, reality had to set in. The Huskers' on-the-field performance wasn't worthy of…well, a lot of things. The inside-the-stadium pre-game buildup was incredible, utterly incredible. (What's not to love about that environment and your fellow Nebraska fans?) The performance on the field was incredible, though, in other ways. It's a sad thing to have known at halftime that the game was basically over and that the longer my daughter and I stayed, the uglier it would get.
I would describe the overall experience like going to your favorite restaurant to order your favorite menu item, sitting down, ordering, and then having different food brought to you. "This isn't what I ordered," you politely say. "Well, that's what we have." But the menu still says your favorite item's name on it.
When I stripped off my "fan hat" (at times, actually, my daughter's cornhead), I realized that we looked exactly like a team playing with four new starters along the defensive line, plus a new D-line coach. Last year's line, one of the few bright spots in the game at the Coliseum last season, has four out of four players from it now in the NFL. John Blake is also elsewhere. That's not an excuse; just something I noted.
Later we learn that Husker coaches had refrained from full-contact practices, a fact which I see the OWH has played up quite a bit. That's a good coaching move when it cuts down on injuries. Bad when your team looks bad on the national stage. Every year, it seems we get a slightly different version of the "Players and Callahan stand behind Kevin Cosgrove" stories. Our new line has some good, albeit inexperienced players. That's still no reason we should be utterly dominated by a USC O-line that has only one senior starter. USC's obviously one of the top two or three teams in the country. But…yeah, it's not like there weren't red flags raised by the Wake Forest game that should have been addressed (tackling, etc).
Larry Asante hasn't been doing much "assassinating" thus far this season. I just see a lot of missed tackles; plays that should be stopped for little or no gain, but instead turn into huge yardage. I've seen our current fifth-string running back tackle better. In general, the secondary hasn't tackled particularly well, nor did USC even have to test them through the air. Our linebackers, other than Octavien, seem a step slow and a step behind.
There were some good things to take away from the USC game. Keller's play was better than Taylor's last year. Our secondary didn't get torched through the air by a bevy of receivers better matched against NFL competition.
Not that it matters at this point, but #7 for USC simply could not cover Purify. Every time Purify was lined up against him, you could just see it. Often, though, Purify was either not in the game, lined up on the other side, or the play call was a run. The passing game still had its moments. The running game? Yeesh.
This team needs some work fast or it will be a long, long season.
Meanwhile, Lil' Red was good, as always.
THIS WEEK
All I can really say about Ball St. is that they were nearly bowl-eligible last year. And they only lost at Michigan last year by 8. This was back when Michigan was good last year, before the Appalachian State debacle this season. Therein lies the risk.
This year's Huskers need someone to step up and provide a spark like Brandon Jackson did last season. This week's as good a time as any to start looking for some candidates.


---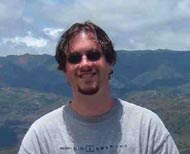 The voice of the Scarlet Commentary is Jeffrey Leever, a Nebraska native who now writes for an advertising agency in Kansas City. He is a 1994 graduate of the University of Nebraska (Kearney) and author of the suspense novels
Dark Friday
and
Even in Darkness
. He has been known to include a tribute to Tommie Frazier and other Nebraska references in his novels. His website is
www.jeffreyleever.com
. Contact Jeff
here
.