TEXAS 2006
Dr. Osborne used to say that people ought to appreciate a well-played ball game, even when their team ends up on the losing side. What we saw last Saturday was, without a doubt, a well-played game. And, giving credit where it is due, I think Husker fans "get" Dr. Tom's sentiment better than most.
To go from a debacle like the Texas Tech game in '04 to the kind of performance we had against Texas last Saturday…playing the defending national and conference champions…it's heartening. I wish we had won. It's almost as good to have seen the look of utter shock and dismay on the Texas sideline in the fourth quarter, prior to Nunn's fumble. In the past two years, there has been a lot of talk about the Big 12 South being so dominant against the North…blah, blah, blah. Yes, the Longhorns won. But I think they realize the gap has been closed. I think they also know how lucky they were to win.
One week ago, after the Kansas St. game, I wrote in my column:
"Nunn seems to have developed a fumbling habit, which I hope he gets over before it hurts us in a close game."
When I write these sorts of things, the fan in me wants them <i>not</i> to turn out to be true. Alas, we fumbled away a chance to beat Texas, plain and simple. Unlike some, I don't question the play call. If Nunn hangs onto the ball, it's a "great" play call.
Octavien played his best game ever as a Husker. Purify, Hardy, Swift, Lucky, and Jackson are all special guys. Jackson's touchdown catch/run was one of the best efforts I have ever seen. Todd's block(s) toward the end of that run…classic.
I wish the D had had one more stop in them, or the offense one less turnover. We have to finish teams off when we have them on the ropes.
THIS WEEK
I think both this week's game and our later road game against A&M are going to be pretty tough; maybe tougher than some people might think. I know the players have said all the right things about how they're not going to let the Texas loss get them down. It will be interesting to see if they have the gumption to pull that off.
---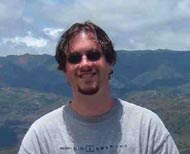 The voice of Scarlet Commentary is Jeffrey A. Leever, a Nebraska native also stuck behind enemy lines in Jefferson County, Colo. He is a 1994 graduate of the University of Nebraska (Kearney) and a freelance writer and author. Some of Jeff's writings of the nonfootball kind can be found online at Barnes & Noble (1, 2), Amazon.com (1, 2), and MenofIntegrity.net (1, 2, 3, 4, 5). Contact Jeff at

[email protected]

.