TROY
At home we are a juggernaut. The Troy game was nearly flawless across the board—a great way to bounce back. Ideally this year's team can build momentum each week, to the point where we can really let it rip against the next nationally ranked team we play.
The confidence and swagger the Huskers exhibit when 80,000+ fans are screaming for them is impressive. Even without Glenn, Mann, and Octavien (who I all miss), this team is capable of playing extremely well against a decent opponent.
Not that it slowed him any last Saturday, but I hope Marlon Lucky can get that big brace thing off his left arm before we have to play Texas. On offense, it was nice to see Nate Swift back in the mix, catching a first down pass on 1st and 35. (That might be the only time in modern Husker history we've converted a 1st and 35.)
Suh is becoming a beast on the D-line. I will hereafter refer to him as Mt. Suh…and not just because I can't pronounce his first name. Lance Brandenburg is playing very well. Stewart Bradley is a special guy, take or leave the hair.
It was fun to see Brandon Rigoni almost score. And man does Ricky Thenarse have a burst, running down a Troy returner with one of the most-athletic plays I've seen since our championship days.
THIS WEEK
We win, pure and simple. Last year's score against Kansas was deceiving; their lead was only 2 points well into the 3rd quarter. This year, the Huskers aren't going to collapse in the 4th quarter of a game, especially playing at home. We're better this year and KU isn't as good, particularly on defense.
It's noteworthy that KU is the last Big 12 team to beat us. I appreciate all of the talk from the Huskers downplaying the revenge factor. I'm not buying it. If we play like we did against Troy, no Big 12 North team will be able to come into Lincoln and leave with a win.
---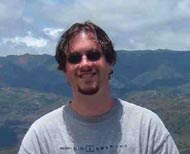 The voice of Scarlet Commentary is Jeffrey A. Leever, a Nebraska native also stuck behind enemy lines in Jefferson County, Colo. He is a 1994 graduate of the University of Nebraska (Kearney) and a freelance writer and author. Some of Jeff's writings of the nonfootball kind can be found online at Barnes & Noble (1, 2), Amazon.com (1, 2), and MenofIntegrity.net (1, 2, 3, 4, 5). Contact Jeff at splasheditorial@hotmail.com.