Well, for starters, we need to quit giving up touchdowns on the opposition's opening drive. All the yardage Smith had obviously made the difference, but something isn't right when the guy accounts for more yards against us than the entire Texas Tech offense (480 to 412). Opening drives often set the tone for the game. Cosgrove seems to view them as an opportunity to play vanilla defense. Of course, we didn't stop Missouri very well the entire game regardless of the defense we were in. We had some good moments, and Smith is a difference-making player who we will never have to face again. But it's still disconcerting to see us continue to get down 7-0 (or worse), as we have the past three games—two of which have been losses.
So what do we have to do to get off to a quick start? Taylor seems to come out "off" early in games, then by the second quarter starts to come alive. His second half turnovers hurt us. Nunn's fumble was obviously the worst. That play led to a 14-point swing from which we never recovered. Mulkey usually is sure-handed, but wasn't against Missouri for whatever reason.
Back to Taylor's fumble and interception: Play calling kind of put him in a tough spot. The lack of rushing yards has been much discussed, and Callahan tried to make the point that running the ball wasn't wise in a game where we got behind. Whatever. With the game tied, we were still passing on first down. Penalties, sacks, or incompletions then forced us into having to pass on second and third downs. The line was struggling to give Taylor time. I'm betting the Missouri coaches found our predictability on offense refreshing. As a fan, I find it odd to think of us as one-dimensional, but that lone dimension being the passing game.
When Ross or someone else doesn't make very many yards on a run, Callahan rarely has the patience to call another rushing attempt. Now, maybe someone might call this smart coaching. I realize it's easy to second guess. Still, I believe that Ross is as close to a difference-making player as we have on offense. It's not that surprising that we lose when we get away from using him.
The defense in this game was generally bad, interspersed with moments of the D we thought we had. Ruud missed more plays against Missouri than I think I've ever seen. Tiedke struggled badly. Teams seem to have a 100% completion percentage throwing it to Green's man on fourth down plays. Turner's sack was beautiful, but we needed a couple more of them. (Either that, or the Missouri coaches playing Smith's backup more.)
There were a lot of plays where we were close. Unfortunately, "close" resulted in 41 points. I'm beginning to wonder if this is the same defense without Octavien and Bradley. Granted, we didn't have Octavien very long this year, but in this game we looked like a defense that's missing a pair of starting 'backers, and with a secondary that's a year or two off from being good.
Somewhat lost in all the hoopla after our loss to Texas Tech was the fact that Cosgrove basically admitted he likes to start off games with only basic defensive alignments, then adjust. I hope this strategy doesn't put us in more holes that we can't get out of, in particular against teams where the talent level is close (or the other team's is superior). Surely spotting teams 14-0 and 21-3 leads isn't the way to go, right?
THIS WEEK
Unlike last year, I think this season we have a legitimate chance of beating Oklahoma. I hope we get the version of them that struggled in double OT at home against Baylor. I don't think Stoops likes Callahan—and who knows—perhaps the feeling is mutual.
Stoops can't have very fond memories of his last trip to Lincoln, a 20-10 Husker win and a game I saw in person (in 2001). If I might reminisce about that game a moment…and our difference makers: Chris Kelsey (the best game of his career…had OU's QB knocked out on his feet, also made a key stop near the goal line that forced a FG attempt, and threw off the timing of OU's attempted trick play), DuJuan Groce (good D and great punt returning, prompting OU's Butkus-Award-winning LB to try to cheap shot him out of the game), Thunder Collins (a big run to set up a score…the play that was effective early in the game which caused the Sooner D to bite so hard on the 4th quarter trick play), Dahrran Diedrick (90 tough yards against one of the fastest defenses I've ever seen, plus the early TD), and Mike Stuntz and Eric Crouch (the Heisman-highlight play everyone remembers…after which I fell into the row of fellow Husker fans in front of me).
I think we can beat the Sooners again this year, even if Peterson plays. But we have to play well and cease the turnovers and porous defense. If Peterson doesn't play, or plays hurt like he did against us last year, all the better for our chances. Regardless, we need to get off to a good start.
---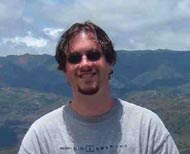 The voice of Scarlet Commentary is Jeffrey A. Leever, a Nebraska native also stuck behind enemy lines in Jefferson County, Colo. He is a 1994 graduate of the University of Nebraska (Kearney) and a freelance writer and author. Some of Jeff's writings of the nonfootball kind can be found online at Barnes & Noble (1, 2), Amazon.com (1, 2), and MenofIntegrity.net (1, 2, 3, 4, 5). Contact Jeff at splasheditorial@hotmail.com.