KANSAS STATE 2006
Two road wins in a row…yeah baby, yeah. It's been too long. I think the past two weeks have been the first time under Callahan we have won two straight road games. (Not to mention, back-to-back ones.)
Against K-State, we had a great defensive effort, particularly against the run. It was fantastic to see our interior line wreaking so much havoc. It's not every day that the AP wire report for a Husker game includes the words "diving interception" and "nose guard" in the same sentence.
Kudos to Mr. Suh, Dagunduro, and Cryer, plus Moore and Carriker on the outside. Dagunduro might have had his best game as a Husker.
Jackson continues to play well. It seemed like there were lots of plays where K-State defenders blew past our line's blocks, but our RBs (particularly Jackson and Lucky) made the right cuts. Purify continues to make plays. Nunn seems to have developed a fumbling habit, which I hope he gets over before it hurts us in a close game.
I dig the not-so-conservative play call on the fake field goal. Wesch and Tichener have quite the passing percentage between them.
All told, a gnarly win against a generally annoying purple opponent.
THIS WEEK
Historically, when Mack Brown digs into his "beat Nebraska" playbook, the guy always runs the ball. We have played two straight conference opponents where our defensive line shut down the other team's RB. We need to do it again (or come close). Neither Grixby or Jones will probably be able to cover Sweed. The key will be rattling McCoy. Can our rush get there?
Callahan has firmly stated he won't gameplan for Texas the same way he did for USC. I'm not sure what that says…but I think he might be onto something.
Yeah, the Longhorns have won in Lincoln the past two times. But they have never experienced 85,000 Husker fans, have they?
If Taylor takes care of the ball, and our D-line gets up close and personal with McCoy, we have as good of shot as we've ever had against UT this century.

---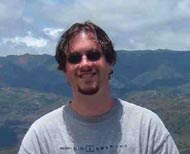 The voice of Scarlet Commentary is Jeffrey A. Leever, a Nebraska native also stuck behind enemy lines in Jefferson County, Colo. He is a 1994 graduate of the University of Nebraska (Kearney) and a freelance writer and author. Some of Jeff's writings of the nonfootball kind can be found online at Barnes & Noble (1, 2), Amazon.com (1, 2), and MenofIntegrity.net (1, 2, 3, 4, 5). Contact Jeff at

[email protected]

.