KANSAS
Well, it's nice to be on the receiving end (no pun intended) of a late-game touchdown pass where offensive interference could have been called, but wasn't. I don't know how many more times this team can count on fourth quarter heroics like Hardy's against KU.
The aforementioned TD came on a 3rd and 18 (following a sack and a fumble on the two previous plays), while trailing at home, in the final quarter of a game we'd once led 17-0. I'm glad we came up with the play, but that's a "well" that might run dry if we try to return to it again in future Big 12 games.
Nate Swift's catch in overtime was also huge. The "fumble" near the goal line was a very close call. On the road, I'm not sure if we'd get the favorable replay review (good thing Oregon isn't on the schedule).
It was nice to see Glenn back, running hard. We have to quit with the fumbles, though. Our line wasn't exactly dominant against the Jayhawk defensive line. Time will tell if this was an aberration, or a foreshadowing of a serious problem.
There is a glaring weak spot in our zone coverage, in between Grixby and Shanle, that teams can expose if we continue to give them time. Offenses can just throw to Grixby's man pretty much anytime they want, and know they can gain yards. Shanle gets kudos for two early picks, but he was routinely beaten in coverage later. Our corners did not get much help, even when our safeties were in position.
Behind early, Kansas didn't lay down and die like a lesser team might have. They came to win, to their credit—just like they did the last time they came into Memorial Stadium.
To our credit, we came back after being down in the fourth quarter. We had another good overtime effort. Taylor plays well in overtime games, and I'm very glad we have a QB who is capable of coming though. Still, NU has never lost in overtime. (5-0 lifetime has to be some sort of record.) This is the second consecutive year we have won our Big 12 opener by a touchdown in overtime. As a fan, I find this stressful. 'Course then I see a guy like Mangino and wonder what his heart rate must be.
Road tests loom now. We're going to need to play like we did in the early stages against KU for entire games.
THIS WEEK
Iowa St. has the ability to give us all kinds of trouble. They also have the potential to lay an egg. In that regard, they kind of remind me of CU's team a year ago.
We have to stop their running game with Hicks. In last season's game, he got injured and we barely won. I'm hoping Blythe lines up more against Jones than Grixby (hey, a guy can dream).
A few sacks on Meyer would be nice. It's a given that we need to run the ball better that we did against KU. Some passes to Herian at key moments would help, too.

---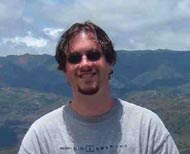 The voice of Scarlet Commentary is Jeffrey A. Leever, a Nebraska native also stuck behind enemy lines in Jefferson County, Colo. He is a 1994 graduate of the University of Nebraska (Kearney) and a freelance writer and author. Some of Jeff's writings of the nonfootball kind can be found online at Barnes & Noble (1, 2), Amazon.com (1, 2), and MenofIntegrity.net (1, 2, 3, 4, 5). Contact Jeff at splasheditorial@hotmail.com.