My column this week will be exceptionally short, but it's not because a 4-4 team spanked us 40-15 on Saturday. No…actually, my right hand is in a cast. Forgive me for the brevity to follow, but I'm doing this mostly left-handed.
At this point, I don't think the majority of fans are really that interested in an attempt at concise analysis of what went wrong at KU. If the e-mails I receive are any indication, most good folks just want to know what happened to the program they used to identify with. I'm not sure I could write the answer, even with two healthy hands.
I could talk about slow starts and how our offense had a 2nd & 5 and a 2nd & 1 early in the game, but still couldn't get a first down. Or how we got great kick returns by Marlon Lucky and absolutely no points to show for them. Or how it's clear we have a defense that isn't that great, other than against teams from a weak nonconference schedule. Or about how they are on the field too much.
The obvious thing to do would be to comment about how we have a coach who seems to know how to recruit well, but has very little to show for it. At the end of last year, I described Callahan as a coach who was, at best, a work-in-progress. To date, very little progress appears to have been made, whether on the field or in the character department.
A colleague of mine who is a Sooner fan pointed out to me this week that OU went through several coaches, post-Switzer, before landing Stoops. We who are Nebraska fans are accustomed to our program being the exception to the norm. Right now it seems we are worse than the norm, but that kinda depends on how you define the standard.
Earlier this year I wrote a column, when the team was a shaky 3-0, that earned me the label "naysayer" from some. I started to think we might be capable of greater things after the Iowa St. game and the near-victory against Texas Tech. But now it's hard not to wonder: At what point is reality no longer "naysaying"?
THIS WEEK
Talent-wise, we should be able to match up with Kansas St. Maybe they'll do something unwise and kick off to Lucky. That might be one way the Huskers could muster a quick start. (Hey, a guy can dream.)
I hope our home crowd shows up and supports the players—regardless of opinions about the coaches, the AD, or the state of the program. This is the last time talented guys like Corey Ross, Daniel Bullocks, Seppo Evwaraye, Le Kevin Smith, Titus Adams, and others will ever play before a home crowd in Memorial Stadium. As Nebraska fans, we pride ourselves on having class. Here's an opportunity to show it. If we somehow manage to beat KSU and become bowl-eligible, let it be because the fans carried the team.

---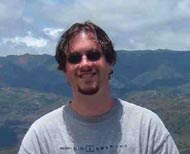 The voice of Scarlet Commentary is Jeffrey A. Leever, a Nebraska native also stuck behind enemy lines in Jefferson County, Colo. He is a 1994 graduate of the University of Nebraska (Kearney) and a freelance writer and author. Some of Jeff's writings of the nonfootball kind can be found online at Barnes & Noble (1, 2), Amazon.com (1, 2), and MenofIntegrity.net (1, 2, 3, 4, 5). Contact Jeff at splasheditorial@hotmail.com.