IOWA STATE 2006
The nice thing about this win was that it showed our defense is capable of stopping another Big 12 offense. After the Kansas game, it was hard not to wonder.
Does having an aggressive defensive scheme, rather than a read-and-react (like against KU), make that much difference for these players? Seems so. We play way better when the D-line is in attack mode.
On offense, Jackson might be the best back we have. He picks up blitzes better than any RB I can remember in recent history. I'm sure nearly every Husker fan enjoyed the running game's effectiveness against ISU. Almost as impressive though, I thought, was our ability to stop their running game. Hicks is a good back and Meyer a solid running QB. We made their offense one-dimensional—which works well when receivers are catching passes just out of bounds and/or getting called for pushing off.
The more Thenarse and Wilson see the field, the better this secondary can be on passing downs. I like Bradley, but it makes me worry when we have him lined up on an opposing team's WR.
Fortunately for us, Blythe didn't go against Grixby much. Cryer is really playing well. The more batted-down passes we can get out of him, the better. (Makes for good pass D.) McKeon also had another stellar game.
Taylor-to-Purify is going to continue to pay dividends if we don't overuse it. I still yearn to see NU throw to Herian more. He seems to be open a lot more than he ends up getting the ball. Okay, yeah now I'm just nitpicking…sorry.
Overall, a great win—and another step toward our conference "order restoration" project.
THIS WEEK
Kansas St. is probably not any better of a team than Iowa St. But will we play as well? Will we get the breaks again? Manhattan has not been a kind place, in more ways than one. If any order is to be restored, we need to hand them a loss now. This is the best chance to win at KSU we have had in awhile.
Hopefully Austin and Mann will be able to contribute to another strong running game. If we get that, and our fair share of hits on Freeman, we should be able to pick up another road win. This will give us another notch of confidence for next week's home game.
---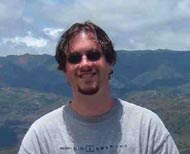 The voice of Scarlet Commentary is Jeffrey A. Leever, a Nebraska native also stuck behind enemy lines in Jefferson County, Colo. He is a 1994 graduate of the University of Nebraska (Kearney) and a freelance writer and author. Some of Jeff's writings of the nonfootball kind can be found online at Barnes & Noble (1, 2), Amazon.com (1, 2), and MenofIntegrity.net (1, 2, 3, 4, 5). Contact Jeff at splasheditorial@hotmail.com.