IOWA STATE 2005
That was the most enjoyable Husker game in a while…at least since last year against Missouri. Lo and behold, we have played four games and have nearly matched last year's win total. I have almost nothing but nice things to say. But first things first…
Why, oh why, do some fans and internet pundits (like, for instance, here at the Scarlet Commentary) whine when the team wins by one point, yet say nice things when the team wins in double overtime the next week?
Well…because of how we looked in doing it.
Taylor played as non-Dailey-like as Dailey ever managed against anyone other than Baylor. Having an extra week, and going against the number one defense in practice, seemed to help Taylor a lot. He played like someone whose starting position was on the line. It is distressing, still, that we had only 13 points to show for his record passing yardage at the end of regulation. Dropped touchdown passes, missed field goals, and blown fourth down plays could cost us sometime down the road, if they continue. Taylor would have been remembered as the goat of this game if Iowa St. had scored after his 4th quarter fumble. His cool play in the overtime periods was fantastic to watch, though. We haven't had a true "in the clutch" QB performance in awhile. Cheers.
Corey Ross catching passes for over 100 receiving yards—while altering my paradigm of a Nebraska running back—was a pleasure to see. Watching Terrance Nunn make all the plays he has this far…I have repeatedly been thankful that Callahan kept recruiting this particular Solich recruit. Nunn's punt returns are great. When the coaches use Grixby instead of Nunn as a punt returner in the first half this year, it seems they are being needlessly charitable to opposing teams. But whatever.
Our defense keeps making plays when they need to. Watching the D-line, I find myself hoping that John Blake sticks around recruiting guys like this awhile (before he gets offered another head coaching job somewhere). Daniel Bullocks must have favor with the officials or something, because he pulls off pass breakups that earn other players interference penalties. I hope his favor doesn't wane in some important game later in the year. I remain concerned about the cornerbacks (other than Bowman). But if we keep getting sacks, the coverage doesn't matter as much as it did last season.
Iowa St.'s RB Hicks being limited in this game helped us a lot. His backup played okay, but Hicks would have made things even more dicey. As it was, the game was double-overtime. Our first ever. I like how NU consistently ends up on the winning side of overtime games. The real journalists at the OWH or the LJS should do a story on major Div. 1-A team records since college football adopted its OT model. I'll bet NU stacks up pretty well. (Missouri 1997, Colorado 1999, Notre Dame 2000, and Iowa St. 2005. All wins.) 4-0 and 4-0. Isn't it lovely?
THIS WEEK
The season's fifth win will not come easily. I've always been big on gut (not to mention working on having a big gut). Here is my current vibe, take it or leave it: Tech isn't quite the monster they were last year. If we can get hits on their QB Hodges like the ones Bradley and Turner delivered against Iowa St., we have a chance this week. If we get a few bone-jarring sacks, and/or turnovers, this game can be ours. (Hodges fumbled four times against KU last week.) If we don't, and/or the offense reverts to the one we had during the nonconference games, this one could end up in the "L" column.
I dread bringing up this example, but in 1995 we beat Arizona St. in Lincoln 77-28 (including a 63-7 halftime score). The next year, playing at home, they beat us 19-0. Sure…Tech beat us 70-10 last year in Lubbock, but our defense is better now (the line and 'backers are considerably better overall, which might make up for the shakiness in the secondary), and our offense is not the turnover machine it was then. Does this equate to 60 points better? I don't know. Hopefully our home crowd makes up for a few of those points. What is Memorial Stadium worth? Tech should find out…ideally in memorable fashion.
---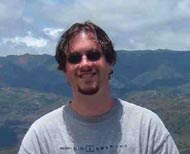 The voice of Scarlet Commentary is Jeffrey A. Leever, a Nebraska native also stuck behind enemy lines in Jefferson County, Colo. He is a 1994 graduate of the University of Nebraska (Kearney) and a freelance writer and author. Some of Jeff's writings of the nonfootball kind can be found online at Barnes & Noble (1, 2), Amazon.com (1, 2), and MenofIntegrity.net (1, 2, 3, 4, 5). Contact Jeff at splasheditorial@hotmail.com.